White House: Pakistan Could be Added to Immigration Ban List

WASHINGTON (Diya TV) — The White House indicated Monday that Pakistan could be added to the list of seven countries included in President Trump's executive order, which prohibits travelers and refugees from specific Muslim-majority nations from entering the U.S. for 90 days.
"The reason we chose those seven countries was, those were the seven countries that both the Congress and the Obama administration identified as being the seven countries that were most identifiable with dangerous terrorism taking place in their country," White House Chief of Staff Reince Priebus said.
Signed last Friday, Trump's controversial executive order brought the U.S. refugee program to a screeching halt for 120 days, indefinitely banned Syrian refugees from entering the country, and prohibits travelers entry from Iran, Iraq, Libya, Sudan, Yemen, Syria and Somalia.
"Now, you can point to other countries that have similar problems, like Pakistan and others. Perhaps we need to take it further. But for now, immediate steps, pulling the Band-Aid off, is to do further vetting for people traveling in and out of those countries," Priebus said during an interview with CBS News.
The executive order currently says visitors from countries such as Afghanistan and Pakistan are subject to "extreme vetting."
Priebus said, contrary to public belief, that Trump didn't just put ink on paper and start signing, there was a lot of work and planning that went into the action.
"We're not going to advertise to the world that we're going to put a stop or at least a further vetting on travel in and out of our country from these seven places," Priebus said.
"Some people have suggested, that, well, maybe we should have given everyone a three-day warning. But that would just mean that a terrorist would just move up their travel plans by three days. Identifying too many people in these countries and giving them a heads-up in these countries would only potentially flag the executive order for bad order," he said.
"The president has a call with leadership in Saudi Arabia and the United Arab Emirates and other countries around world. And I'm sure this topic may come up," he said.
Priebus said, first and foremost, the safety and security of all Americans is why the Trump administration took the action.
"These are countries that harbor and train terrorists. These are countries that we want to know who is coming and going in and out of to prevent calamities from happening in this country.
"We're not willing to be wrong on this subject. President Trump is not willing to take chances on this subject. He was elected president in many respects because people knew that he was going to be tough on immigration from countries that harbor terrorists.
"I can't imagine too many people out there watching this right now think it's unreasonable to ask a few more questions from someone traveling in and out of Libya and Yemen before being let loose in the United States. And that's all this is."
Rev. Jesse Jackson pushes for India COVID relief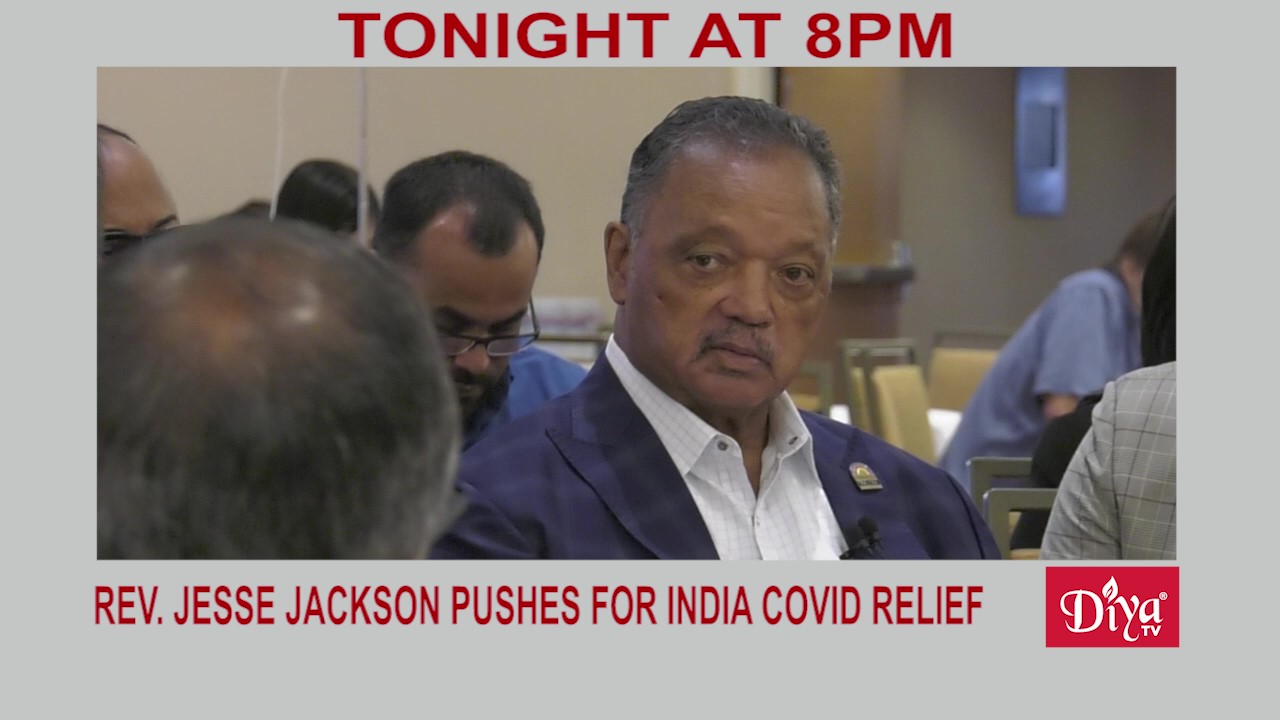 SAN FRANCISCO (Diya TV) — The Reverend Jesse Jackson is standing in solidarity with Indian Americans in California who are rallying the community to send more Covid-19 relief to India. Reverend Jackson is also voicing solidarity for other communities of color as African Americans celebrate Juneteenth, the new Federal holiday marking the end of slavery in the U.S.
And Satya Nadella is now even more powerful at Microsoft. The tech giant's CEO was named chairman of the board elevating his current role atop one of the world's most valuable companies. The Indian American has served as chief executive since 2014, has helped transform the PC maker into a leader in cloud computing in recent years, resulting in a market cap of close to $2 trillion.
Billionaire philanthropist MacKenzie Scott has given away another massive chunk of her fortune. This time nearly 3 billion dollars to a variety of charities. Several Indian organizations like Goonj, Antara Foundation, and GiveIndia have also benefited from this generosity.
Ravi Kapur contributed to this report.
US – India trade hits record $9 billion
SANTA CLARA, Calif. (Diya TV) — For the second month in a row, the U.S.-India bilateral goods trade crossed $9 billion dollars.  It had never happened once before that. This is a comprehensive document covering trade in goods and services, and shows India and the U.S. remain strong strategic partners.
the U.S. Senate confirmed Radhika Fox as the first Indian American and woman of color to lead the office of water at the Environmental Protection Agency. Her supporters say she will focus on making sure everyone's point of view is heard and taken into account.
And British Pakistani rapper Frenzo Harami is being criticized for his anti Hindu post on Instagram. Harami uses vulgar language to describe Hindu minorities living in Kashmir. He apparently went on this tirade after claiming youtube banned one of his videos.
Ravi Kapur contributed to this report.
India's COVID rate drops dramatically
NEW DELHI (Diya TV) — India' s Covid-19 infection rates are starting to consistently drop each day. The ministry of health reported a little more than 60,000 cases in the past 24 hours. That's a dramatic decrease from the peak of more than 400,000 cases in one day just a few months ago.
India has also decided to partially open the Taj Mahal to visitors. And as restrictions ease, several shops, malls, and restaurants have started to reopen in multiple cities this week. but Authorities continue to advise mask wearing and social distancing.
Vice President Kamala Harris hosted a dinner party for a bipartisan group of female senators at her official Washington, DC residence. 16 Democrats and eight Republicans. Vice President Harris is doing this against the backdrop of intense negotiations over President Biden's agenda in Congress and a border crisis raging on her watch.
And one of the fiercest critics of Big Tech companies like Apple and Amazon is now leading the Federal Trade Commission. Lina Khan will be tasked with voting on enforcement matters in areas of both competition and consumer protection. the 32 year old South Asian will be the youngest person to ever lead the agency.
Ravi Kapur contributed to this report.