An indepth report of the South Asian candidates from Elections 2016
SAN FRANCISCO (Diya TV) — While another chapter in American history was written with the election of Donald Trump to president Tuesday, Indian American would-be and currently established politicians etched some more history of their own.
Kamala Harris 
Californians on Tuesday elected Kamala Harris as the state's first new U.S. Senator in 24 years, she also became the first Indian American ever elected to the Senate with her victory.
Harris defeated Loretta Sanchez, who opted to use the underdog approach with her campaign. She attempted to rally the Latino vote for her cause, as well as California's Republicans and moderates. However, her efforts required much more work given the nature of her underfunded campaign.
Harris, the first woman elected as California attorney general, will succeed Democrat Barbara Boxer, who is retiring after serving four terms in the U.S. Senate.
The daughter of immigrants from India and Jamaica, Harris becomes only the second black woman ever elected to the Senate.
Ami Bera
Rep. Ami Bera, who until last night was the lone Indian American serving in the House of Representatives, defeated Republican Scott Jones in his re-election bid. Bera will be joined by three other Indian Americans when he enters the chamber at the beginning of January's new session.
Bera, now heading for his third term, narrowly defeated his opponent by capturing 51 percent of the vote. It marks the second consecutive occasion he's fended off a Republican rival in the election, Bera previously defeated Republican Doug Ose in a close 2014 contest.
The Democrat successfully overcame the campaign finance scandal involving his father, Babulal. The elder Bera was recently sentenced to a prison term of one year for illegally funneling money into his son's 2010 and 2012 Congressional campaigns.
Bera currently serves as the co-chair of the India Caucus, he also accompanied President Obama during a trip to India in 2015 and was one of the Congressmen who facilitated Prime Minister Narendra Modi's address to Congress this year.
Ro Khanna
Fremont attorney Ro Khanna, in his second battle with incumbent Mike Honda and in his third attempt at a congressional seat, has emerged victorious against the eight-term congressman.
Khanna jumped out to an early lead in the race almost immediately after the polls closed, early numbers showed him far out in front. Returns that came during the latter hours from Alameda and Santa Clara counties cemented the victory.
Critics believed Honda had his work cut out for him after Khanna captured the party's nomination at their June state primary. The 75-year-old Honda has also been plagued by a House ethics investigation for more than a year, allegations of using taxpayer funds for campaign purposes have been levied against him.
The contest in California's 17th Congressional District got even dirtier just days before Election Day — Mike Honda aired a TV ad portraying Khanna as a slimy Wall Street puppet. Khanna fired back his own ads, portraying Honda as tired and unethical.
When Khanna went up against Honda in 2014, more than 20 points divided the two in the primary, a gap that the challenger closed to less than 4 points by the general election.
Founder of Indiaspora, M.R. Rangaswami was elated as he spoke to Diya TV about the representation of Indian Americans in the House with Ami Bera, Raja Krishnamoorthi, Pramila Jayapal and Ro Khanna all emerging victorious.
"We are one percent of the population and now we are one percent of Congress!", he said.
Raja Krishnamoorthi
Democrat Raja Krishnamoorthi won the Illinois 8th Congressional District race against Republican Peter DiCianni. Krishnamoorthi and DiCianni were both trying to win the seat vacated by Tammy Duckworth, who won Illinois' U.S. Senate seat Tuesday night.
The Illinois-based businessman received an endorsement from President Obama. "As the son of immigrants who worked their way into the middle-class, Raja understands both the challenges facing America's working families and the opportunities their work make possible," Obama said in his endorsement.
The 42-year-old was born in Delhi and grew up in Peoria, Illinois. He served as policy director of President Obama's 2004 Senate campaign, as well as deputy treasurer of Illinois from 2007 through 2009. In 2010, he ran unsuccessfully for the Democratic nomination of Illinois State Comptroller, losing to David E. Miller by less than one percent of the vote.
Krishnamoorthi is the co-founder of InSPIRE, a non-profit organization that provides training to Illinois students and veterans in solar technology and was formerly Vice-Chairman of the Illinois Innovation Council, whose mission is to promote innovative technologies that support economic growth and job creation in Illinois.
"I am someone who believes very much in entrepreneurship and helping small businesses to grow because I believe that they are at the heart of economy," he was quoted as saying earlier this year.
Pramila Jayapal
Pramila Jayapal defeated Brady Walkinshaw Tuesday in Washington's 7th Congressional District.
By winning the seat occupied since 1988 by retiring U.S. Rep. Jim McDermott, Jayapal becomes the first Indian-American woman elected to Congress.
The 52-year-old state senator, whose campaign carried the endorsement of former Democratic presidential candidate Bernie Sanders, had 57 percent in Tuesday returns in the Seattle-area clash featuring two Democrats. Both candidates referenced the U.S. presidential contest Tuesday night. Jayapal said the result of her race means the 7th District can be "a light in the darkness" if Donald Trump emerged triumphant.
"If our worst fears are realized, we will be on the defense as of tomorrow," she told supporters. "We will have to fight for social justice as never before."
Walkinshaw said he and Jayapal share "a profound amount in common and as we look where our country may be headed, that's where my concerns are," after his defeat. Jayapal finished first among nine candidates in August's top-two primary election with 42 percent. Walkinshaw, who would have been Washington's first openly gay congressperson, narrowly finished second with 21 percent.
Tulsi Gabbard
Hawaii Congresswoman Tulsi Gabbard, although not South Asian American has had the support of this community due to her Hindu faith. She cruised to re-election Tuesday night, demolishing opponent Angela Kaaihue by more than 50 percent of the vote.
Gabbard, the lone Hindu American in the House of Representatives, finished the night by collecting 82 percent of the vote. Kaaihue received 19,000 votes, or 18 percent.
During her campaign, Kaaihue referred to Hawaii as a "Devil Democratic State," adding that the island is condemned by a "local dumb mentality."
"I am talking about God, preaching about God, restoring his kingdom back into Hawaii," she said. "This is God's country, America is God's country. I am trying to educate people about that."
Gabbard will now serve her third term in the U.S. House of Representatives.
Jay Chaudhuri
North Carolina state senator Jay Chaudhuri cruised to a smooth victory over opponent Eric Weaver. With all precincts reporting, Democrat Chaudhuri held a 31-point lead over Weaver, capturing 65 percent of the vote. His Republican opponent received just 34 percent of the vote.
Chaudhuri, an attorney, was appointed in April to the seat that was vacated by Democratic Sen. Josh Stein, who resigned to run for the state's attorney general position. Chaudhuri won the March Democratic primary in the state. When he accepted the position, Chaudhuri resigned as general counsel to North Carolina Treasurer Janet Cowell in May.
Originally born in Tennessee, Chaudhuri attended Davidson College, Columbia University School of International and Public Affairs and the North Carolina Central University School of Law. In addition to his role for Cowell, he was also North Carolina Attorney General Roy Cooper's special counsel and legislative counsel when Cooper was state Senate Majority Leader.
Here's a complete list of all the victories and losses within of all South Asian American candidates.
CA – US Senate – Kamala Harris (D) wins 63% against Loretta Sanchez (D) 37%
CA17 – Ro Khanna (D) wins 59% against Mike Honda (D)  41%
CA7 – Ami Bera (D) wins 52% against Scott Jones (R) 48%
WA7 – Pramila Jayapal (D) wins 57% against Clint Didier (D) 42%
IL8 – Raja Krishnamoorthi (D) wins 58% against Pete Dicianni (R) 42%
NJ8 – Agha Khan (R) loses 19% against Albio Sries (D) 77%
GA7 – Rashid Malik (D) loses 40% against Rob Woodall (R) 61%
HI2 – Tulsi Gabbard (D) wins 81% against Angela Kaaihue (R) 19%
MI11 – Anil Kumar (D) loses 40% against Dave Trott (R) 53%
PA122 – Neil Makjija (D) loses 38.6% against Doyle Heffley (R) 59.5%
NC State Senate – Jay Chaudhuri (D) 57% wins against Eric Weaver (R) 43%
AD27 State Assembly Ash Kalra (D) wins 52.4% against Madison Nguyen 47.6%
AD42 State Assembly Rajiv Dalal (D) looses 3.04% against Laura Friedman (D) 31.89%
OH42 State House Niraj Antani (R) wins 63.2% against Pat Merris (D) 36.8%
CT31 Prasad Srinivasan (R) wins 65% against Matt Saunig (D) 32%
CT151 State Dita Bhargava (D) looses 40% againt Fred Camillo (R) 60%
Redacted Mueller report, detailing Russian election meddling, released
WASHINGTON (Diya TV) — A redacted version of the Mueller report is now public. The 448 page document is the result of a two year investigation into Russian meddling in the 2016 election. Democrats say the report shows President Trump tried to obstruct justice. But Trump's campaign in a statement says otherwise.

Read the redacted report here.
Indian External Affairs Minister Sushma Swaraj said no Pakistani soldier or citizen died in the Indian Air Force air strike in response to the Pulwama terror attack in February, reversing claims made by other officials after the strike.

Anita Malik announced she is running once again for Arizona's 6th Congressional District seat. She fell short last year. But this time, she will face additional competition, as fellow Democrat Dr. Hiral Tipirneni (Ti-per-neh-knee) as also running for this seat.

And Hasan Minhaj won another Peabody, his second in a row, for his work on "Patriot Act with Hasan Minhaj."

Ravi Kapur & Alejandro Quintana contributed to this report.

U.S. and India conduct joint military drill on Diego Garcia in Indian Ocean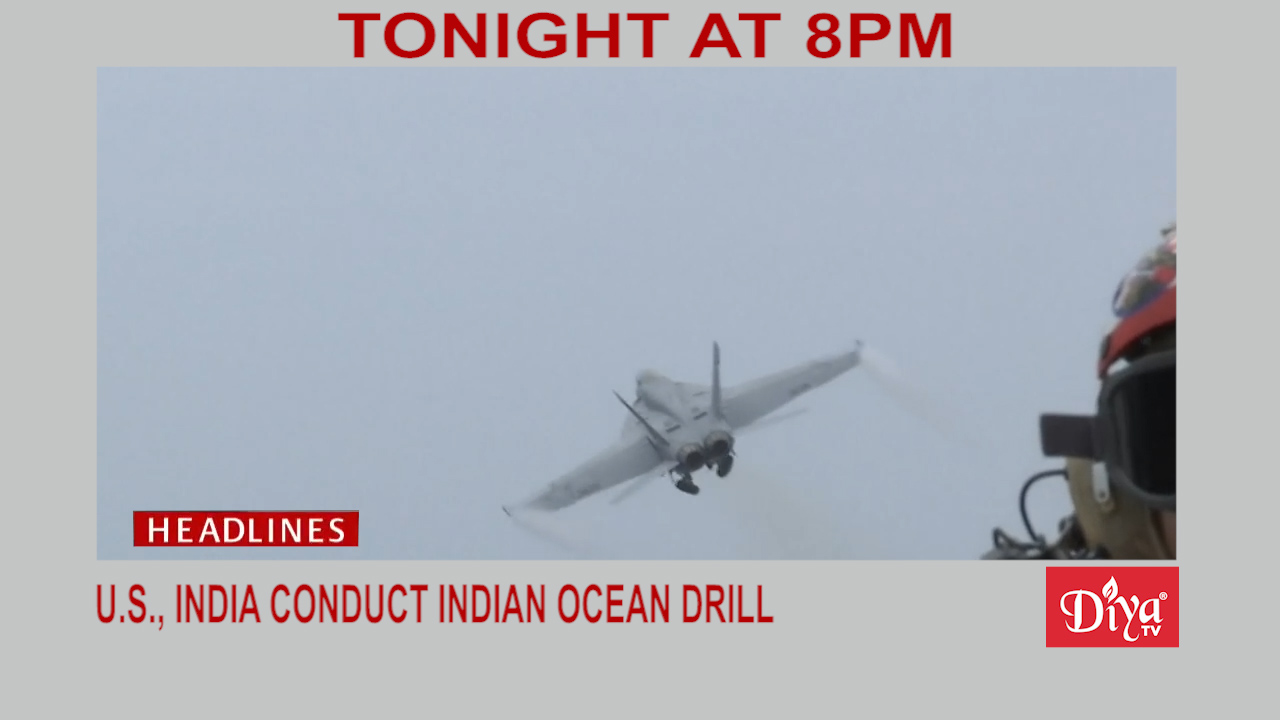 DIEGO GARCIA, Indian Ocean (Diya TV) — The U.S. and Indian Navies went submarine hunting in the Indian Ocean, their first bilateral anti-submarine warfare exercise since a signing pact to work more closely together last fall.

India's exports to China are up in 2019, while imports declined, leading to a $10 billion reduction in India's trade deficit with China. Analysts say the current Washington-Beijing trade war has also opened things up for India.

The Jallianwala Massacre 100 years ago that left hundreds dead and 1200 injured at the hands of British troops is considered a key turning point towards a free India. British prime minister Theresa May marked the occasion by expressing "deep regret", but there are still no apologies.

An effort by an American and British companies to help Jet Airways founder Naresh Goyal save the airline from collapse dissolved after Etihad Airways and TPG Capital threatened to walk away themselves if Goyal was part of the deal.

And comedian Hasan Minhaj, who won a 2017 Peabody Award, received another Peabody nomination in the entertainment category for his Netflix show, "Patriot Act with Hasan Minhaj."

Ravi Kapur & Alejandro Quintana contributed to this report.

Women filmmakers shine at the 2019 Indian Film Festival of Los Angeles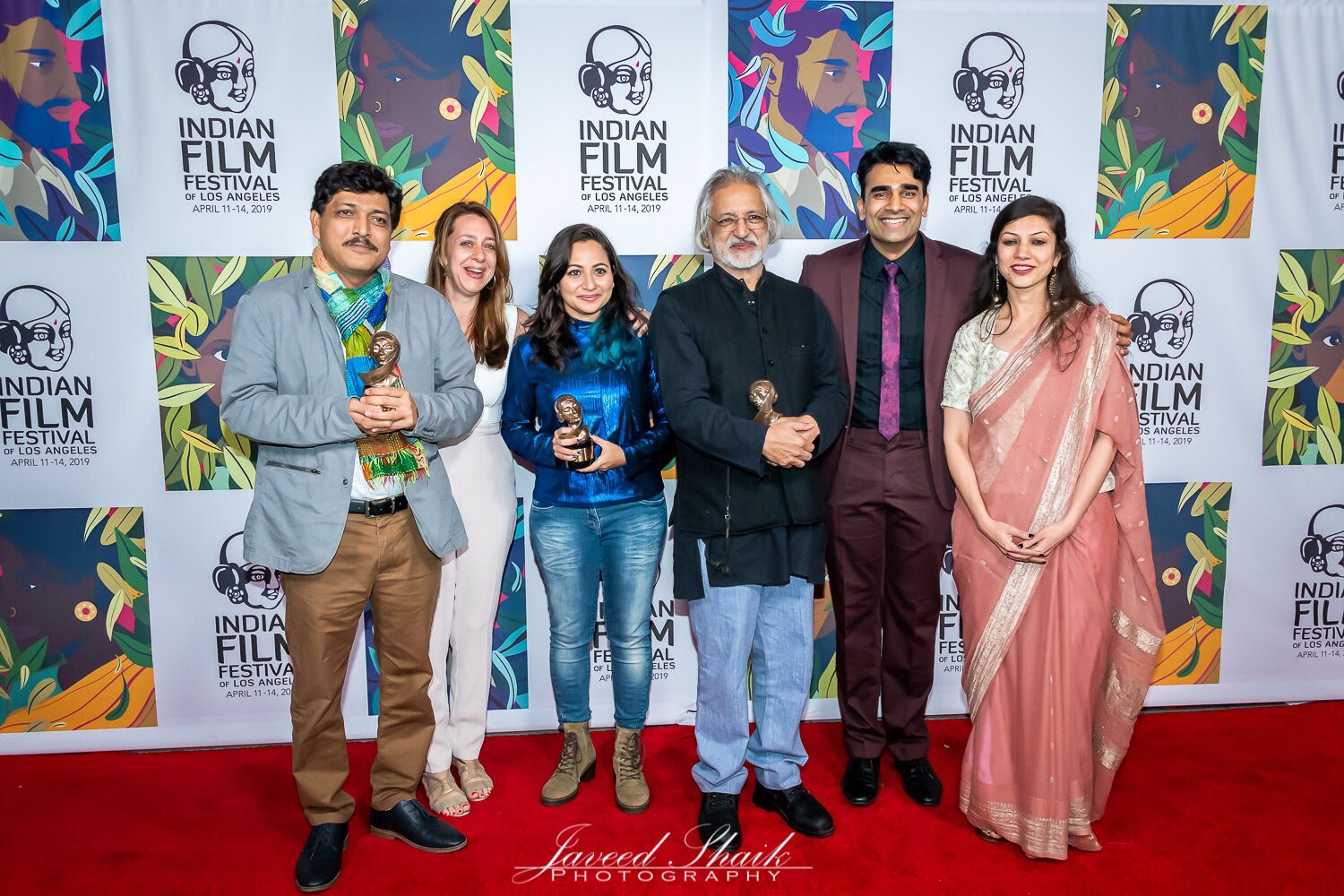 LOS ANGELES (Diya TV) — The 17th annual Indian Film Festival of Los Angeles (IFFLA) concluded Sunday night with the zany slice-of-life film, The Odds, directed by Megha Ramaswamy. Complete with a glamorous closing night red carpet, and an awards ceremony, the festival ended with an after party at the Spice Affair in Beverly Hills.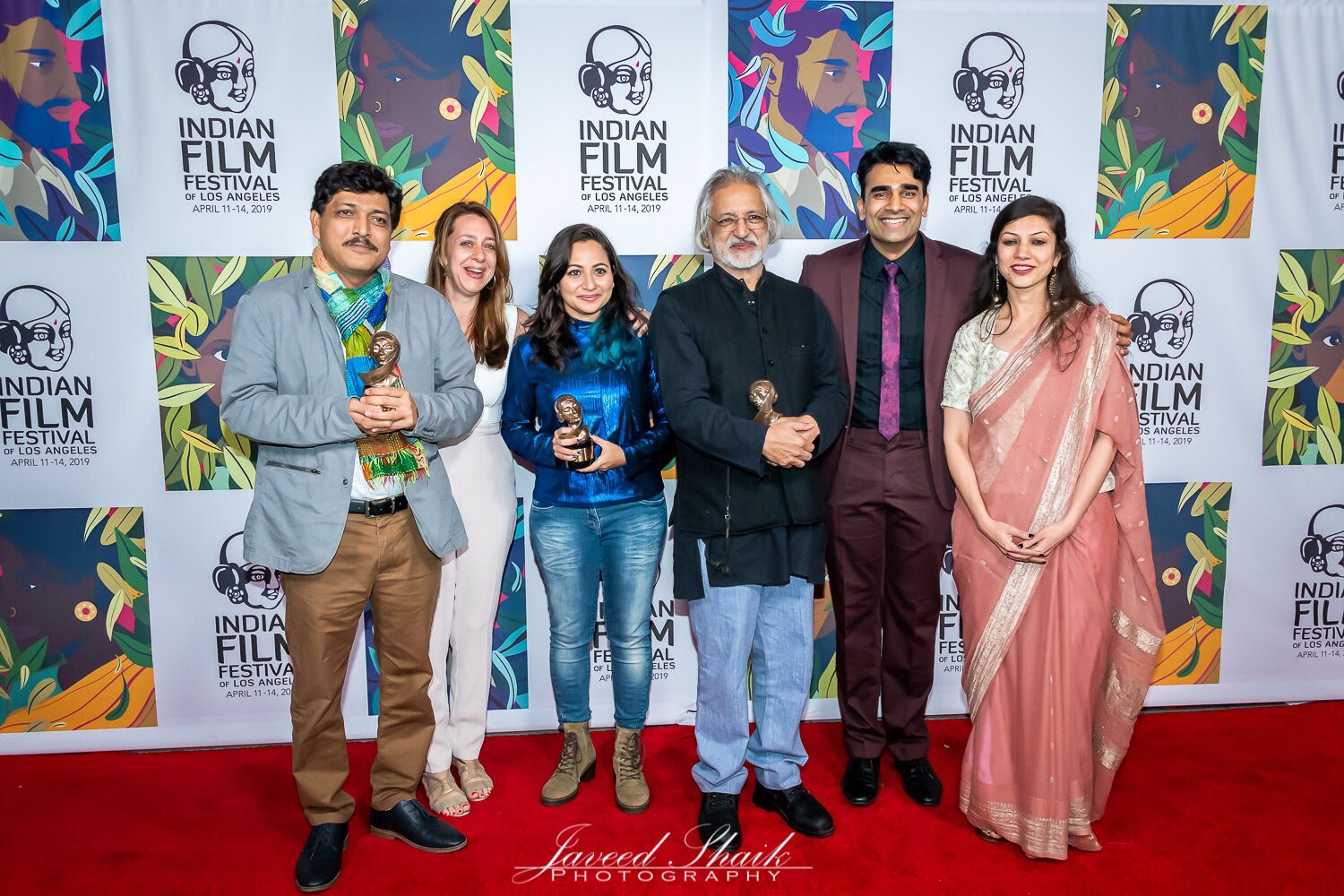 IFFLA was only four days this year (compared to five days in previous years), but there was still so much to see during that time. In addition to the curated set of films, there was an incredible panel discussion, Breaking in Brown: Making it to Series in TV's Golden Age, that featured panelists working in various fields in the television industry and their struggles to rise up through the ranks in the Hollywood while being brown.
This year's film lineup boasted five world premieres, two North American premieres, two U.S. premieres and eleven Los Angeles Premieres, with films presented in nine different languages. The overall atmosphere was very relaxed, even with films that tackled difficult subject matters. Roughly fifty percent of the films were directed by women. Filmmakers and staff alike hoped for a future where it will be normal to have women and men equally making films.

Kicking off the awards ceremony, Director of Programming, Mike Dougherty, announced the winner of the Grand Jury Prize for Best Feature, Widow of Silence.
"We present the Grand Jury prize to a film that illuminates a condition that most of the world doesn't get to see and shines a light on the characters that live through it everyday…This filmmaker's civic disobedience illustrates their love and compassion for their country and their people, and the craft of their film-making was beautifully wise and refined."
Director Praveen Morchhale was visibly surprised as he walked up to receive his award. The film he said was about those, "that nobody talks about and nobody treats them as a human." Even though it was Morchhale's first time at IFFLA, he felt as if he had been coming here for many years. He credited his win to the women in Kashmir the film portrayed.
The Audience Award for Best Feature went to Reason. Director Anand Patwardhan received a standing ovation when he went to collect his award. Patwardhan said, "most of the time our film is getting thrown out of festivals, I wasn't expecting this." He added that it meant a lot for the film to be well received at IFFLA and how that will hopefully impact its reception in India.
Shazia Iqbal's Bebaak was a crowd favorite winning the Audience Award For Best Short Film. The jury mentioned how she almost gave up on filming because she was getting thrown out of mosques. Iqbal spoke about how when people think of Muslims, they only think of Muslim men and not women, many of whom experience tremendous misogyny. She hopes people will be able to "see beyond what misogyny and religion does to people." Iqbal added, "a director is nothing without their team."

"a layered portrait of a woman determined to pursue her needs and impulses," the Grand Jury awarded their prize for Best Short to The Field from director Sandhya Suri. "the film takes images that normally evoke a sense of fear and flips the narrative on its head redefining a new more empowered world for the female protagonist and exploring an often unseen story of a woman's drive and agency over her own body and life," the jury added.

After the awards, Dougherty introduced the closing night film, The Odds by saying the film was the "perfect way to close IFFLA on a celebratory note."