New legislation could make Diwali a federal holiday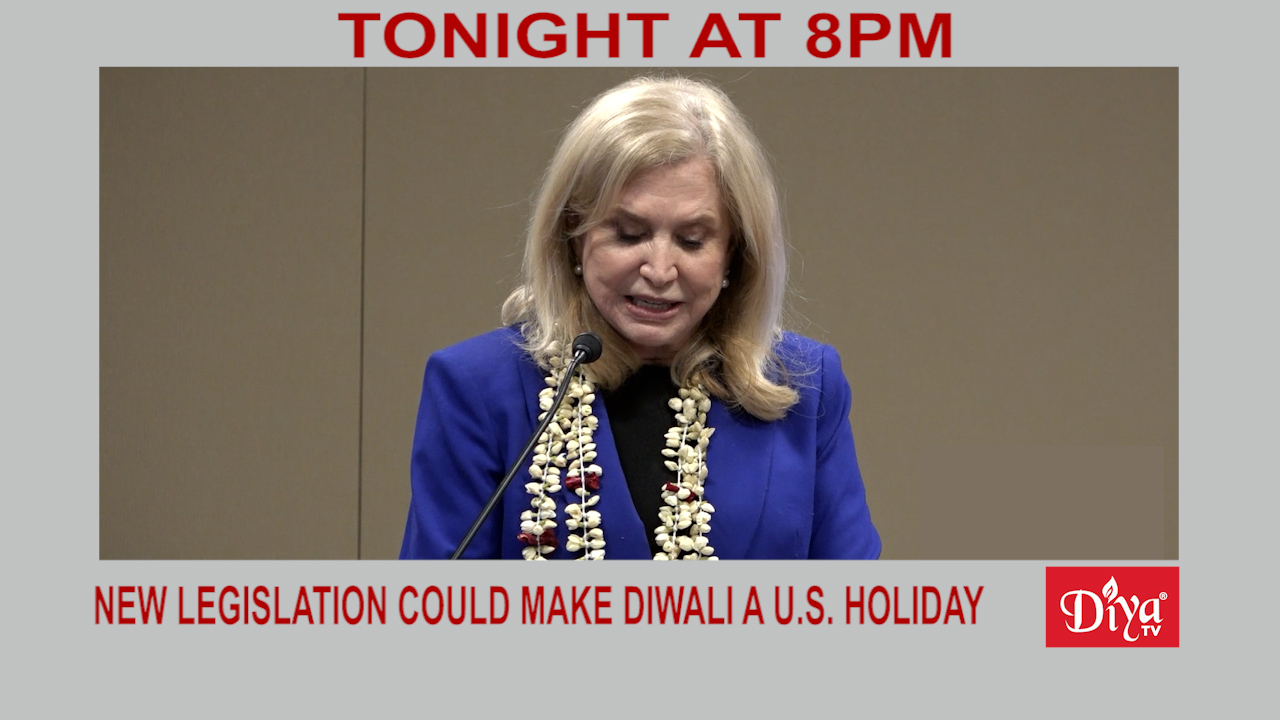 WASHINGTON DC (Diya TV) — During a massive Diwali celebration in Washington DC, Congresswoman Carolyn Maloney says the festival of lights could soon be a federal holiday in the U.S. She is introducing legislation this week on Diwali itself. Non-profit Indiaspora brought in leaders from both sides of the aisle at the U.S. Capitol to light diyas, symbolizing the victory of good over evil.
With another Hindu Heritage Month in the U.S. and Canada in the books, Indian Prime Minister Narendra Modi says he's celebrating alongside the diaspora and, says the diverse groups and communities embracing these cultural festivities will further strengthen ties to the motherland. In the U.S. alone, more than 25 states and 42 cities participated in this celebration last month.
Indian American actor Kal Penn is finally coming out of the closet, saying he's gay and engaged to his boyfriend of more than 11 years. Penn is best known for his role in the Harold and Kumar series and also served in the Obama white house.
Ravi Kapur contributed to this report.
Puneet Talwar named US Ambassador to Morocco
Indian & Hindu American groups hold DC summit
WASHINGTON DC (Diya TV) – A group of Indian American and Hindu American organizations joined forces to celebrate India's 75th Independence Day and advocate for the diaspora on Capitol Hill, in what is being called an inaugural summit for political engagement. The American Association of Physicians of Indian Origin, the Hindu American Foundation, the Coalition of Hindus of North America and Americans4Hindus, were among the more than one dozen organizations, hosting legislators from both sides of the aisle in a non-partisan effort to discuss issues of concern in the community.
Fans of Indian comedian and actor
Raju Srivastava are mourning his death
. He passed away at the age of 58 after suffering a heart attack last month while running on a treadmill. He had a history of heart problems.
Ravi Kapur contributed to this report.
Sukhpal Singh arrested in Tusli Mandir hate crime case
NEW YORK (Diya TV) – New York police arrested a man for allegedly sledgehammering a statue of Gandhi outside a Queens Hindu Shri Tusli Mandir. Twenty seven year old Sukhpal Singh is charged with criminal mischief and a hate crime for allegedly destroying the statue and defacing it with spray paint outside Tulsi Mandir in Richmond Hill last month. 
India and France agreed to set up an Indo-Pacific partnership to roll out development projects, expand strategic cooperation, and work closer to deal with pressing global challenges such as a food crisis triggered by the Ukraine invasion.
More than a million customers in Puerto Rico are waiting for electricity to come back on after Hurricane Fiona hammers the region. The Dominican Republic is under a hurricane warning as well.
Ravi Kapur contributed to this report.