Nearly 200 killed, including 13 US troops in Kabul bombing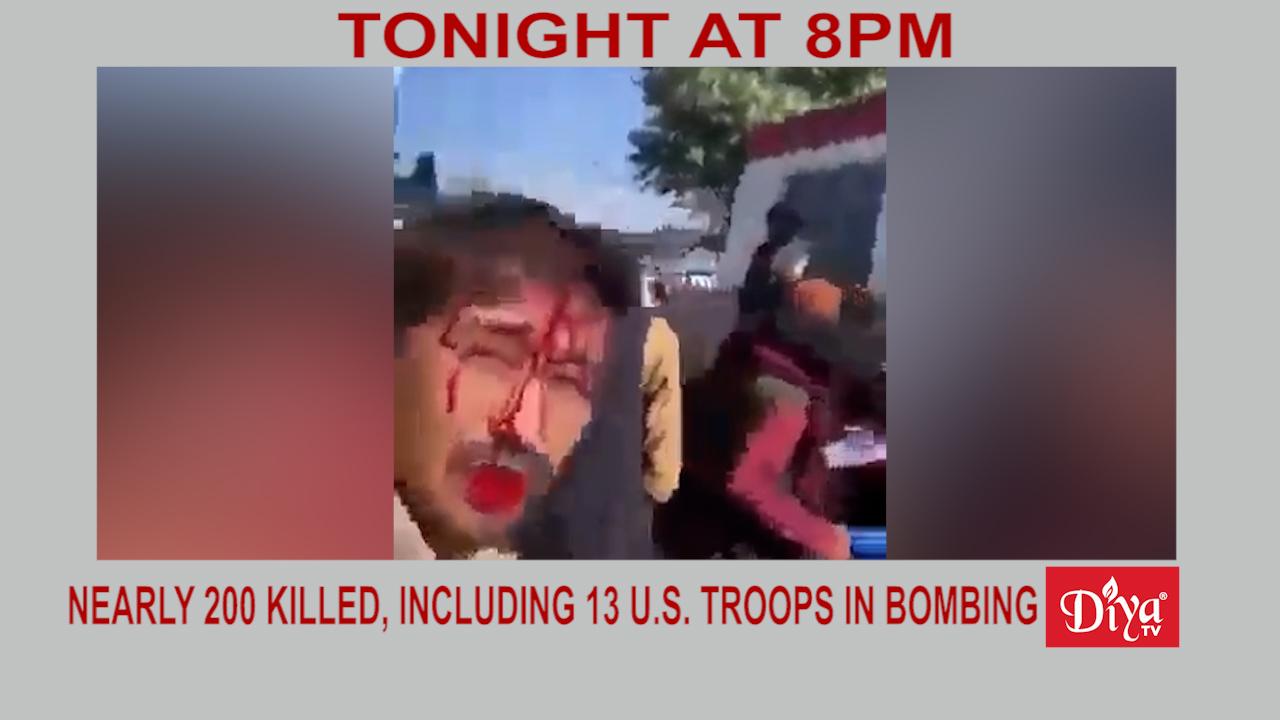 KABUL (Diya TV) — Two suicide bombers and gunmen attacked crowds of Afghans flocking to Kabul's airport, transforming a scene of desperation into one of horror in the waning days of an airlift for those fleeing the Taliban takeover. The attacks killed at least 170 Afghans and 13 U.S. troops. At least 200 were also wounded.
India is on high alert. Officials say about 100 members of the terror group Jaish-e-Mohammed (JeM), who were released from Afghan prisons by the Taliban, have joined back and is planning to carry out fresh attacks in India, particularly in Jammu and Kashmir. Security officials say the developments in Afghanistan will also embolden Pakistani forces, which facilitate infiltration of terrorists.
The U.S. Supreme Court rejected the Biden administration's eviction moratorium, a decision that puts millions of Americans at risk of losing a roof over their heads. Activists and lawmakers urged President Biden to extend the moratorium. But the Court said that the Centers for Disease Control exceeded its authority. Those stories and all the news tonight at 8 join us.
Ravi Kapur contributed to this report.
4 Indian Americans die, 2 missing in Hurricane Ida floods
TRENTON (Diya TV) — At least four Indian Americans are dead and two missing as the massive floods ravaged New York and New Jersey following Hurricane Ida. Authorities say the victims were swept away by flood waters or drowned. Crews are using boats and drones, hoping to find more survivors.
In a historic moment, three women took oath as judges on India's Supreme Court.
Justices Hima Kohli, BV Nagarathna and Bela M Trivedi, were among the nine new appointees to the highest court of the land. Including these new appointments, the Supreme Court has had 11 women judges in its history so far.
What a run for India at this year's Paralympics. The athletes brought home 19 medals, including five gold. The medal count also included eight silver and six bronze.
Ravi Kapur contributed to this report.
Modi to visit US in late September to meet Biden
WASHINGTON DC (Diya TV) — Indian Prime Minister Narendra Modi will make his first U.S. visit since President Joe Biden took office. Modi is expected to travel to Washington DC and New York in the last week of September, according to top government officials. Modi and Biden have already met virtually on at least three occasions. Most recently at the G-7 summit this past June.
Congresswoman Pramila Jayapal of Washington is getting personal in her fight against the new Texas abortion law, which would ban terminating a pregnancy as early as 6 weeks. The Indian American politician took to twitter to say getting an abortion years ago was not an easy choice, but it was her own choice. Jayapal says preserving this right is important for every woman across the US.
Mia Bonta is declaring victory in her California state Assembly race. She faced off against Indian American Democrat Janani Ramachandran in the District 18 special election.
Ravi Kapur contributed to this report.
Census: Indian American population tops 4 million
SPRINGFIELD, IL (Diya TV) — Illinois Congressman Raja Krishnamoorthi is touting the achievements of Indian Americans and their influence after the latest census data showing tremendous growth in the community. There are now more than four million Indian Americans and they're considered one of the fastest growing ethnic groups.  Krishnamurthi says this is just the beginning and expects the community to contribute even more to the fabric of America.  
Pakistan National Security Adviser Moeed Yusuf is trying to walk back his controversial statements he allegedly made to a British newspaper. The Sunday Times says he warned that the West risks a second 9/11 situation if it doesn't "immediately recognize" the Taliban. The newspaper is standing by its reporting and says the entire interview was recorded.
A white man accused of running over a Sikh man outside a Colorado liquor store with his car is being charged with a hate crime. Witnesses say Eric Breemen nearly killed Lakhwant Singh after a dispute. The Sikh Coalition advocacy group mobilized the community and helped push for the hate crime charges.
Ravi Kapur contributed to this report.