Nearly 200 killed, including 13 US troops in Kabul bombing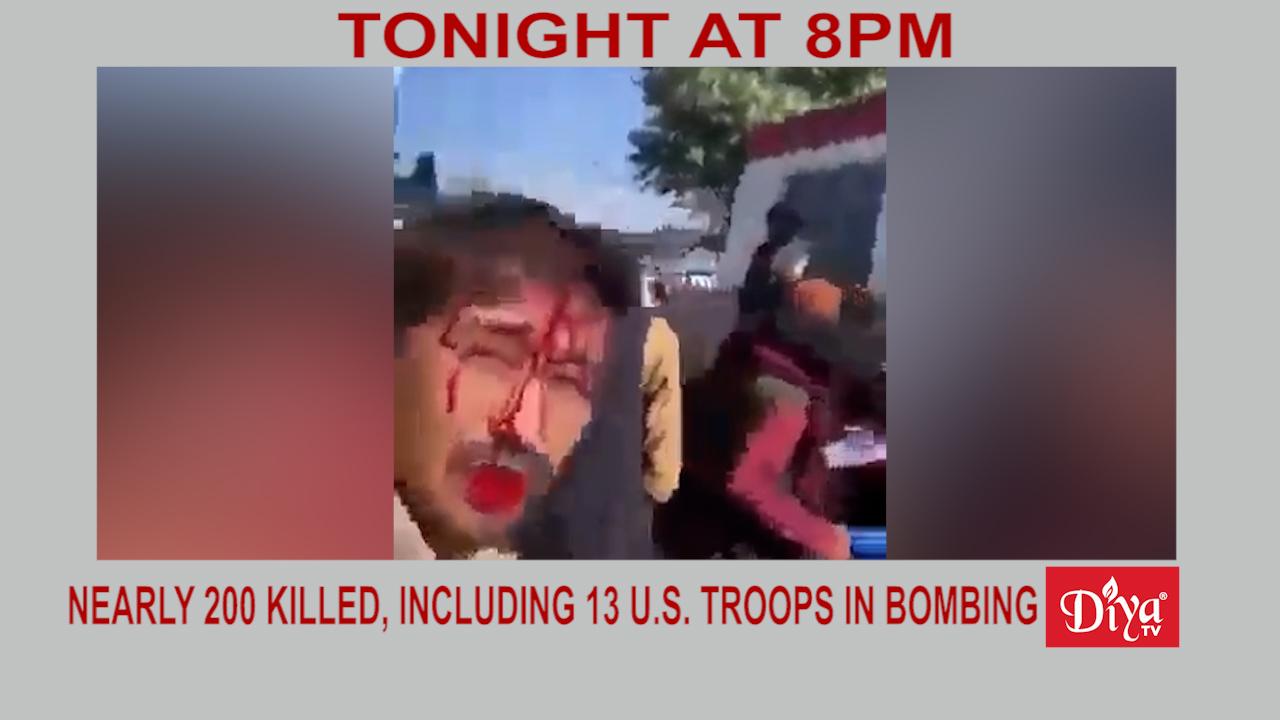 KABUL (Diya TV) — Two suicide bombers and gunmen attacked crowds of Afghans flocking to Kabul's airport, transforming a scene of desperation into one of horror in the waning days of an airlift for those fleeing the Taliban takeover. The attacks killed at least 170 Afghans and 13 U.S. troops. At least 200 were also wounded.
India is on high alert. Officials say about 100 members of the terror group Jaish-e-Mohammed (JeM), who were released from Afghan prisons by the Taliban, have joined back and is planning to carry out fresh attacks in India, particularly in Jammu and Kashmir. Security officials say the developments in Afghanistan will also embolden Pakistani forces, which facilitate infiltration of terrorists.
The U.S. Supreme Court rejected the Biden administration's eviction moratorium, a decision that puts millions of Americans at risk of losing a roof over their heads. Activists and lawmakers urged President Biden to extend the moratorium. But the Court said that the Centers for Disease Control exceeded its authority. Those stories and all the news tonight at 8 join us.
Ravi Kapur contributed to this report.
Puneet Talwar named US Ambassador to Morocco
Indian & Hindu American groups hold DC summit
WASHINGTON DC (Diya TV) – A group of Indian American and Hindu American organizations joined forces to celebrate India's 75th Independence Day and advocate for the diaspora on Capitol Hill, in what is being called an inaugural summit for political engagement. The American Association of Physicians of Indian Origin, the Hindu American Foundation, the Coalition of Hindus of North America and Americans4Hindus, were among the more than one dozen organizations, hosting legislators from both sides of the aisle in a non-partisan effort to discuss issues of concern in the community.
Fans of Indian comedian and actor
Raju Srivastava are mourning his death
. He passed away at the age of 58 after suffering a heart attack last month while running on a treadmill. He had a history of heart problems.
Ravi Kapur contributed to this report.
Sukhpal Singh arrested in Tusli Mandir hate crime case
NEW YORK (Diya TV) – New York police arrested a man for allegedly sledgehammering a statue of Gandhi outside a Queens Hindu Shri Tusli Mandir. Twenty seven year old Sukhpal Singh is charged with criminal mischief and a hate crime for allegedly destroying the statue and defacing it with spray paint outside Tulsi Mandir in Richmond Hill last month. 
India and France agreed to set up an Indo-Pacific partnership to roll out development projects, expand strategic cooperation, and work closer to deal with pressing global challenges such as a food crisis triggered by the Ukraine invasion.
More than a million customers in Puerto Rico are waiting for electricity to come back on after Hurricane Fiona hammers the region. The Dominican Republic is under a hurricane warning as well.
Ravi Kapur contributed to this report.