Richard Branson, Sirisha Badla man historic space flight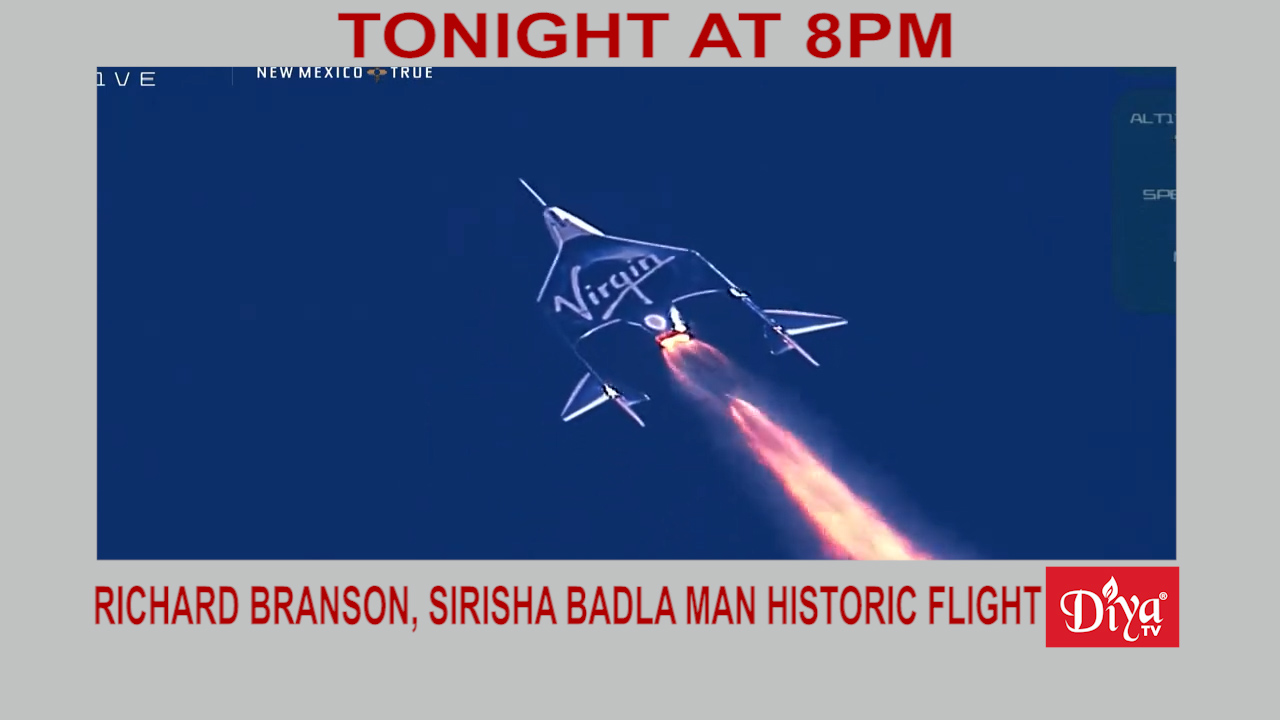 TRUTH OR CONSEQUENCES, New Mexico (Diya TV) — Indians are celebrating Sirisha Bandla's flight to the edge of space on billionaire Sir Richard Branson's Virgin Galactic rocket plane. That's her being lifted upon his shoulders. Bandla is the second woman born in India to go to space after Kalpana Chawla who died when the Columbia Space Shuttle crashed at re-entry in 2003. The rocket flew high above New Mexico in the US before returning to Earth just an hour after leaving the ground.
Twitter is now legally liable for content posted by its users in India after failing to comply with the country's new IT rules. Some of those requirements included appointing a chief compliance officer, a grievance officer, and a contact person to respond to requests from law enforcement 24 hours a day.
And the Milwaukee Bucks are showing signs of life after taking game three of the NBA Finals. Giannis Antetokounmpo led the way scoring 41 points for the Bucks, who are still down 2 games to 1 in the best of 7 series. Stay with Diya TV for post game analysis after each game.
Ravi Kapur contributed to this report.
Shrina Kurani announces CA congressional campaign
SACRAMENTO (Diya TV) — Indian American Democrat Shrina Kurani is running for Congress in California's 42nd district and is preparing to take on 15-year Republican incumbent Ken Calvert. Kurani is a mechanical engineer and entrepreneur and says she's running to create more sustainable jobs in her community and to take on the status quo in Washington DC.
More than 30 interfaith organizations in the U.S. are urging the State Department to sanction India and designate it as a country of "particular concern". 
Their resolution claims that the Indian government
is promoting policies that lead to the persecution of religious minorities, especially Muslims.
Despite growing concern over rising
Covid-19 cases in Japan, the 2021 Tokyo Olympic
opening ceremony got underway. India is sending its largest ever contingent to the Olympics with120 athletes competing across 85 events.  The country hopes to win medals for shooting, wrestling, boxing, archery and badminton.
Ravi Kapur contributed to this report.
Nearly 200,000 'Documented Dreamers' appeal to Congress for help
WASHINGTON DC (Diya TV) — With no clear path to citizenship and facing deportation, younger Indian Americans who have aged out of their parents' visas are now appealing to lawmakers for help. The Migration Policy Institute says about 190,000 kids and young adults will be in this situation once they turn 21 years old. Some of them have now formed a coalition saying it's time to address this ongoing issue.
Electronic signature platform DocuSign appointed Indian American Shanthi Iyer as its new Chief Information Officer. Iyer spent more than 20 years at Cisco and will lead Docusign's efforts to improve employee productivity and the customer experience.
And Indian start-up SimSim has been acquired by Youtube. The company helps small businesses connect with social media influencers and customers. The exact terms of the deal were not disclosed but insiders say the company was valued at more than $70 million.
Ravi Kapur contributed to this report.
Indian photojournalist Danish Siddiqui killed in Afghanistan
KANDAHAR (Diya TV) — Pulitzer Prize-Winning photographer Danish Siddiqui was killed while covering a clash between Afghan security forces and Taliban fighters in Afghanistan. The 38 year old Indian national was Reuters news agency's chief photographer in India. Siddiqui was credited for capturing some of the most powerful images during the Covid-19 pandemic.
17-year-old Indian-American Samir Banerjee clinched the junior Wimbledon singles tennis title. Celebrating Samir's achievement, many Indians took to social media to congratulate the youngster.
Jeff Bezos blasted off into space Tuesday on his Blue Origin rocket ship. It was the company's first flight with people on board. Bezos is now the second billionaire in just over a week to ride his own spacecraft. The Amazon founder was accompanied by his brother, an 18-year-old from the Netherlands and an 82-year-old aviation pioneer from Texas — the youngest and oldest to ever fly in space.
Ravi Kapur contributed to this report.