Richard Branson, Sirisha Badla man historic space flight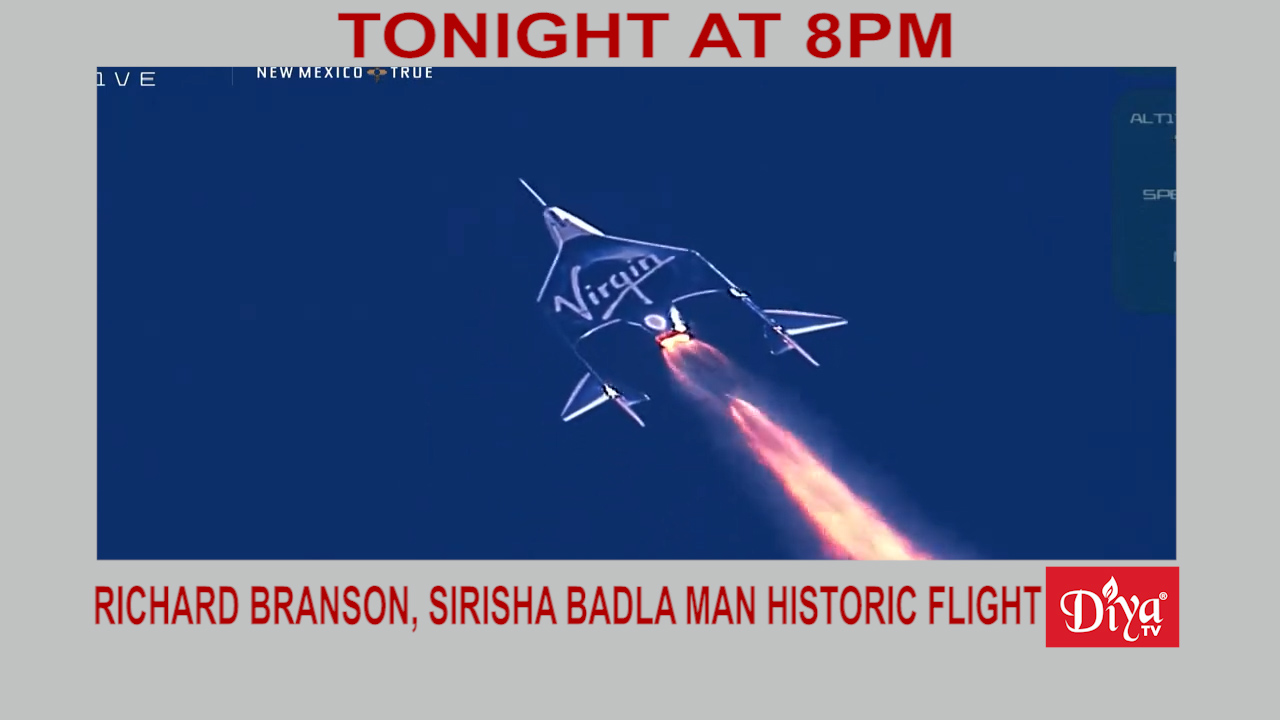 TRUTH OR CONSEQUENCES, New Mexico (Diya TV) — Indians are celebrating Sirisha Bandla's flight to the edge of space on billionaire Sir Richard Branson's Virgin Galactic rocket plane. That's her being lifted upon his shoulders. Bandla is the second woman born in India to go to space after Kalpana Chawla who died when the Columbia Space Shuttle crashed at re-entry in 2003. The rocket flew high above New Mexico in the US before returning to Earth just an hour after leaving the ground.
Twitter is now legally liable for content posted by its users in India after failing to comply with the country's new IT rules. Some of those requirements included appointing a chief compliance officer, a grievance officer, and a contact person to respond to requests from law enforcement 24 hours a day.
And the Milwaukee Bucks are showing signs of life after taking game three of the NBA Finals. Giannis Antetokounmpo led the way scoring 41 points for the Bucks, who are still down 2 games to 1 in the best of 7 series. Stay with Diya TV for post game analysis after each game.
Ravi Kapur contributed to this report.
Modi to face protests on visit to DC, NY
NEW DELHI (Diya TV) — India's Ministry of External Affairs called out Pakistan backed groups threatening to give Prime Minister Narendra Modi "sleepless nights" during his visit to the U.S. next week. The group Sikhs for Justice has planned protests from Washington to New York as the PM visits the U.S. for the first time under the Biden administration.
18 year old Nidhi Rana and 21 year old  Ayush Rana were together when their car began floating toward a spot where the water flows underground toward the river. A massive search was soon launched for the pair and continued for several days.
Vibhav Mittal is now the first Indian American judge on the Superior Court of  Orange County California.  During his ten years as a federal prosecutor, Judge Mittal tried 13 criminal trials to verdict.
Ravi Kapur contributed to this report.
Hudson: 55 Kashmiri & Khalistani groups operate in the US
WASHINGTON DC (Diya TV) — The Hudson Institute assembled experts to evaluate fifty-five Kashmiri and Khalistani groups operating within the US. The institute is now recommending a deep dive into the possibility that these groups received funding, support and military training from Pakistan along with terrorist groups in India.
Top American lawmakers paid tributes as they remembered Sikh American Balbir Singh Sodhi, who was the first victim of a hate crime following the 9/11 terror attacks. He was murdered outside the Arizona gas station he owned, by a man who said he wanted to "go out and shoot some towel-heads. "
Compass Digital Acquisition filed for a $200 million IPO. The technology-focused SPAC is targeting software and services companies. Compass is led by Chairman and CEO Abid Neemuchwala, former CEO of IT services firm Wipro.
US to reassess Pakistan relationship
Meanwhile the U.S. House of Representatives Rules Committee will meet to review several amendments supported by the Hindu American Foundation that could punish Pakistan for its alleged ties to terrorism.
California Governor Gavin Newsom will keep his job after a recall initiative to remove the Democrat from office failed in the nation's largest state. Newsom was facing a recall drive sparked mainly over accusations that he mishandled his state's response to Covid-19.
Bangalore, India based media technology company Amagi says it's raised another $100 million to expand the company. Amagi provides cloud broadcast and targeted advertising software so customers can monetize their content over broadcast TV and streaming TV platforms.
Ravi Kapur contributed to this report.