Indian American couple dead in apparent murder-suicide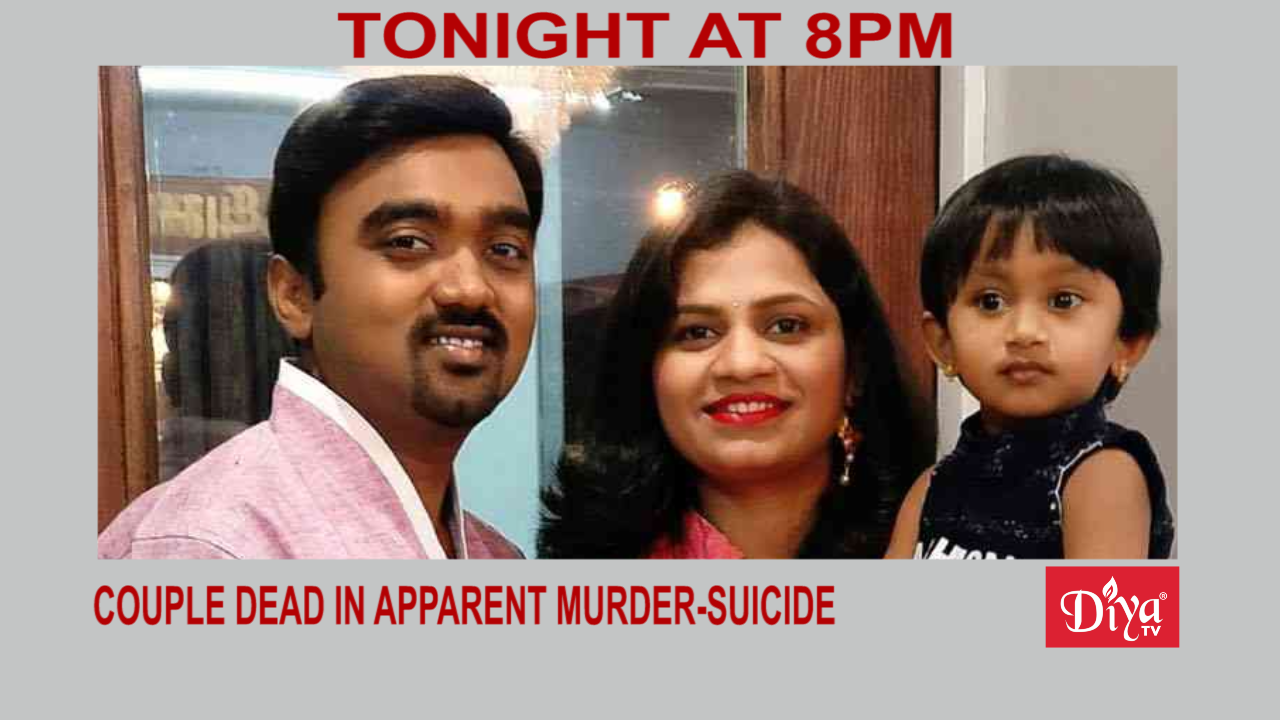 North Arlington, NEW JERSEY (Diya TV) — Authorities in New Jersey are investigating a possible murder-suicide, saying Balaji Rudrawar stabbed his wife Aarti to death. Both were found dead in their home with multiple stab wounds. Their young daughter was found unharmed inside. The motive remains unclear. The man's father told an India-based media outlet his daughter in law was 7 months pregnant.
In Indian waters, a US war ship sailed through India's Exclusive Economic Zone without asking for permission, a violation of that country's law. Both countries remain partners in the region. Sources with the Indian Navy say the move was more about sending a message to China.
As Special Presidential Envoy for Climate John Kerry wraps up his India trip,  he's taking to social media and personally thanking some of the leaders of that region including Prime Minister Narendra Modi of India and now Prime Minister Sheikh Hasina and Foreign Minister Dr. AK Abdul Momen of Bangladesh, saying all the countries involved are committed to address global warming and climate change. Kerry is raising awareness about this issue heading into a climate conference with world leaders later this month. 
Ravi Kapur contributed to this report.
Indian American news anchor Uma Pemmaraju passes away at 64
SAN FRANCISCO (Diya TV) — Groundbreaking Indian American news anchor and journalist Uma Pemmaraju has passed away at the age of 64. She was one of the original members on air at FOX News when the network first launched. She also spent time at Bloomberg covering business. Pemmaraju was a familiar face in local news markets like Boston where she anchored one of the highest rated news shows and won several Emmy awards. Her cause of death is not being reported at this time.
In New York, author Salman Rushdie was attacked on stage as he prepared to give a lecture at Chautauqua Institution. Witnesses say his attacker began punching or stabbing Rushdie. His condition is unknown at this time. The 75 year old's book, "The Satanic Verses" has been banned in Iran since 1988 as many Muslims consider it blasphemous. Iran has put a 3 million dollar bounty on his head.
The US Centers for Disease Control and Prevention says the nation should move away from restrictive measures such as quarantines and social distancing and focus on reducing severe disease from Covid-19. The agency no longer recommends staying at least 6 feet away from other people to reduce the risk of exposure — a shift from guidance that had been in place since the early days of the pandemic.
Ravi Kapur contributed to this report.
US and India to hold military drills near the China-India border
WASHINGTON DC (Diya TV) — The U.S. and India are preparing for mountain top drills near the Chinese border. It's a move that's sure to attract the attention of leaders in Beijing and comes during heightened tension between all the countries, especially after China recently launched missiles over Taiwan in a show of force. Last year's joint high altitude exercise between the U.S. and India was in Alaska.
A top Pakistani militant who had a $3 million U.S. bounty on his head has been killed along with three others in Afghanistan. Abdul Wali, also known as Omar Khalid Khurasani, was killed in an explosion Sunday while traveling by car.
Diya TV was this year's media sponsor at the Indiana India Business Council annual gala. This non-profit remains focused on generating economic growth, and strengthening ties between both countries. 
Ravi Kapur contributed to this report.
Afghan man arrested over murders of four South Asian men in New Mexic
ALBUQUERQUE, N.M. (Diya TV) — The Islamic community is breathing a sigh of relief after one of their own is now under arrest for the murders of four Muslim men. 51 year old Mohamed Syed is denying any involvement in the slayings and will face a judge later this week. Three of the victims are from Pakistan while the other is from Afghanistan. Authorities say Syed knew all the men but the exact motive is unclear at this time. Some outlets are reporting this could be fueled over issues in the Sunni and Shia Muslim community. 
Global outrage continues after the suicide of 30 year old Mandeep Kaur, who left India for New York, searching for a better life. Police say she ended her life after releasing a heart wrenching video, narrating details of torture at the hands of her husband who she claims abused her because she couldn't have a son. Kaur leaves behind two young daughters. Her family in Indian is now trying to take custody of the children.
Women's tennis champ Serena Williams says she is preparing to wind down her stellar career. She has 23 grand slam championships. Williams implied she's trying to play at the US Open and make it her final tournament later this month.
Ravi Kapur contributed to this report.