Biden & Harris issue happy Navratri greetings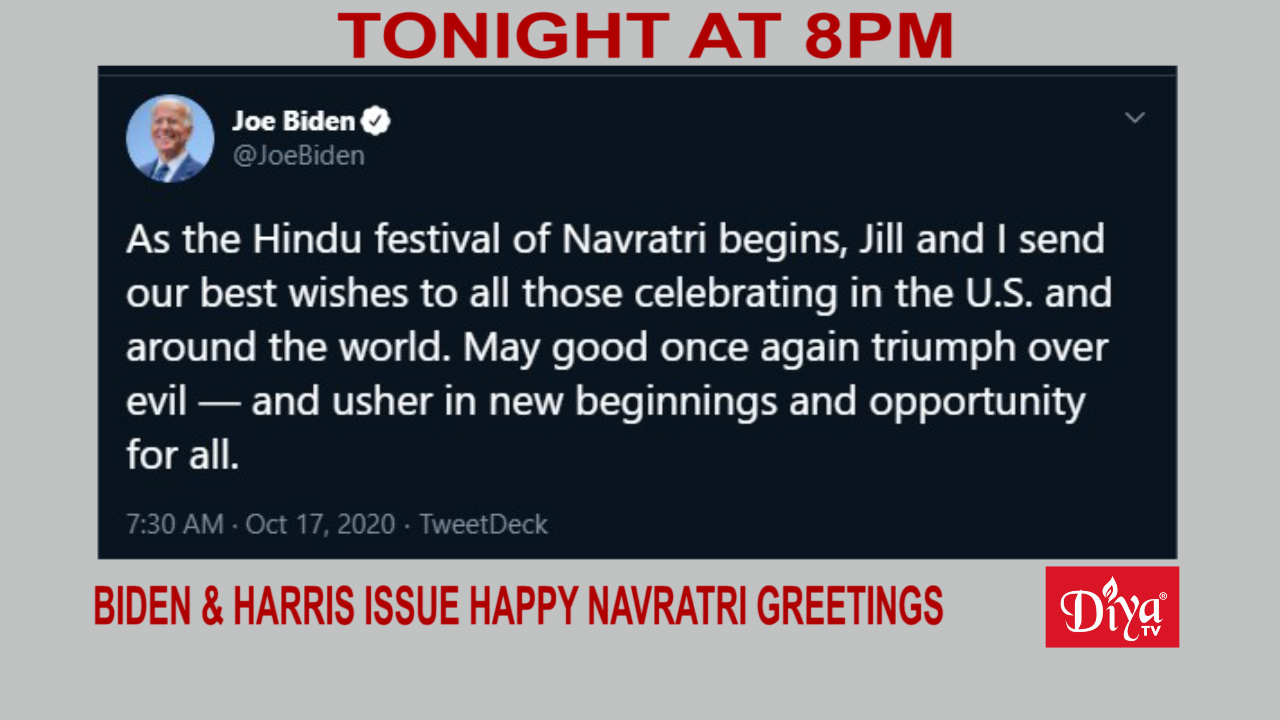 WILMINGTON, Delaware (Diya TV) — Vice President Joe Biden and Senator Kamala Harris continue their efforts to court the Indian diaspora, as each issued Navratri greetings. Biden & his wife Jill sent their best wishes, tweeting "may good once again triumph over evil." And Harris and her husband Doug added "may this holiday serve as an inspiration to…build a more inclusive and just America."
But at the same time, Harris' niece Meena deleted an image she posted of her auntie being depicted as Goddess Durga, which led to a petition asking her to apologize. Meena Harris is a lawyer, entrepreneur and daughter of Kamala Harris' sister, Maya. The image she posted photoshopped Kamala Harris' face onto Hindu Goddess Durga, showing Joe Biden as her lion and President Trump as a demon she slays.
The chances of finding Indian American professor Sam Dubal, who has been missing for nearly two weeks, appear to be waning. Dubal went on a backpacking trip near Mt. Rainier in Washington state and hasn't been seen since. Authorities say cold and snowy weather is hampering their chances of finding the University of Washington professor.
Ravi Kapur contributed to this report.
U.S., India, Japan & Australia complete Malabar exercise
MALABAR ISLANDS, India (Diya TV) — Maritime forces from the U.S., India, Japan and Australia completed Phase II of the exercises dubbed Malabar in the Arabian Sea. The U.S. State Department thanked India in a tweet for hosting the effort by "The Quad" that promotes a free and open Indo-Pacific against a growing Chinese presence in the region.
The state of Michigan officially certified its election, formally granting President-Elect Biden its 16 electoral votes. And while President Trump continues to litigate in the hopes of overturning the outcome of the election, to date, he's lost more than 30 cases. And now the General Services Administration informed the President-Elect he will be able to get the funding and documents needed to start the formal transition in government.
Indian American Mala Adiga was appointed by President-Elect Joe Biden to be the Policy Director for his wife Jill, who will be the First Lady. Adiga is an alum of the Obama administration, as well as the Biden Foundation.
Pakistani American Dr. Umair Shah was appointed by Washington Gov. Jay Inslee to be Washington State's Secretary of Health. Shah currently serves as executive director and local health authority for Harris County Public Health in Texas. 
Ravi Kapur contributed to this report.
Modi thanks troops for thwarting terror plot
JAMMU and KASHMIR, India (Diya TV) — Indian Prime Minister Modi thanked security forces for unraveling a terrorist plot by Pakistan-based Jaish-e-Mohammad. Four men suspected of plotting a new attack on the anniversary of the 26/11 attacks were killed during a gunfight with Indian armed forces at a checkpoint in Jammu. Their truck was loaded with a cache of weapons and explosives. Modi is now reviewing the security apparatus along the international border and the Line of Control with Pakistan amid this infiltration.
Terrorism was a major theme of the annual BRICS summit featuring Brazil, Russia, India, China and South Africa was hosted by Russia virtually. Prime Minister Modi said terrorism is the biggest challenge world is facing today, adding "countries that support the terrorists are held accountable." Russian President Vladmir Putin said India and China may start producing Russia's Sputnik V vaccine against COVID-19.
Donald Trump Jr., President Trump's eldest son, tested positive for coronavirus. His father and his girlfriend Kimberly Guilfoyle and many others in the Trump inner circle have had the virus over the last few months. A spokesman said Trump Jr. learned his diagnosis earlier this week, but has no symptoms and is quarantining in his cabin.
Ravi Kapur contributed to this report.
Senators Warner, Cornyn talk US-India relations to USIBC
WASHINGTON (Diya TV) — China as it relates to the U.S. and India was a central topic of conversation at the USIBC Post-Election Perspectives virtual conference. Democratic Senator Mark Warner, Republican Senator John Cornyn in conversation with former U.S. Ambassador to India Richard Verma both conveyed how India's importance to the U.S. is increasing in terms of security and economic opportunity moving forward. Both Senators were confident bilateral ties between the world's two largest democracies would continue to strengthen under a Biden administration. Cornyn and Warner are co-chairs of the Senate India Caucus.
Elections officials in Georgia called the presidential race for President-elect Joe Biden after a hand recount recertified the results. The vote discrepancy totaled in the hundreds and not thousands needed for President Trump to change the outcome. Biden will be awarded the state's 16 electoral votes. The Trump campaign continues to dispute the outcome and says they will continue to pursue all legal options.
And the Minnesota Timberwolves selected Anthony Edwards #1 overall in the NBA Draft. The Golden State Warriors picked big man James Wiseman #2, but lost NBA champion & sharpshooter Klay Thompson for the year to an Achilles injury
Ravi Kapur contributed to this report.