BREAKING: Supreme Court Justice Ruth Bader Ginsburg dies at 87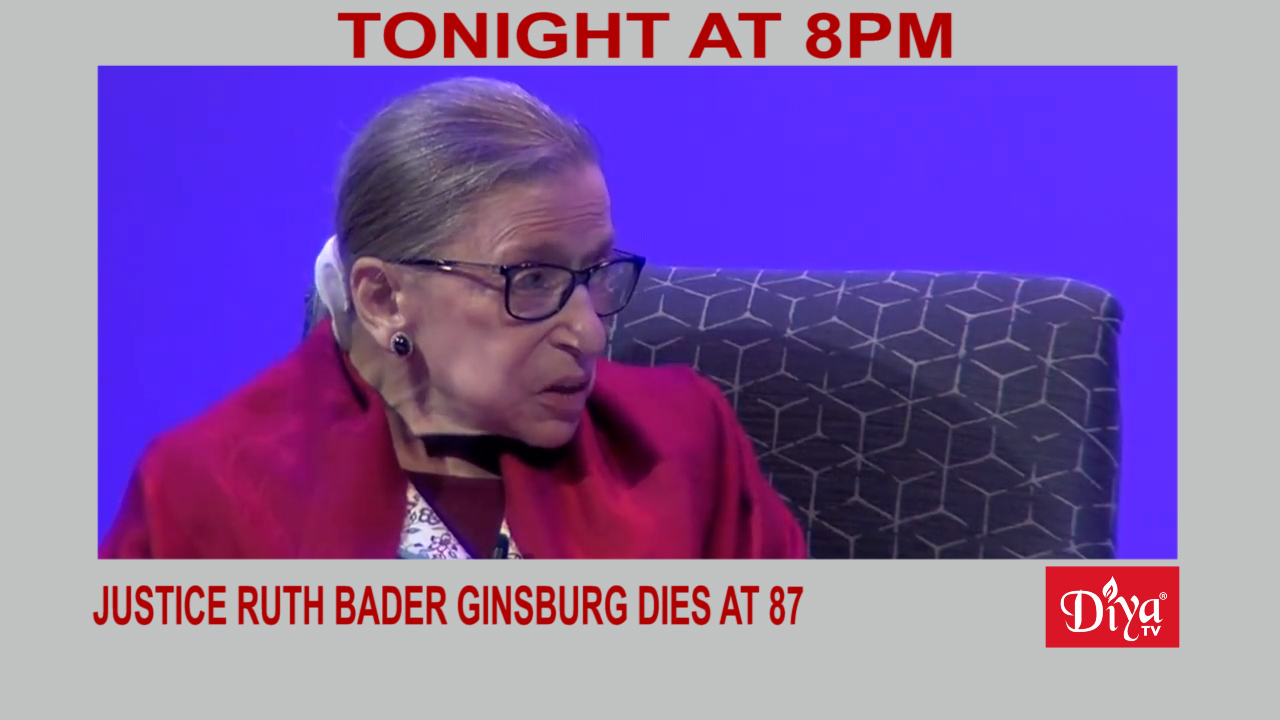 WASHINGTON (Diya TV) — Supreme Court Justice Ruth Bader Ginsburg has died at 87. She was the oldest sitting member of the court. Justice Ginsburg was only the second woman named to the Supreme Court. A cultural and feminist icon, Ginsburg was appointed to the Court by President Bill Clinton, and her passing will set off a showdown in the coming weeks before the November election. In a message left this week as her health waned, Ginsburg said "my most fervent wish is that I will not be replaced until a new president is installed." But Senate Majority Leader Mitch McConnell shortly after Ginsburg's death was announced said the Senate will conduct a vote to replace her and President Trump is expected to put forth a nominee to fill the seat in the coming days.
An Indian American doctor filed a federal lawsuit against the Aurora, Colorado police department after one of their police officers pointed a gun at him on his own property while he was trying to park his car. The incident was captured on video. The officer, Justin Henderson, has been suspended for 40 hours without pay and will be required to attend de-escalation training. 45 year old Dr. Paramjit Parmar, who is known in Aurora for his aid to refugees, believes race affected how he was treated and said Henderson's punishment is "terribly inadequate."
Ravi Kapur contributed to this report.
Biden, Modi meet and with the Quad Leaders' Summit
WASHINGTON DC (Diya TV) — Indian Prime Minister Narendra Modi arrived at the White House for the first in-person Quad Leaders' Summit. PM Modi held a bilateral meeting with US President Joe Biden. PM Modi is on a three-day visit to the United States, his first official visit to the country since Biden took the office. On Thursday, Modi held separate meetings with Vice President Kamala Harris.
President Biden will also nominate Indian American Erik Ramanathan, a longtime political ally and fundraiser to serve as ambassador to Sweden. Ramanathan joins a record 70 plus Indian Americans working in the Biden administration. 
The Houston doctor fired for distributing expiring COVID-19 vaccines instead of throwing them out claims he was punished for giving "the vaccine to too many individuals with 'Indian' sounding names. Dr. Hasan Gokal has sued Harris County Public Health for $1 million, alleging that the agency "demonstrated a pattern of discrimination and hostility against Dr. Gokal based on his South Asian race and Pakistani national origin."
Ravi Kapur contributed to this report.
Harris, Modi meet in-person for the first time
WASHINGTON DC (Diya TV) — Indian Prime Minister Narendra Modi has officially started his U.S. tour and met face to face for the first time with Vice President Kamala Harris. They discussed the importance of a free and open Indo-Pacific region at a time when the U.S. is trying to solidify its pivot toward Asia and strengthen ties with allies to take on China's growing influence in the region. In addition, Modi met with the Prime Minister of Australia and the heads of Adobe, Blackstone, and Qualcomm.
Electric car maker Tesla broke ground on a new production facility in California and will produce the company's large-scale battery system called Megapack. News of the previously unannounced factory was confirmed by Lathrop Mayor Sonny Dhaliwal in a Facebook post that was deleted and re-posted. The Indian American Mayor says "The future of green energy will be produced right here in our community."
Sony Pictures Networks India has agreed to acquire Zee Entertainment. If the deal materializes, it will bring together two of the largest broadcasting giants in India that run large cable television networks, streaming services, music labels, and own scores of other digital assets, to better compete with companies like Netflix and Disney.
Ravi Kapur contributed to this report.
Sachin Gupta to head Timberwolves basketball operations