BREAKING: Supreme Court Justice Ruth Bader Ginsburg dies at 87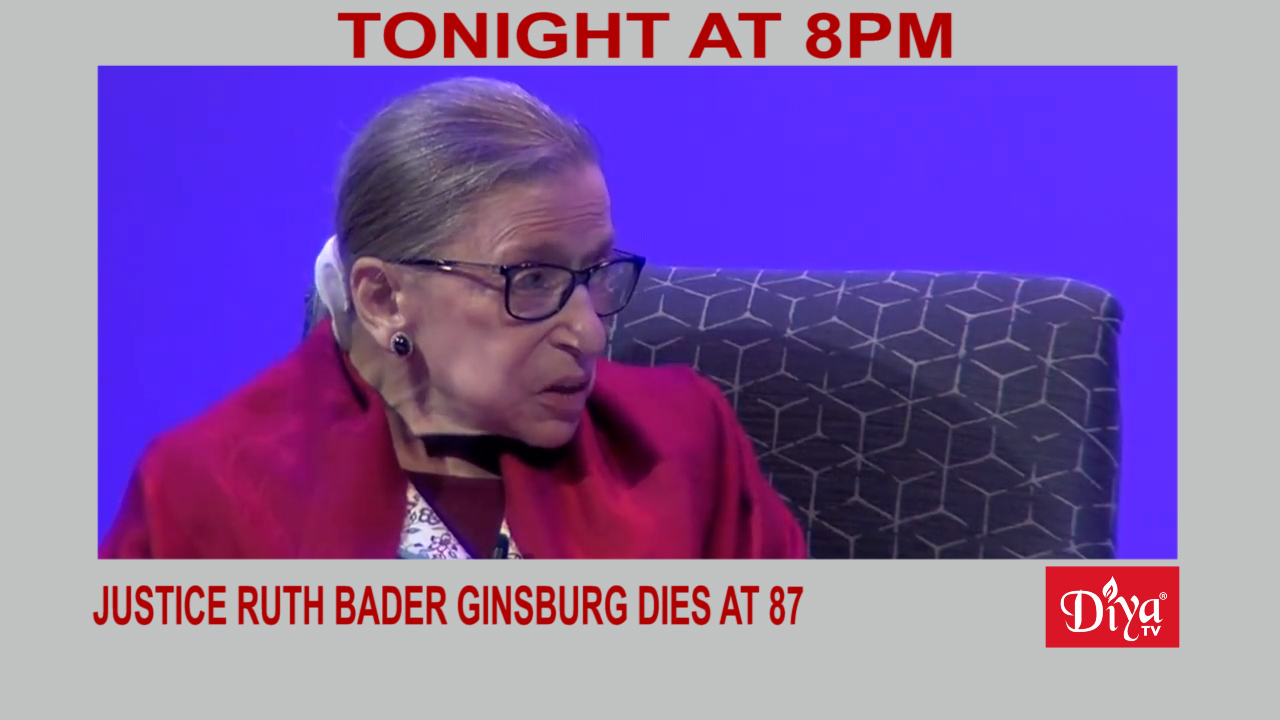 WASHINGTON (Diya TV) — Supreme Court Justice Ruth Bader Ginsburg has died at 87. She was the oldest sitting member of the court. Justice Ginsburg was only the second woman named to the Supreme Court. A cultural and feminist icon, Ginsburg was appointed to the Court by President Bill Clinton, and her passing will set off a showdown in the coming weeks before the November election. In a message left this week as her health waned, Ginsburg said "my most fervent wish is that I will not be replaced until a new president is installed." But Senate Majority Leader Mitch McConnell shortly after Ginsburg's death was announced said the Senate will conduct a vote to replace her and President Trump is expected to put forth a nominee to fill the seat in the coming days.
An Indian American doctor filed a federal lawsuit against the Aurora, Colorado police department after one of their police officers pointed a gun at him on his own property while he was trying to park his car. The incident was captured on video. The officer, Justin Henderson, has been suspended for 40 hours without pay and will be required to attend de-escalation training. 45 year old Dr. Paramjit Parmar, who is known in Aurora for his aid to refugees, believes race affected how he was treated and said Henderson's punishment is "terribly inadequate."
Ravi Kapur contributed to this report.
Puneet Talwar named US Ambassador to Morocco
Indian & Hindu American groups hold DC summit
WASHINGTON DC (Diya TV) – A group of Indian American and Hindu American organizations joined forces to celebrate India's 75th Independence Day and advocate for the diaspora on Capitol Hill, in what is being called an inaugural summit for political engagement. The American Association of Physicians of Indian Origin, the Hindu American Foundation, the Coalition of Hindus of North America and Americans4Hindus, were among the more than one dozen organizations, hosting legislators from both sides of the aisle in a non-partisan effort to discuss issues of concern in the community.
Fans of Indian comedian and actor
Raju Srivastava are mourning his death
. He passed away at the age of 58 after suffering a heart attack last month while running on a treadmill. He had a history of heart problems.
Ravi Kapur contributed to this report.
Sukhpal Singh arrested in Tusli Mandir hate crime case
NEW YORK (Diya TV) – New York police arrested a man for allegedly sledgehammering a statue of Gandhi outside a Queens Hindu Shri Tusli Mandir. Twenty seven year old Sukhpal Singh is charged with criminal mischief and a hate crime for allegedly destroying the statue and defacing it with spray paint outside Tulsi Mandir in Richmond Hill last month. 
India and France agreed to set up an Indo-Pacific partnership to roll out development projects, expand strategic cooperation, and work closer to deal with pressing global challenges such as a food crisis triggered by the Ukraine invasion.
More than a million customers in Puerto Rico are waiting for electricity to come back on after Hurricane Fiona hammers the region. The Dominican Republic is under a hurricane warning as well.
Ravi Kapur contributed to this report.