Eight South Asian candidates run for San Ramon office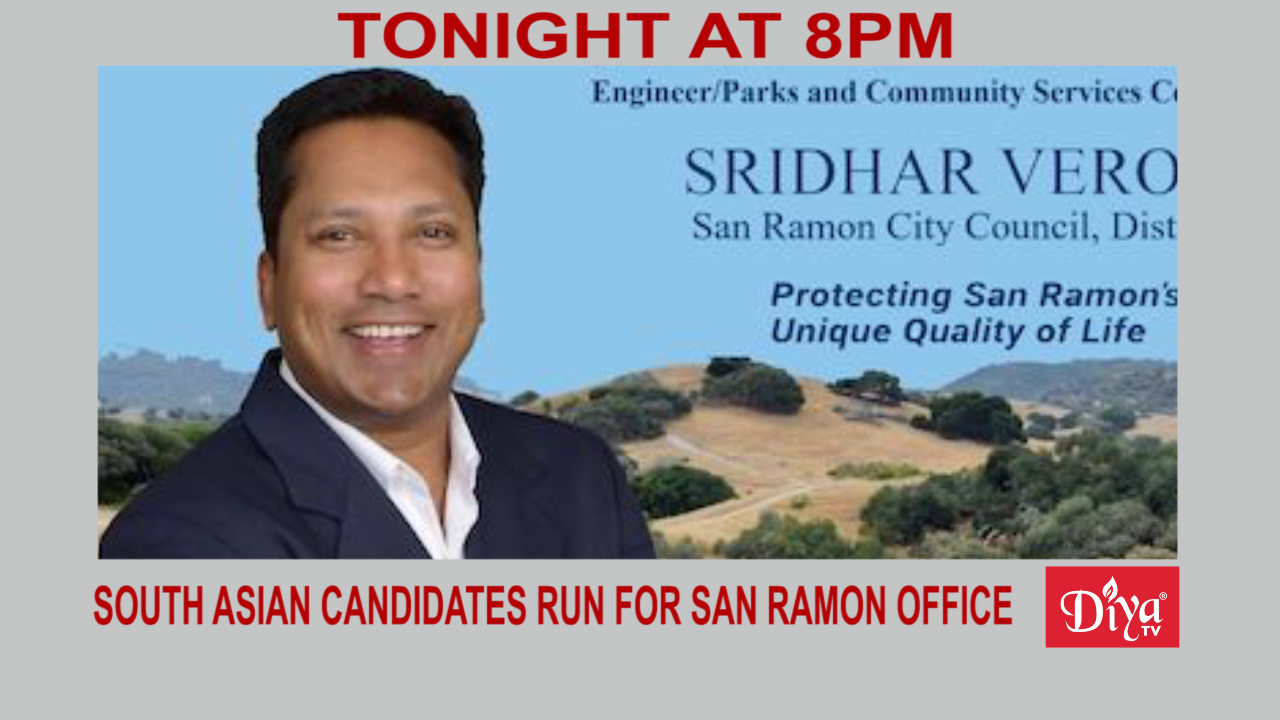 SAN RAMON, California (Diya TV) — We'll introduce you to the eight candidates of South Asian descent running for San Ramon's mayor and city council this year. Located in California's East Bay and renowned for great public schools, San Ramon has seen an explosion in its Indian American population over the last decade. Now community members want to give back and help the city map out its future.
President Trump flew to California to meet with Governor Gavin Newsom and other state officials to discuss the wildfires that have engulfed the state for weeks. Newsom and his team of scientists made it a point to tell Trump climate change is "exacerbating" the wildfires. Toxic air lingers on from California to Washington and new projections indicate the smoke will spread from the Northwest and head to the Midwest.
President Trump announced Indian American Judge Amul Thapar is on shortlist to be named to the Supreme Court if a vacancy happens during his term, joining the likes of Senators Ted Cruz, Josh Hawley and Tom Cotton.
Silicon Valley venture capital fund Sequoia Capital has invested in the most Indian startups that have become unicorns. Sequoia's Indian arm has invested in eight unicorns, including Byju's and Unacademy. SoftBank and Steadview Capital are second with seven unicorns each.
Ravi Kapur contributed to this report.
FTX's Nishad Singh got $543 million loan
More fallout from the FTX cryptocurrency platform collapse. Court documents show its affiliate Alameda Research loaned executives like Sam Bankman Fried $1 billion and more than $500 million to Indian American Nishad Singh, FTX's top engineer. FTX's interim CEO says never in his career has he seen such complete failure of corporate controls and a complete absence of trustworthy financial information. The company filed for Chapter 11 bankruptcy after it was unable to come up with customer funds.
Elizabeth Holmes was sentenced to more than 11 years in prison after her conviction in January for defrauding investors while running the failed blood testing start up Theranos.In her trial, Holmes alleged she was in the midst of a decade-long abusive relationship with her then-boyfriend and Theranos COO Ramesh "Sunny" Balwani. The Indian American was also found guilty for his role in this fraud and will be sentenced later.
Starting next month, India will assume the G20 presidency for a year and chair more than 200 meetings, leading the way for global economic growth. Prime Minister Narendra Modi said his country's leadership here will be inclusive, ambitious, and decisive.
Ravi Kapur contributed to this report.
Arvind Venkat & Tarik Khan win Pennsylvania State seats
WASHINGTON D.C. (Diya TV) – Looking back at the midterm elections, Arvind Venkat and Tarik Khan made history as the first South Asian Americans elected to the Pennsylvania State Legislature. Advocacy group Indian American Impact played a major role on the ground, saying it trained and mobilized 200 volunteers to go door-to-door, to engage voters and provide info they needed to elect new leadership.
After 35 years, the Nancy Pelosi era is officially coming to an end. The speaker from San Francisco announced she's bowing out of leadership, but will retain her House seat. The midterms cost Pelosi's Democratic party the House and effectively ended her speakership.
Two former Indian American executives at Meta Platforms will launch a new non fungible token start up for creators. Kirthiga Reddy and Saurabh Doshi have raised more than $8 million for their new company called Virtualness. But they are facing headwinds as the FTX cryptocurrency exchange collapse is putting pressure on the entire industry.
Ravi Kapur contributed to this report.
Meet FTX insider Nishad Singh
SAN FRANCISCO (Diya TV) – The controversy around failed cryptocurrency exchange FTX continues to captivate the world. Part of the scrutiny is now on the people involved, including Indian American Nishad Singh. According to new reports, this techie was part of FTX's inner circle, which lived together and ran the cryptocurrency empire from the Bahamas. The software engineer was also reportedly aware that FTX secretly transferred customer funds worth billions of dollars to its sister firm Alameda Research. Currently, no one is facing any criminal charges. Diya TV featured Singh more than a decade ago for running ultra marathons as a 17 year old getting ready for college.
Former President Donald Trump has officially announced he is running for president in 2024, marking his third bid for the White House. Trump had been hinting at this announcement for months, as the embattled former president faces multiple criminal and civil litigations and as his party is grappling with a worse than expected showing in the midterm elections.
At the G20 Summit in Bali, world leaders including Indian Prime Minister Narendra Modi and U.S. President Joe Biden are coming together to condemn the rising threat of nuclear weapons as Russia's war against Ukraine continues to raise tension and anxiety around the world.
Ravi Kapur contributed to this report.