Eight South Asian candidates run for San Ramon office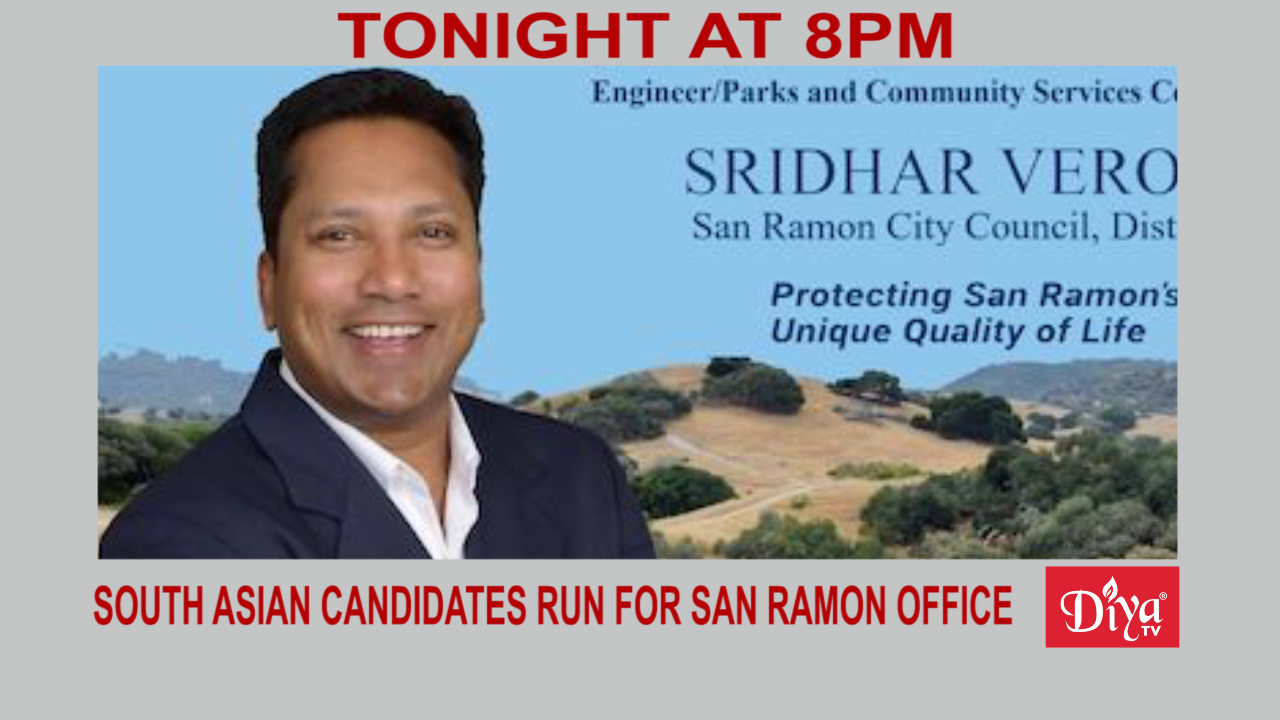 SAN RAMON, California (Diya TV) — We'll introduce you to the eight candidates of South Asian descent running for San Ramon's mayor and city council this year. Located in California's East Bay and renowned for great public schools, San Ramon has seen an explosion in its Indian American population over the last decade. Now community members want to give back and help the city map out its future.
President Trump flew to California to meet with Governor Gavin Newsom and other state officials to discuss the wildfires that have engulfed the state for weeks. Newsom and his team of scientists made it a point to tell Trump climate change is "exacerbating" the wildfires. Toxic air lingers on from California to Washington and new projections indicate the smoke will spread from the Northwest and head to the Midwest.
President Trump announced Indian American Judge Amul Thapar is on shortlist to be named to the Supreme Court if a vacancy happens during his term, joining the likes of Senators Ted Cruz, Josh Hawley and Tom Cotton.
Silicon Valley venture capital fund Sequoia Capital has invested in the most Indian startups that have become unicorns. Sequoia's Indian arm has invested in eight unicorns, including Byju's and Unacademy. SoftBank and Steadview Capital are second with seven unicorns each.
Ravi Kapur contributed to this report.
20 dead, many injured in Pakistan bus crash
SANTA CLARA, Calif. (Diya TV) — A bus crammed with pilgrims coming back from a Muslim religious festival crashed in southwest Pakistan, killing at least 20 people and leaving dozens of others injured. Officials say the bus was overloaded and passengers were even traveling on the roof of the bus. The death toll is expected to increase. 
Police say man accused of killing four members of a Pakistani Canadian Muslim family targeted them for their Islamic faith. 20-year-old Nathaniel Veltman is facing several murder charges for allegedly running them over in his pickup truck. Investigators say there is evidence this was premeditated and motived by hate.
Vice President Kamala Harris walked in the Capital Pride Walk and Rally in Washington, D.C., over the weekend, making history as the first sitting vice president to march in a Pride event.
The Biden-Harris administration has brought LGBTQ issues to the forefront of its agenda. One of the president's first executive orders called for an end to discrimination on the basis of gender identity or sexual orientation.
Ravi Kapur contributed to this report.
One in two Indian Americans have encountered racism
WASHINGTON DC (Diya TV) — According to a new study, Fifty percent of Indian Americans say they have encountered racism in the U.S. in the past year. Discrimination against darker-skinned people is the most common form of bias encountered and the main perpetrators are non-Indians. The study also shows Indian Americans are the second largest immigrant group in the US with more than 4 million living in the country.
Judge Zahid Quraishi has been confirmed by the US Senate, becoming the first Muslim American federal judge. Quraishi, who is of Pakistani descent, was serving as a magistrate judge for the U.S. District Court of New Jersey.
Former Federal prosecutor Preet Bharara's dinner with an author who once despised Indian food is getting a lot of likes on the internet. On twitter, Tom Nichols is finally admitting his palate is expanding and he wants more Lamb Biryani. Bharara responded on social media by saying Nichols is still getting used to the butter chicken.
Ravi Kapur contributed to this report.
Senate holds up OPM nominee Ahuja's appointment
WASHINGTON DC (Diya TV) — Senate Republicans are holding up Kiran Ahuja's nomination to lead the Office of Personnel Management over concerns about her stance on critical race theory. GOP Senator. Josh Hawley and others in his party are concerned the Indian American would bring race-based training sessions to the entire federal government. Critical race theory recognizes that systemic racism is part of American society and challenges the beliefs that allow it to flourish.
Nishant Joshi is now Alameda California's new police chief. He's the first U.S.-born Indian American top cop in that state. Joshi says his parents wanted him to be a doctor or lawyer, but policing fascinated him. The Chief is married to a black woman and is a father to bi-racial children, which is why he says he wants to work on reforms to combat over-policing in communities of color.
El Salvador approved a bill that will eventually allow Bitcoin to be used as legal tender for many aspects of daily life, from property purchases to tax contributions. But the International monetary fund is warning about potential risks, especially volatility to the fragile economy.
Ravi Kapur contributed to this report.