Germany adopts Indo-Pacific strategy, priority of foreign policy
BERLIN (Diya TV) — Germany formally adopted an Indo-Pacific strategy, becoming the second EU nation after France to make such an initiative a priority of foreign policy. In a statement, Foreign Minister Heiko Maas said "The political West also lies in the East. We are sending a clear message today: the Indo-Pacific region is a priority of German foreign policy. 
Today's cabinet decision sets the course for our future relations with that part of the world. Our aim is to strengthen our relations with this important region and to expand our cooperation in the areas of multilateralism, climate change mitigation, human rights, rules-based free trade, connectivity, the digital transformation and, in particular, security policy.
The Himalayas and the Malacca Strait may seem a long way away. But our prosperity and our geopolitical influence in the coming decades will depend not least on how we work together with the countries of the Indo-Pacific region. That, more than anywhere else, is where the shape of the international order of tomorrow will be decided.
We want to help shape that order – so that it is based on rules and international cooperation, not on the law of the strong. That is why we have intensified cooperation with those countries that share our democratic and liberal values. In so doing, we are strengthening the idea of a multipolar world in which no country has to decide between poles of power. We are watching with concern the arms race in the region, as well as latent conflicts which would have global repercussions were they to erupt.
Stability in the region is of vital importance to us in economic terms, too: we are a trading nation, and as such our prosperity depends directly on freedom of trade and of shipping routes, many of which pass through the Indo-Pacific region.
The Indo-Pacific region is important to us! Not only as Germans, but as Europeans. That is why we are working with our EU partners, particularly France, to draw up a European Indo-Pacific strategy oriented to our principles and values. Europe can assert its interests and values only if we stand united."
A federal appeals court ruled the National Security Agency program that tracked details on billions of phone calls around the country was illegal and likely unconstitutional.
Edward Snowden, the whistleblower of the program that continues to live in exile, said in response to the decision "I never imagined that I would live to see our courts condemn the NSA's activities as unlawful and in the same ruling credit me for exposing them."
A study led by Indian-American researchers warns even people wearing face shields along with masks with exhalation valves are not necessarily safe and can still get the coronavirus.
Ravi Kapur contributed to this report.
BREAKING: Supreme Court Justice Ruth Bader Ginsburg dies at 87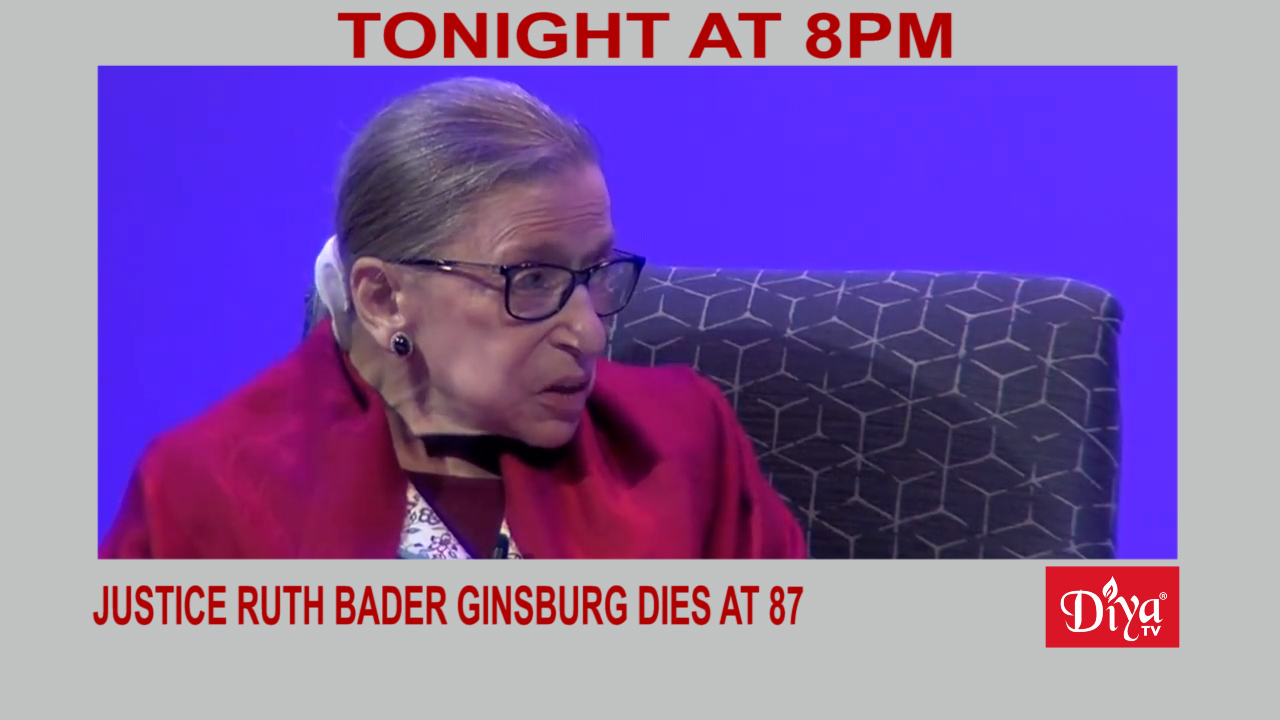 WASHINGTON (Diya TV) — Supreme Court Justice Ruth Bader Ginsburg has died at 87. She was the oldest sitting member of the court. Justice Ginsburg was only the second woman named to the Supreme Court. A cultural and feminist icon, Ginsburg was appointed to the Court by President Bill Clinton, and her passing will set off a showdown in the coming weeks before the November election. In a message left this week as her health waned, Ginsburg said "my most fervent wish is that I will not be replaced until a new president is installed." But Senate Majority Leader Mitch McConnell shortly after Ginsburg's death was announced said the Senate will conduct a vote to replace her and President Trump is expected to put forth a nominee to fill the seat in the coming days.
An Indian American doctor filed a federal lawsuit against the Aurora, Colorado police department after one of their police officers pointed a gun at him on his own property while he was trying to park his car. The incident was captured on video. The officer, Justin Henderson, has been suspended for 40 hours without pay and will be required to attend de-escalation training. 45 year old Dr. Paramjit Parmar, who is known in Aurora for his aid to refugees, believes race affected how he was treated and said Henderson's punishment is "terribly inadequate."
Ravi Kapur contributed to this report.
Recall efforts against Kshama Sawant moves forward
SEATTLE (Diya TV) — The recall effort against Seattle City Councilwoman Kshama Sawant can move forward after a ruling by a King County judge. Superior Court Judge Jim Rogers said four of the six accusations against Sawant are legitimate. They include misuse of city resources, misuse of her position by letting protesters into City Hall, relinquishing her duties of office to an outside political organization and leading a protest to Seattle Mayor Jenny Durkan's house despite her address being protected due to threats from her time as a U.S. Attorney. 
Now, the group of residents leading the recall must get about 11,000 valid signatures before the recall gets on the ballot. Sawant in response said this battle is just the latest attempt by corporate interests and Mayor Durkan to derail her efforts to reform the city and announced she will lead a grassroots campaign to fight the charges.
Meanwhile, Seattle Mayor Jenny Durkan is facing heat as well from U.S. Attorney General William Barr, who suggested prosecutors consider filing charges against her over the mass protests this summer that led some protesters to establish a police-free zone in downtown Seattle. In a tweet, former U.S. Attorney Preet Bharara offered his help to Durkan pro-bono.
Indian Prime Minister Modi turned 70 years old and received birthday wishes from around the globe, including from President Trump, who called Modi "a great leader and loyal friend."
Ravi Kapur contributed to this report.
Indiaspora & AAPI data survey Indian American voters
SAN FRANCISCO (Diya TV) — At a virtual event featuring the former CEO of the Democratic National Committee, Seema Nanda, Democratic Congressman Raja Krishnamoorthi and Republican Ohio State Representative Niraj Antani, non-profit Indiaspora teamed up with AAPI Data to reveal the growing political power of the Indian American diaspora. The joint report says 66% of Indian Americans currently favor Vice President Biden, and 28% favor President Trump. The study shows an enormous rise in political engagement from the community. There are 1.8 million Indian Americans in the U.S. who are eligible voters and both sides of the aisle recognize the need to further engage Indian Americans, who AAPI Data notes is now the largest part of the Asian American community, surpassing Chinese Americans.
Eric Trump, President Trump's son, took part in an Indian Voices for Trump event in suburban Atlanta. It was an indoor rally with appropriate social distancing measures in place. Trump was on hand to win support from the community in a vital state that will be tightly contested this fall. Georgia, like North Carolina, Pennsylvania, Florida, Michigan and Texas are considered in play and have growing Indian American populations.
Ravi Kapur contributed to this report.