Modi leads prayer at groundbreaking of Ram Mandir in Ayodhya
WASHINGTON (Diya TV) — Indian Prime Minister Modi traveled to Ayodhya to be part of the prayer service and groundbreaking of the Ram Mandir. It's a significant victory for Modi and the majority BJP government, who ran on a platform to return a Hindu temple to this historic site, where a Muslim mosque also once stood. With both venues destroyed, India's Supreme Court ruled late last year a Hindu temple would be allowed to be built on this specific land, with a Muslim mosque to be built nearby.
Meanwhile, in New York's Times Square, hundreds of Ram Mandir supporters chanted "SitaRam" to celebrate the start of construction, while billboards with the image of the mandir and Ram were shown above. Down the street from the celebration in Times Square, hundreds of protesters yelled "shame," claiming India's government was anti-Muslim and fascist.
Rep. Carolyn Maloney, who has been in Congress representing a New York City district since 1993, declared victory in the Democratic primary over Suraj Patel. But Patel is not conceding yet. In a lawsuit he filed against the Board of Elections, a judge has ordered more ballots be counted since a number of mail-in ballots were deemed late. In response, Maloney's team says her lead was at 3,762 votes, with only about 1,200 absentee ballots thrown out due to postmark problems. So it does not appear Patel has a path to victory.
Ravi Kapur contributed to this report.
Indian American couple dead in apparent murder-suicide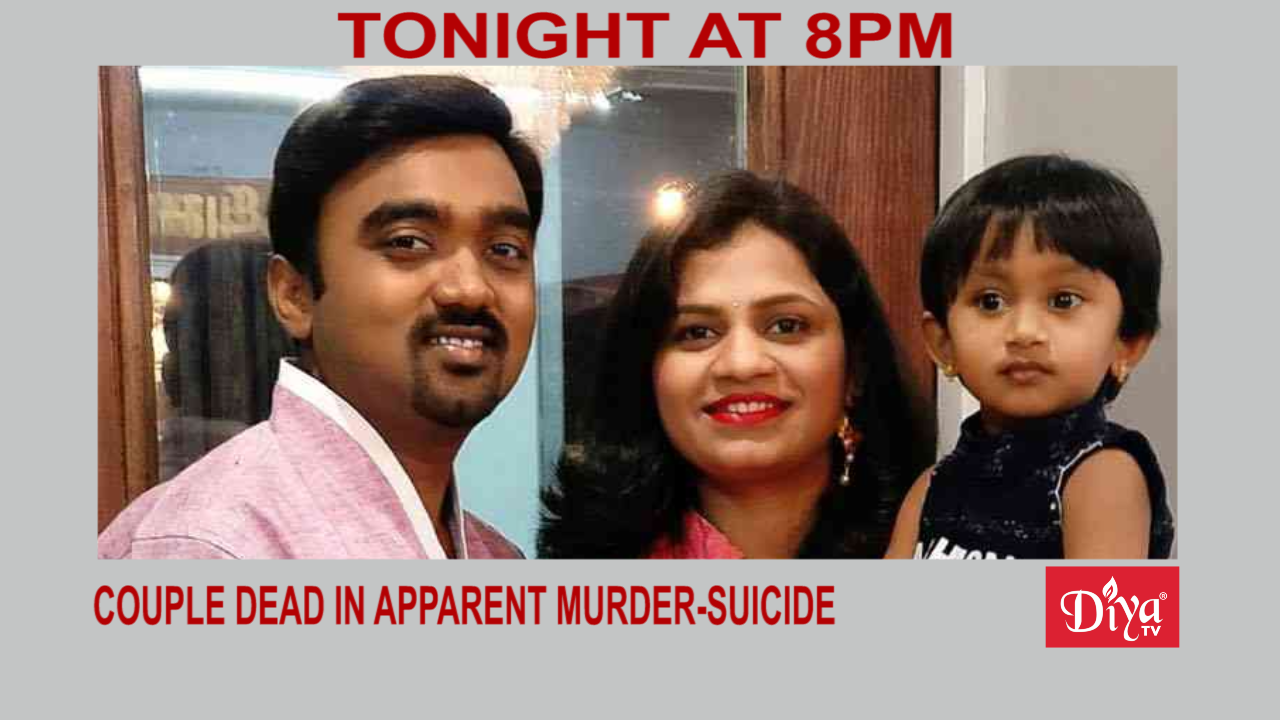 North Arlington, NEW JERSEY (Diya TV) — Authorities in New Jersey are investigating a possible murder-suicide, saying Balaji Rudrawar stabbed his wife Aarti to death. Both were found dead in their home with multiple stab wounds. Their young daughter was found unharmed inside. The motive remains unclear. The man's father told an India-based media outlet his daughter in law was 7 months pregnant.
In Indian waters, a US war ship sailed through India's Exclusive Economic Zone without asking for permission, a violation of that country's law. Both countries remain partners in the region. Sources with the Indian Navy say the move was more about sending a message to China.
As Special Presidential Envoy for Climate John Kerry wraps up his India trip,  he's taking to social media and personally thanking some of the leaders of that region including Prime Minister Narendra Modi of India and now Prime Minister Sheikh Hasina and Foreign Minister Dr. AK Abdul Momen of Bangladesh, saying all the countries involved are committed to address global warming and climate change. Kerry is raising awareness about this issue heading into a climate conference with world leaders later this month. 
Ravi Kapur contributed to this report.
Muslim advocates sue Facebook over not removing anti-Muslim hate speech
MENLO PARK, Calif. (Diya TV) — Frustrated with what it sees as a lack of progress, a group called Muslim advocates, along with law firm Gupta Wessler, is suing Facebook, claiming the social media giant does not consistently remove all hate speech, especially language that targets followers of Islam.  The group is calling out top executives like Mark Zuckerberg and Sheryl Sandberg, demanding the social network start taking anti-Muslim activity more seriously. A Facebook spokesperson says it regularly uses artificial intelligence to remove posts that violate its policies.
"Hugs are back." That's what US Surgeon General Vivek Murthy is saying after seeing an increase in Covid-19 vaccinations all across the nation. Murthy says more and more Americans are becoming comfortable getting vaccinated. And by April 19th, all adults will be eligible for the vaccine. The Indian American doctor says this trend is encouraging, but also says there is still lots of work that needs to be done about battling disinformation.
And a big blow to Indian filmmakers.  The Federal government is cutting the Film Certification Appellate Tribunal, which allowed filmmakers to appeal decisions made by the censors, which has the power and authority to ban certain movies for inappropriate content.  Instead, they will now have to go to lawyer up and go straight to court and fight if they disagree.
Ravi Kapur contributed to this report.
Hate crime charges demanded against Oxford professor
SAN FRANCISCO (Diya TV) — More than 100 Hindu and Indian organizations are calling on British Prime Minister Boris Johnson to crack down on hate speech at the University of Oxford. Professor Abhijit Sarkar is accused of targeting a female Indian student because of her Hindu beliefs and forcing her to leave the school. The coalition is demanding Sarkar's firing and also wants him to be charged with a hate crime.
In Seattle Washington, tenants facing eviction will now have free access to lawyers if they cannot afford to pay for services on their own.  Controversial Indian American City council member Kshama Sawant is behind this new legislation.  She says without this law, tenants would face a tsunami of evictions once the rent moratorium expires.
And Amazon delivery drivers in India are going on a 24 hour nationwide strike. after the company slashed how much they can earn per package. Organizers say demonstrations will take place in a number of cities across the country, including Hyderabad, Bangalore, and Delhi, making it the first nationwide protest against the e-commerce giant in India.
Ravi Kapur contributed to this report.