As critics fume, Modi says India was not breached by China
NEW DELHI (Diya TV) — During an all-party political leaders meeting, Indian Prime Minister Modi told the group China did not breach Indian territory in Ladakh, nor was any Indian Army border post captured. Modi emphasized India will protect Galwan Valley, the region where the clash killing 20 Indian soldiers and a reported 43 Chinese soldiers took place. But Modi's critics say the situation was an intelligence failure and many want Modi to strike back with force. Meanwhile, in a statement, the Chinese Government pinned the conflict on India and is laying claim to the entire valley region.
India was elected as a Non-Permanent Member of the United Nations Security Council for a 2-year term starting next year, receiving 184 out of 192 valid votes.
And in a wild Friday night surprise, the Justice Department said Geoffrey Berman, U.S. Attorney for the Southern District of New York would be stepping down, to be replaced by Jay Clayton, the current Chairman of the Securities and Exchange Commission. But in a statement, Berman said he's not leaving until Congress confirms someone & his investigations, including into folks allied with President Trump, will continue.
Ravi Kapur contributed to this report.
Recall efforts against Kshama Sawant moves forward
SEATTLE (Diya TV) — The recall effort against Seattle City Councilwoman Kshama Sawant can move forward after a ruling by a King County judge. Superior Court Judge Jim Rogers said four of the six accusations against Sawant are legitimate. They include misuse of city resources, misuse of her position by letting protesters into City Hall, relinquishing her duties of office to an outside political organization and leading a protest to Seattle Mayor Jenny Durkan's house despite her address being protected due to threats from her time as a U.S. Attorney. 
Now, the group of residents leading the recall must get about 11,000 valid signatures before the recall gets on the ballot. Sawant in response said this battle is just the latest attempt by corporate interests and Mayor Durkan to derail her efforts to reform the city and announced she will lead a grassroots campaign to fight the charges.
Meanwhile, Seattle Mayor Jenny Durkan is facing heat as well from U.S. Attorney General William Barr, who suggested prosecutors consider filing charges against her over the mass protests this summer that led some protesters to establish a police-free zone in downtown Seattle. In a tweet, former U.S. Attorney Preet Bharara offered his help to Durkan pro-bono.
Indian Prime Minister Modi turned 70 years old and received birthday wishes from around the globe, including from President Trump, who called Modi "a great leader and loyal friend."
Ravi Kapur contributed to this report.
Indiaspora & AAPI data survey Indian American voters
SAN FRANCISCO (Diya TV) — At a virtual event featuring the former CEO of the Democratic National Committee, Seema Nanda, Democratic Congressman Raja Krishnamoorthi and Republican Ohio State Representative Niraj Antani, non-profit Indiaspora teamed up with AAPI Data to reveal the growing political power of the Indian American diaspora. The joint report says 66% of Indian Americans currently favor Vice President Biden, and 28% favor President Trump. The study shows an enormous rise in political engagement from the community. There are 1.8 million Indian Americans in the U.S. who are eligible voters and both sides of the aisle recognize the need to further engage Indian Americans, who AAPI Data notes is now the largest part of the Asian American community, surpassing Chinese Americans.
Eric Trump, President Trump's son, took part in an Indian Voices for Trump event in suburban Atlanta. It was an indoor rally with appropriate social distancing measures in place. Trump was on hand to win support from the community in a vital state that will be tightly contested this fall. Georgia, like North Carolina, Pennsylvania, Florida, Michigan and Texas are considered in play and have growing Indian American populations.
Ravi Kapur contributed to this report.
Eight South Asian candidates run for San Ramon office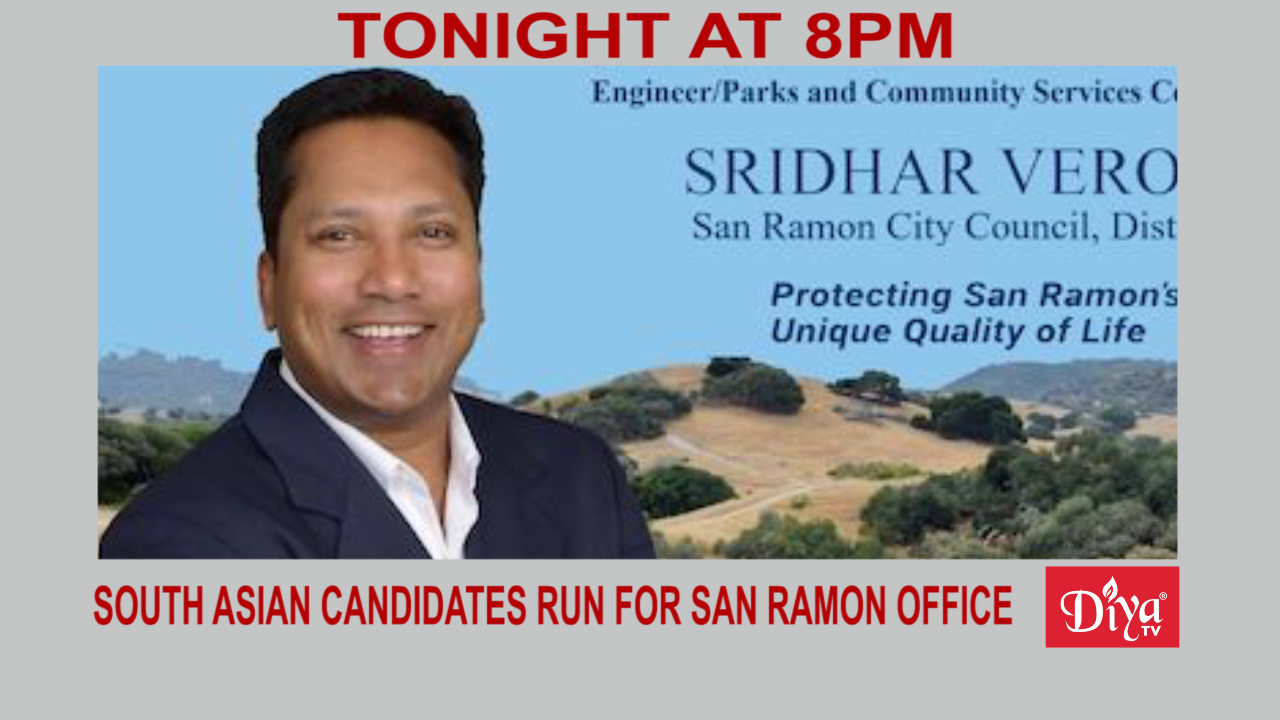 SAN RAMON, California (Diya TV) — We'll introduce you to the eight candidates of South Asian descent running for San Ramon's mayor and city council this year. Located in California's East Bay and renowned for great public schools, San Ramon has seen an explosion in its Indian American population over the last decade. Now community members want to give back and help the city map out its future.
President Trump flew to California to meet with Governor Gavin Newsom and other state officials to discuss the wildfires that have engulfed the state for weeks. Newsom and his team of scientists made it a point to tell Trump climate change is "exacerbating" the wildfires. Toxic air lingers on from California to Washington and new projections indicate the smoke will spread from the Northwest and head to the Midwest.
President Trump announced Indian American Judge Amul Thapar is on shortlist to be named to the Supreme Court if a vacancy happens during his term, joining the likes of Senators Ted Cruz, Josh Hawley and Tom Cotton.
Silicon Valley venture capital fund Sequoia Capital has invested in the most Indian startups that have become unicorns. Sequoia's Indian arm has invested in eight unicorns, including Byju's and Unacademy. SoftBank and Steadview Capital are second with seven unicorns each.
Ravi Kapur contributed to this report.