Dharma demands us to fight for racial justice
An open letter from Suhag Shukla, the Executive Director of Hindu American Foundation
My Fellow Hindu Americans,
As I write to you, the National Guard and local police are just 50 feet away from my home arresting young protestors who blocked a highway.
On Saturday, our family joined peaceful protests in downtown Philadelphia, where people of all shades and ages marched together in solidarity, chanting for racial justice, opposing oppressive policing, and insisting upon the equal worth of Black lives.
Then on Sunday, we joined city denizens to help clean up the aftermath of riots carried out by a small subset of people in our downtown shopping district, as local business owners looked on with disbelief at a situation that they couldn't have imagined getting any worse after two and a half months of the COVID-19 shutdown.
Our nation is dealing with a deadly global pandemic that has stolen over 100,000 lives in America in a matter of months. But the murder of George Floyd has brought into stark reality that we can no longer ignore our duty to cure the chronic disease of racism and police brutality — not just George Floyd, but so too Ahmaud Arbery, Breonna Taylor, Dreasjon "Sean" Reed, and the countless innocent lives stolen before them.
Reflecting on all the violence — from the systemic to the organic and from that which emerges from understandable frustration to that which is fueled by ulterior motives — I am reminded that the ideals of ahimsa (compassion and non-harming), satya (truth), viveka (discernment), and dharma (selflessness and righteousness) are more urgent than ever before. Violent reaction to police brutality will only continue a cycle of destruction that will leave all of us blind and postpone the very change that is being demanded today.
Our system is broken. And we can fix it only by coming together as engaged and thoughtful Americans, lending our voices to those suffering, offering our helping hands to those communities hardest hit, and pushing elected officials to enact lasting solutions.
Now more than ever, we need to bring our Hinduness to the forefront of our advocacy and our every interaction with friends, neighbors, and communities as agents of change and ambassadors of peace and pluralism to help ensure that the promise of America — of equality, freedom, and dignity for all – is fulfilled for all Americans.
Hindu teachings remind us that we are united by a shared divinity; that compassion and truth must be the foundation of our moral compasses; and that the exercise of discernment and selflessness in our interactions with the world is the only path that can bring about universal well-being. These are powerful principles for us to practice through service aimed towards justice and the betterment of all people.
Dharma calls upon us to listen, to bear witness, and to stand as allies; and to listen more and speak less so as to not supplant the voices most impacted and to not appropriate this moment for partisan ends.
What can we as Hindu Americans do? Here are a few, simple ideas that we can all put into practice in our daily lives:
Acknowledge that racism is real, and that it exists in our communities in spite of our diversity. We must be mindful of our implicit biases and work through them, constantly reminding ourselves of what our sacred teachings tell us — that we are all embodied spirits. If you come to realize that you don't have a diverse group of friends in your orbit, get to know people of all walks of life and backgrounds and embrace them for who they are as individuals, rather than remaining strangers due to assumptions based on any group identities.
Bridge the age divide, or any other divides, through conversation to work towards constructive and viable solutions to eradicate the pressing challenge of institutionalized racism. There is much for older generations to understand from those young people who have lost faith in the systems' ability to self-correct as there is for young people to learn from the experiences of elders who have witnessed historic systemic change.
Donate or volunteer time, skills, and resources to local charities, clinics, and programs working to mentor, strengthen, and empower the most vulnerable amongst African American and other communities in need.
Reach out to local law enforcement to cultivate relationships so that they recognize the diversity of the communities they are obligated to serve and protect, and to better hold them accountable if and when they fall short.
Call upon your elected leadership at every level of government and demand institutional change. Change starts from the bottom up.
Indeed, we as a people face many challenges, both historic and current. However, this is not the time or place to seek equivalencies. People from Africa were forcefully brought to this country and bought and sold as property for over 200 years. Even after winning their freedom, they faced bigotry and subjugation through systems and institutions built on racist ideas for racist ends. We can grow from acknowledging that the experience of Black people in America is unique, and educating our brothers and sisters around the world of their history. Standing up for the rights, dignity, and well-being of African Americans today is not an "or" proposition. It is an "and" proposition because advocacy for one paves the way for the rights, dignity, and well-being of all.
We can draw inspiration from past examples of African American and Hindu-Indian friendship, where a fierce commitment to shared principles paved the way for both communities to tackle their respective struggles. Mahatma Gandhi's satyagraha (Soul/Truth Force) and its demonstrated success in India's independence had a profound influence on Martin Luther King Jr. and the American civil rights movement. Satyagraha, while deeply informed by the Bhagavad Gita's wisdom, was also influenced by American intellectuals Henry David Thoreau's and Booker T. Washington's ideas on civil disobedience and self-empowerment. Washington's works also compelled Gandhi to evolve his own prejudices against Africans. American civil rights leader W.E.B. Dubois cultivated a deep friendship built upon a cooperative exchange of ideas with Indian freedom fighter Lala Lajpat Rai, as my friend and former colleague Murali Balaji has written about extensively, to oppose what they deemed as the major obstacle of global white European hegemony to civil rights in America and sovereignty of India.
There are many such stories of African American and Hindu-Indian friendship, philosophical exchange, and cooperation. So as Hindu Americans, we need only look back at the last century to know that where Hindu and American ideas have intersected and manifested as action, historic and transformational change for the better has come about.
Let us honor this legacy and once again rise to the occasion for the sake of future generations
Yours in dharma, Suhag
This open letter from Suhag Shukla, Executive Director of Hindu American Foundation, was originally published here: https://www.hinduamerican.org/blog/dharma-demands-us-to-fight-for-racial-justice
Remembering the Murder of George Floyd
NEW YORK (Diya TV)  — One week ago, at 9:25 pm CDT, George Floyd — a 46-year-old Black father of two — was officially pronounced dead at the Hennepin County Medical Center in Minneapolis, Minnesota.
On May 25 , Mr. Floyd was killed in broad daylight by Derek Chauvin, a white police officer with the Minneapolis Police Department (MPD), who kept his knee on Mr. Floyd's neck for 8 minutes and 46 seconds. Several bystanders who recorded the killing on their phones captured Mr. Floyd repeating, "Please," "I can't breath," and "Don't kill me." The three other police officers, Tou Thao, J. Alexander Kueng, and Thomas K. Lane all participated in the arrest and based on videos, did nothing to intervene during Mr. Floyd's last desperate pleas for help.
Since then, Chauvin has been fired, arrested, and charged with third-degree murder and second-degree manslaughter. Minnesota Attorney General Keith Ellison has been asked by Governor Tim Walz and Mr. Floyd's family to take over the prosecution of Chauvin's case; Attorney General Ellison said that he anticipates additional charges for the other officers present when Mr. Floyd was murdered. Additionally, the Federal Bureau of Investigation has opened a federal civil rights investigation into the matter and the Minnesota Bureau of Criminal Apprehension is also investigating possible violations of Minnesota statutes.
In the week since, the Sikh Coalition has joined demands for a completely thorough and transparent investigation into the police misconduct involved in the death of Mr. Floyd and signed onto calls for new federal legislation to increase transparency and thwart police abuse. We also echo the anger felt by millions of Americans across the nation.
Systemic anti-Black racism within law enforcement and throughout the United States contributes directly to the deaths of unarmed Black people. This deadly problem has to change and the Sikh community must stand in unequivocal solidarity with Black Americans in our shared struggle to combat bigotry, racism, and hate.
The Black community has led the civil rights movement and paved the path for all minorities in this country, including Sikh Americans. We must continue to support efforts to ensure justice, including ongoing demands for complete transparency and accountability in the murder of George Floyd and countless others who have been killed as a result of police brutality. We must address the anti-Black sentiments within our own community by vocalizing that Black Lives Matter. We must stand and act in solidarity. Here is a guide on how to be an ally.
There are a myriad of exceptional frontline organizations you can support and actions that you can take to specifically demand justice and show solidarity in response to George Floyd's case. For more information on some of those organizations or direct action initiatives, click here.
As always, the Sikh Coalition urges you to practice your faith fearlessly.
India and Pakistan clash over Kashmir at UN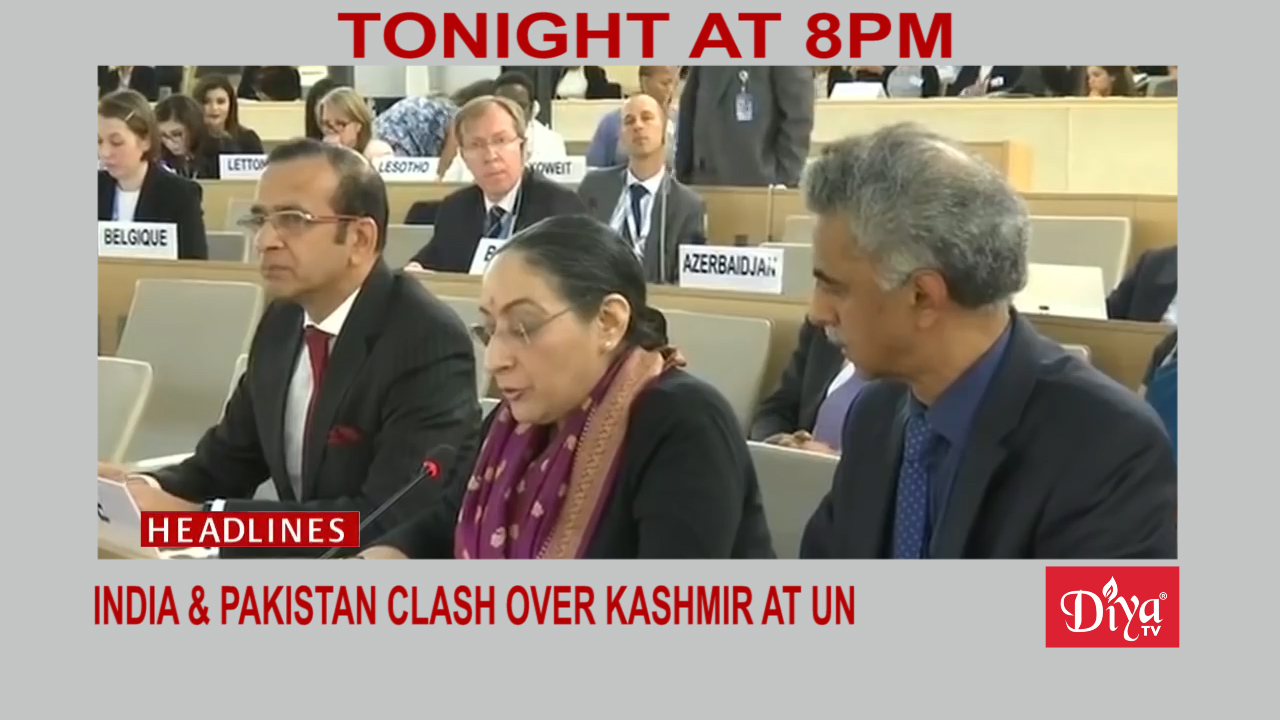 NEW YORK (Diya TV) — India and Pakistan shared their respective narratives over Kashmir before the United Nations. India said its Constitution "guaranteed fundamental rights to all our citizens without any distinction," while dismissing Pakistan as the "the epicentre of global terrorism." Pakistan urged the UN to set up a commission of inquiry into human rights violations, claiming India arrested more than 6,000 people without due process in Jammu and Kashmir.
Meanwhile, Seattle Congresswoman Pramila Jayapal issued her second letter to Secretary of State Mike Pompeo over Kashmir, expressing deep concern about reports of a humanitarian crisis in Jammu & Kashmir.
A NPR producer based in India, Furkan Khan, resigned after major social media backlash from an anti-Hindu tweet that stated "if Indians give up on Hinduism, they will also be solving most of their problems. What with all the piss drinking and dung worshipping." Khan has since apologized and deleted the tweet.
Ravi Kapur contributed to this report.
Tanmanjeet Singh Dhesi blasts Boris Johnson for 'racist remarks'
LONDON (Diya TV) — In London, the first-ever Sikh Member of Parliament, Tanmanjeet Singh Dhesi, received a round of applause from his colleagues after demanding an apology from British Prime Minister Boris Johnson for making "derogatory and racist remarks" on Muslim women wearing burqas. Johnson rebuffed the claim and did not respond to the statement directly.
Mountain View Police arrested 50 year old Reenu Saini and her four friends for allegedly staging a home invasion to evict tenants from her investment property. When that didn't work, police say the group shut off the home's power and tried to open the door.Saini is charged with attempted robbery, burglary of an inhabited dwelling, conspiracy to commit a crime and unlawfully shutting off power to a home
Judge Raag Singhal was nominated to serve as a judge on the U.S. District Court for the Southern District of Florida. And Jones Day partner Shireen Matthews was nominated to serve as Judge on the U.S. District Court for the Southern District of California.
And Silicon Valley AI analytics startup Thoughtspot, which is led by CEO Sudheesh Nair and founded by a group of Indian Americans, raised $248 million at a $1.95 billion valuation.
Ravi Kapur contributed to this report.