India to play central role in revitalizing the global economy
SANTA CLARA, Ca. (Diya TV) — Nearly 250 guests around the globe joined together to listen to the latest entry in the Confederation of Indian Industry's (CII) "India and the World" discussion series, aptly titled, "India and the Re-emerging Global Order: Thought Leadership on COVID-19 Geopolitical Implications. The panel featured notable speakers from business and political fields alike including TATA's Chair for Strategic Affairs Dr. Ashley J. Tellis, Ambassador R. Nicholas Burns, and McLarty Associates President and Co Founder Nelson Cunningham; additional remarks were made by CII's Director General Chandrajit Banerjee, and the discussion was moderated by CII's past President Dr. Naushad Forbes. 
The event kicked off with Dr. Forbes casting a light on the lack of international collaboration in response to the global threat that the COVID-19 virus poses to the world. Forbes pushed further by highlighting that countries have a tendency to value domestic solutions and supply chains in order to secure national security despite the benefits that global trade relations, efforts, and organizations can provide. 
While Dr. Tellis found herself in agreement with Forbes' statement in regards to a short term solution, she also put forth the belief that while countries may initially shirk away from the efficiency and comparative benefits of international interdependent supply chains, that the disadvantages of resiliency are vastly unsustainable in the post COVID world and would consequentially result in moving away from such practices. 
Cunningham posits that the pandemic has merely exacerbated changes in pre existing conditions, such as the strengthening of borders, rise of nationalism, and governments becoming increasingly insular. 
Ambassador Burns put forth his voice to insist upon that that the need for international collaboration is has reached an all time high, as its' propogation is necessary for the development and distribution for a vaccine as well as the recovery of the global economy at large. 
The panelists ultimately came to the conclusion that trade within the upcoming years will continue to become increasingly difficult, albeit nations like India will hold advantages over their neighbors and global competitors that benefit from its long term recovery. 
India has become an enthusiastic focal point for companies seeking a reliable partner for global businesses, particularly those seeking to distance themselves from China's response to the pandemic. Dr. Tellis echoed her earlier sentiment by stating that while globalism will face a short term decline, India will play a vital role in grappling with the rise of regional trade networks that will begin to develop. The panelists concurred that India's position in the resurgence of a global trade economy has earned the country numerous allies in the United States, but that the investments will take time to nurture, thus necessitating that India must perpetuate engagements with the US in the government, corporate, and civil sectors in order to cement trade and strategic ties. 
"Look at India. It's filthy!" Trump exclaims during debate
NASHVILLE (Diya TV) — Former Vice President Biden and President Trump held their second and final debate in Nashville. The tone of the event was markedly improved from the first debate, thanks largely because of a rule implemented that muted the microphone during dedicated speaking times. We'll analyze the key moments, including when President Trump called China, India and Russia "filthy" when discussing climate change.
WATCH what the President said about India here:
The State of California's Department of Fair Employment and Housing voluntarily dismissed their federal lawsuit accusing Cisco Systems Inc. and two of their former employees of discriminating against an Indian American Dalit engineer. No explanation was given, but state officials said they will refile the matter in state court.
Dr. Mukul Chandra, a prominent cardiologist in the Toledo, Ohio area, has died from complications related to COVID-19. He was 57. 
Dr. Chandra was the medical director of Cardiac Preventive Care and Research at Miami Valley Hospital and received a plasma donation as a possible remedy for the virus. And hundreds of people around the globe offered their help.
WATCH the full debate here:
Ravi Kapur contributed to this report.
Biden & Harris issue happy Navratri greetings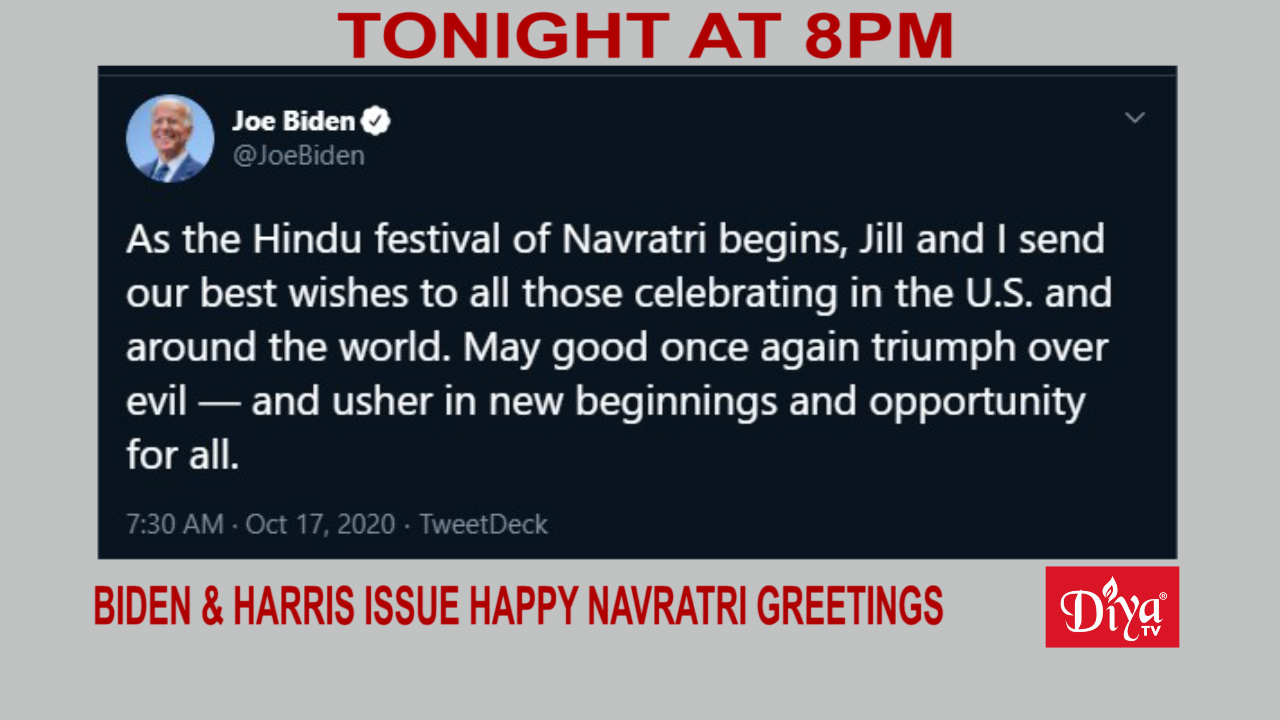 WILMINGTON, Delaware (Diya TV) — Vice President Joe Biden and Senator Kamala Harris continue their efforts to court the Indian diaspora, as each issued Navratri greetings. Biden & his wife Jill sent their best wishes, tweeting "may good once again triumph over evil." And Harris and her husband Doug added "may this holiday serve as an inspiration to…build a more inclusive and just America."
But at the same time, Harris' niece Meena deleted an image she posted of her auntie being depicted as Goddess Durga, which led to a petition asking her to apologize. Meena Harris is a lawyer, entrepreneur and daughter of Kamala Harris' sister, Maya. The image she posted photoshopped Kamala Harris' face onto Hindu Goddess Durga, showing Joe Biden as her lion and President Trump as a demon she slays.
The chances of finding Indian American professor Sam Dubal, who has been missing for nearly two weeks, appear to be waning. Dubal went on a backpacking trip near Mt. Rainier in Washington state and hasn't been seen since. Authorities say cold and snowy weather is hampering their chances of finding the University of Washington professor.
Ravi Kapur contributed to this report.
Man stabbed during brawl at Sikh temple near Seattle
RENTON, Wa. (Diya TV) — At least six people were injured and one of them was briefly hospitalized with stab wounds during a brawl at the Gurudwara Singh Sabha in Renton, Washington. Renton Police say at least 20 people at the temple were fighting when police arrived. Police added a similar incident happened last week at a Sikh temple in Kent, Washington. Sources tell Diya TV the skirmish was between people that were pro-India and folks that did not view India in a favorable light. No arrests were made.
The Quad military alliance is complete after Australia agreed to be part of the Malabar Exercise to be held in Bay of Bengal next month, joining the United States, India and Japan as part of the naval exercise.
As seen on Diya TV, the South Asian Bar Association held a Presidential Town Hall featuring Asheesh Agarwal, a member of Indian Voices for Trump advisory board and Neera Tanden, the CEO of the Center for American Progress, moderated by journalist and professor Sree Sreenivasan.
Ravi Kapur contributed to this report.