EXCLUSIVE: Pacers, Kings play OT thriller, as India welcomes the NBA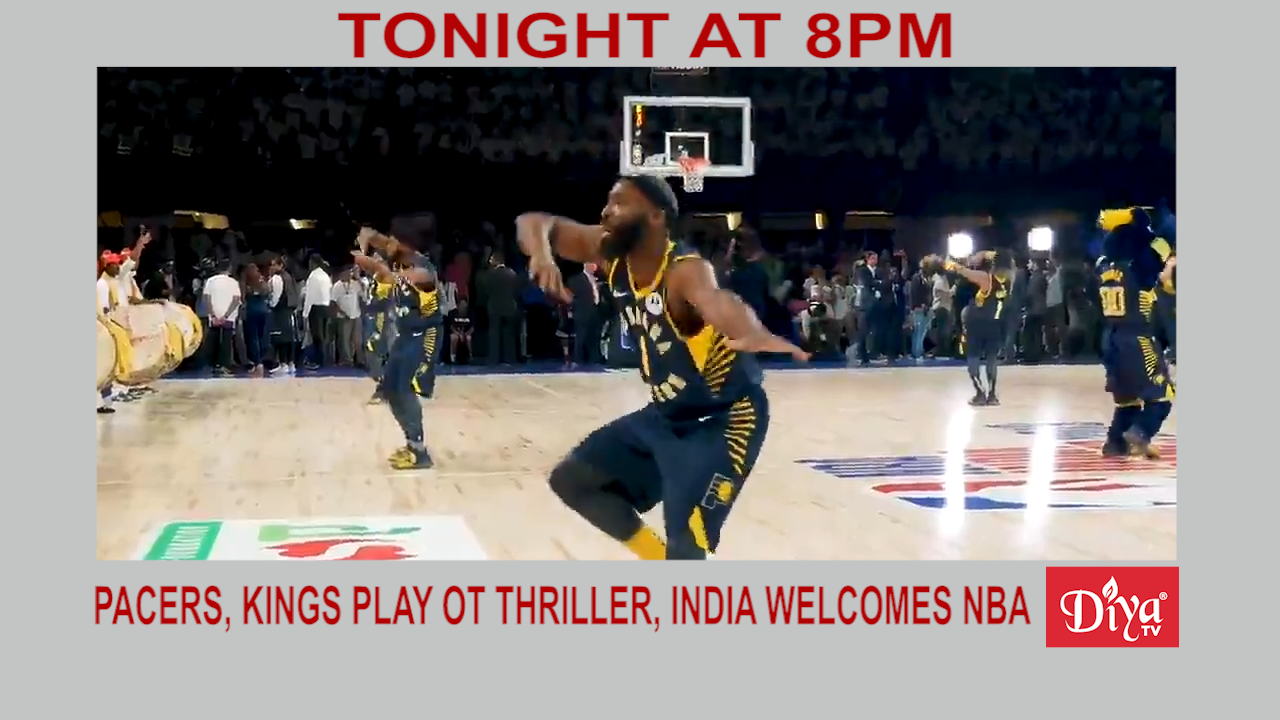 MUMBAI (Diya TV) — We go behind the scenes at the first-ever NBA India Game, as the Pacers squeaked out a 1 point win in an overtime thriller against the Kings. From basketball legend Larry Bird to Bollywood actress Sonam Kapoor Ahuja, we'll show you how India greeted this global game and we'll look into early plans to bring a more permanent version of the league to the subcontinent.

House Speaker Nancy Pelosi spoke at a reception held by the Embassy of India at the Library of Congress, to mark the 150th birthday of Mahatma Gandhi and the 90th birthday of Martin Luther King Jr.
50 year old Tushar Atre, the founder and CEO of AtreNet, was found dead in Santa Cruz, California, the victim of an apparent kidnapping from his ocean-front home.
Indian Commerce and Industry Minister Piyush Goyal and U.S. Secretary for Commerce Wilbur Ross continued discussions to increase bilateral trade at the India Economic Summit put on by the World Economic Forum in New Delhi. But no deal is imminent.
Ravi Kapur contributed to this report.

Indian Americans jump into congressional races
WASHINGTON (Diya TV) — The latest numbers show more Indian Americans than ever are running for Congress. In the last six years, nearly 80 candidates made it on the ballot, soaring far beyond numbers seen in past elections. Leading the wave are successful candidates from California, like Kamala Harris, who rose from a Senate seat to become vice president. Helping those numbers, Indians Americans are also one of the fastest growing ethnic groups in the country.
Nisha Ramachandran is the new Executive Director of the Congressional Asian Pacific American Caucus, the first Indian American to serve in this role. Ramachandran most recently managed her own consulting business focused on AAPI advocacy. She'll be working closely with Congresswoman Judy Chu who chairs the group to further Asian American causes and initiatives.
Indian Prime Minister Narendra Modi congratulated the people of Telangana after the Kakatiya Rudreshwara Ramappa Temple was inscribed as a World Heritage Site by UNESCO. The PM also urged citizens to visit the temple which was built during the rule of the Kakatiya dynasty.
Ravi Kapur contributed to this report.
Blinken begins India visit, Afghanistan top issue
NEW DELHI (Diya TV) — US secretary of state Antony Blinken begins his two-day India visit on Tuesday hoping to engage the nation on issues such as the Covid-19 response, human rights, and democracy. The American troop pullout in Afghanistan will also be a key issue. India is concerned about the implications of the withdrawal and the need for sustained pressure on Pakistan over issues like terror financing.
And India's first medal at the Tokyo Olympics goes to Mirabai Chanu. She won silver in Women's weight lifting. Chanu's Olympic preparations were hindered by injuries and restrictions due to the COVID-19 pandemic but she still beat the odds and is being praised back home.
Tesla may open a factory in India. But CEO Elon Musk says only if the cars receive a good response in that marketplace. The company has already been hiring talent in the country. But Musk also hinted at some downsides to opening overseas, citing India's import duty tax is the highest in the world for a large country.
Ravi Kapur contributed to this report.
Shrina Kurani announces CA congressional campaign
SACRAMENTO (Diya TV) — Indian American Democrat Shrina Kurani is running for Congress in California's 42nd district and is preparing to take on 15-year Republican incumbent Ken Calvert. Kurani is a mechanical engineer and entrepreneur and says she's running to create more sustainable jobs in her community and to take on the status quo in Washington DC.
More than 30 interfaith organizations in the U.S. are urging the State Department to sanction India and designate it as a country of "particular concern". 
Their resolution claims that the Indian government
is promoting policies that lead to the persecution of religious minorities, especially Muslims.
Despite growing concern over rising
Covid-19 cases in Japan, the 2021 Tokyo Olympic
opening ceremony got underway. India is sending its largest ever contingent to the Olympics with120 athletes competing across 85 events.  The country hopes to win medals for shooting, wrestling, boxing, archery and badminton.
Ravi Kapur contributed to this report.