EXCLUSIVE: Pacers, Kings play OT thriller, as India welcomes the NBA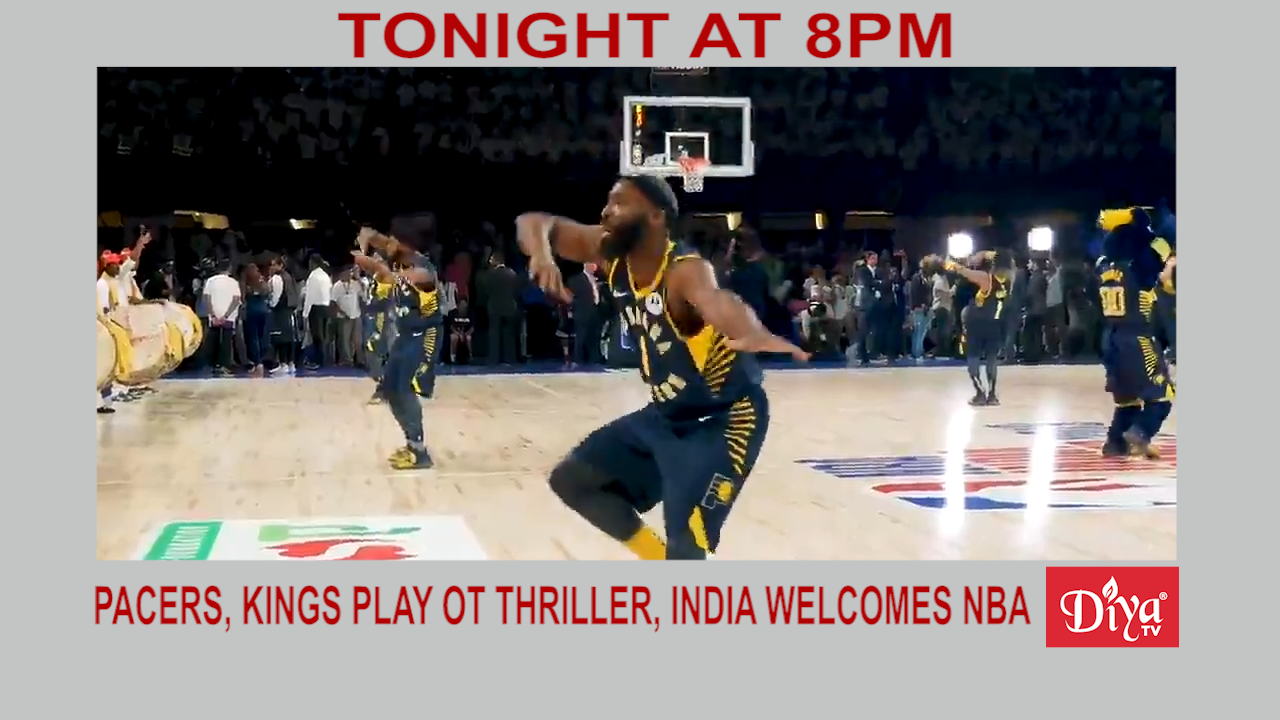 MUMBAI (Diya TV) — We go behind the scenes at the first-ever NBA India Game, as the Pacers squeaked out a 1 point win in an overtime thriller against the Kings. From basketball legend Larry Bird to Bollywood actress Sonam Kapoor Ahuja, we'll show you how India greeted this global game and we'll look into early plans to bring a more permanent version of the league to the subcontinent.

House Speaker Nancy Pelosi spoke at a reception held by the Embassy of India at the Library of Congress, to mark the 150th birthday of Mahatma Gandhi and the 90th birthday of Martin Luther King Jr.
50 year old Tushar Atre, the founder and CEO of AtreNet, was found dead in Santa Cruz, California, the victim of an apparent kidnapping from his ocean-front home.
Indian Commerce and Industry Minister Piyush Goyal and U.S. Secretary for Commerce Wilbur Ross continued discussions to increase bilateral trade at the India Economic Summit put on by the World Economic Forum in New Delhi. But no deal is imminent.
Ravi Kapur contributed to this report.

Modi compares COVID-19 to Mahabharata
SACRAMENTO (Diya TV)  — Indian Prime Minister Modi compared the war against the coronavirus to the Mahabharata in his latest address over the pandemic, saying that war was won in 18 days and that this battle will take at least 21 days, in reference to the massive lockdown his government imposed Tuesday. Modi emphasized COVID-19 did not differentiate between rich and poor, that people need to stay physically distant from one another and he is very upset over reports some people are mistreating frontline workers like doctors and airline crews.
With California under a complete shutdown because of COVID-19, Governor Gavin Newsom struck a deal with 4 of the 5 biggest banks, Chase, Wells Fargo, Citi and US Bank, to allow mortgage holders to defer payments for 90 days. Bank of America agreed to a 30 day deferment. It will be a help in the short term for many homeowners as more than 1 million residents have now filed for unemployment benefits in the state according to the governor.
Congress passed a $2 trillion relief package for big and small businesses, as well as individuals affected by the coronavirus. Unemployment benefits will be increased, one-time cash payments are being offered, as well as loans to bolster businesses. There are now more than 66,000 COVID-19 cases nationally, nearly one-third of which are in New York City.
Ravi Kapur contributed to this report.
Bloom Energy shifts focus to refurbish old ventilators
SUNNYVALE, Calif. (Diya TV)  — California Governor Gavin Newsom made a special visit to Bloom Energy, a Silicon Valley clean energy company led by Indian American CEO K.R. Sridhar. He was joined by San Jose Mayor Sam Liccardo, who saw how the fuel cell giant converted an assembly line to refurbish life-saving ventilators. Now Bloom Energy is asking folks with supplies of unused, out-of-service ventilators to contact them so they get those devices online to help those suffering with COVID-19.
Panera Bread's CEO Niren Chaudhary spoke at a White House press briefing to announce a partnership with U.S. Department of Agriculture and Children's Hunger Alliance to serve fresh meals to children who normally get meals at school throughout the state of Ohio, with the goal to expand around the country.
Some workers from both Amazon and Instacart walked off the job in the hopes of getting more protection and hazard pay as they continue to work while much of the country is asked to stay at home in the fight against the coronavirus. Both companies are hiring by the thousands to meet demand. Instacart, which is led by CEO Apoorva Mehta, said the strike had no impact on their operations.
Ravi Kapur contributed to this report.
$2.2 trillion COVID-19 relief bill signed into law
WASHINGTON (Diya TV)  — President Trump signed into law a $2.2 trillion coronavirus emergency relief bill, after the House passed the bill Friday. The scale of the law dwarfs similar stimulus implemented during the 2008 global financial crisis. The final relief bill includes direct payments of up to $1200 to individuals, $500 billion for companies like airlines and hotels and support for small and medium-sized businesses to keep paying their employees. It also includes expanded unemployment benefits. Claims surged to a record 3.3 million Americans this week alone. There are now more than 100,000 Americans afflicted with COVID-19.
California Governor Gavin Newsom issued an executive order banning evictions for renters affected by the coronavirus through May 31 statewide. The order allows tenants to defer their April and May rent, provided they give notice to their landlord by April 7th. But this rent will have to be paid back in a timely manner and renters must have proof of loss of income related to the virus.
Ravi Kapur contributed to this report.