EXCLUSIVE: Pacers, Kings play OT thriller, as India welcomes the NBA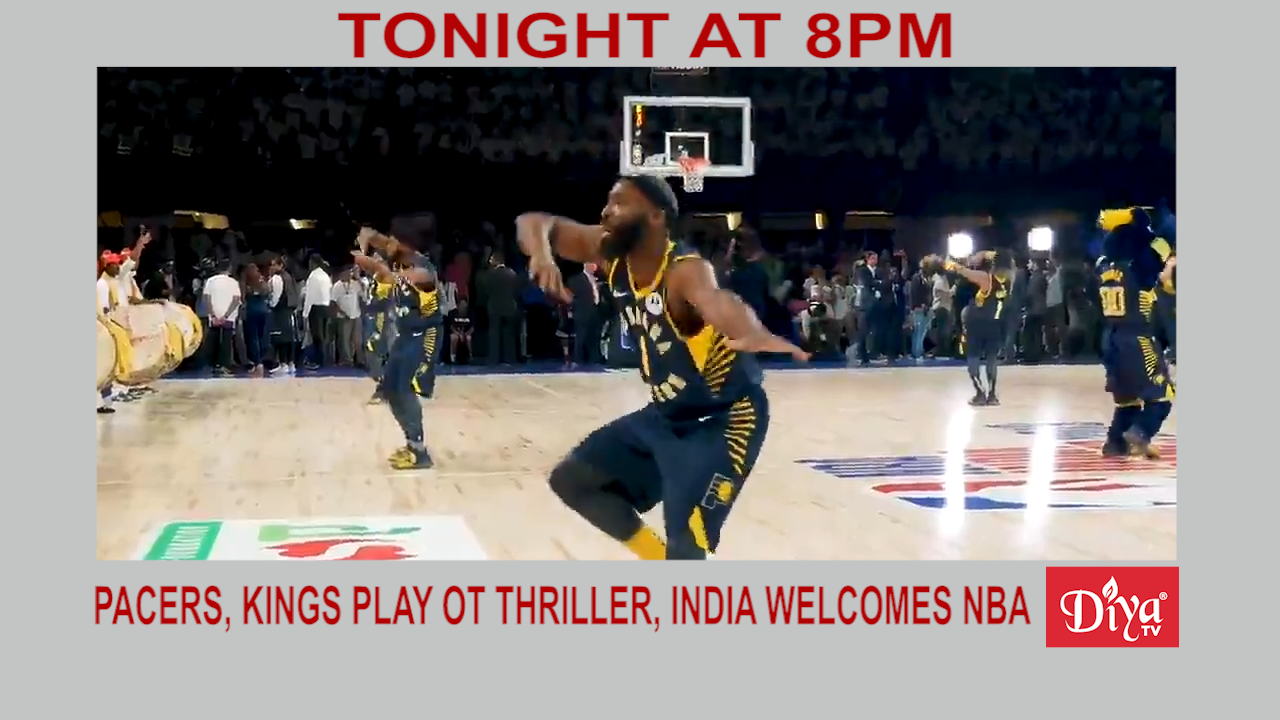 MUMBAI (Diya TV) — We go behind the scenes at the first-ever NBA India Game, as the Pacers squeaked out a 1 point win in an overtime thriller against the Kings. From basketball legend Larry Bird to Bollywood actress Sonam Kapoor Ahuja, we'll show you how India greeted this global game and we'll look into early plans to bring a more permanent version of the league to the subcontinent.

House Speaker Nancy Pelosi spoke at a reception held by the Embassy of India at the Library of Congress, to mark the 150th birthday of Mahatma Gandhi and the 90th birthday of Martin Luther King Jr.
50 year old Tushar Atre, the founder and CEO of AtreNet, was found dead in Santa Cruz, California, the victim of an apparent kidnapping from his ocean-front home.
Indian Commerce and Industry Minister Piyush Goyal and U.S. Secretary for Commerce Wilbur Ross continued discussions to increase bilateral trade at the India Economic Summit put on by the World Economic Forum in New Delhi. But no deal is imminent.
Ravi Kapur contributed to this report.

US and India to hold military drills near the China-India border
WASHINGTON DC (Diya TV) — The U.S. and India are preparing for mountain top drills near the Chinese border. It's a move that's sure to attract the attention of leaders in Beijing and comes during heightened tension between all the countries, especially after China recently launched missiles over Taiwan in a show of force. Last year's joint high altitude exercise between the U.S. and India was in Alaska.
A top Pakistani militant who had a $3 million U.S. bounty on his head has been killed along with three others in Afghanistan. Abdul Wali, also known as Omar Khalid Khurasani, was killed in an explosion Sunday while traveling by car.
Diya TV was this year's media sponsor at the Indiana India Business Council annual gala. This non-profit remains focused on generating economic growth, and strengthening ties between both countries. 
Ravi Kapur contributed to this report.
Afghan man arrested over murders of four South Asian men in New Mexic
ALBUQUERQUE, N.M. (Diya TV) — The Islamic community is breathing a sigh of relief after one of their own is now under arrest for the murders of four Muslim men. 51 year old Mohamed Syed is denying any involvement in the slayings and will face a judge later this week. Three of the victims are from Pakistan while the other is from Afghanistan. Authorities say Syed knew all the men but the exact motive is unclear at this time. Some outlets are reporting this could be fueled over issues in the Sunni and Shia Muslim community. 
Global outrage continues after the suicide of 30 year old Mandeep Kaur, who left India for New York, searching for a better life. Police say she ended her life after releasing a heart wrenching video, narrating details of torture at the hands of her husband who she claims abused her because she couldn't have a son. Kaur leaves behind two young daughters. Her family in Indian is now trying to take custody of the children.
Women's tennis champ Serena Williams says she is preparing to wind down her stellar career. She has 23 grand slam championships. Williams implied she's trying to play at the US Open and make it her final tournament later this month.
Ravi Kapur contributed to this report.
Hindu temple in New York City vandalized in suspected hate crime
NEW YORK (Diya TV) — Assemblywoman Jennifer Rajkumar held a press conference to denounce a suspected hate crime targeting a Hindu temple in Queens. Authorities say three people toppled a Mahatma Gandhi statue on the property at the Shri Tulsi Mandir. The Indian American elected official says she's trying to remind everyone that the core tenets of Hinduism are about inclusivity and mutual respect towards one another. This latest incident comes after another Gandhi statue was desecrated in Union Square and other parts of the world.
The list of Indian American executives tapped to lead tech companies continues to grow. Data protection technology developer Cohesity announced Sanjay Poonen is its new CEO. Poonen was VMware's former Chief Operating Officer.
The White House, Department of Justice and FBI are still not saying why former President Trump's residence was raided. On Monday, the FBI executed a search warrant at Mar-a-Lago resort in Palm Beach, Florida, as part of an investigation into the handling of presidential documents, including classified documents that may have been brought there.
Ravi Kapur contributed to this report.