EXCLUSIVE: Pacers, Kings play OT thriller, as India welcomes the NBA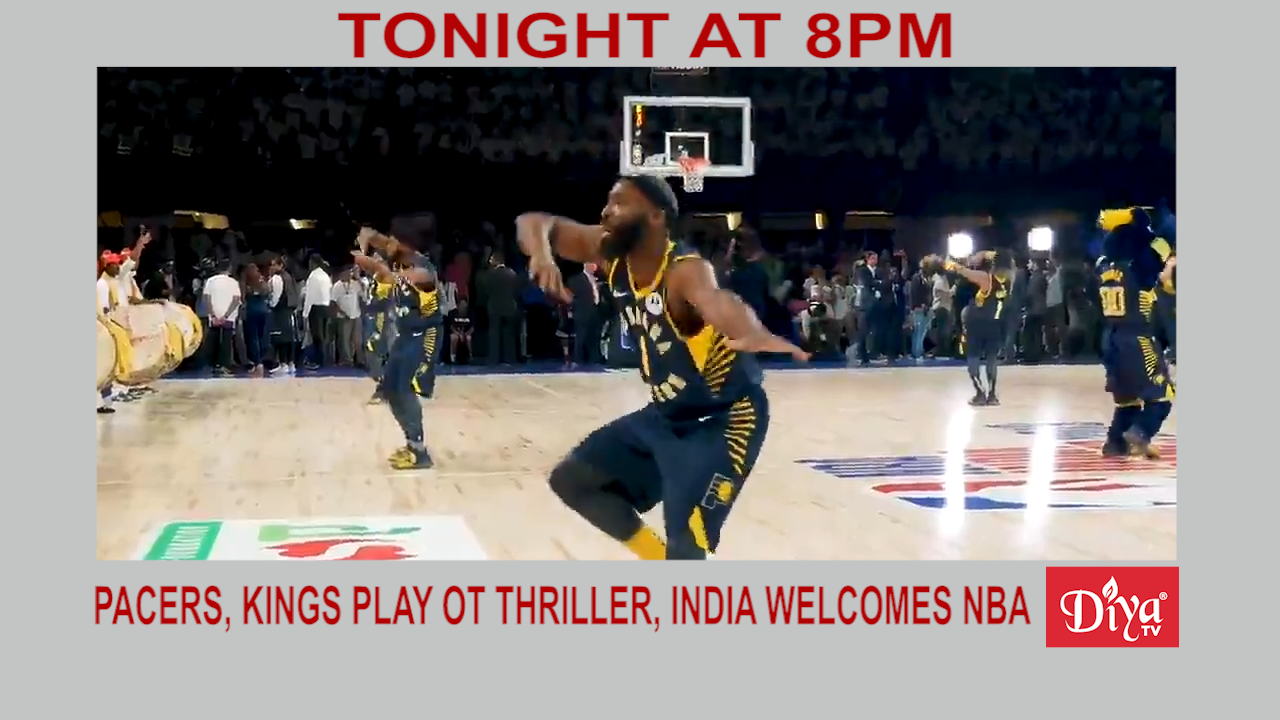 MUMBAI (Diya TV) — We go behind the scenes at the first-ever NBA India Game, as the Pacers squeaked out a 1 point win in an overtime thriller against the Kings. From basketball legend Larry Bird to Bollywood actress Sonam Kapoor Ahuja, we'll show you how India greeted this global game and we'll look into early plans to bring a more permanent version of the league to the subcontinent.

House Speaker Nancy Pelosi spoke at a reception held by the Embassy of India at the Library of Congress, to mark the 150th birthday of Mahatma Gandhi and the 90th birthday of Martin Luther King Jr.
50 year old Tushar Atre, the founder and CEO of AtreNet, was found dead in Santa Cruz, California, the victim of an apparent kidnapping from his ocean-front home.
Indian Commerce and Industry Minister Piyush Goyal and U.S. Secretary for Commerce Wilbur Ross continued discussions to increase bilateral trade at the India Economic Summit put on by the World Economic Forum in New Delhi. But no deal is imminent.
Ravi Kapur contributed to this report.

India launches ambitious vaccine inoculation drive
NEW DELHI (Diya TV) — India is out to prove it's a COVID-19 vaccination superpower, as they look to not only protect 1.3 billion of its own people, but people from more than 150 countries around the world. Indian Prime Minister Modi said there is reason for his citizens to be confident in the world's most ambitious inoculation drive with a strong delivery network, a mobile app and an enormous vaccine supply.
The state of California is suing tech giant Cisco Systems alleging discrimination against an Indian American man in the workplace. The engineer claims he was treated unfairly by two former colleagues because of his caste. But the Hindu American Foundation says the state's argument that caste is a strict part of the Hindu religion is false and is a harmful portrayal of the faith. They argue it is not the government's role to define any religions beliefs.
Air India is expanding its reach in the U.S. as it prepares to launch even more non-stop flights in the New Year. The airline will start non-stop services between Bengaluru and San Francisco, as well as between Hyderabad and Chicago.
Ravi Kapur contributed to this report.
Indo-pacific framework documents declassified
WASHINGTON (Diya TV) — In its final days, the Trump administration is declassifying some highly sensitive documents, including the "U.S. Strategic Framework for the Indo-Pacific" (SFIP), written by the National Security Council. India is shown as a rising power in the document, vital to the security of the Indo-Pacific region and important to U.S. interests.
Former US Ambassador to the UN Nikki Haley is starting a new political action committee called Stand for America PAC.  But so far, there's no mention of President Trump on her donation site or web page. Haley's spokesperson says don't read too much into that. But Haley is widely considered a contender for the 2024 Republican presidential nomination and could face Trump if he chooses to run again.
President-Elect Joe Biden has yet to take office, but he's already getting down to business, unveiling a massive $1.9 trillion dollar economic relief package. If passed by Congress, it would include $1 trillion for households, with direct payments of $1400 to all Americans, and the rest going to small businesses and the fight against COVID-19.
Ravi Kapur contributed to this report.
India reveals 8-point plan to fight terrorism
WASHINGTON (Diya TV) — India's Foreign Minister S. Jaishankar says terrorism remains the greatest threat to global peace and India's best interests. So he's unveiling an eight point action plan that includes using more U.N. sanctions and mobilizing what he calls the political will to fight this menace. The minister's defensive posture is in response to the increase in security concerns related to China and Pakistan.
Two more Indian Americans are now part of a growing list of South Asians being added to President elect Joe Biden's administration. Neha Gupta and Reema Shah are now part of the White House Counsel's Office. Gupta will serve as associate counsel, while Shah will be deputy associate counsel. Both attorney's already have experience and impressive resumes serving in other Democratic administrations.  
Federal authorities say an Indian American man targeted the elderly in a massive telemarketing scam. Hirenkumar Chaudhuri admitted that he used a phony Indian passport, false name, and fake address to open several bank accounts to receive money from victims of the telemarketing scheme. This is the latest in a crackdown on scams using call centers in India, defrauding senior citizens and others. People of Indian descent as well as others are involved in the scams that continue to operate and are ruining India's reputation and have the potential of affecting the nation's multi-billion-dollar back office industry.
Ravi Kapur contributed to this report.