India's new citizenship law impacting tourism business
NEW DELHI (Diya TV) — Visiting India this time of year is a rite of passage for folks with ties to the subcontinent and others looking to enjoy milder weather. But with India's citizenship law continuing to draw controversy, there are reports that tourism of the world's largest democracy has been impacted.
Indian Army General Bipin Rawat was named the first Chief of Defense Staff, a role that will have him oversee all three branches of India's armed forces.
Civil rights icon and Atlanta-area Congressman John Lewis announced he's been diagnosed with late stage pancreatic cancer. The 79 year old Lewis is the last living member of the Big Six civil rights activists, a group once led by the Rev. Martin Luther King Jr. He recently introduced a bill in the House to promote the legacy of Mahatma Gandhi and King to mark the 150th birth anniversary of Gandhi, while affirming the friendship between India and the United States, the two largest democracies of the world.
Abin Kuriakose was appointed by Illinois Governor J.B. Pritzker to the Asian American Employment Plan Advisory Council to represent the state's Indian and South Asian American communities.
Ravi Kapur contributed to this report.
AAPI Victory Fund gets a brand new name
WASHINGTON DC (Diya TV) — The largest network of Asian Americans is flexing it's political and financial capital. The group once known as the AAPI Victory Fund is rebranding itself as the AAPI Victory Alliance to fight back against the rising hate crimes and harassment against Asians and misinformation about the community. In addition to all the political and advocacy work, a new think tank will focus on education, and the group will prioritize alliances with other groups at the local, state, and national levels.
A world renowned Indian American artist is picking up the pieces after massive flooding wrecked part of his Texas home, destroying several valuable paintings and his supplies. Kartik Trivedi's work has adorned the White House and Buckingham Palace. A GoFundMe page is now up and running to help the 83 year old recoup some of his losses.
And S. Dave Vatti was sworn in to become Magistrate Judge for the District of Connecticut. The Indian American will serve at the Bridgeport federal courthouse.  Vatti is a former United State Attorney and a lifelong Connecticut resident.
Ravi Kapur contributed to this report.
Nikki Haley wont run, if Trump runs in 2024
SOUTH CAROLINA (Diya TV) — Former US Ambassador to the United Nations and South Carolina Governor Nikki Haley says she will not make a run for the White House in 2024. But that's only if Donald Trump decides to enter the Presidential race. Haley continues to be mentioned as a potential candidate for the Oval Office, but the Indian American's public comments are being interpreted as an early endorsement for former President if Trump chooses to run again.
And more positive news for India's economy. The International Monetary Fund says it's projecting a 12 and half percent growth rate for the South Asian nation in 2021. That's even stronger than what's expected for China and America's economy this year.
India is going through a historic tech boom for unicorn start ups. These are the companies valued at more than a billion dollars. In a span of four days, the country saw 6 tech unicorns emerge onto the scene. Startups like Groww, Gutshup, API Holdings, Mohalla Tech, Meesho, and Cred all reached valuations of a billion dollars or more. And that's attracting some of the world's largest investors like Softbank and Tiger Global.
Ravi Kapur contributed to this report.
Indian American couple dead in apparent murder-suicide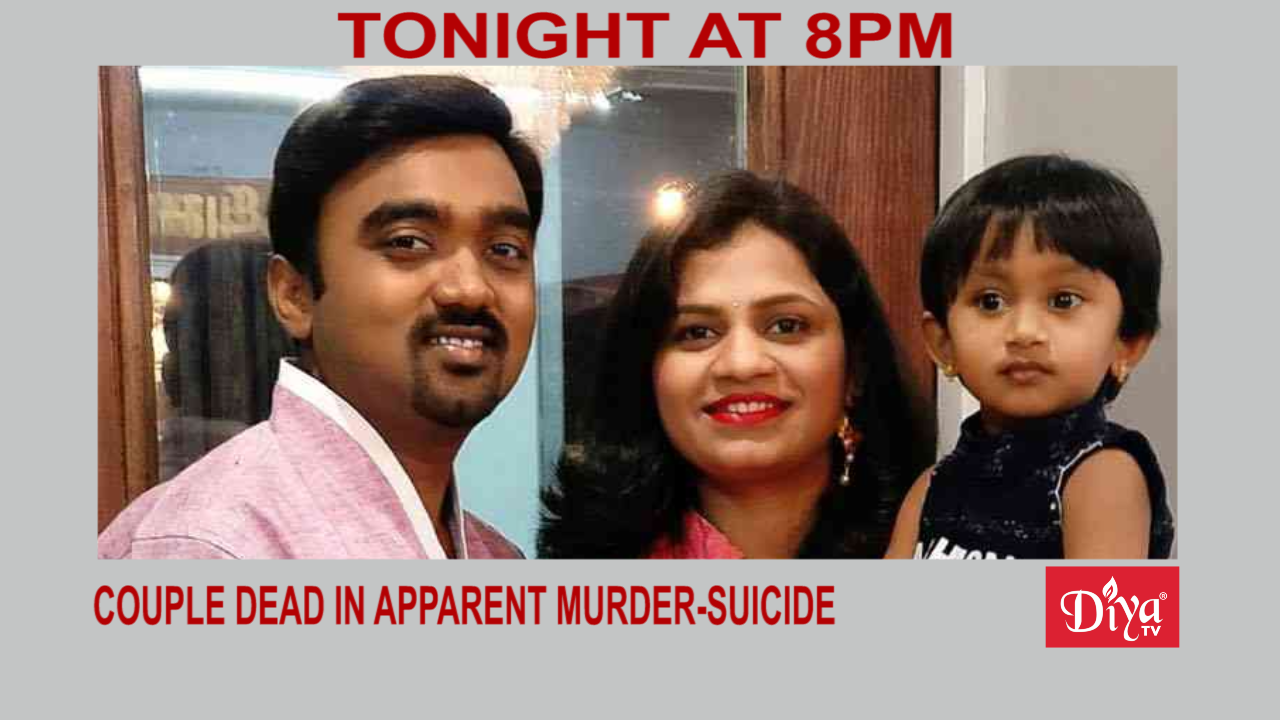 North Arlington, NEW JERSEY (Diya TV) — Authorities in New Jersey are investigating a possible murder-suicide, saying Balaji Rudrawar stabbed his wife Aarti to death. Both were found dead in their home with multiple stab wounds. Their young daughter was found unharmed inside. The motive remains unclear. The man's father told an India-based media outlet his daughter in law was 7 months pregnant.
In Indian waters, a US war ship sailed through India's Exclusive Economic Zone without asking for permission, a violation of that country's law. Both countries remain partners in the region. Sources with the Indian Navy say the move was more about sending a message to China.
As Special Presidential Envoy for Climate John Kerry wraps up his India trip,  he's taking to social media and personally thanking some of the leaders of that region including Prime Minister Narendra Modi of India and now Prime Minister Sheikh Hasina and Foreign Minister Dr. AK Abdul Momen of Bangladesh, saying all the countries involved are committed to address global warming and climate change. Kerry is raising awareness about this issue heading into a climate conference with world leaders later this month. 
Ravi Kapur contributed to this report.