Indian army chief Rawat speaks out against protests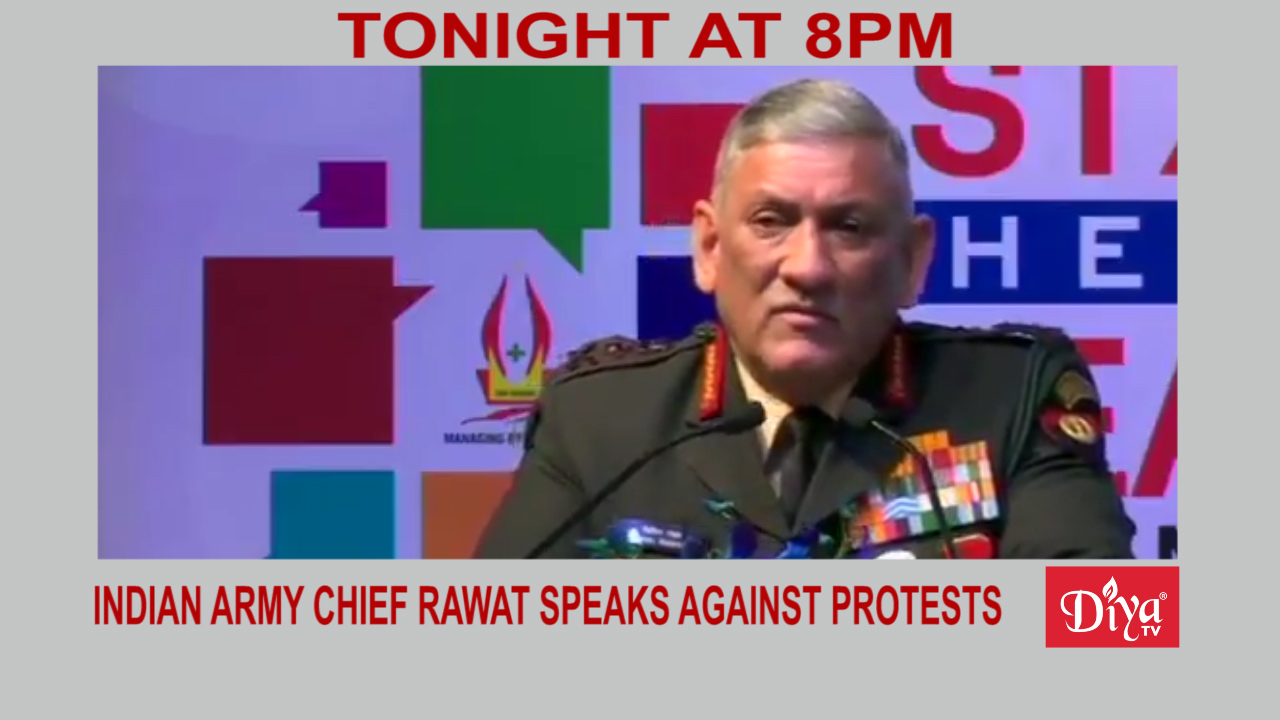 NEW DELHI (Diya TV)  — As protests against India's new citizenship law continue, Indian Army Chief General Bipin Rawat spoke out against the undercurrent of violence that has left property destroyed and damaged and put the lives of police forces at risk. Meanwhile, claims of police brutality against protestors are rising, as clashes escalate in cities all over India.
Over the past year, India has changed its regulations to favor local companies against international tech companies like Amazon, Google, and Facebook. New regulations mandate that international companies can't deeply discount online products, and that servers that collect Indian consumer data must be based in India. The new regulations are helping Indian companies like digital payments business Paytm.
One of two men attempting to rob an Indian-owned convenience store in the Bay Area was shot and killed by a store clerk, who happens to be a veteran of the U.S. Air Force. Kamal Sandhu is the owner of Kam's Market in Bay Point, California, site of a dramatic robbery caught on tape that was stopped by his clerk, Air Force veteran Mark Kasprowicz. Kasprowicz received 12 stitches in his head at the hospital following the attack, but came back to work the next day. Another suspect is still at large.
Ravi Kapur contributed to this report.
Biden, Modi meet and with the Quad Leaders' Summit
WASHINGTON DC (Diya TV) — Indian Prime Minister Narendra Modi arrived at the White House for the first in-person Quad Leaders' Summit. PM Modi held a bilateral meeting with US President Joe Biden. PM Modi is on a three-day visit to the United States, his first official visit to the country since Biden took the office. On Thursday, Modi held separate meetings with Vice President Kamala Harris.
President Biden will also nominate Indian American Erik Ramanathan, a longtime political ally and fundraiser to serve as ambassador to Sweden. Ramanathan joins a record 70 plus Indian Americans working in the Biden administration. 
The Houston doctor fired for distributing expiring COVID-19 vaccines instead of throwing them out claims he was punished for giving "the vaccine to too many individuals with 'Indian' sounding names. Dr. Hasan Gokal has sued Harris County Public Health for $1 million, alleging that the agency "demonstrated a pattern of discrimination and hostility against Dr. Gokal based on his South Asian race and Pakistani national origin."
Ravi Kapur contributed to this report.
Harris, Modi meet in-person for the first time
WASHINGTON DC (Diya TV) — Indian Prime Minister Narendra Modi has officially started his U.S. tour and met face to face for the first time with Vice President Kamala Harris. They discussed the importance of a free and open Indo-Pacific region at a time when the U.S. is trying to solidify its pivot toward Asia and strengthen ties with allies to take on China's growing influence in the region. In addition, Modi met with the Prime Minister of Australia and the heads of Adobe, Blackstone, and Qualcomm.
Electric car maker Tesla broke ground on a new production facility in California and will produce the company's large-scale battery system called Megapack. News of the previously unannounced factory was confirmed by Lathrop Mayor Sonny Dhaliwal in a Facebook post that was deleted and re-posted. The Indian American Mayor says "The future of green energy will be produced right here in our community."
Sony Pictures Networks India has agreed to acquire Zee Entertainment. If the deal materializes, it will bring together two of the largest broadcasting giants in India that run large cable television networks, streaming services, music labels, and own scores of other digital assets, to better compete with companies like Netflix and Disney.
Ravi Kapur contributed to this report.
Sachin Gupta to head Timberwolves basketball operations