Indian army chief Rawat speaks out against protests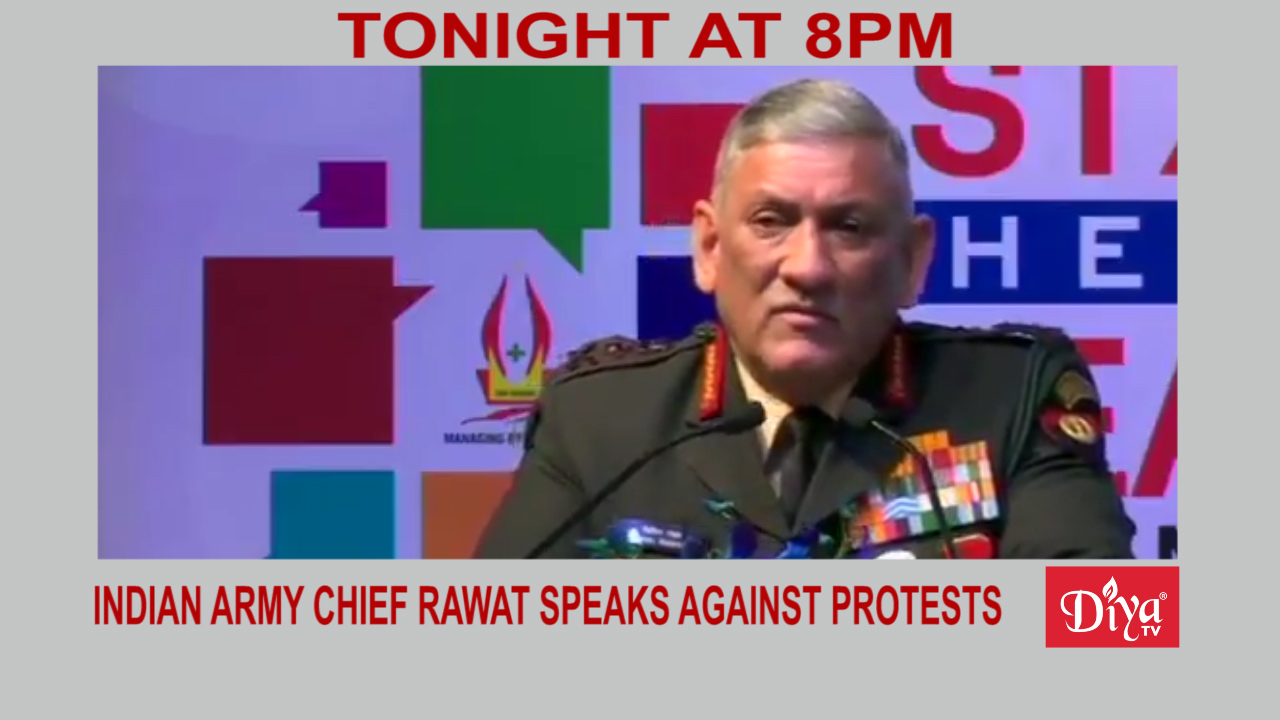 NEW DELHI (Diya TV)  — As protests against India's new citizenship law continue, Indian Army Chief General Bipin Rawat spoke out against the undercurrent of violence that has left property destroyed and damaged and put the lives of police forces at risk. Meanwhile, claims of police brutality against protestors are rising, as clashes escalate in cities all over India.
Over the past year, India has changed its regulations to favor local companies against international tech companies like Amazon, Google, and Facebook. New regulations mandate that international companies can't deeply discount online products, and that servers that collect Indian consumer data must be based in India. The new regulations are helping Indian companies like digital payments business Paytm.
One of two men attempting to rob an Indian-owned convenience store in the Bay Area was shot and killed by a store clerk, who happens to be a veteran of the U.S. Air Force. Kamal Sandhu is the owner of Kam's Market in Bay Point, California, site of a dramatic robbery caught on tape that was stopped by his clerk, Air Force veteran Mark Kasprowicz. Kasprowicz received 12 stitches in his head at the hospital following the attack, but came back to work the next day. Another suspect is still at large.
Ravi Kapur contributed to this report.
Images show China building a development on Indian border
CHINA-BHUTAN border (Diya TV) — New satellite images appear to show China built a development in the Himalayas along the border with India and Bhutan that was the site of a standoff in 2017.
Satellite images last month from US-based Maxar Technologies show there's been construction all year long, including new military storage bunkers.
Chinese officials say the buildup was within the scope of their sovereignty. China and Bhutan, who do not have diplomatic relations, both lay claim to that Doklam region.
Vice President-Elect Joe Biden officially introduced his nominee for Secretary of State Tony Blinken, a veteran of the Obama Administration. Blinken during an Indian Independence Day event held by the Biden-Harris campaign said strengthening ties with India is a high-priority of the new administration. We'll profile his career and what US-India ties will look like with him at the helm.
Watch what Blinken had to say during that campaign event here: https://youtu.be/8VjMkEZLiP0?t=960
A stone statue of Hindu goddess Maa Annapoorna stolen more than a century ago and found in Canada will be returned to India. The statue is believed to be originally from Varanasi.
Ravi Kapur contributed to this report.
U.S., India, Japan & Australia complete Malabar exercise
MALABAR ISLANDS, India (Diya TV) — Maritime forces from the U.S., India, Japan and Australia completed Phase II of the exercises dubbed Malabar in the Arabian Sea. The U.S. State Department thanked India in a tweet for hosting the effort by "The Quad" that promotes a free and open Indo-Pacific against a growing Chinese presence in the region.
The state of Michigan officially certified its election, formally granting President-Elect Biden its 16 electoral votes. And while President Trump continues to litigate in the hopes of overturning the outcome of the election, to date, he's lost more than 30 cases. And now the General Services Administration informed the President-Elect he will be able to get the funding and documents needed to start the formal transition in government.
Indian American Mala Adiga was appointed by President-Elect Joe Biden to be the Policy Director for his wife Jill, who will be the First Lady. Adiga is an alum of the Obama administration, as well as the Biden Foundation.
Pakistani American Dr. Umair Shah was appointed by Washington Gov. Jay Inslee to be Washington State's Secretary of Health. Shah currently serves as executive director and local health authority for Harris County Public Health in Texas. 
Ravi Kapur contributed to this report.
Modi thanks troops for thwarting terror plot
JAMMU and KASHMIR, India (Diya TV) — Indian Prime Minister Modi thanked security forces for unraveling a terrorist plot by Pakistan-based Jaish-e-Mohammad. Four men suspected of plotting a new attack on the anniversary of the 26/11 attacks were killed during a gunfight with Indian armed forces at a checkpoint in Jammu. Their truck was loaded with a cache of weapons and explosives. Modi is now reviewing the security apparatus along the international border and the Line of Control with Pakistan amid this infiltration.
Terrorism was a major theme of the annual BRICS summit featuring Brazil, Russia, India, China and South Africa was hosted by Russia virtually. Prime Minister Modi said terrorism is the biggest challenge world is facing today, adding "countries that support the terrorists are held accountable." Russian President Vladmir Putin said India and China may start producing Russia's Sputnik V vaccine against COVID-19.
Donald Trump Jr., President Trump's eldest son, tested positive for coronavirus. His father and his girlfriend Kimberly Guilfoyle and many others in the Trump inner circle have had the virus over the last few months. A spokesman said Trump Jr. learned his diagnosis earlier this week, but has no symptoms and is quarantining in his cabin.
Ravi Kapur contributed to this report.