Indian army chief Rawat speaks out against protests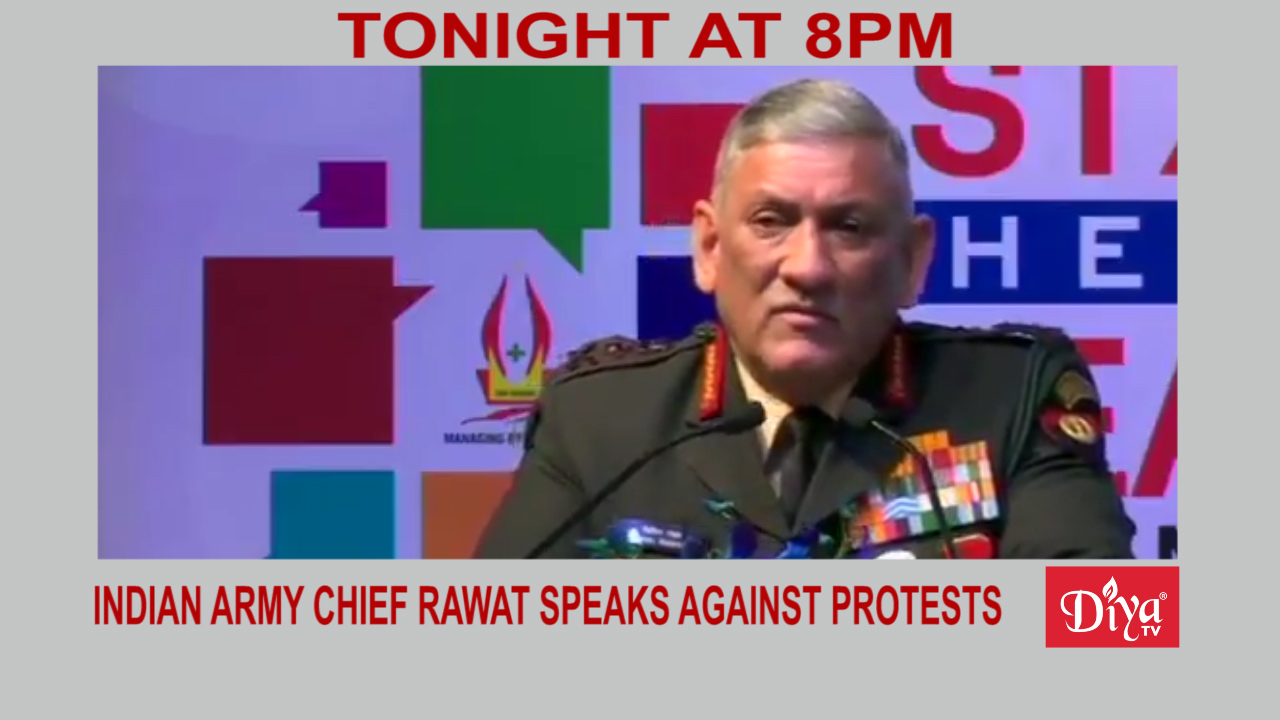 NEW DELHI (Diya TV)  — As protests against India's new citizenship law continue, Indian Army Chief General Bipin Rawat spoke out against the undercurrent of violence that has left property destroyed and damaged and put the lives of police forces at risk. Meanwhile, claims of police brutality against protestors are rising, as clashes escalate in cities all over India.
Over the past year, India has changed its regulations to favor local companies against international tech companies like Amazon, Google, and Facebook. New regulations mandate that international companies can't deeply discount online products, and that servers that collect Indian consumer data must be based in India. The new regulations are helping Indian companies like digital payments business Paytm.
One of two men attempting to rob an Indian-owned convenience store in the Bay Area was shot and killed by a store clerk, who happens to be a veteran of the U.S. Air Force. Kamal Sandhu is the owner of Kam's Market in Bay Point, California, site of a dramatic robbery caught on tape that was stopped by his clerk, Air Force veteran Mark Kasprowicz. Kasprowicz received 12 stitches in his head at the hospital following the attack, but came back to work the next day. Another suspect is still at large.
Ravi Kapur contributed to this report.
Missing Hindu woman found mutilated in Pakistan
SAN FRANCISCO (Diya TV) – The mutilated body of a Hindu woman was found in a field in southeastern Pakistan. Police say 40 year old Daya Bheel was murdered in the latest suspected attack against minorities in the Muslim-majority country. Authorities say they have arrested some suspects but have not determined a motive.
The Khosla family has donated nearly 2 million dollars to the Nudge Institute to help fight poverty. The philanthropists have donated millions of dollars for many other causes.
And disgraced FTX founder Sam Bankman-fried pleaded not guilty to eight different counts of wire fraud, securities fraud, and conspiracy before a U.S. federal court in the Southern District of New York. U.S. prosecutors allege that under Bankman-Fried's direction, FTX, once considered one of the largest and most-trusted cryptocurrency exchanges, transferred billions in customer assets to his trading firm, Alameda Research. If convicted of these charges, Bankman-Fried faces up to 115 years in prison.
Ravi Kapur contributed to this report.
Christmas crash kills Indian American toddler
Tragic news out of Nevada. Authorities say an Indian American toddler has died in a devastating Christmas day car crash and his mother is in critical condition fighting for her life. Authorities say the accident happened on a busy Las Vegas boulevard and they were returning home from a trip in California.
Anil Beephan is now the first Indian American Republican ever to be elected to the New York State Assembly in Albany. So far only Indian American Democrats have been elected to the state legislature. Beephan will also become the first minority to represent Dutchess County and at 29 years old, he's the youngest GOP rep in the state legislature. He's currently in the tech industry and has also worked as a volunteer firefighter.
Vice President Kamala Harris has named Indian American Rajeev Badyal to a key national advisory group, responsible for strategy and recommendations to improve and maintain space policy. Badyal already works for Amazon, helping launch satellites into orbit.
Ravi Kapur contributed to this report.
EXCLUSIVE: Warriors host first-ever Bhangra Night
SAN FRANCISCO (Diya TV) – The Golden State Warriors first-ever Bhangra Night made its debut during the Warriors-Jazz game at the Chase Center in San Francisco. The Warriors say it's a chance for the team to connect with the Bay Area's rapidly growing South Asian community and fan base. Only Diya TV was on hand to capture the festivities. This change from the annual Bollywood night was supposed to take place in 2020 but was postponed because of the pandemic.
A federal jury in San Francisco has convicted Sivannarayana Barama of insider trading. Authorities say he used the quarterly financial performance of Palo Alto Networks before that information was released to the public and then traded in that company's stock while that information was still confidential. Barama worked in IT for several Silicon Valley companies.
U.S. Border Patrol caught more than 4000 Indians illegally crossing the Mexico border in October and November. That's more than double compared to the same time frame last year. An Indian man recently died climbing a border wall in Texas. The Biden administration is struggling to contain a surge of illegal immigration at the southern border.
Ravi Kapur contributed to this report.