Indian army chief Rawat speaks out against protests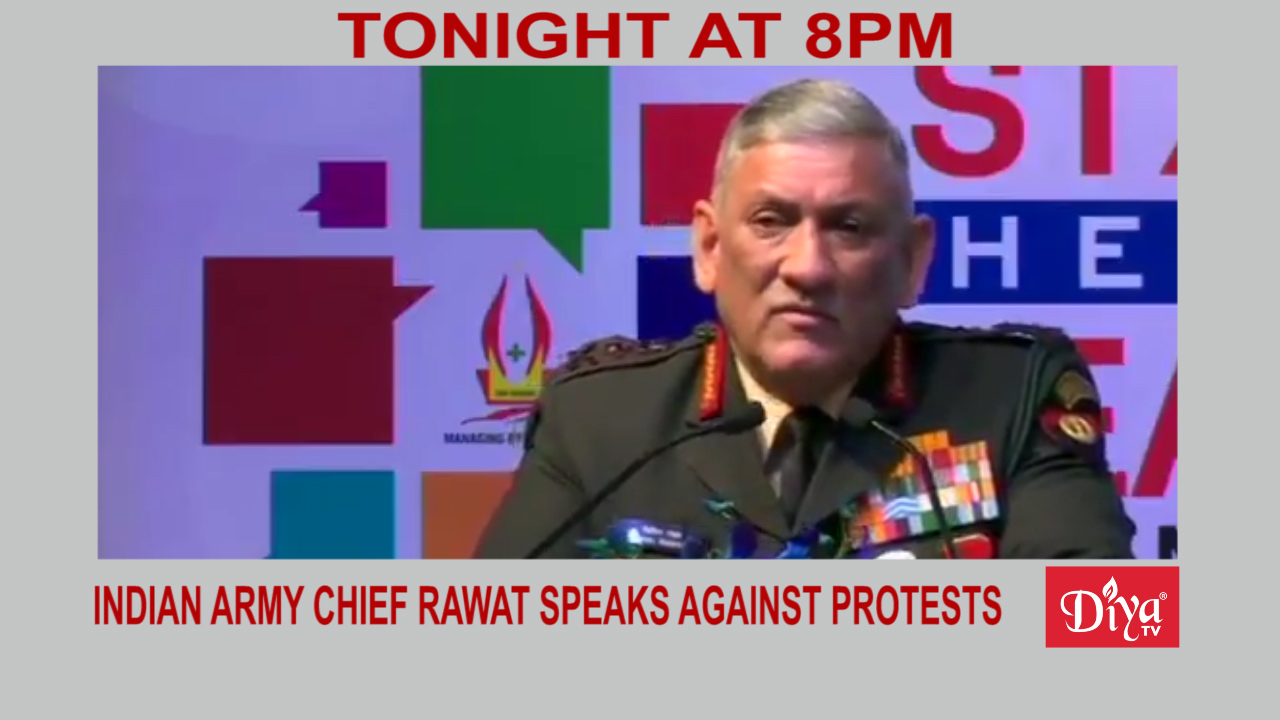 NEW DELHI (Diya TV)  — As protests against India's new citizenship law continue, Indian Army Chief General Bipin Rawat spoke out against the undercurrent of violence that has left property destroyed and damaged and put the lives of police forces at risk. Meanwhile, claims of police brutality against protestors are rising, as clashes escalate in cities all over India.
Over the past year, India has changed its regulations to favor local companies against international tech companies like Amazon, Google, and Facebook. New regulations mandate that international companies can't deeply discount online products, and that servers that collect Indian consumer data must be based in India. The new regulations are helping Indian companies like digital payments business Paytm.
One of two men attempting to rob an Indian-owned convenience store in the Bay Area was shot and killed by a store clerk, who happens to be a veteran of the U.S. Air Force. Kamal Sandhu is the owner of Kam's Market in Bay Point, California, site of a dramatic robbery caught on tape that was stopped by his clerk, Air Force veteran Mark Kasprowicz. Kasprowicz received 12 stitches in his head at the hospital following the attack, but came back to work the next day. Another suspect is still at large.
Ravi Kapur contributed to this report.
Ex-Minneapolis cop charged with George Floyd's murder
MINNEAPOLIS (Diya TV) — One of the Minneapolis police officers fired for their role in the death of George Floyd, Derek Chauvin, was arrested and charged with third-degree murder and manslaughter. Floyd died after he was pinned to the ground by those officers, with Chauvin keeping his knee on Floyd's neck for nearly nine minutes. The other officers are under investigation, but no charges were announced. The arrest comes after a night of tumult in Minneapolis, where a police station and new housing project were burned down and stores were looted.
Protests that were largely limited to Minneapolis this week have now spread around the nation. From New York to Atlanta, Washington to San Jose, thousands of people outraged over Floyd's death have taken to the streets. While gatherings started as peace expressions of grief, many of them have turned violent.
President Trump announced there will be a federal investigation over Floyd's death. But he's also caused controversy with a tweet quoting George Wallace that said "when the looting starts, the shooting starts," in reaction to the fires set in Minneapolis.
Ravi Kapur contributed to this report.
In Oval Office, Trump offers personal mediation to India-China
WASHINGTON (Diya TV) —  President Trump, when asked in the Oval Office to comment on the growing India-China border dispute, said he would be happy to mediate any issues between the two nations. Trump added he spoke to Prime Minister Modi and claims Modi "is not in a good mood about what's going on with China."
The U.S.-India Strategic Partnership Forum normally holds events at high-end hotels. But this time out, their West Coast Summit brought dignitaries together virtually, featuring speakers like Indian Ambassador to the U.S. Taranjit Singh Sandhu, Adobe CEO Shantanu Narayen and FedEx President Raj Subramaniam to discuss the growing U.S.-India relationship.
The Indian government is allowing Indian Americans with Overseas Citizens of India (OCI) cards to return. They had restricted such travel as part of India's strict lockdown two months ago.
And bad weather delayed a landmark U.S. trip into space by NASA and SpaceX. It was to be the first space mission with astronauts aboard powered by a private company. Instead, they will aim to lift off once again on Saturday.
Ravi Kapur contributed to this report.
Somber milestone: 100,000 Americans lost to COVID-19
WASHINGTON (Diya TV) — Three months into the pandemic, America hit a grim milestone — 100,000 dead in the U.S. at the hands of COVID-19. Cases continue to rise in 14 states, including California. 1.7 million Americans are now afflicted with COVID-19.
In a tweet, President Trump chimed into the growing India-China border dispute, offering to have American officials meditate to keep the peace. China already has ongoing rifts with Taiwan, Hong Kong and Tibet — regions with underlying calls for independence. And there are many asking for American intervention in those matters. We'll analyze all of these movements.
Peaceful protests have turned into riots in Minneapolis after the senseless killing of George Floyd by police. The four officers involved have been fired. And now Minneapolis' mayor wants criminal charges for 44 year old Derek Chauvin, the now fired officer who suffocated Floyd to death while onlookers screamed for him to stop.
Ravi Kapur contributed to this report.