22 protesters dead, 260 police injured in Indian citizenship law protests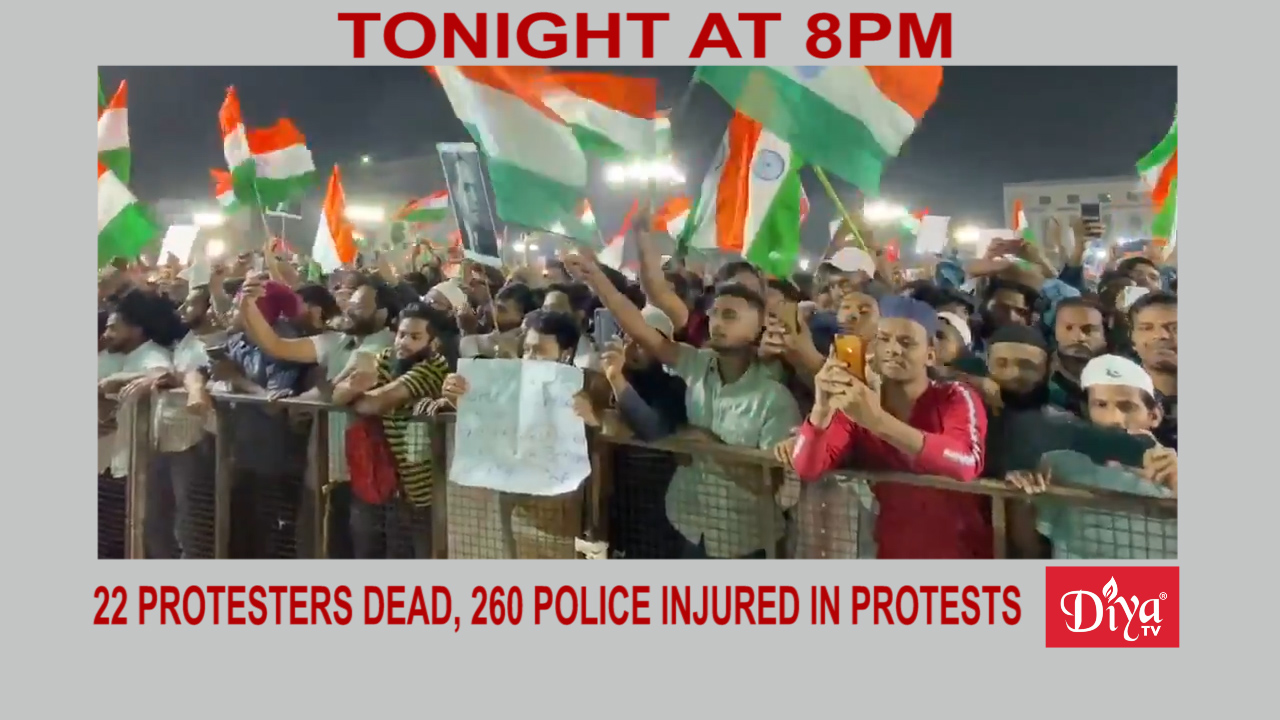 NEW DELHI (Diya TV) — 22 people involved in the widespread protests over India's new citizenship law have died, 15 alone in the state of Uttar Pradesh. Moveover, at least 260 police personnel have been injured in the violence and arson in the state, according to Uttar Pradesh's inspector general.
As the unrest continues over the recent Citizenship Amendment Act that will fast-track citizenship for non-Muslim religious minorities from Pakistan, Bangladesh and Afghanistan, criticism continues from American political leaders. The United States Commission on International Religious Freedom (USCIRF) condemned the religious violence in UP and across India and are calling on the Modi government to stop the use of force on protestors.
At a rally over the weekend, Indian Prime Minister Modi aimed to quell concerns by saying "I must assure Muslim citizens of India that this law will not change anything for them."
The Modi government named Harsh Vardhan Shringla, the current Indian Ambassador to the US, as the next foreign secretary.
Shringla will take over from the incumbent, Vijay Gokhale, who succeeded S. Jaishankar as foreign secretary in January 2018. Shringla will begin his new post in the new year.
Ravi Kapur contributed to this report.
Impact commits $10M to supporting Indian American candidates
WASHINGTON (Diya TV) — Indian American IMPACT, a political organization working to put Indian Americans in public office, announced a new $10 million commitment to support Indian American candidates nationwide. They also announced public interest lawyer Neil Makhija will be IMPACT's new Executive Director. The number of Indian Americans in Congress has grown five-fold in just the past eight years.
U.S. Attorney General William Barr faced questioning by the House Judiciary Committee about the use of force against Black Lives Matter protesters in recent weeks and the Trump administration's handling of the ongoing COVID-19 pandemic. We'll show the clash between Congressmember Rep. Pramila Jayapal and Barr that's making headlines.
The Securities and Exchange Commission (SEC) charged YouPlus, a Silicon Valley startup, and its CEO Shaukat Shamim with defrauding investors by making false and misleading statements about the company's finances. The complaint states Shamim told investors YouPlus earned millions of dollars in annual revenue and had more than 100 customers, including Fortune 500 companies. But the scheme dissolved when Shamim is said to have told certain investors YouPlus had earned less than $500,000 and obtained only four paying customers since the company's 2013 inception.
Ravi Kapur contributed to this report.
Feds arrest entrepreneur Mukund Mohan for PPP fraud
SEATTLE (Diya TV) — U.S. attorneys arrested serial Indian American entrepreneur Mukund Mohan on charges of allegedly defrauding the Paycheck Protection Program with fake and altered documents and embezzling more than $5.5 million in COVID-19 relief funds through six shell companies. Mukund Mohan was a former Microsoft and Amazon executive and is currently the CTO of BuildDirect.
Shahid Buttar, who is running for Congress in San Francisco against House Speaker Nancy Pelosi, is being accused of sexual harassment by comedienne Elizabeth Croydon. Buttar said Croydon's charges are false.
Apple manufacturer Foxconn has started building iPhone 11 units in a facility near Chennai in India. It's the first time Apple has made one of its top-tier phones in India. India is the second-biggest smartphone market in the world, second only to China.
Ravi Kapur contributed to this report.
India & China slowly move towards disengagement
NEW DELHI (Diya TV) — India and China held virtual talks and agreed on a complete disengagement of troops along the line of control. But there remains sticking points in multiple areas along the border. India insists bilateral relations will not improve until "full peace and tranquility" are restored.
Police in Schenectady, New York are facing major scrutiny after footage was released of one of their officers applying a neck hold to 31 year old Yugeshwar Gaindarpersaud. He was treated and released, but he continues to face two charges of running away and resisting arrest. He's accused of slashing his neighbors tire, causing $200 of damage. His attorneys are fighting to get prosecutors to drop the charges.
The UK Parliamentary Group, which visited Pakistan Administered Kashmir, and heavily criticized the Indian government for their recent constitutional change applying to Jammu, Kashmir and Ladakh, acknowledged they received nearly $18,000 from the Pakistan Government to make the trip.
Ravi Kapur contributed to this report.