Suspects in Hyderabad gang rape murder killed by police
Hyderabad, India (Diya TV)  — Four suspects in the rape and murder of a 27-year-old veterinarian in Hyderabad were killed by police, who claim the four men were shot in self-defense. The action is drawing praise from the family of the victim but criticism from some lawmakers and civil rights groups.
Protests erupted in India this week seeking justice for this latest victim of sexual assault. Earlier in the week, a 23-year-old woman in Uttar Pradesh heading to testify against a man who allegedly raped her multiple times was set on fire by a group of five men she says included her rapist, who was free on bail. She remains in critical condition.
In a terse letter denouncing impeachment proceedings, The White House signaled it does not intend to mount a defense of President Trump or otherwise participate in the House impeachment hearings. The decision by the administration likely accelerates the pace of impeachment. Hearings continue Monday.
Texas Congresswoman Lizzie Fletcher introduced legislation to honor Deputy Sandeep Singh Dhaliwal's memory by renaming a post office in Houston in his honor.
Ravi Kapur contributed to this report.
Indian Americans now 2nd largest immigrant group in the US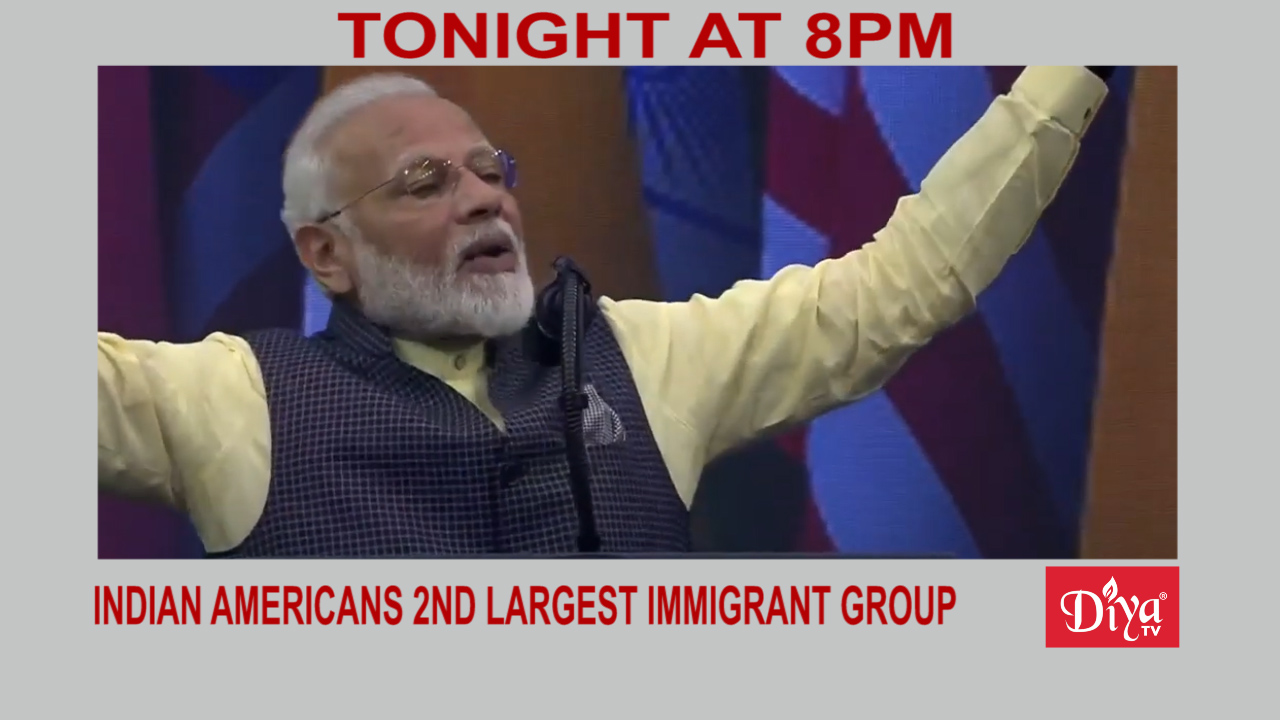 WASHINGTON (Diya TV)  — New data released indicates Indian Americans are now the second largest immigrant group conferred with American citizenship, behind only the Mexican community. Individuals born in India made up 6.9% of the total number of new American citizens, reflecting a rise of 2.7% over the previous year.
Democrats made their final opening argument on the fourth day of President Trump's impeachment trial. A new recording played before the Senate demonstrated the President wanted former U.S. Ambassador to Ukraine Marie Yovanovitch fired, saying on tape: "Get rid of her! Get her out tomorrow. I don't care. Get her out tomorrow. Take her out. Okay? Do it."
The Pentagon says 34 American troops have brain injuries from the missile strike launched by Iran in retaliation for the killing of Qasem Soleimani.
More than 800 people have been diagnosed with the Coronavirus, the ailment that began in China and is spreading around the globe. At least 26 people are dead. Hospitals in China are overwhelmed with patients. The disease has reached Vietnam, Singapore, Japan, South Korea, Taiwan, Thailand and the U.S.
Pharma exec John Kapoor gets 66 month prison sentence
BOSTON (Diya TV)  — Former billionaire CEO John Kapoor was sentenced to 66 months in prison, the culmination of a criminal trial in Boston resulting in the first successful prosecution of a pharmaceutical executive tied to the opioid epidemic. The 76-year-old founder of Insys Therapeutics made the potent opioid painkiller Subsys.
Senators reconvened in the Capitol for the third day of President Trump's impeachment trial. House Democrats argued the president abused his power by pressuring Ukraine for his own personal gain, often playing video of Trump speaking publicly to make their point.
Pakistani Prime Minister Imran Khan at the World Economic Forum in Davos said Osama bin Laden was able to find refuge in Pakistan because groups like Al Qaeda were viewed as "heroes" rather than terrorists. In May 2011, bin Laden was killed by US Special Forces in Pakistan, near one of their military bases.
India is considering incentives to woo Apple and Samsung's suppliers to open factories in the country.
Ravi Kapur contributed to this report.
Tulsi Gabbard sues Hillary Clinton for defamation
WASHINGTON (Diya TV)  — Congresswoman Tulsi Gabbard announced she is suing former First Lady Hillary Clinton for defamation. Gabbard was once Vice Chair of the Democratic Party, but stepped down when she decided to publicly endorse Senator Bernie Sanders for President in 2016. Gabbard says she's been smeared since making that decision by Clinton and her network of supporters.
The Republican-led Senate rejected all 11 Democratic-proposed amendments en route to approving the rules for the impeachment trial of President Trump. The war of words between the two sides got so nasty at one point, Supreme Court Chief Justice John Roberts asked them all to bite their tongues.
Bollywood actress Deepika Padukone was honored with a Crystal Award at the opening session of the World Economic Forum's 2020 annual meeting in Davos, Switzerland. 
The founder of The Live Love Laugh Foundation, Padukone was celebrated for leadership that inspires inclusive and sustainable change.
And for the first time, the Sikh community in the U.S. will be counted as a separate ethnic group in the 2020 US census.
Ravi Kapur contributed to this report.