Indian Americans Hashmi, Subramanyam elected to VA Legislature
RICHMOND, Virginia (Diya TV) — The Virginia state legislature will have two Indian Americans in its body for the first time ever. Democrat Ghazala Hashmi unseated Republican incumbent Virginia state Senator Glen Sturtevant to become the first Indian American and first Muslim woman elected to the state Senate. A former community college professor, Hashmi will represent the state's 10th Senate District.
Democrat Suhas Subramanyam defeated GOP opponent Bill Drennan for Virginia's 87th House District. Subramanyam is a small business owner and former White House technology policy advisor to President Obama.
These victories were part of a surge by the Democratic Party in Virginia, who successfully flipped the balance of power in the legislature.

San Francisco's interim public defender Manohar Raju won his first election overwhelmingly.
In North Carolina, incumbent Dimple Ajmera won a convincing re-election to Charlotte's City Council.
The 19th Surgeon General of the United States and Wellness Advocate Dr. Vivek Murthy has teamed up with actor and activist Maulik Pancholy to fight bullying in the Asian American Community by joining the anti-bullying nonprofit Act To Change inaugural Advisory Council.
Ravi Kapur contributed to this report.

India sets tougher regulations on explicit content
NEW DELHI (Diya TV) — India's Information Technology Ministry set new regulations for social media companies and digital streaming websites, demanding compliance with government takedown requests of unlawful, violent, and explicit content within 36 hours. Upon request, social media companies would have to disclose where the content is originating from. But Facebook-owned WhatsApp says they cannot comply without compromising user privacy.
Indian Prime Minister Modi took the first dose of a Indian-made coronavirus vaccine. So far, his nation has vaccinated 12 million frontline workers since January. But the goal is to inoculate 300 million Indians by August.
The Pentagon said a U.S. airstrike last week in eastern Syria killed one member of an Iranian-backed militia and wounded two others. The bombing was carried out in retaliation for a deadly rocket attack on a U.S.-led coalition base in northern Iraq as well as two other rocket attacks.
Ravi Kapur contributed to this report.
19 yr old Fremont teen dies in car accident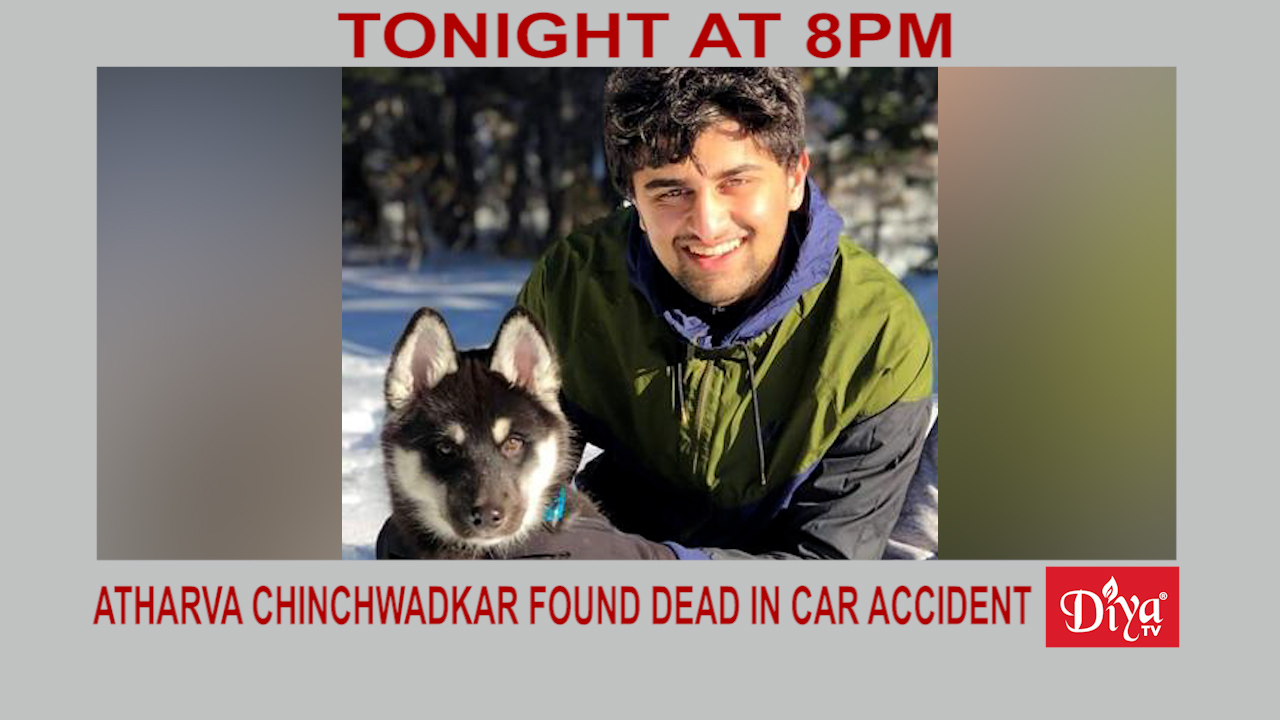 FREMONT, Calif. (Diya TV) — Atharva Chinchwadkar, a 19 year old Fremont man reported missing last week, was found dead in what appears to be a tragic solo car accident just a few miles from his home. He was last seen on February 21st by his parents when he left his home to get dog food and didn't return.
Chinchwadkar was a student at UC Santa Cruz.
Indian businessman Nirav Modi will be extradited from Britain back to India after a London judge dismissed Modi's argument he would not be treated fairly in India. He'll face a host of charges when he returns including corruption, money laundering, fraud and embezzlement stemming from the $2 billion fraud case of Punjab National Bank (PNB).
Mukesh Ambani's Reliance Industries made its first investment in a venture fund, pumping $100 million into early-stage VC Kalaari Capital, led by Vani Kola. The investment is through Jio Platforms and an additional $100 million is also expected to be deployed into a future fund.
Ravi Kapur contributed to this report.
India minister Jaishankar Addresses human rights at UN
NEW YORK (Diya TV) — Human rights can't be protected without addressing the threat of terrorism. That's the message India's External Affairs Minister S. Jaishankar delivered the UN's Human Rights Council, emphasizing human rights cannot be protected without addressing terrorism, which he called as "one of the gravest threats to humankind." Last month, India proposed an 8-point plan at the UN to tackle terrorism.
Dr. Vivek Murthy, who has been nominated by President Biden to be Surgeon General for the second time, made in excess of $2 million on COVID-19 related consultations and speeches according to financial disclosures. Carnival cruise lines, Airbnb and the NBA were among the dozens of organizations who retained Murthy for his expertise.
Two Indian Americans are suing Subway, the sandwich chain, claiming there is no tuna in their tuna meals. Karen Dhanowa and Nilima Amin claim Subway falsely promotes its tuna salad sandwiches as composed of wild tuna, when it actually has no tuna or any other fish in it.
Ravi Kapur contributed to this report.