Kamala Harris apologizes for laughing at Trump's 'mentally retarded' remark
SAN FRANCISCO, (Diya TV) —  Democratic Presidential Candidate Senator Kamala Harris apologized for laughing and saying 'well said' at a campaign event where a South Asian audience member called President Trump "mentally retarded." Harris says she did not hear or process the man's comment and would've stopped and corrected him.
National Security Advisor John Bolton has resigned, becoming the third person in that role to leave during President Trump's first term. Reports indicate Bolton and Trump have clashed on many issues in recent months, including Trump's proposed meeting with the Taliban at Camp David just days before the 18th anniversary of 9/11. That meeting did not take place.
Indian Ambassador to the United States Harsh Shringla met with former Trump White House advisor Steve Bannon, who is now co-chair of the Republican Hindu Coalition founded by Shalli Kumar. Shringla tweeted about the meeting, but later deleted it after receiving criticism. In response to the backlash, Shringla said "don't look into it as a conspiracy. We meet everyone from Bernie Sanders to Steve Bannon."
Over 200 Indian American organizations express concerns over Rep. Ro Khanna's Pakistan caucus membership
SAN JOSE, Calif. (Diya TV) — 230 Hindu and Indian American organizations led by the Hindu American Foundation expressed concern in a letter to Silicon Valley Congressman Ro Khanna about his recent membership to the Congressional Pakistan Caucus and a recent tweet which they say "in effect endorsed the views of "a fringe and extremist anti-Hindu activist, Pieter Friedrich." Khanna, who is also a member of the Indian caucus, says he joined the Pakistan caucus to have a seat at the table to bring peace to the region.
New Jersey governor Phil Murphy is leading a delegation around India, one of four state leaders making plans to visit this year. The governor and his wife visited the Taj Mahal & later met with Prime Minister Modi.
Sri Lankan American Raj Rajaratnam, a central figure in one the largest hedge fund insider-trading rings in American history, is now out of prison two years early. He is mostly confined to his apartment for the remainder of his sentence, but he can work outside his home during the day.
Ravi Kapur contributed to this report.
India and Pakistan clash over Kashmir at UN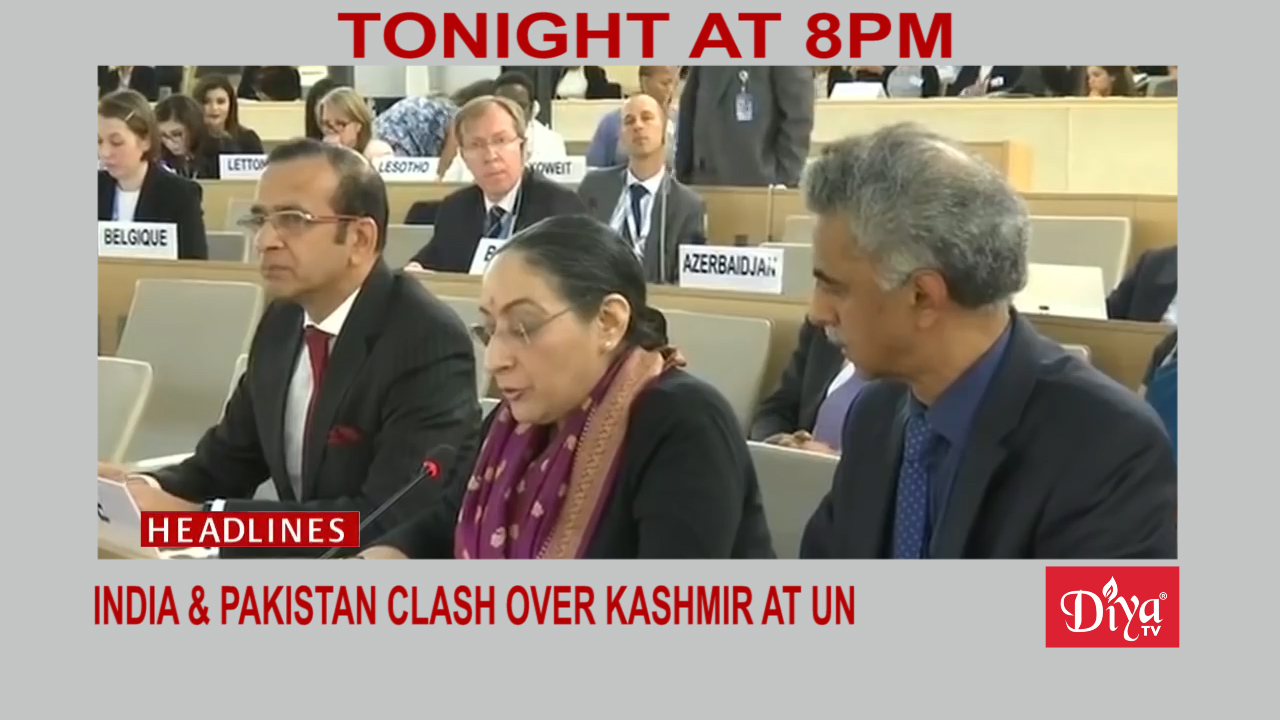 NEW YORK (Diya TV) — India and Pakistan shared their respective narratives over Kashmir before the United Nations. India said its Constitution "guaranteed fundamental rights to all our citizens without any distinction," while dismissing Pakistan as the "the epicentre of global terrorism." Pakistan urged the UN to set up a commission of inquiry into human rights violations, claiming India arrested more than 6,000 people without due process in Jammu and Kashmir.
Meanwhile, Seattle Congresswoman Pramila Jayapal issued her second letter to Secretary of State Mike Pompeo over Kashmir, expressing deep concern about reports of a humanitarian crisis in Jammu & Kashmir.
A NPR producer based in India, Furkan Khan, resigned after major social media backlash from an anti-Hindu tweet that stated "if Indians give up on Hinduism, they will also be solving most of their problems. What with all the piss drinking and dung worshipping." Khan has since apologized and deleted the tweet.
Ravi Kapur contributed to this report.
Diya TV broadcasts first AAPI Presidential Forum
COSTA MESA, Calif. (Diya TV) —  It was a historic weekend in Costa Mesa, California where the first-ever Asian American Democratic Presidential Forum took place, broadcast & livestreamed exclusively on the platforms of Diya TV. While there are still plenty of candidates vying to win the Democratic nomination, only three of them came to court Asian American votes, Andrew Yang, Tom Steyer & Rep. Tulsi Gabbard. Yang and Gabbard are AAPI candidates, so their presence was celebrated by the partisan crowd, with Yang taking part in spontaneous crowdsurfing after his presentation. Organizers were disappointed that the other AAPI candidate in the mix, California Senator Kamala Harris did not attend. But we are told there are efforts being made for future events of this nature. Hear from Yang, Steyer, Gabbard & AAPI Victory Fund founder Shekhar Narasimhan only on Diya TV News tonight.
The Indian Space Research Organization has found its moon lander Vikram on the lunar surface, said an official.
Ravi Kapur contributed to this report.