India and Pakistan clash over Kashmir at UN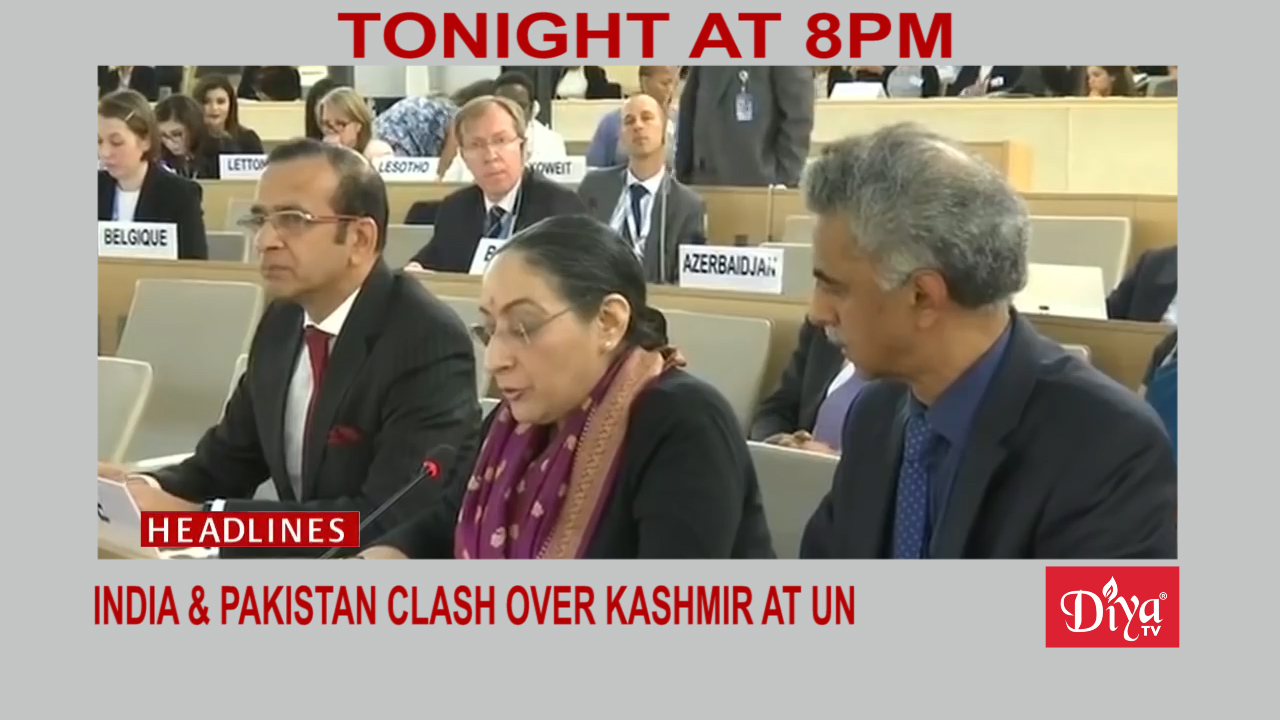 NEW YORK (Diya TV) — India and Pakistan shared their respective narratives over Kashmir before the United Nations. India said its Constitution "guaranteed fundamental rights to all our citizens without any distinction," while dismissing Pakistan as the "the epicentre of global terrorism." Pakistan urged the UN to set up a commission of inquiry into human rights violations, claiming India arrested more than 6,000 people without due process in Jammu and Kashmir.
Meanwhile, Seattle Congresswoman Pramila Jayapal issued her second letter to Secretary of State Mike Pompeo over Kashmir, expressing deep concern about reports of a humanitarian crisis in Jammu & Kashmir.
A NPR producer based in India, Furkan Khan, resigned after major social media backlash from an anti-Hindu tweet that stated "if Indians give up on Hinduism, they will also be solving most of their problems. What with all the piss drinking and dung worshipping." Khan has since apologized and deleted the tweet.
Ravi Kapur contributed to this report.
Tanmanjeet Singh Dhesi blasts Boris Johnson for 'racist remarks'
LONDON (Diya TV) — In London, the first-ever Sikh Member of Parliament, Tanmanjeet Singh Dhesi, received a round of applause from his colleagues after demanding an apology from British Prime Minister Boris Johnson for making "derogatory and racist remarks" on Muslim women wearing burqas. Johnson rebuffed the claim and did not respond to the statement directly.
Mountain View Police arrested 50 year old Reenu Saini and her four friends for allegedly staging a home invasion to evict tenants from her investment property. When that didn't work, police say the group shut off the home's power and tried to open the door.Saini is charged with attempted robbery, burglary of an inhabited dwelling, conspiracy to commit a crime and unlawfully shutting off power to a home
Judge Raag Singhal was nominated to serve as a judge on the U.S. District Court for the Southern District of Florida. And Jones Day partner Shireen Matthews was nominated to serve as Judge on the U.S. District Court for the Southern District of California.
And Silicon Valley AI analytics startup Thoughtspot, which is led by CEO Sudheesh Nair and founded by a group of Indian Americans, raised $248 million at a $1.95 billion valuation.
Ravi Kapur contributed to this report.
Sanders says India's action in Kashmir is 'unacceptable'
NEW YORK (Diya TV) — Democratic Presidential Candidate Bernie Sanders became the first candidate to share thoughts about Kashmir. At a speech before the Islamic Society of North America, Sanders said "India's action [in Kashmir] is unacceptable and the communications blockade must be lifted immediately," adding he supports "a UN backed peaceful resolution that respects the will of the Kashmiri people."
Meanwhile, Congressman Ro Khanna, who serves as a co-chair of the Sanders Presidential campaign, took a veiled shot at Democratic Presidential candidate Tulsi Gabbard on Twitter, in response to an article highly critical of the Congresswoman.The Silicon Valley Democrat said "it's the duty of every American politician of Hindu faith to stand for pluralism, reject Hindutva, and speak for equal rights for Hindus, Muslims, Sikhs, Buddhist & Christians." We'll have analysis of these comments that have lit up social media.
As for Kashmir itself, the Indian government says "91% of the Kashmir Valley" is free from any daytime restrictions. And Jammu & Ladakh are entirely free from any daytime restrictions.
Ravi Kapur contributed to this report.
India's Supreme Court to examine Kashmir's status change
NEW DELHI (Diya TV) — India's Supreme Court will review legal challenges made to the Indian government's decision to change their constitution and alter Jammu and Kashmir's special status. Five judges will start hearing the matter in October. Tight security and communications blackout is still in place.
Meanwhile, three former Pakistani high commissioners called for jihad against India over Kashmir in a television appearance. One of them, Ashraf Jehangir Qazi, served as Pakistan's High Commissioner to India and then was Pakistan's ambassador to the U.S.
Deutsche Bank, one of the financiers behind President Trump's real estate empire, told a federal court it can turn over Trump's tax returns to the House Democrats to comply with a subpoena they've issued. It remains unclear whether the courts will allow it.
And several 2020 candidates will not make the stage for the next Democratic debate, including New York Senator Kristen Gillibrand who decided to end her campaign.
Ravi Kapur contributed to this report.