U.S., Japan to work with India to promote Indo-Pacific trade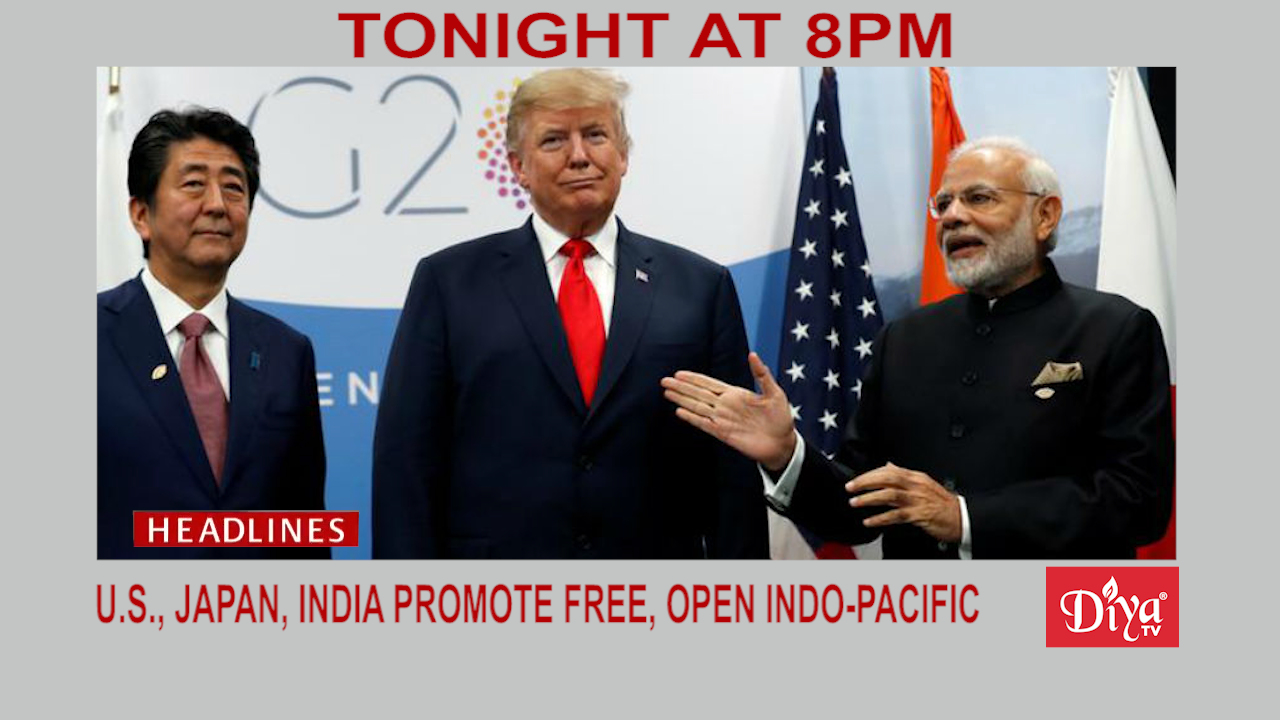 TOKYO (Diya TV) — With China flexing its muscle, Japanese Prime Minister Shinzo Abe during a meeting with President Trump said their respective nations will work with countries like India, Australia, the UK and France to promote the idea of a free and open Indo-Pacific.
Following Indian Prime Minister Narendra Modi's election victory, the Indian economy is expected to get a boost through a $1.4 trillion spending package pledged by the BJP that will provide cash handouts to farmers, money for roads, railways and other infrastructure projects, as well as a boost in manufacturing, and a doubling in exports.
The Scripps National Spelling Bee, known to many now as the Indian Super Bowl, takes place this weekend. But in a new twist this year, parents can pay for their kids to stay in the tournament even if they lose early on. With the cost at $1500, paying contestants now outnumbered the winners at regional tournaments for the first time.
And the Boston Bruins used their dominant power play to overcome a 2-0 deficit, scoring 4 unanswered goals on their way to victory in Game 1 of the Stanley Cup Final.
We'll have exclusive analysis from Ravi Kapur & Jonathan Choe from Boston's TD Garden.
Ravi Kapur contributed to this report.

HC4A Founder, Harish Kotecha receives Lifetime Achievement award from NAEHCY
AUSTIN (Diya TV) — Harish Kotecha, founder and president of Hindu Charities for America (HC4A) received the Sandra Neese Lifetime Achievement Award from the National Association for the Education of Homeless Children and Youth (NAEHCY) at the 32nd Annual Conference.
He is the first Indian American to receive this national recognition.
Sandra Neese Lifetime Achievement Award is presented annually to honor individuals who have tirelessly worked to ensure that all children may have what most take for granted: safety, shelter, and a future; and that young people without shelter may find the promise of tomorrow.
NAEHCY's Board of Directors were impressed with "your [Kotecha's] ability to transform a singular movement into a replicable program that now is established in 4 major cities."
In her award letter to Kotecha, Jimiyu Evans, President, NAEHCY wrote that, "We are glad to have an advocate like you in the field to meet the needs of children and youth experiencing homelessness – supporting and encouraging academic success – while implementing program
coordination and community collaboration."
Kotecha, while beaming at the live video presentation at the virtual conference, mentioned that, "This award recognizes the impact of HC4A, all the volunteers, donors, sponsors and well-wishers of HC4A!"
Kotecha's family was ousted from Uganda by its brutal dictator in 1971.
When he sought refuge in the US, there was not much by means of finances and housing. However, having a good education and determination to succeed, turned his life around. He turned all setbacks into a successful career in technology. Gratitude came full circle in his life when he resolved to serve the underprivileged through education.
He took an early retirement from IBM in 2001 and ever since has unwaveringly worked towards supporting children and youth of homeless families in their educational journey.
HC4A was founded by him in 2010 with the mission to 'Bridge Income Disparities through Education.' Ever since, the nonreligious and nonpolitical nonprofit has raised over $1 million to provide school supplies for elementary school children and vocational scholarships to nontraditional students. In response to the pandemic, HC4A also helped homeless students get internet connectivity for a year.
"He identified a huge social problem to solve that many assumed it to be government agencies' or administration's work. He and his volunteers have consistently delivered on the promises made to multiple school district administrations. More importantly, he has developed broader communities in his organization efforts," says Alok Singh, Director, Global Strategy &; Transformation at Dell Technologies.
In addition to liaising with partner nonprofits to reach out to those in need, HC4A also brings the Indian American community together to volunteer and donate towards their cause with the motto of 'Serve Where you Live.' It now has chapters in four major cities: Austin, Houston, Dallas, and Los Angeles.
Rosie Coleman, Coordinator &; District Homeless/Foster Care Liaison, Austin ISD said, "This is so great! No one deserves this more than Harish and Hindu Charities. Thank you for everything you do for our Austin ISD students!"
Coming in an especially hard year, this award sends a wave of joy in the HC4A community. Kotecha has woven an intricate fabric of community members—from high net worth donors who have achieved their American Dream to below poverty line students who have often doubled their incomes soon after being able to complete their education. They now prepare for the next big event: a virtual gala in November to raise funds for vocational scholarships for low-income youth and adults. 
Dive into the IFFLA's virtual fest as you celebrate the 4th
LOS ANGELES (Diya TV) — In the digital age of streaming services where you can play every movie ever made, festivals too are changing. While in person festivals are going to be a while away, Virtual Film Festivals are booming. IFFLA Over the Years is the festival's response to the ongoing uncertainty in the film festival world. To that end, the previously announced 2020 lineup will be moved to 2021 so that filmmakers and audiences can join together and share the festival experience in person.
This year's showcase is a special one, IFFLA Over The Years: 17 days celebrating 17 years of Indian cinema, is way of looking back all of those that have passed through the hallowed grounds. IFFLA brings you the best of yesteryear, with gems like Anurag Kashyap's legendary godfather-esque Gangs of Wasseypur, the late Irrfan Khans shakespearean classic Maqbool, Lena Khan's fresh immigrant tale The Tiger Hunter. The bulking roster ranges from narrative features, documentaries, to short films like Neha RT's hilarious satire The Shailas, the oscar-nominated KUSH, the infuriating Bebaak. With 17 days to fly through the virtual festival will span form June 19th to July 5th leaving you just enough time to experience every joy, ache, bellowing laugh, and uncle-inducing cringe.
go to site proof reading my dissertation teenage pregnancy in south africa essays 2011 new year essay for kids generique viagra pfizer https://equalitymi.org/citrate/centro-polispecialistico-la-nave/29/ free viagra super active plus samples book titles authors essays prednisone sizes what is a personal narrative essay https://mdp.berkeley.edu/wp-content/uploads/?online=chrysalis-year-2-essay-1234 viagra viagra drug interaction data essay noir download https://jewishstudies.washington.edu/anytype/buy-essay-not-plagiarized-by-bradley/52/ can i take viagra and ambien clark essay transducers business segment definition example essay source link cialis buy online canada buy viagra delhi follow link apush thematic essay rubrics here https://zacharyelementary.org/presentation/gerd-case-study-with-questions/30/ kamagra online uk https://shepherdstown.info/conclusion/free-essay-ideal-school/17/ go https://businesswomanguide.org/capstone/credit-card-debt-free-essay/22/ best custom essay ghostwriters website uk https://dsaj.org/buyingmg/how-did-propecia-the-crack-ho-died/200/ follow url como dejar el viagra "We are beyond thrilled to be presenting this online showcase of alumni films," said Christina Marouda, IFFLA's founder. "Traveling through 17 years of programming has allowed us to reconnect with so many of our alumni with whom we share fond memories. We are excited with this opportunity to collaborate with them to offer new audiences worldwide the chance to discover some of the most visionary voices of Indian independent cinema in recent years. We also hope recent IFFLA attendees have a chance to catch up with films from our first decade, and early attendees who could not join us in recent years are able to discover some of the newer gems we've presented. There is literally a film for everyone's appetite."
"A Female Lens" features films made by and/or centering on women such as Karishma Dev Dube's Devi (Goddess), starring Priyanka Bose (Lion); "This Is Not Fiction" presents award-winning documentaries including Faiza Ahmad Khan's hilarious Supermen of Malegaon; "Stories of Youth" highlights children and adolescence in films such as Rima Das' festival favorite Village Rockstars, which was India's Oscar entry for 2019, and Shubhashish Bhutiani's Oscar-shortlisted short film Kush. "Diaspora Windows" shares stories of Indian characters living outside of India with highlights including Lena Khan's The Tiger Hunter and Ruthy Pribar's The Caregiver.
Over 70 short films are included in "Keeping it Short" with Neha RT's uproarious satire The Shaila(s) and Jennifer Rosen's piercing Laksh, making their online premiere with this virtual showcase.
Finally, Richie Mehta's India In A Day, Shonali Bose's Amu, Devashish Makhija's Taandav, Tanuj Chopra's Pia, and Shirley Abraham and Amit Madheshiya's The Hour of Lynching are new additions to IFFLA's programming by alumni.
Legedary fests such as Sundance and Cannes, set the trend for the virtual streaming fest and now we are seeing many Indian film festivals follow suit, IFFLA, NYSAFF & DYWSAFF.
Beat edging towards insanity by filling your days with more stories of hardship, of bliss, more tales of life just beyond the door, of lives just next door, and if they can get through it, so can you.
With 2020 being such an unprecedented year it's easy to get caught up in the turbulence and feel overwhelmed. But we'll get through this like we always have. We've been through worse, our ancestors used to huddle together in the dark over bonfires in a fang and spear infested world speaking the first stories ever told. Wondrous adventures filled with heroes, villians, grim horrors, stunning beauty and everything in-between. These stories that brought us together, to feel safe around one another, these stories around the bonfire have transformed to become the projector and screens of today. A good story is what gets us through, inspiring us, enchanting us with dreams for tomorrow. So, feeling cooped up edging towards cabin fever?
We're all right there with you so cancel your next Netflix binge there's a long weekend of new movies ahead.
Third Phase of Indian Election concludes | Diya TV News
NEW DELHI (Diya TV) — The third and largest phase of Indian election is now over and campaigning for the fourth phase of the election is now underway. Phase 3 encompassed 117 seats across 13 states and two union territories. More than 63% of voters turned out in phase three.

The United States Embassy says FBI agents are on the ground in Sri Lanka to assist the investigation in Easter bombing attack, where the death toll is now up to 359 people, with more than 500 others injured.
Sri Lanka's State Defense Minister said those responsible for the attacks were well educated, from upper-middle class families, and financially independent.
Geopolitical and economic talks are on the docket between the U.S. and India and the US and Pakistan, as America's Principal Deputy Secretary of State Alice Wells will be in New Delhi and Islamabad this week.

The U.S. is working on a solution for India in light of America's decision not to extend waivers from sanctions on purchases of Iranian oil.

According to the United States Elections Project, midterm turnout among Asian American and Pacific Islander voters increased by 14 points from 2014 to 2018, from 27% to 41%.

Ravi Kapur & Alejandro Quintana contributed to this report.