Women filmmakers shine at the 2019 Indian Film Festival of Los Angeles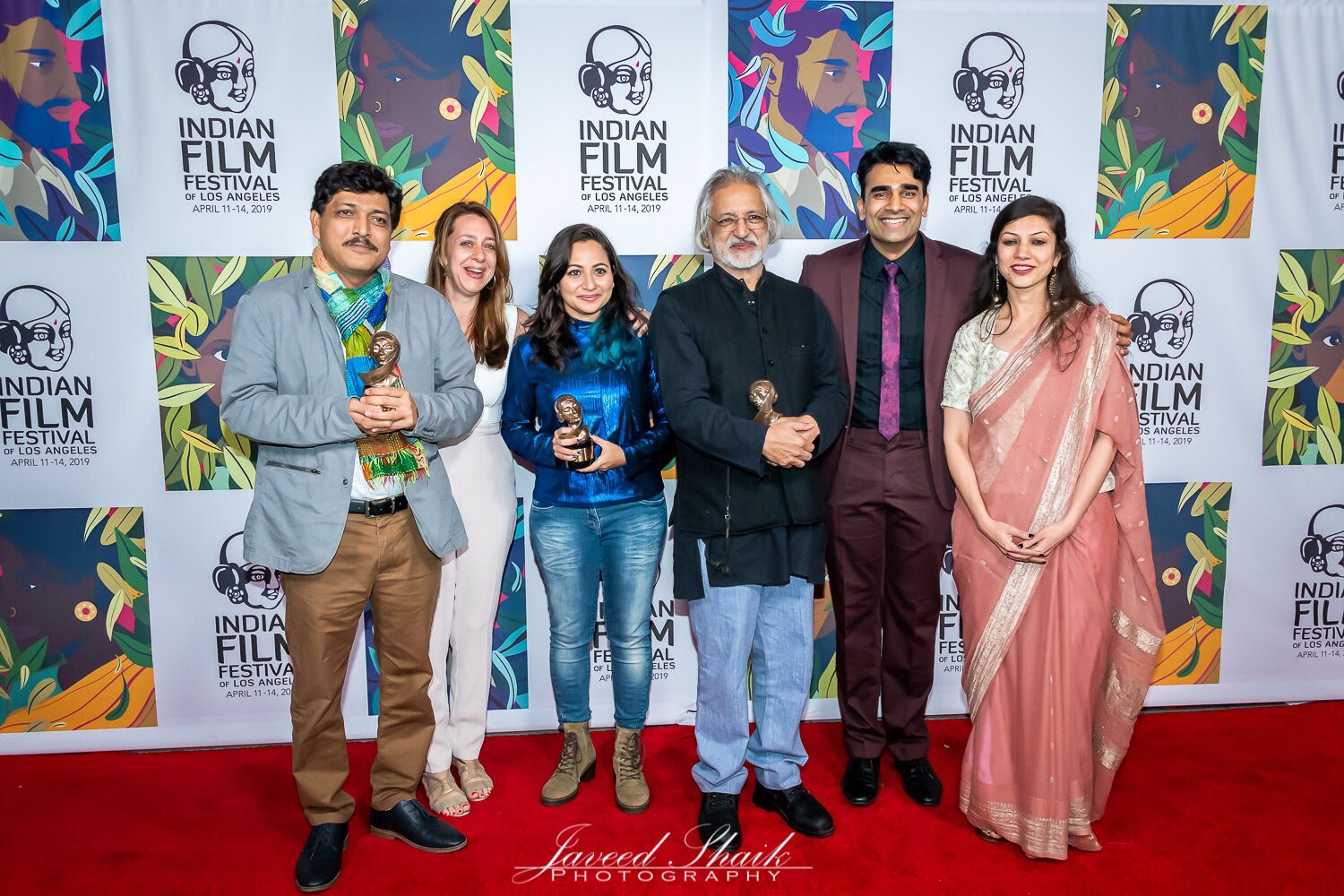 LOS ANGELES (Diya TV) — The 17th annual Indian Film Festival of Los Angeles (IFFLA) concluded Sunday night with the zany slice-of-life film, The Odds, directed by Megha Ramaswamy. Complete with a glamorous closing night red carpet, and an awards ceremony, the festival ended with an after party at the Spice Affair in Beverly Hills.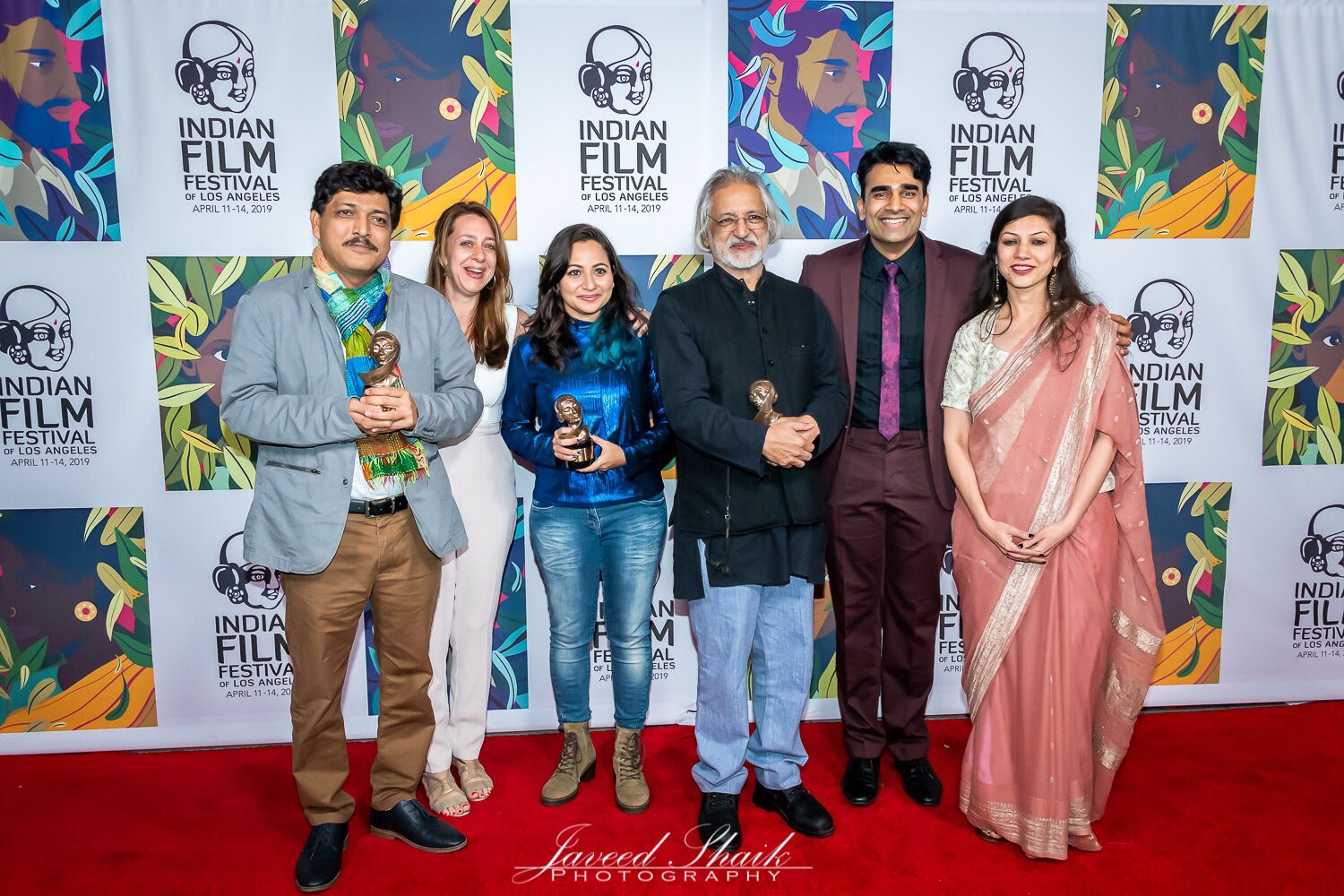 IFFLA was only four days this year (compared to five days in previous years), but there was still so much to see during that time. In addition to the curated set of films, there was an incredible panel discussion, Breaking in Brown: Making it to Series in TV's Golden Age, that featured panelists working in various fields in the television industry and their struggles to rise up through the ranks in the Hollywood while being brown.
This year's film lineup boasted five world premieres, two North American premieres, two U.S. premieres and eleven Los Angeles Premieres, with films presented in nine different languages. The overall atmosphere was very relaxed, even with films that tackled difficult subject matters. Roughly fifty percent of the films were directed by women. Filmmakers and staff alike hoped for a future where it will be normal to have women and men equally making films.

Kicking off the awards ceremony, Director of Programming, Mike Dougherty, announced the winner of the Grand Jury Prize for Best Feature, Widow of Silence.
"We present the Grand Jury prize to a film that illuminates a condition that most of the world doesn't get to see and shines a light on the characters that live through it everyday…This filmmaker's civic disobedience illustrates their love and compassion for their country and their people, and the craft of their film-making was beautifully wise and refined."
Director Praveen Morchhale was visibly surprised as he walked up to receive his award. The film he said was about those, "that nobody talks about and nobody treats them as a human." Even though it was Morchhale's first time at IFFLA, he felt as if he had been coming here for many years. He credited his win to the women in Kashmir the film portrayed.
The Audience Award for Best Feature went to Reason. Director Anand Patwardhan received a standing ovation when he went to collect his award. Patwardhan said, "most of the time our film is getting thrown out of festivals, I wasn't expecting this." He added that it meant a lot for the film to be well received at IFFLA and how that will hopefully impact its reception in India.
Shazia Iqbal's Bebaak was a crowd favorite winning the Audience Award For Best Short Film. The jury mentioned how she almost gave up on filming because she was getting thrown out of mosques. Iqbal spoke about how when people think of Muslims, they only think of Muslim men and not women, many of whom experience tremendous misogyny. She hopes people will be able to "see beyond what misogyny and religion does to people." Iqbal added, "a director is nothing without their team."

"a layered portrait of a woman determined to pursue her needs and impulses," the Grand Jury awarded their prize for Best Short to The Field from director Sandhya Suri. "the film takes images that normally evoke a sense of fear and flips the narrative on its head redefining a new more empowered world for the female protagonist and exploring an often unseen story of a woman's drive and agency over her own body and life," the jury added.

After the awards, Dougherty introduced the closing night film, The Odds by saying the film was the "perfect way to close IFFLA on a celebratory note."
Promising to be the film fest for "woke desis", NYC SAFF to debut this November
NEW YORK (Diya TV) — Promising to be the fest for "contemporary, aware, woke desis", NYC SAFF is set to make its debut this fall at the Altman building in New York City. After the roaring success of the 5th annual Dallas-Fort Worth South Asian Film Festival (DFW SAFF), JINGO Media presents its second film festival in the United States, the New York City South Asian Film Festival (NYC SAFF), gearing up to make its debut in mid-November at various venues around Chelsea in Manhattan. The first ever New York South Asian Film Festival (NYC SAFF) opens with a collection of gut-punches, knee slappers, and laughing gags. Running over 3 days, be sure to bring out your inner cinephile.
Opening the fest is Rohit Karn Batra's directorial debut 'Line of Descent a white-knuckled cop thriller starring Brendan Fraser, and Abhay Deol. The story follows a mafia family dispute caught in the crosshairs of a police officer who guides their tragic downfall, and an arms dealer with a spy on the inside. The centerpiece film is the painstakingly painted 'Bollywood Rose' based on true events, it tells the story of a forbidden love in a ruthless city. 'Kaamyaab' which as recently screened at the the Chicago South Asian Film Festival(CSAFF) makes its way into NYC SAFF followed by other festival favorites like Ephemera, Khejdi, and Agency bolstering an already stellar line up. Expect to meet indie stars Tannishtha Chatterjee & Nawazuddin Siddiqui at the closing night film, Roam Rome Mein, a story that follows Reena who has run away to Italy in order to escape her overly strict parents, however, her brother, Raj in the turmoils of his own awakening sets out on a journey to find her.
The short film selection features Eliezer Vergaras 'Fractured Souls'; a baffling self revelation that unfolds as one mans frustration leads him into cascading tragedies. Vick Krishnas 'Freak', a father must cope with unexpected news on his daughters surprise birthday. The feature lineup has a cup for everyone be it feature, documentary, fiction, or nonfiction. 'Namdev Bhau' a man so flustered by the noise of Delhi vows to not speak and undertakes a pilgrimage of silence until a young boy decides to tag along. The disturbing 'Mai Ghat' is based on the true story of two police officers who wrongly arrest a boy and tortured him to death. Its a powerhouse film exploring the violent act putting to question our personal and social conscience. It wouldn't be a proper a film festival without films that challenge us and make us question ourselves.
Discussing topics that are too often swept under the rug like LGBT, womens rights and the societal oppression. 'The Last Letter' follows Mohan, a 70-year old gay man who has remained in the closet, that is, until the comfort he built for himself comes tumbling down. 'The Unexpected' tells the story of a woman who despite achieving everything in life cannot conceive a child. Through its range of films, NYCSAFF aims to challenge, entertain, inspire and enrich.
Presented by Toyota and produced by JINGO Media, a NYC and Dallas-based events and public relations company, the inaugural, three-day festival boasts world, U.S. and New York City premieres of more than 25 shorts, documentaries and feature films focused on the unique stories of the South Asian Diaspora and those of our brothers and sisters back home. JINGO Media is also the parent company of DFW SAFF, which was conceptualized and created in 2015.
"We are so proud to create yet another platform for world-class independent cinema from India, Nepal, Pakistan, Bangladesh, Sri Lanka, Bhutan, Afghanistan and the Maldives," said Jitin Hingorani, CEO/Principal of JINGO Media, a public relations company that launched in New York City in 2010. "We're coming full circle with this festival because Manhattan is where it all began for us almost 10 years ago. We are certain that the community-at-large will embrace us and celebrate our joyous homecoming."
NYC SAFF has also partnered with The India Center Foundation (ICF), a New York City-based nonprofit organization dedicated to the study of the Indian subcontinent, the promotion of its cultural life and the unique relationship between India and the United States. "To partner with NYC SAFF means that ICF is reaching the audience we wish to serve: contemporary, aware, woke desis and lovers of Indian and Diasporic creativity and storytelling. As a filmmaker whose film was so lovingly received at DFW SAFF, I know we are working with a staff who is dedicated and eager to give New Yorkers the film experience they deserve when it comes to screening South Asian cinema. We are looking forward to partnering on great conversations and panels around the films we see together," said Priya Giri Desai, Founding Director of ICF.
Complete with an opening night red carpet , a curated set of film screenings and a closing night after party, this New York debut of an indie fest, is looking to leave you bruised with heartache, emotional bliss and a belly full of laughter, gasping for more. The first ever New York South Asian Film Festival promises one for the books!
It all goes down from November 15th though the 17th at The Altman Building. With the film screenings occurring throughout the weekend at AMC 34th street 14.
Diya TV is a proud media partner for the event, and will be onsite covering the fest. For tickets and information: https://www.nycsaff.com/tickets
Indian Ambassador, Shringla speaks to U.S. Congress about Kashmir
WASHINGTON (Diya TV) — Indian Ambassador to the U.S. Harsh Shringla met with members of Congress at a private roundtable briefing, hosted by Southern California Congressman Brad Sherman. Sherman, who has been a supporter of India, took to Twitter recently to share his concerns about Kashmir and said serious questions about Kashmir were asked at the briefing.
President Trump is being urged to fix the H1-B visa process and do away with country-specific limits, with the latest effort for reform being spearheaded by 60 U.S. business school deans and CEO's.
In an earthquake, seconds matter. So on the anniversary of the deadly 1989 Loma Prieta earthquake that rocked Northern California, state officials announced the launch of America's first statewide earthquake early warning system.
Tabla Maestro Zakir Hussain will be coming to Boston next month to perform at the Berklee India Exchange, where he will also be conferred with an honorary doctorate by the esteemed music school. A Zakir Hussain Scholarship at Berklee is also being established.

And we have incredible video of three kids from India rescuing their dog from a snake that's equal parts courageous and nuts.
Ravi Kapur contributed to this report.
Houston pays tribute to fallen Deputy Sandeep Dhaliwal
HOUSTON (Diya TV) — Thousands came to honor fallen Harris County Sheriff's Deputy Sandeep Singh Dhaliwal in a public funeral outside of Houston. The 42 year old father of three was killed during a routine traffic stop last week.
On the 150th birth anniversary of Mahatma Gandhi, eleven organizations announced the India Philanthropy Alliance, a collaboration to advance humanitarian and development goals in India, doing so at the second Indiaspora Philanthropy Summit. The organizations collectively raise $125 million annually in donations.
The NBA is in India for the first-time, with the Kings and Pacers holding their first practices in Mumbai. The players and coaches also took time to mentor disadvantaged youth, not to mention budding Indian hoop stars. Diya TV will have full coverage of the NBA India Games, including live commentary and analysis on our social platforms.
And we'll have highlights from a boisterous Chicago South Asian Film Festival that was proudly sponsored by Diya TV.
Ravi Kapur contributed to this report.