U.S. and India conduct joint military drill on Diego Garcia in Indian Ocean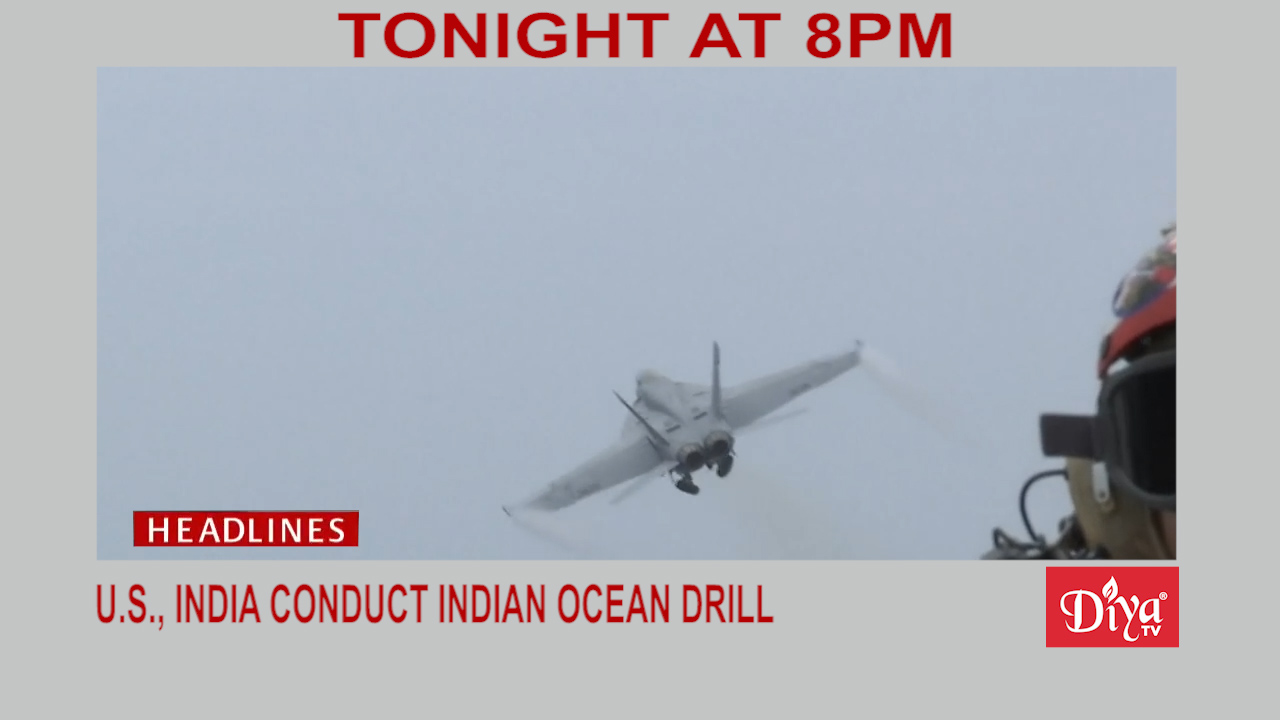 DIEGO GARCIA, Indian Ocean (Diya TV) — The U.S. and Indian Navies went submarine hunting in the Indian Ocean, their first bilateral anti-submarine warfare exercise since a signing pact to work more closely together last fall.

India's exports to China are up in 2019, while imports declined, leading to a $10 billion reduction in India's trade deficit with China. Analysts say the current Washington-Beijing trade war has also opened things up for India.

The Jallianwala Massacre 100 years ago that left hundreds dead and 1200 injured at the hands of British troops is considered a key turning point towards a free India. British prime minister Theresa May marked the occasion by expressing "deep regret", but there are still no apologies.

An effort by an American and British companies to help Jet Airways founder Naresh Goyal save the airline from collapse dissolved after Etihad Airways and TPG Capital threatened to walk away themselves if Goyal was part of the deal.

And comedian Hasan Minhaj, who won a 2017 Peabody Award, received another Peabody nomination in the entertainment category for his Netflix show, "Patriot Act with Hasan Minhaj."

Ravi Kapur & Alejandro Quintana contributed to this report.

US India trade talks resume after G20 summit, in New Delhi
WASHINGTON (Diya TV) — India and the U.S. will resume bilateral trade talks in New Delhi next week. These talks continue the dialog established by Indian Prime Minister Modi and President Trump at the Osaka G20 Summit last week.
Sikh activists launched a petition asking Presidential candidate and California Senator Kamala Harris to apologize for supporting employment discrimination against a Sikh job applicant in 2011 during her tenure as California's attorney general.
A report by Bloomberg says Boeing turned to Indian-based subcontractors who were paid as little $9 per hour for work on the U.S. planemaker's beleaguered 737 Max aircraft.
Mahmud Jamal is now a Justice of Appeal of the Court of Appeal for Ontario, becoming the 4th ever South Asian federal appellate judge in Canada.
A group of South Asian filmmakers including Zoya Akhtar and Anurag Kashyap and actors like Anupam Kher and Archie Panjabi are among the 842 people invited to become members of the Academy of Motion Picture Arts and Sciences.
Ravi Kapur contributed to this report.

Indian CEO's meet with President Trump in London
LONDON (Diya TV) — A number of prominent Indian CEOs from the US and the UK met with President Trump during a breakfast roundtable on his visit to London. Members of the American cabinet were also in attendance, including Secretary of State Mike Pompeo, Treasury Secretary Steve Mnuchin, as well as the president's daughter, Ivanka.
The Punjab government announced free education for girls in government schools and colleges from Nursery school to the PhD level. They also announced free Wi-FI for 13,000 schools and all 48 government colleges.
Rayna Gokli McIntyre will be a new District Court Judge in Colorado, becoming the second South Asian member to the bench in that state.
In New Jersey, Zahid Quraishi was named a U.S. Magistrate Judge, becoming the first Asian American federal judge in that state.
And Karamjit and Karawjit Singh took danger to new heights with this coconut and melon smashing display on America's Got Talent, all while wearing a blindfold.
Ravi Kapur contributed to this report.

Trump ends $5.6B GSP trade preference for India
WASHINGTON (Diya TV) — President Trump is ending $5.6 billion worth of trade concessions for India under the Generalized Scheme of Preferences program effective this week, saying India failed to assure the U.S. that it would provide 'equitable and reasonable access to the markets of India.
Bay Area Congressmembers Zoe Lofgren and Anna Eshoo reintroduced a bill to save work authorization visas for H-4 holders whose spouses are on track to get a green card. Many of those eligible are Indian American women.
Oklahoma's State Board of Education released new social studies standards, which for the first time include Sikhism. Nearly 700,000 students in Oklahoma public schools will now learn more about the Sikh community, in this effort spearheaded by the Sikh Coalition.
The Golden State Warriors played through two more injuries to rotation players to beat the Raptors in Toronto 109-104 to even the NBA Finals at a game a piece.
Diya TV's Ravi Kapur and Jonathan Choe are on-site and will have more courtside.
And we talk to the stars of Netflix's newest romantic comedy 'Always Be My Maybe,' a feature that offers a story & characters Asian Americans will find relatable from some of the most talented names in Hollywood.
Ravi Kapur & Alejandro Quintana contributed to this report.