One-on-One with Prime Minister Modi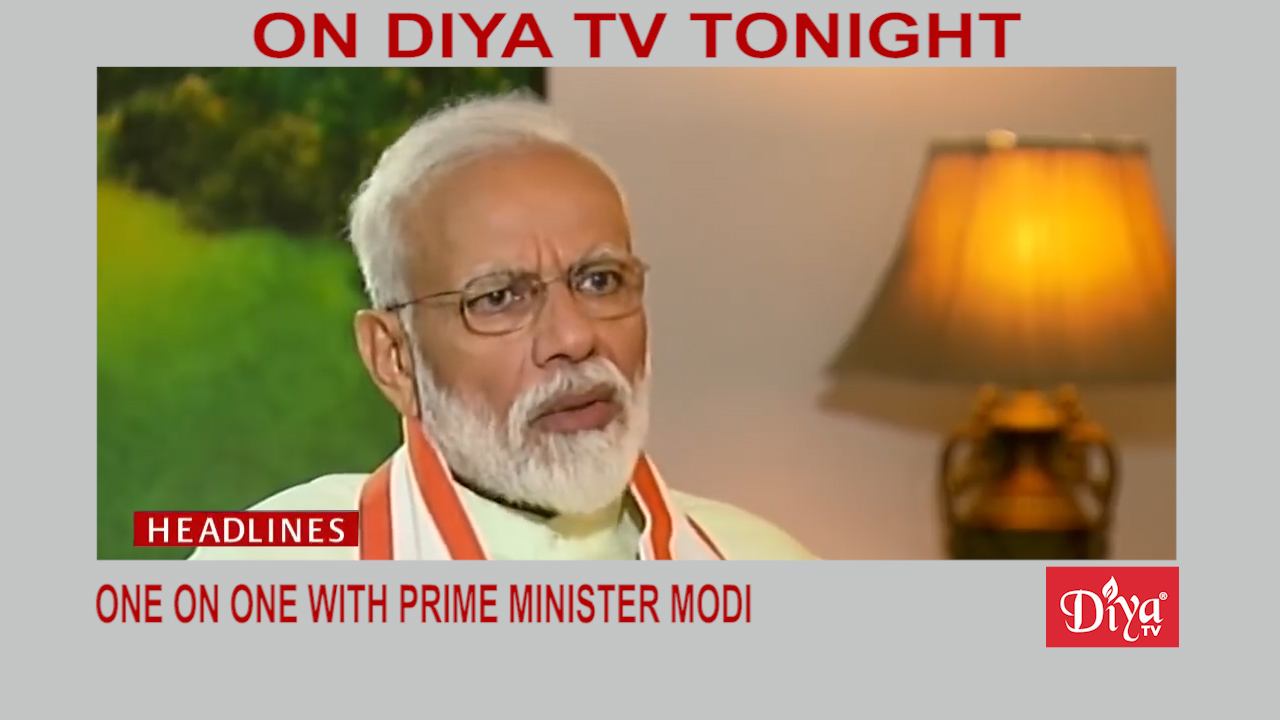 NEW DELHI (Diya TV) — In a rare sit-down interview in the middle of an election, Indian Prime Minister Narendra Modi discusses his first term and what he plans to accomplish if he is elected to a second term. Watch the full interview tonight on a special Diya TV Dialogue at 7 pm.

Two U.S. Senators are urging more negotiations with India over a Trump administration plan to end preferential imports because it could raise costs for American consumers.

Meanwhile, India purchased a missile system from Russia. Indian Defense Minister Nirmala Sitharaman is hopeful the deal will avoid sanctions and scrutiny from the U.S.

Thiru Vignarajah a former federal prosecutor, who also once served as deputy Attorney General in the state of Maryland, announced he is running for mayor of Baltimore as a Democrat.

And our entertainment reporter, Kari Lane will take you behind the scenes at the Indian Film Festival of Los Angeles, an event proudly sponsored by Diya TV, full of some of the brightest stars you will soon see on the silver screen.

Ravi Kapur & Alejandro Quintana contributed to this report.

New Zealand eliminates India in cricket World Cup
MANCHESTER, England (Diya TV) — After a rain delay stopped play between New Zealand and India, when play resumed, the Kiwis held on to win by 18 runs, knocking India out of the Cricket World Cup. It's on to the championship round for New Zealand.
The United States Immigration and Customs Enforcement (ICE) raided an Indian restaurant in Washington DC, detaining several employees.
Airbnb, the Silicon Valley couchsurfing startup turned hospitality behemoth, says they made a direct economic impact of around $150 million in India in 2018.
Indian Airbnb hosts collectively made almost $28 million and welcomed nearly 800,000 guests last year.
Chennai-based speech recognition startup, Uniphore Software Systems, raised $38 million as part of its Series C round. They've received funding from California venture capital firm March Capital Partners and former Cisco CEO John Chambers. 
And Indo-Australian Priya Serrao was crowned Miss Universe Australia 2019.
The 26-year-old policy advisor from the state of Victoria said she will use her new platform to promote multiculturalism.
Ravi Kapur contributed to this report.
Trump says tariffs by India are 'No longer acceptable'
WASHINGTON (Diya TV) — In a tweet, President Trump targeted India once again, saying "India has long had a field day putting Tariffs on American products. No longer acceptable."
Yet earlier this year, the Trump administration stripped India of a preferential status that exempted billions of dollars worth of products from U.S. levies.
One of the most unique characters ever to run for President has died. Billionaire businessman Ross Perot was 89. Many give his independent campaign in 1992 credit for helping Bill Clinton beat incumbent George H.W. Bush.
A day after Democratic Congressman Eric Swalwell got out of the race, another billionaire businessman, Tom Steyer, jumped into the Presidential fray.
India's OlaCabs recently launched its ride-sharing services in London. And now Ola Electric, their electric vehicle spinoff, just raised a $250 million Series B round at a $1 billion valuation. It plans to bring 10,000 vehicles to the road this year.
And the world will have to wait another day to find out who will play for the Cricket World Cup, after a rain delay stopped play between New Zealand and India.
Ravi Kapur contributed to this report.
US India trade talks resume after G20 summit, in New Delhi
WASHINGTON (Diya TV) — India and the U.S. will resume bilateral trade talks in New Delhi next week. These talks continue the dialog established by Indian Prime Minister Modi and President Trump at the Osaka G20 Summit last week.
Sikh activists launched a petition asking Presidential candidate and California Senator Kamala Harris to apologize for supporting employment discrimination against a Sikh job applicant in 2011 during her tenure as California's attorney general.
A report by Bloomberg says Boeing turned to Indian-based subcontractors who were paid as little $9 per hour for work on the U.S. planemaker's beleaguered 737 Max aircraft.
Mahmud Jamal is now a Justice of Appeal of the Court of Appeal for Ontario, becoming the 4th ever South Asian federal appellate judge in Canada.
A group of South Asian filmmakers including Zoya Akhtar and Anurag Kashyap and actors like Anupam Kher and Archie Panjabi are among the 842 people invited to become members of the Academy of Motion Picture Arts and Sciences.
Ravi Kapur contributed to this report.