Alia & Ranbir promote new film at Kumbh Mela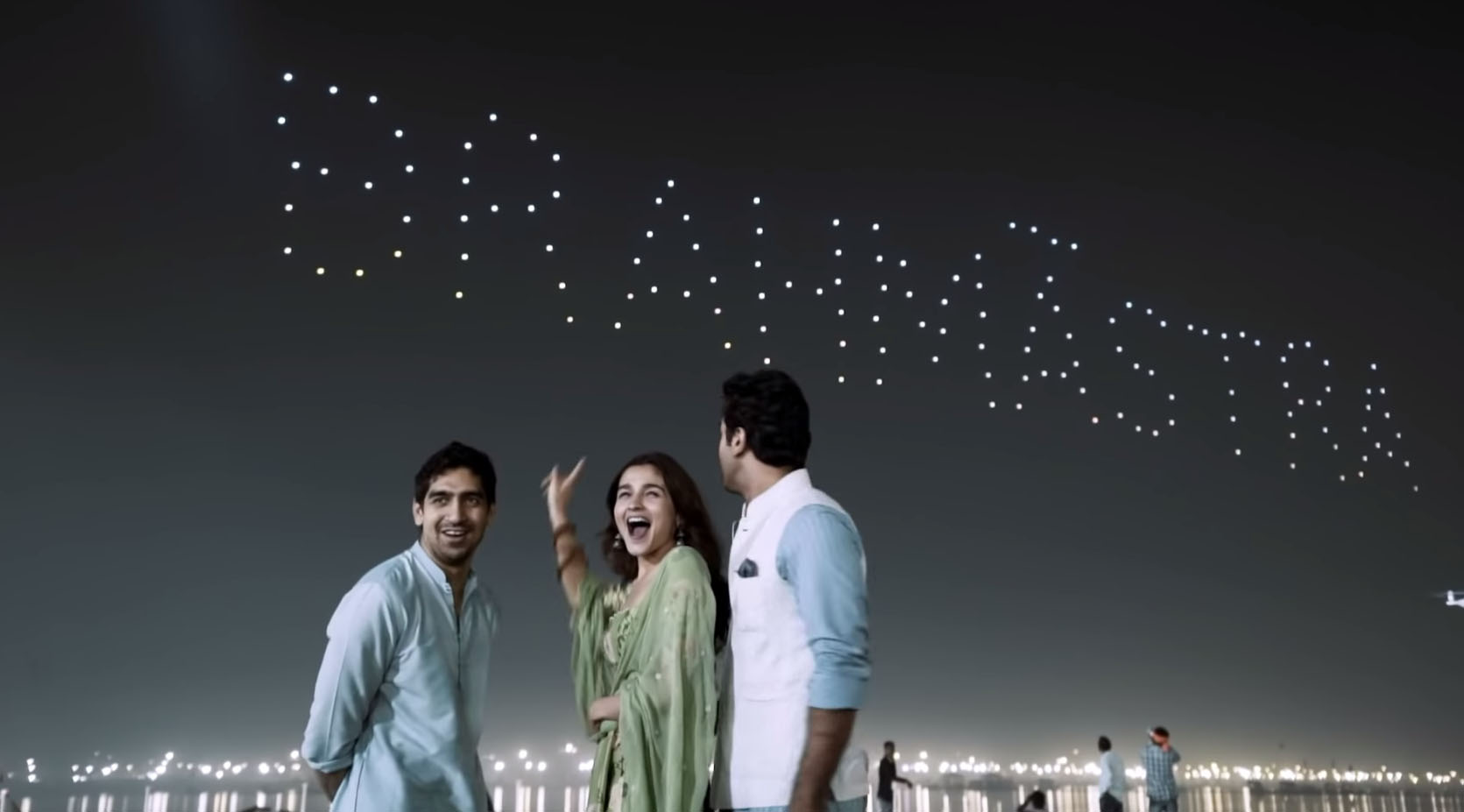 SAN FRANCISCO (Diya TV) — When it comes to Bollywood, the marketing stunts pulled by the movie business are next to none. Fox Star Hindi's latest release, 'Brahmastra', starring Alia Bhatt and Ranbir Kapoor showed up at the largest religious pilgrimage in India, known as the Kumbh Mela. While marketers have long promoted their client's brands at the Kumbh Melas to reach vast audiences from the remotest parts of India at one central location, 'Brahmastra' became the first film ever to unveil its logo at the Mela. A centuries old tradition, said to be dating back to 644 CE, The Mela brings together millions who come to take a dip in the holy waters.
And even though the movie is months away from release, the clever marketing stunt makes all the sense, given the 2019 Kumbh Mela attracted over 220 million people from all over India & the world. The stars along with director Ayan Mukerji were on hand for the exclusive reveal. A hundred and fifty drones lit up the night sky to premiere the logo for the magnum opus which also stars legendary actor, Amitabh Bachchan. The film, set to be part of an epic trilogy will release in theaters across North America this Christmas.
Bollywood actress Tabu honored at 2019 IFFLA Opening Night
LOS ANGELES (Diya TV) — The 17th annual Indian Film Festival of Los Angeles (IFFLA) is officially underway, kicking off the festivities last night at the Ahrya Fine Arts Theatre in Beverly Hills with a tribute to the renowned Bollywood actress Tabu.
Christina Marouda, Founder and Executive Director of IFFLA, introduced Tabu's notable accomplishments. "Her work and personality embody everything that IFFLA is about" Marouda said "being fearless, versatile, independent in spirit, unwilling to compromise, brilliant in the range of her performances, and simply beautiful. With half of the festival's 2019 line-up directed by female filmmakers, this [year's IFFLA] couldn't be a stronger celebration of women in Indian cinema."
The audience was treated to a moderated interview with Tabu in which she discussed her interest in flawed and immoral characters, as well as how she has enjoyed combining a career of commercial success with one of artistic reinvention.
The interview was followed by a screening of Tabu's most recent film Andhadhun, directed by Sriram Raghavan and co-starring Ayushmann Khurrana. The black comedy is a triumph of chaos in all the right ways; weaving humor with horrible acts of violence, shifting storylines and ratcheting up the tension. Tabu brings her legendary intensity to every scene, flowing effortlessly from casual and comical to duplicitous and menacing. She is a villain in a story with no true hero, allowing her to flex her most manipulative muscles.
IFFLA is unabashedly confronting diversity in Hollywood, not as a trend, but as a mission. Not only featuring a curated set of film programs designed to support the growing interest in the Indian entertainment industry, but – just as importantly – supporting filmmakers of Indian and South Asian descent in career development and expanding opportunity as they establish themselves in various mainstream Hollywood systems.
This years programming includes Ronny Sen's directorial debut Cat Sticks, which screened at Slamdance, Ashish Pandey's Kashmir-set drama Nooreh, which won at Busan, family drama Love Goes Through Your Mind, directed by UCLA alum Ronak Shah and Safdar Rahman's Chippa. Additional programming also features a TV-centric panel titled 'Breaking in Brown: Making it to Series in TV's Golden Age' featuring the work of South Asian talent in broadcast and streaming.
The 17th annual Indian Film Festival of Los Angeles (IFFLA) is taking place April 11-14, 2019 at Regal L.A. LIVE in downtown Los Angeles. The Opening and Closing Night Galas will be at the Ahrya Fine Arts Theater in Beverly Hills. For tickets and information on programming visit https://www.indianfilmfestival.org
Diya TV is a proud sponsor of the festival
Homeland Security Secretary Nielsen resigns
WASHINGTON, DC (Diya TV) — Kirstjen Nielsen, the US Homeland Security Secretary, is stepping down over major differences with the administration on how to implement President Trump's immigration policies.

Meanwhile, President Trump continues to campaign around the nation to make the case for his re-election in 2020. Over the weekend, he told a Las Vegas crowd India is charging 100% tariffs to the U.S. on many things and he wants to reciprocate. He added the Senate is not doing enough to change what he calls "stupid trade."

The South Asian Bar Association's Northern California chapter held their annual fundraising gala, a chance for judges, attorneys and the next generation to network and honor their peers.

The NBA Champion Golden State Warriors are moving to San Francisco in the fall, so they held their final Bollywood Night in Oakland. We'll take you behind the scenes and introduce you to a member of the Warriors Dance Team that choreographed an epic Bollywood dance.

And Ravi Ahuja, the former CFO of Fox Networks, is now Walt Disney Television's CFO and president of business operations.

Ravi Kapur & Alejandro Quintana contributed to this report.

White Supremacist kills 49 at New Zealand mosque
SAN FRANCISCO (Diya TV) — Two mosques in New Zealand were targeted in what appears to be a coordinated racist attack. 49 people are dead and 49 others are seriously wounded. Three people are in custody for the carnage, including a 28-year-old Australian self-proclaimed racist man who livestreamed the bloodshed.
The Bangladesh cricket team was visiting one of the mosques at the time of the attack and escaped through a park.

The U.S. announced they will build six atomic power plants in India in another major step in bettering bilateral ties. India also received a special waiver from the Nuclear Suppliers Group to sign cooperation agreements with a dozen nations.

In a one on one with FCC Chairman Ajit Pai — we'll preview our exclusive conversation with the man who's become a household name for heading one of the most important oversight agencies in the U.S. government.

Bollywood star Aamir Khan is bringing 'Forrest Gump' to the Bollywood big screen, buying the rights to the classic from Paramount. Khan will star in the title role.

And YouTube sensation Lilly Singh will become the first South Asian ever to host a broadcast network late night show, as she will take over the 1:30 a.m. time slot on NBC. "A Little Late with Lilly Singh" debuts in September.

Ravi Kapur & Alejandro Quintana contributed to this report.