Complete breakdown of how Indian American candidates fared in midterms 2018
SAN FRANCISCO (Diya TV) — With a historical presence in this year's election among the 100 Indian American representatives, the standout performance came from Kentucky.
The Bluegrass State elected its first Indian American state representative, Nima Kulkarni. The Democrat attorney will represent District 40 after defeating Republican Joshua Neubert by 48.3 points. Kulkarni was a University of Louisville business administration graduate who later founded and managed her own law firm in the area.
Right across the border in Ohio and Illinois, two Indian-Americans were re-elected while one fell short. Ohio Republican state Rep. Niraj Antani remains the youngest current serving member of the House, as well as youngest Indian-American elected official in the country.
"I work hard every day to make it achievable for all Ohioans to have the opportunity to make their American Dream a reality," the 27-year-old said in a statement following the victory. "Growing up as an Indian-American has greatly influenced my life, and I will continue to proudly represent our community."
Congressman Raja Krishnamoorthi retained his seat after breezing past fellow Indian American Jitendra "JD" Diganvker in Illinois' 8th Congressional District.
Aftab Pureval (D-OH) fell short to Republican Steve Chabot in Ohio's 1st District, 51 percent to 46 percent. Further out east in New York, Indian American Kevin Thomas pulled off an improbable upset over Kemp Hannon for the 6th Senate District, ending his 28-year run as incumbent senator.











The Indian-American incumbents including Krishnamoorthi, Ami Bera, Ro Khanna and Pramila Jayapal secured another term. Bera, representing California's 7th District, was in the tightest race as he edged out Republican Andrew Grant, 52 percent to 48 percent. Next door in Arizona, Democrat Amish Shaw won District 24's house of representatives race as Anita Malik and Hiral Tiperneni fell to their opponents.
Malik lost to Rep. David Schweikert in the 6th District, 57 percent to 43 percent, while Tiperneni was upended by Republican Debbie Lesko with the same deficit.
On the other hand, Susheela Jayapal, the older sister of Pramila, and Padma Kuppa were two Indian American women who won their respective races at the local and state level. Jayapal won her seat on the Multnomah County Board of Commissioners in Portland and Kuppa became Michigan's newest state representative.
"I cannot wait to continue this journey, and make the 41st House District, and the entire State of Michigan a better place for all our families, for generations to come," Kuppa said in a statement.
Ultimately no Indian Americans managed to claim new seats at the federal level, however many at the local and state level grabbed new seats.Texas meanwhile managed to get an Indian American and Democratic representative as R.K. Sandhill was elected for Place 4 judge of the Texas Supreme Court.
In 2016, five Indian Americans entered Congress, now in the 2018 midterms we see a small increase in representation in the political space with an upward trend heading toward 2020.
Niraj Antani, Nima Kulkarni and Kevin Thomas all were successful in winning their districts.
U.S. and India conduct joint military drill on Diego Garcia in Indian Ocean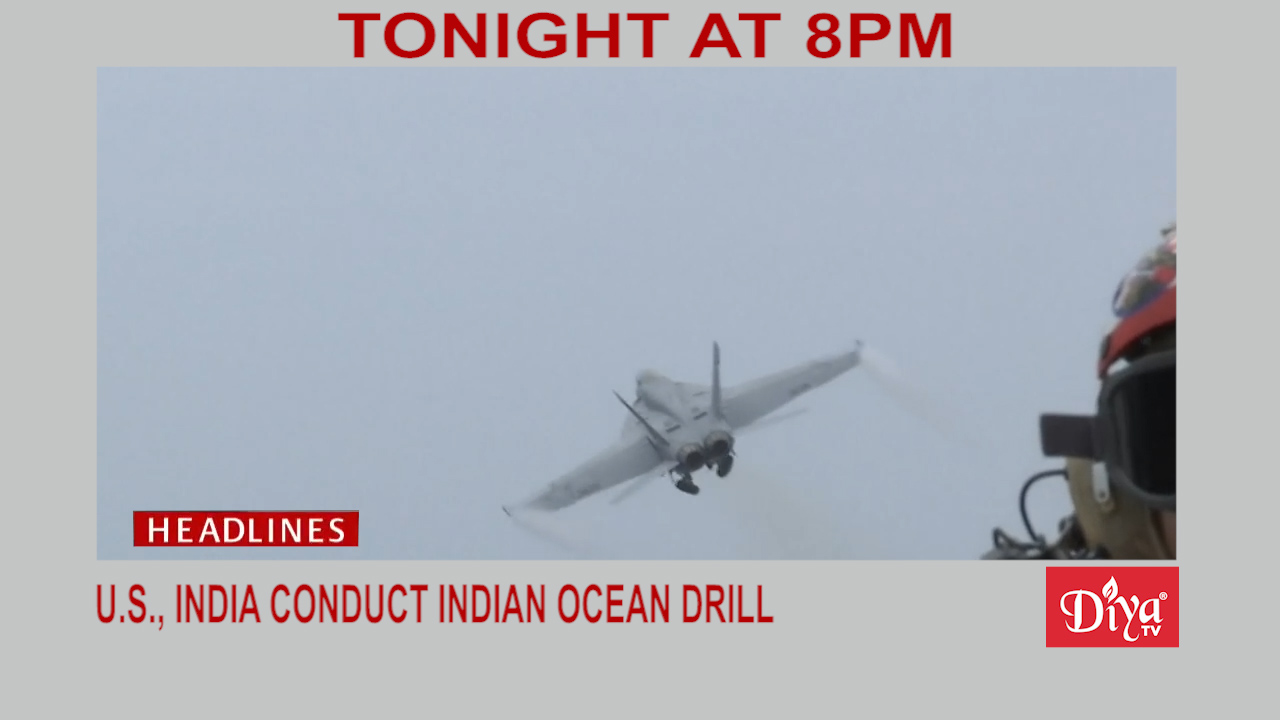 DIEGO GARCIA, Indian Ocean (Diya TV) — The U.S. and Indian Navies went submarine hunting in the Indian Ocean, their first bilateral anti-submarine warfare exercise since a signing pact to work more closely together last fall.

India's exports to China are up in 2019, while imports declined, leading to a $10 billion reduction in India's trade deficit with China. Analysts say the current Washington-Beijing trade war has also opened things up for India.

The Jallianwala Massacre 100 years ago that left hundreds dead and 1200 injured at the hands of British troops is considered a key turning point towards a free India. British prime minister Theresa May marked the occasion by expressing "deep regret", but there are still no apologies.

An effort by an American and British companies to help Jet Airways founder Naresh Goyal save the airline from collapse dissolved after Etihad Airways and TPG Capital threatened to walk away themselves if Goyal was part of the deal.

And comedian Hasan Minhaj, who won a 2017 Peabody Award, received another Peabody nomination in the entertainment category for his Netflix show, "Patriot Act with Hasan Minhaj."

Ravi Kapur & Alejandro Quintana contributed to this report.

One-on-One with Prime Minister Modi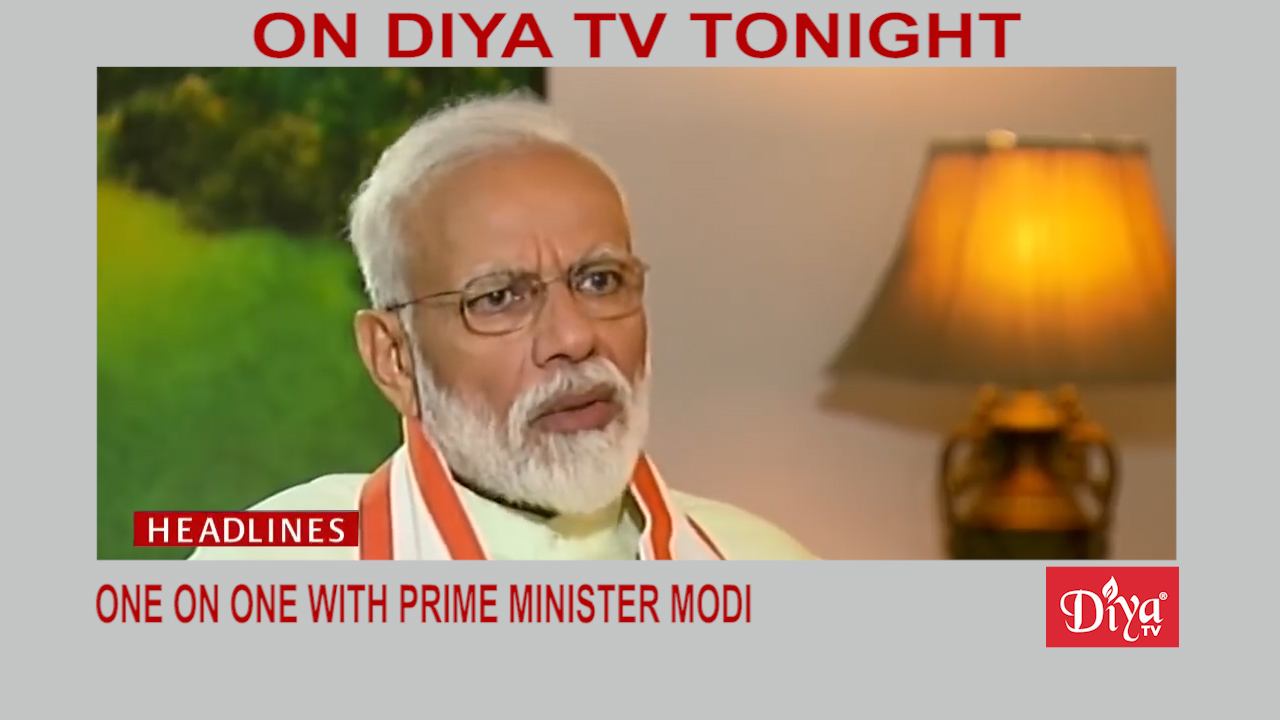 NEW DELHI (Diya TV) — In a rare sit-down interview in the middle of an election, Indian Prime Minister Narendra Modi discusses his first term and what he plans to accomplish if he is elected to a second term. Watch the full interview tonight on a special Diya TV Dialogue at 7 pm.

Two U.S. Senators are urging more negotiations with India over a Trump administration plan to end preferential imports because it could raise costs for American consumers.

Meanwhile, India purchased a missile system from Russia. Indian Defense Minister Nirmala Sitharaman is hopeful the deal will avoid sanctions and scrutiny from the U.S.

Thiru Vignarajah a former federal prosecutor, who also once served as deputy Attorney General in the state of Maryland, announced he is running for mayor of Baltimore as a Democrat.

And our entertainment reporter, Kari Lane will take you behind the scenes at the Indian Film Festival of Los Angeles, an event proudly sponsored by Diya TV, full of some of the brightest stars you will soon see on the silver screen.

Ravi Kapur & Alejandro Quintana contributed to this report.

Buttigieg, Swalwell make 2020 run official
SANTA CLARA, Calif. (Diya TV) — Two more Democrats made it official — South Bend Mayor Pete Buttigieg and California Congressman Eric Swalwell held campaign rallies in their respective hometowns to announce their individual campaigns for the White House.

Meanwhile, Swalwell says he will not run for re-election for Congress, leaving the seat open for a new entrant in 2020. Hayward City Councilwoman Aisha Wahab says she will vie for that seat, attempting to become the first Afghan-American in Congress.

Indian author and politician Shashi Tharoor is recovering from a terrible blow to the head when a heavy iron hook fell on him during a temple visit. Tharoor tweeted that he will make a full recovery.

For the first time in his career, Tiger Woods came from behind in the final round to win his first major tournament in more than a decade. The win at the Masters leaves Woods just three major tournaments wins short of tying Jack Nicklaus' all time record.

And Mindy Kaling and Priyanka Chopra completed a deal with Universal for new comedy feature film that will take place in America and India.

Ravi Kapur & Alejandro Quintana contributed to this report.