South Asian legal minds gather to celebrate 15th annual SABA conference in New York City
NEW YORK (Diya TV) — The conference and perhaps the largest gathering of South Asian legal minds in America aka the 15th annual SABA (South Asian Bar Association) of North America kicked off in the heart of the New York city. The immediate past president, Rishi Bagga noted the importance of hosting this conference in the Big Apple. "We now live in a time when legal protections for immigrants are under attack; when nativist sentiments and rhetoric have sought to divide those who were born here from those who were not; at a time when our community's lawyers must 'Carry the Torch' for the South Asian immigrant community and other immigrant communities," he said. "And a time when SABA must continue to work to ensure greater diversity and inclusion with the legal profession at large."
With all the recent events of immigrant families being separated, this year's conference didn't skip a beat jumping right into all the issues that matter to this organization. This year's panels featured personal insights from some of the brightest minds in the South Asian American legal community including judges, law firm leaders, in-house counsel, and lawyers making waves inside and outside the profession. This year we were fortunate to welcome a large number of South Asian judges including the Hon. Cathy Bissoon, Hon. Sanket Bulsara, Hon. Raj Chatterjee, Hon. Raja Rajeswari and Hon. Sri Srinivasan.
The programming focused on ways South Asian attorneys could break the current boundaries within the legal profession. For example, VP and US General Counsel for McDonald's Corporation, Mahrukh Hussain joined a panel of women general counsels to discuss the paths they chose and challenges they faced in their careers. In addition, a plenary panel focused on the pros, cons and consequences of choosing a life in the public eye featured Ravi Bhalla, Mayor of Hoboken; Sudha Setty, Dean, Western New England School of Law; Amit Agarwal, Solicitor General, State of Florida; Sayu Bhojwani, President, New American Leaders Project; and Nisha Agarwal, Commissioner of the NYC Mayor's Office of Immigrant Affairs.
The Conference closed with a gala featuring keynote speaker Sen. Cory Booker (D-NJ) who reminded SABA members that one continually has the choice "to accept things as they are or take responsibility for changing them." Preet Bharara, the former U.S. Attorney for the Southern District of New York and longtime SABA member was also a featured speaker and echoed the comments of Sen. Booker, encouraging SABA members to continue "joining together in solidarity … by taking the effort to speak, march, vote or do other things necessary to fight for what they believe in."
The SABA Foundation, the charitable arm of SABA, also held its Annual Benefit during the Conference. The SABA Foundation identifies and supports organizations that provide critical services to the most vulnerable members of the South Asian Community and awarded grants to Manavi, South Asian American Policy & Research Institute (SAAPRI), Kiran, Inc., Narika and the Innovation Law Lab. SABA Foundation also honored comedian and activist, Hari Kondabolu, with its first 'Hero Award' for his work raising awareness and improving the lives of South Asians in North America.
As always this conference also marked the change in leadership, with a swearing in ceremony for a new President and Executive Committee. SABA's new President, Sundeep Sandhu, emphasized the role the organization will continue to play in improving the general welfare of the South Asian community in North America. "Issues with respect to diversity and inclusion, civil rights and access to justice have never been more prevalent than they are today and SABA members have been unwavering in their dedication to addressing these issues," Sandhu stated. "We see this not only with the leadership of our 26 chapters but through the individual actions of our 8,000 strong membership, like our members who attended the nationwide protests held against the current administration's policy on separating migrant families – a policy that SABA has firmly stood against."
Rev. Jesse Jackson pushes for India COVID relief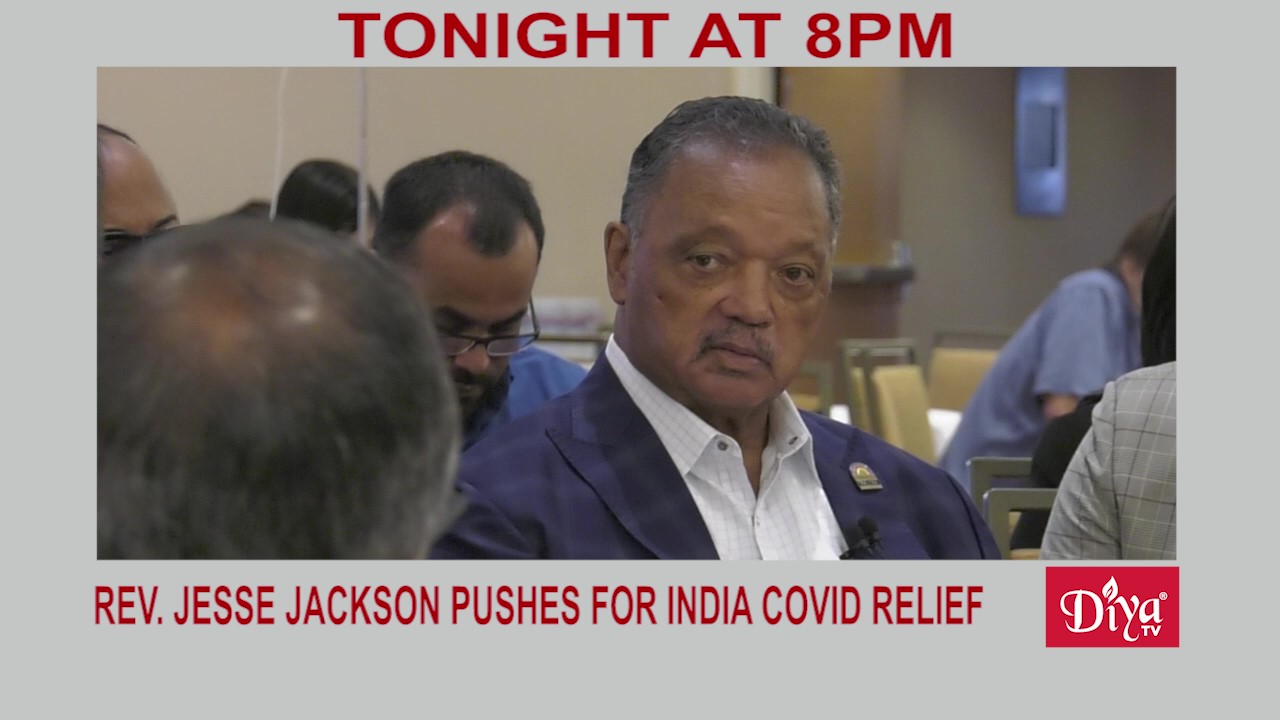 SAN FRANCISCO (Diya TV) — The Reverend Jesse Jackson is standing in solidarity with Indian Americans in California who are rallying the community to send more Covid-19 relief to India. Reverend Jackson is also voicing solidarity for other communities of color as African Americans celebrate Juneteenth, the new Federal holiday marking the end of slavery in the U.S.
And Satya Nadella is now even more powerful at Microsoft. The tech giant's CEO was named chairman of the board elevating his current role atop one of the world's most valuable companies. The Indian American has served as chief executive since 2014, has helped transform the PC maker into a leader in cloud computing in recent years, resulting in a market cap of close to $2 trillion.
Billionaire philanthropist MacKenzie Scott has given away another massive chunk of her fortune. This time nearly 3 billion dollars to a variety of charities. Several Indian organizations like Goonj, Antara Foundation, and GiveIndia have also benefited from this generosity.
Ravi Kapur contributed to this report.
US – India trade hits record $9 billion
SANTA CLARA, Calif. (Diya TV) — For the second month in a row, the U.S.-India bilateral goods trade crossed $9 billion dollars.  It had never happened once before that. This is a comprehensive document covering trade in goods and services, and shows India and the U.S. remain strong strategic partners.
the U.S. Senate confirmed Radhika Fox as the first Indian American and woman of color to lead the office of water at the Environmental Protection Agency. Her supporters say she will focus on making sure everyone's point of view is heard and taken into account.
And British Pakistani rapper Frenzo Harami is being criticized for his anti Hindu post on Instagram. Harami uses vulgar language to describe Hindu minorities living in Kashmir. He apparently went on this tirade after claiming youtube banned one of his videos.
Ravi Kapur contributed to this report.
India's COVID rate drops dramatically
NEW DELHI (Diya TV) — India' s Covid-19 infection rates are starting to consistently drop each day. The ministry of health reported a little more than 60,000 cases in the past 24 hours. That's a dramatic decrease from the peak of more than 400,000 cases in one day just a few months ago.
India has also decided to partially open the Taj Mahal to visitors. And as restrictions ease, several shops, malls, and restaurants have started to reopen in multiple cities this week. but Authorities continue to advise mask wearing and social distancing.
Vice President Kamala Harris hosted a dinner party for a bipartisan group of female senators at her official Washington, DC residence. 16 Democrats and eight Republicans. Vice President Harris is doing this against the backdrop of intense negotiations over President Biden's agenda in Congress and a border crisis raging on her watch.
And one of the fiercest critics of Big Tech companies like Apple and Amazon is now leading the Federal Trade Commission. Lina Khan will be tasked with voting on enforcement matters in areas of both competition and consumer protection. the 32 year old South Asian will be the youngest person to ever lead the agency.
Ravi Kapur contributed to this report.