New Jersey Governor Phil Murphy tightens gun control standards
TRENTON, New Jersey — On Tuesday, Gov. Phil Murphy signed into law six bills that will tighten gun control in New Jersey, arguably making the state strictest on gun laws, in the country. The governor's office issued a statement saying, more than 2,000 shootings occur annually in New Jersey, with around 500 firearm-related deaths each year. Firearm-related violence costs the state's economy approximately $1.2 billion annually, and directly costs taxpayers nearly $275 million.
"Today, I'm proud to sign this series of common-sense gun safety bills into law to protect our children and families from the reckless dangers of gun violence, something the federal government has failed to do on behalf of its residents," said Governor Murphy. "By setting these higher standards for gun safety, New Jersey continues to bolster its reputation as a national leader on this critical social and public health issue."
Following which, New Jersey Attorney General, Gurbir Singh Grewal issued a statement warning 'ghost gun' manufacturers
Ghost Gun Manufacturers: You have 15 days to stop marketing and selling these weapons into New Jersey. If you don't, we will come after you. The clock is ticking.

Posted by New Jersey Attorney General's Office on Wednesday, June 13, 2018
According to WABC-TV, New Jersey joins a list of states, including Florida and Vermont, that have enacted gun control legislation since the shooting, which set off a series of rallies across the country aimed at reducing gun violence through tighter laws.
Alfonso Calderon, a student from Marjory Stoneman Douglas High School in Parkland, Florida, was on stage with Murphy, and both encouraged voters to elect candidates this fall who back "common sense" gun legislation. All U.S. House and one-third of the Senate seats will be on the ballot.
"The majority of America's youth knows we need this change to survive in our own schools," Calderon said.
The six measures will:
-Require mental health professionals to warn law enforcement if a patient threatens serious violence against themselves or others
-Allow for an extreme risk protective order if a court deems someone poses a significant danger to themselves or others. The temporary court order bars the subject from possessing or purchasing a firearm or ammunition.
-Require background checks for private gun sales
-Lower the magazine capacity from 15 rounds to 10, with an exception for a popular .22-caliber rifle.
-Require residents to show a "justifiable need" to get a carry permit.
-Prohibit body-armor-penetrating ammunition.
While the legislation has earned the praise of gun control advocates, including Moms Demand Action for Gun Sense, who attended the bill-signing wearing bright-red T-shirts, it also has merited scorn from gun rights advocates who say the measure won't increase safety.
"None of the bills signed today will make anyone safer," said Scott Bach, executive director of the Association of New Jersey Rifle and Pistol Clubs, said in a statement. He said lawmakers have limited residents' ability to defend themselves while missing an opportunity to make schools safer and prevent those with mental health issues from acquiring firearms in the first place.
The group has filed a lawsuit seeking to overturn the limit of 10 rounds, claiming it would be ignored by "criminals and madmen."
Hopewell Valley High School sophomores Ethan Block and Alex Franzino have been active in organizing gun control events in the region and attended the Wednesday event wearing orange shirts with "Students Demand Action" printed on them. They said they were encouraged to become active in the issue because of Parkland.
"Don't be afraid to use your voice," Franzino said.
Murphy, who succeeded term-limited Republican Chris Christie this year, campaigned on the promise to strengthen the state's laws. Current state law bans assault weapons, limits magazine clip sizes and requires permits to carry a concealed weapon. Those who carry concealed weapons may be interested in the products detailed on outdoor Empire such as the concealed carry vest which gives quick access to firearms as well as many other similar products.
"Look at India. It's filthy!" Trump exclaims during debate
NASHVILLE (Diya TV) — Former Vice President Biden and President Trump held their second and final debate in Nashville. The tone of the event was markedly improved from the first debate, thanks largely because of a rule implemented that muted the microphone during dedicated speaking times. We'll analyze the key moments, including when President Trump called China, India and Russia "filthy" when discussing climate change.
WATCH what the President said about India here:
The State of California's Department of Fair Employment and Housing voluntarily dismissed their federal lawsuit accusing Cisco Systems Inc. and two of their former employees of discriminating against an Indian American Dalit engineer. No explanation was given, but state officials said they will refile the matter in state court.
Dr. Mukul Chandra, a prominent cardiologist in the Toledo, Ohio area, has died from complications related to COVID-19. He was 57. 
Dr. Chandra was the medical director of Cardiac Preventive Care and Research at Miami Valley Hospital and received a plasma donation as a possible remedy for the virus. And hundreds of people around the globe offered their help.
WATCH the full debate here:
Ravi Kapur contributed to this report.
Biden & Harris issue happy Navratri greetings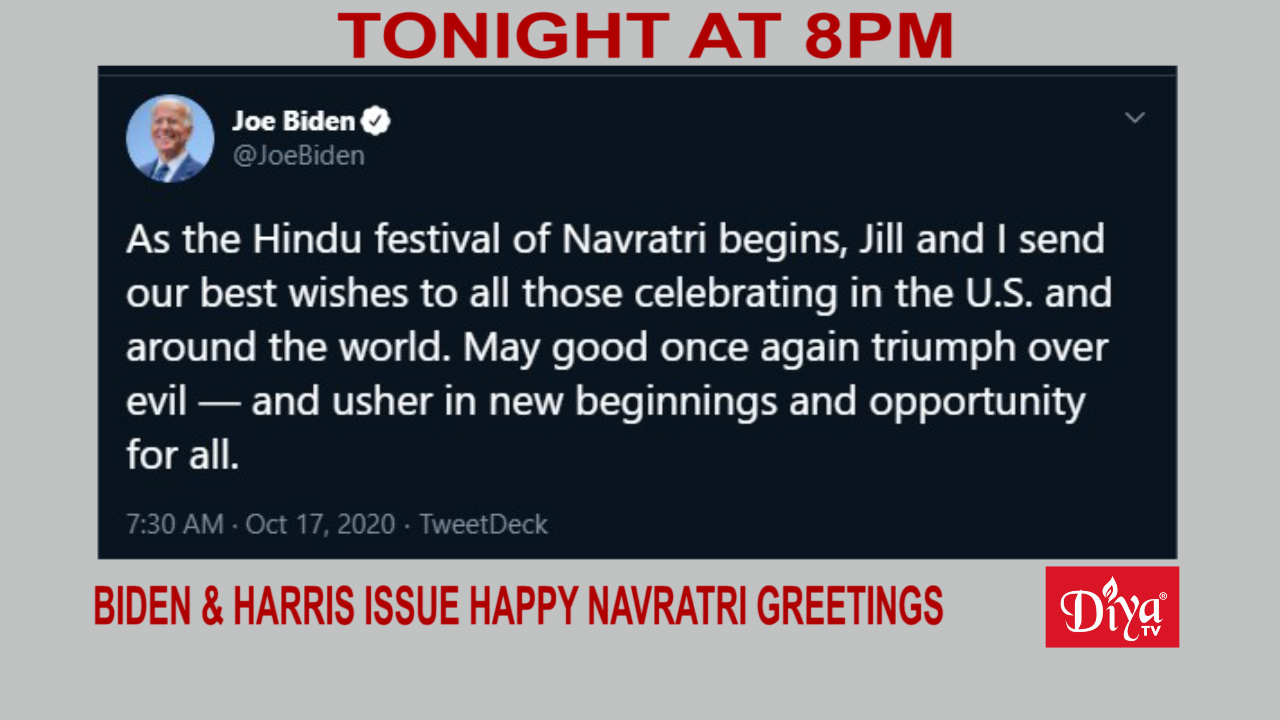 WILMINGTON, Delaware (Diya TV) — Vice President Joe Biden and Senator Kamala Harris continue their efforts to court the Indian diaspora, as each issued Navratri greetings. Biden & his wife Jill sent their best wishes, tweeting "may good once again triumph over evil." And Harris and her husband Doug added "may this holiday serve as an inspiration to…build a more inclusive and just America."
But at the same time, Harris' niece Meena deleted an image she posted of her auntie being depicted as Goddess Durga, which led to a petition asking her to apologize. Meena Harris is a lawyer, entrepreneur and daughter of Kamala Harris' sister, Maya. The image she posted photoshopped Kamala Harris' face onto Hindu Goddess Durga, showing Joe Biden as her lion and President Trump as a demon she slays.
The chances of finding Indian American professor Sam Dubal, who has been missing for nearly two weeks, appear to be waning. Dubal went on a backpacking trip near Mt. Rainier in Washington state and hasn't been seen since. Authorities say cold and snowy weather is hampering their chances of finding the University of Washington professor.
Ravi Kapur contributed to this report.
Man stabbed during brawl at Sikh temple near Seattle
RENTON, Wa. (Diya TV) — At least six people were injured and one of them was briefly hospitalized with stab wounds during a brawl at the Gurudwara Singh Sabha in Renton, Washington. Renton Police say at least 20 people at the temple were fighting when police arrived. Police added a similar incident happened last week at a Sikh temple in Kent, Washington. Sources tell Diya TV the skirmish was between people that were pro-India and folks that did not view India in a favorable light. No arrests were made.
The Quad military alliance is complete after Australia agreed to be part of the Malabar Exercise to be held in Bay of Bengal next month, joining the United States, India and Japan as part of the naval exercise.
As seen on Diya TV, the South Asian Bar Association held a Presidential Town Hall featuring Asheesh Agarwal, a member of Indian Voices for Trump advisory board and Neera Tanden, the CEO of the Center for American Progress, moderated by journalist and professor Sree Sreenivasan.
Ravi Kapur contributed to this report.