Meet Karthik Nemmani, the wild card entry and the winner of the 91st Spelling Bee Champion
WASHINGTON (Diya TV) — Spelling the word, 'koinonia' correctly, the wild card program beneficiary Karthik Nemmani became the 91st Spelling Bee Champion. Hailing from the town of McKinney, Texas, the 14 year-old defeated the heavily favored Naysa Modi, a four-time competitor who beat him in a Texas county bee battle earlier this year. Nemmani continues the streak of Indian American Spelling Bee Champions to 11 years in a row.
This year, there was a record number of 516 spellers, mostly because of the new wild card program. This program, RSVBee, let 238 spellers into the national bee, especially if they were from very competitive spelling areas, like Dallas, where Nemmani lives. Naysa Modi, a fellow Texan speller, won the county and regional bee and therefore eliminated spellers including Karthik Nemmani and Abhijay Kodali, who ranked third place. In addition to enabling others to qualify, this helped the Spelling Bee diversify the pool of candidates. In total, 855 applicants applied.
When asked about the fact that the wild card contestants had a $750 entry fee, Karthik's dad, Krishna Nemmani, said, "I don't care. I know his caliber,"
Karthik's early life was much like other spellers. His dad said that when he was 3, Karthik arranged block letters to spell horse and won his first spelling bee at the age of 4½ years.
Karthik is from McKinney, Texas — his family moved there specifically so he could go to a school that takes part in the Scripps program. Naysa is from Frisco, less than 15 miles to the west. And third-place finisher Abhijay Kodali lives in Flower Mound, another 40 miles west.
Adam Symson, president and CEO of The E.W. Scripps Company, presented the championship trophy moments before ESPN signed off from the 91st Scripps National Spelling Bee. "Karthik showcased not only broad knowledge of the English language but also incredible poise under pressure," said Symson. "This is a grueling competition that takes years of preparation and then challenges the participants all week long. Karthik handled it with grace and maturity. The Scripps National Spelling Bee is a national treasure, and we take great pride each year in seeing the inspiration it brings to audiences across the U.S. – and the world."
"I didn't really think I'd be able to do it. I had confidence that I could do it, but I honestly didn't realistically think it could happen," Nemmani said softly.
As the two Texans remained, Modi misspelled 'bewusstseinslage,' and Karthik had to spell two words correctly, including the final word koinonia, to be crowned the 2018 winner.
23 of the 41 finalists were Indian American. The last three standing were all from Texas, a major spelling area, and Indian American hub. The reoccurrence of Indian American champions has received some backlash with disparaging tweets like "we need an American to win this spelling bee #tiredofindians,"
Grace Walters, his 16 year-old coach, is the one Karthik credits for his achievement. She said to TIME Magazine that it was a lot different when she competed. Now, computers enable students to do much more. Karthik also had help from Shobna Dasari, a former competitor, and her younger brother Shourav, who finished fourth in 2017. But most of all, Karthik trained day and night, using excel spreadsheets and vocabulary quizzes.
Nemmani praised the runner-up Modi's hard work and skill, saying, "She's a really, really good speller. She deserved the trophy as much as I did. I got lucky." Although he knew how to spell bewussseinslage, he humbly admitted that he did not know about eight or nine words in the finals.
Nemmani sacrificed tennis, a hobby of his, for the spelling bee. Little did he know that it would result in a championship victory & over $42,000 in prizes.
Naysa, on the other hand, accepted her loss gracefully and let everyone know she would be back.
All in all, every speller worked hard for the Spelling Bee. Nemmani, with help from the new wild card program, was able to take the title and become the 2018 Scripps National Spelling Bee champion.
India, Pakistan spar over women's rights in Kashmir
NEW YORK (Diya TV) — At the United Nations, both India and Pakistan's representatives took shots at their counterpart over women's rights. Islamabad's outgoing envoy to the UN, Maleeha Lodhi, said the women in Jammu and Kashmir were suffering due to the communication blackout in the state. India's First Secretary to the UN Paulomi Tripathi said, without naming Pakistan, these "baseless statements" were ironic given the amount of honor killings that take place there annually.
Rajeev Majumdar is the new president of the Washington State Bar Association, becoming the first state bar president of South Asian descent in the United States.
For the first time, India entered the ranks of the top ten countries sending visitors to the United States, with tourists from India spending nearly $16 billion in the U.S. in 2018 alone.
And while the Kings and Pacers played two entertaining games in Mumbai, their legacy will include supporting five under-resourced schools in and around the region, outfitting them with Smart Classrooms, STEM training and new basketball courts.
Ravi Kapur contributed to this report.
Federal Court rules Trump must turn over tax returns | Diya TV News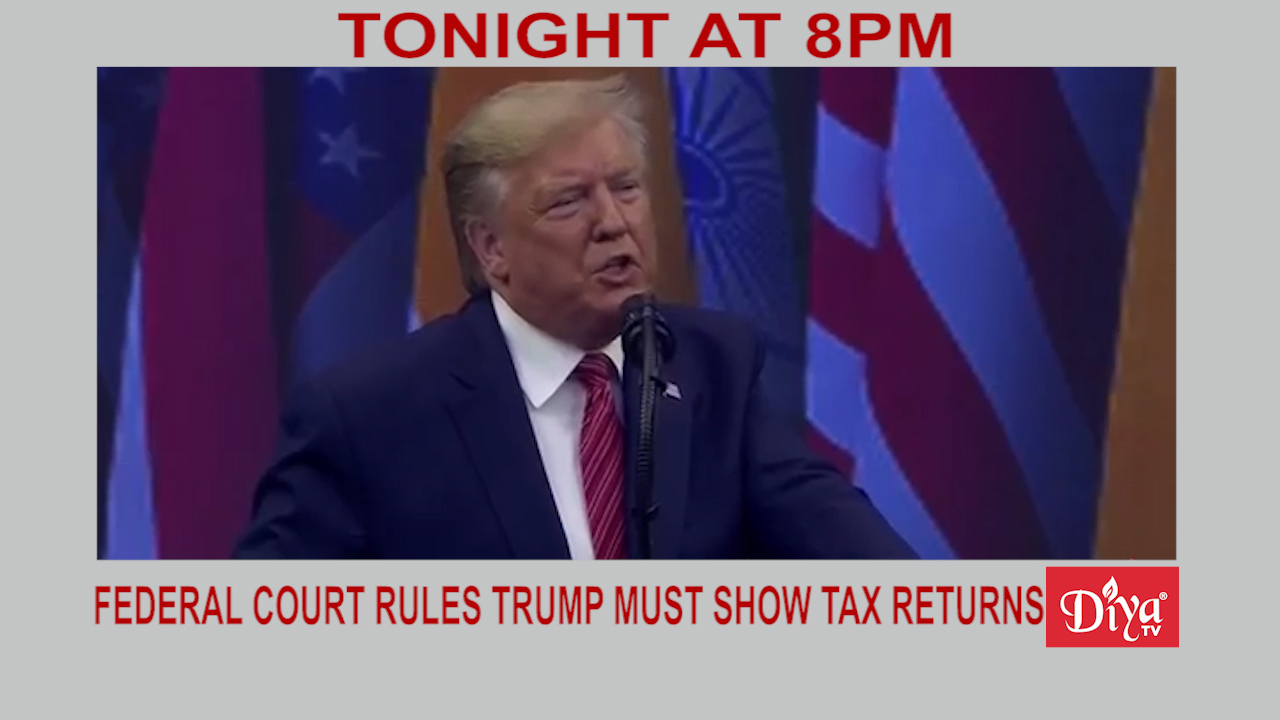 NEW YORK (Diya TV) — A federal judge ruled President Trump must turn over eight years of his personal and corporate tax returns to Manhattan prosecutors, striking down the President's argument that a sitting president cannot be criminally investigated. The ruling was quickly appealed and this case could end up in the Supreme Court to answer the constitutional question of whether presidents can be charged with a crime.
Meanwhile, the President celebrated a victory by FCC Chairman Ajit Pai, as a federal appellate court upheld most of the FCC's repeal of net neutrality. It also ruled the FCC cannot preempt state net neutrality laws, meaning the rules of the road in states like California remain in place.
The U.S. House Foreign Affairs Committee announced their Asia-Pacific and Non-Proliferation Subcommittee will be holding a hearing asking State Department officials and human rights activists to chime in on Human Rights in Kashmir, the Tamils of Sri Lanka, Muslims in Assam and the human rights situation in Pakistan, which includes the Sindh Province.
Lockheed Martin announced they will build F-16 wings exclusively in India, helping in integrating Indian industry into the $165 billion fighter aircraft market.
Ravi Kapur contributed to this report.
Gandhi 150th birth anniversary noted around the world
NEW DELHI (Diya TV) —  Celebrations for Mahatma Gandhi's 150th birth anniversary have been ongoing for the past year, but culminated with a ceremony in New Delhi featuring Prime Minister Modi and another in Washington at the Library of Congress. And France's government worked with the Indian Embassy there to issue a stamp in honor of his birth anniversary.
US Commerce Secretary Wilbur Ross and India's Commerce and Industry Minister Piyush Goyal are meeting this week to continue the US-India discussion on trade and investment.
Indiana Governor Eric Holcomb came to New Delhi to strengthen ties between the Hoosier State and India. Infosys has already made a large commitment there. Holcomb is part of a large delegation of Americans now heading Mumbai to take in the first-ever NBA preseason games in India featuring the Indiana Pacers and the Sacramento Kings.
Bollywood turned Hollywood actor Anupam Kher came to the Bay Area to keynote the Akshay Patra annual fundraising gala that helps feed children in India a hot meal during the school year.
Ravi Kapur contributed to this report.