The 16th annual IFFLA opens with a pensive, 'In the Shadows' starring Manoj Bajpayee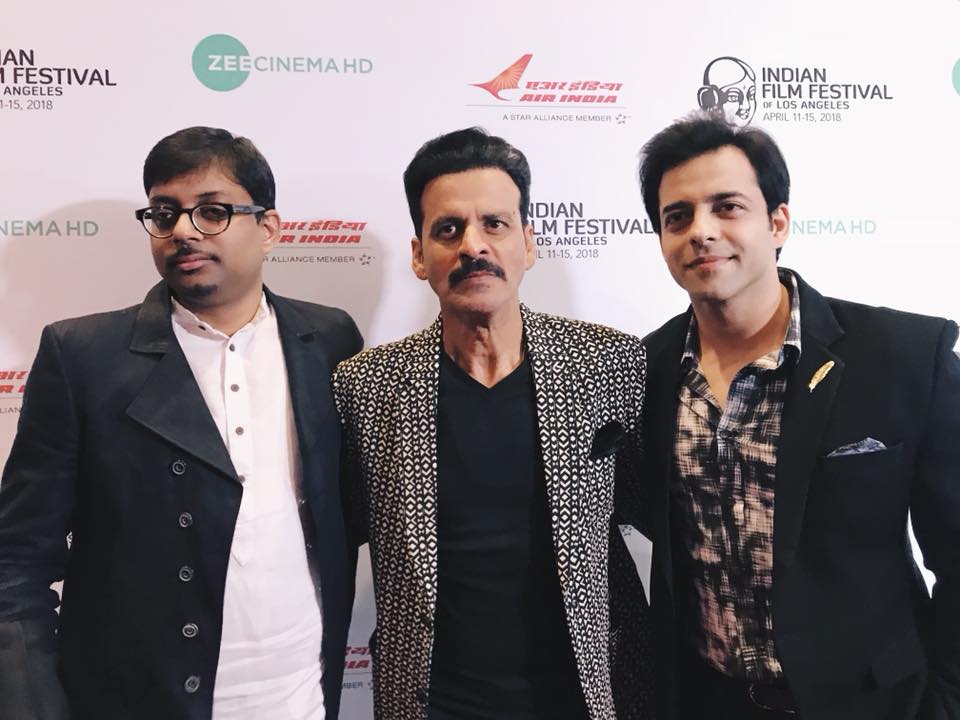 LOS ANGELES (Diya TV) — The 16th annual Indian Film Festival of Los Angeles took the audience on a journey into the decent of one man's mind with the opening night film, Gali Guleiyaan or 'In the Shadows'. The director and writer, Dipesh Jain along with lead actor, Manoj Bajpayee were in walked the opening night red carpet and stayed till the end of the movie for an insightful Q&A session moderated by IFFLA's Director of Programming Mike Dougherty.
The film is set in the heart of New Delhi and deals with a recluse, Khuddoos (played by Manoj Bajpayee), who watches the world through the lens of CCTV cameras that he has set up around his densely packed neighborhood in Dehli. His best and only friend, Ganeshi (played by Ranvir Shorey), tries to get Khuddoos to get out more but something is just a bit off with him. Khuddoos has been the voyeur for so long that when he suspects his next-door neighbor's young boy is being abused, he must gather the courage to become a participant instead of just being a bystander.
During the Q&A, Jain mentioned he had snippets and scenes in mind for this film for years. The idea of entrapment and people being trapped had been on his mind since childhood because his grandparents lived in a similar area to that presented in the film. Later on, Jain started researching child abuse and the connection to abused individuals suffering from schizophrenia. This concept then developed in to the idea of a man trapped in this city and his mind. There is a line in the film that says the city is like a maze and once you are in it, you are stuck there.
When asked what he thought of the script/story, Bajpayee said he found it quite fascinating and that this character and script would take his craft to another level. The character of Khuddoos has a lot going on under the surface and Bajpayee played this complex character superbly. One audience member even asked what was wrong with the character because he is so peculiar. Bajpayee explained this is not dealing with a disease but rather dealing with the mind. and he wanted to portray a conflicted mind where the character spirals downward while looking for himself.
Khuddoos loses track of time, seems distant yet fixated on trying to help this young boy. Bajpayee said it was a challenge going in and out of character and that "the deterioration of the mind and how to achieve that" would be difficult to come out of. He went on to say that preparation for each actor is personal and for him, he did not tell any family or friends that he was filming in Dehli. Recalling a story, Bajpayee talked about how the director showed him candid photos that had been taken of him and elaborated that, "you don't know when you slip in the character. You become one. That's the way to become this complicated character." He went on to say that the mind of the character has so many things going on and that is part of the enjoyment of being an actor.
When asked to compare the experience of portraying this character to his character in Aligarth, Bajpayee said that the role in Aligarth was not that complicated. That is a man who knows who he is unlike In the Shadows, where he does not, and the search to find out continues to break his mind down. Bajpayee commented that he likes as an actor, "you get to play so many minds", and that you need to play the mind not the profession. If you have two lawyers, they may be alike in profession but it is their minds that makes them different.
#IFFLA2018 Opening Night sizzle is here! One more chance to see a star-studded carpet, attend the Awards Ceremony and experience the Closing Night Gala of Rima Das' VILLAGE ROCKSTARS! #IFFLA2018 pic.twitter.com/OswEO8tIPD

— Indian Film Festival (@iffla) April 14, 2018
As you can tell, the concept of the mind in a large theme with this film but to elaborate further would be to spoil the intriguing journey the film takes.
On returning to Dehli, Jain said the city never changed. The character of the city, the people, their talks and their culture have stayed the same. It is like a time trap but this aided in the telling of the primary and secondary story. Each story has different film styles to make them stand apart from each other.
The other story that the film focuses on if the young boy that Khuddoos wants to help. Jain told the audience that the process of casting the young boy was tedious but satisfying. They found him in an orphanage and learned he was a victim of child abuse who left home and lived on the streets. Jain talked about how he and the young boy worked together on scenes such as if he should cry or not while his father beat him. Jain wanted to and succeeded in earning the boy's trust because some of these scenes were like relieving the trauma. The audience was happy to learn the boy had been struggling with his studies before they started filming but now he has more confidence and is working to get into a good school.
The Q&A wrapped up with Jain elaborating on one of the challenges of filmmaking in this area was that of interrupting people's lives and having them stop and wait while filming. He knew this script would be a challenge and attributes much of the success of the film to his team; a team that was so much in sync. Jain said, "it's a tough film and these guys made it easy.,"
The film addresses many different forms of voyeurism from the main character watching the outside world through video cameras, to the young boy spying on neighbors with his friends, and to the people who all gather when something is going on and just stand and stare.
The question one has to ask, do you just sit back and watch or do you step in to help?
During a heated moment, Khuddoos exclaims that all the kids in the neighborhood get beaten but no one does anything about it. Is this a reflection on society where we sit back while so much happens in the world but what are we really doing about it? If this character is any parable for the audience, we cannot sit locked up at home and hide away from the world. Even if it is painful, we must face our inner demons and not let them snuff us out.
US India trade talks resume after G20 summit, in New Delhi
WASHINGTON (Diya TV) — India and the U.S. will resume bilateral trade talks in New Delhi next week. These talks continue the dialog established by Indian Prime Minister Modi and President Trump at the Osaka G20 Summit last week.
Sikh activists launched a petition asking Presidential candidate and California Senator Kamala Harris to apologize for supporting employment discrimination against a Sikh job applicant in 2011 during her tenure as California's attorney general.
A report by Bloomberg says Boeing turned to Indian-based subcontractors who were paid as little $9 per hour for work on the U.S. planemaker's beleaguered 737 Max aircraft.
Mahmud Jamal is now a Justice of Appeal of the Court of Appeal for Ontario, becoming the 4th ever South Asian federal appellate judge in Canada.
A group of South Asian filmmakers including Zoya Akhtar and Anurag Kashyap and actors like Anupam Kher and Archie Panjabi are among the 842 people invited to become members of the Academy of Motion Picture Arts and Sciences.
Ravi Kapur contributed to this report.

Indian CEO's meet with President Trump in London
LONDON (Diya TV) — A number of prominent Indian CEOs from the US and the UK met with President Trump during a breakfast roundtable on his visit to London. Members of the American cabinet were also in attendance, including Secretary of State Mike Pompeo, Treasury Secretary Steve Mnuchin, as well as the president's daughter, Ivanka.
The Punjab government announced free education for girls in government schools and colleges from Nursery school to the PhD level. They also announced free Wi-FI for 13,000 schools and all 48 government colleges.
Rayna Gokli McIntyre will be a new District Court Judge in Colorado, becoming the second South Asian member to the bench in that state.
In New Jersey, Zahid Quraishi was named a U.S. Magistrate Judge, becoming the first Asian American federal judge in that state.
And Karamjit and Karawjit Singh took danger to new heights with this coconut and melon smashing display on America's Got Talent, all while wearing a blindfold.
Ravi Kapur contributed to this report.

Trump ends $5.6B GSP trade preference for India
WASHINGTON (Diya TV) — President Trump is ending $5.6 billion worth of trade concessions for India under the Generalized Scheme of Preferences program effective this week, saying India failed to assure the U.S. that it would provide 'equitable and reasonable access to the markets of India.
Bay Area Congressmembers Zoe Lofgren and Anna Eshoo reintroduced a bill to save work authorization visas for H-4 holders whose spouses are on track to get a green card. Many of those eligible are Indian American women.
Oklahoma's State Board of Education released new social studies standards, which for the first time include Sikhism. Nearly 700,000 students in Oklahoma public schools will now learn more about the Sikh community, in this effort spearheaded by the Sikh Coalition.
The Golden State Warriors played through two more injuries to rotation players to beat the Raptors in Toronto 109-104 to even the NBA Finals at a game a piece.
Diya TV's Ravi Kapur and Jonathan Choe are on-site and will have more courtside.
And we talk to the stars of Netflix's newest romantic comedy 'Always Be My Maybe,' a feature that offers a story & characters Asian Americans will find relatable from some of the most talented names in Hollywood.
Ravi Kapur & Alejandro Quintana contributed to this report.