The 16th annual IFFLA opens with a pensive, 'In the Shadows' starring Manoj Bajpayee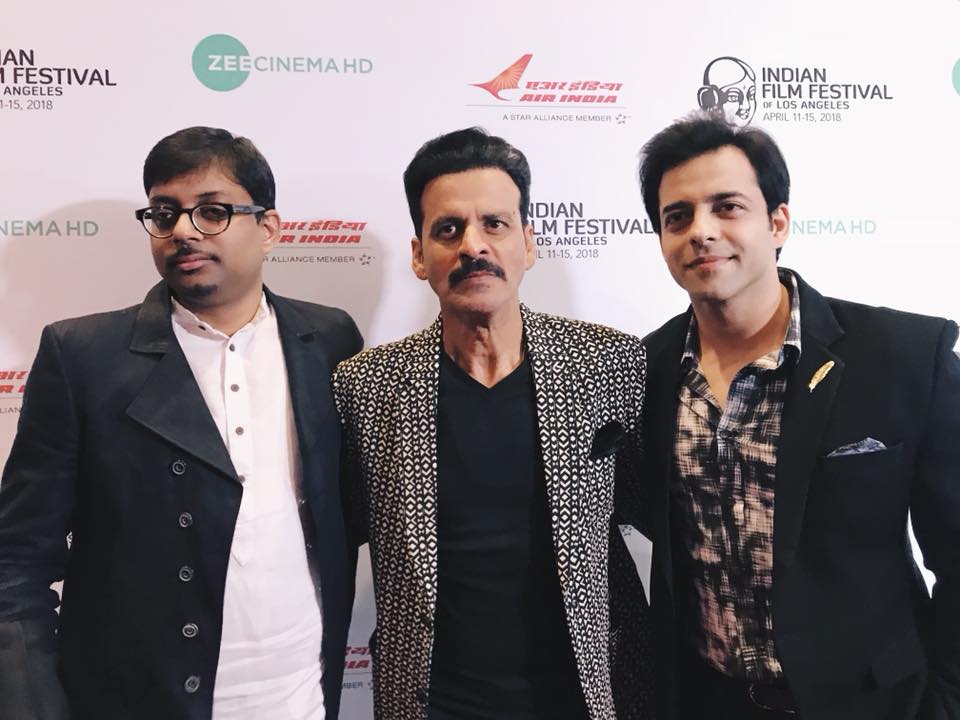 LOS ANGELES (Diya TV) — The 16th annual Indian Film Festival of Los Angeles took the audience on a journey into the decent of one man's mind with the opening night film, Gali Guleiyaan or 'In the Shadows'. The director and writer, Dipesh Jain along with lead actor, Manoj Bajpayee were in walked the opening night red carpet and stayed till the end of the movie for an insightful Q&A session moderated by IFFLA's Director of Programming Mike Dougherty.
The film is set in the heart of New Delhi and deals with a recluse, Khuddoos (played by Manoj Bajpayee), who watches the world through the lens of CCTV cameras that he has set up around his densely packed neighborhood in Dehli. His best and only friend, Ganeshi (played by Ranvir Shorey), tries to get Khuddoos to get out more but something is just a bit off with him. Khuddoos has been the voyeur for so long that when he suspects his next-door neighbor's young boy is being abused, he must gather the courage to become a participant instead of just being a bystander.
During the Q&A, Jain mentioned he had snippets and scenes in mind for this film for years. The idea of entrapment and people being trapped had been on his mind since childhood because his grandparents lived in a similar area to that presented in the film. Later on, Jain started researching child abuse and the connection to abused individuals suffering from schizophrenia. This concept then developed in to the idea of a man trapped in this city and his mind. There is a line in the film that says the city is like a maze and once you are in it, you are stuck there.
When asked what he thought of the script/story, Bajpayee said he found it quite fascinating and that this character and script would take his craft to another level. The character of Khuddoos has a lot going on under the surface and Bajpayee played this complex character superbly. One audience member even asked what was wrong with the character because he is so peculiar. Bajpayee explained this is not dealing with a disease but rather dealing with the mind. and he wanted to portray a conflicted mind where the character spirals downward while looking for himself.
Khuddoos loses track of time, seems distant yet fixated on trying to help this young boy. Bajpayee said it was a challenge going in and out of character and that "the deterioration of the mind and how to achieve that" would be difficult to come out of. He went on to say that preparation for each actor is personal and for him, he did not tell any family or friends that he was filming in Dehli. Recalling a story, Bajpayee talked about how the director showed him candid photos that had been taken of him and elaborated that, "you don't know when you slip in the character. You become one. That's the way to become this complicated character." He went on to say that the mind of the character has so many things going on and that is part of the enjoyment of being an actor.
When asked to compare the experience of portraying this character to his character in Aligarth, Bajpayee said that the role in Aligarth was not that complicated. That is a man who knows who he is unlike In the Shadows, where he does not, and the search to find out continues to break his mind down. Bajpayee commented that he likes as an actor, "you get to play so many minds", and that you need to play the mind not the profession. If you have two lawyers, they may be alike in profession but it is their minds that makes them different.
#IFFLA2018 Opening Night sizzle is here! One more chance to see a star-studded carpet, attend the Awards Ceremony and experience the Closing Night Gala of Rima Das' VILLAGE ROCKSTARS! #IFFLA2018 pic.twitter.com/OswEO8tIPD

— Indian Film Festival (@iffla) April 14, 2018
As you can tell, the concept of the mind in a large theme with this film but to elaborate further would be to spoil the intriguing journey the film takes.
On returning to Dehli, Jain said the city never changed. The character of the city, the people, their talks and their culture have stayed the same. It is like a time trap but this aided in the telling of the primary and secondary story. Each story has different film styles to make them stand apart from each other.
The other story that the film focuses on if the young boy that Khuddoos wants to help. Jain told the audience that the process of casting the young boy was tedious but satisfying. They found him in an orphanage and learned he was a victim of child abuse who left home and lived on the streets. Jain talked about how he and the young boy worked together on scenes such as if he should cry or not while his father beat him. Jain wanted to and succeeded in earning the boy's trust because some of these scenes were like relieving the trauma. The audience was happy to learn the boy had been struggling with his studies before they started filming but now he has more confidence and is working to get into a good school.
The Q&A wrapped up with Jain elaborating on one of the challenges of filmmaking in this area was that of interrupting people's lives and having them stop and wait while filming. He knew this script would be a challenge and attributes much of the success of the film to his team; a team that was so much in sync. Jain said, "it's a tough film and these guys made it easy.,"
The film addresses many different forms of voyeurism from the main character watching the outside world through video cameras, to the young boy spying on neighbors with his friends, and to the people who all gather when something is going on and just stand and stare.
The question one has to ask, do you just sit back and watch or do you step in to help?
During a heated moment, Khuddoos exclaims that all the kids in the neighborhood get beaten but no one does anything about it. Is this a reflection on society where we sit back while so much happens in the world but what are we really doing about it? If this character is any parable for the audience, we cannot sit locked up at home and hide away from the world. Even if it is painful, we must face our inner demons and not let them snuff us out.
Gandhi 150th birth anniversary noted around the world
NEW DELHI (Diya TV) —  Celebrations for Mahatma Gandhi's 150th birth anniversary have been ongoing for the past year, but culminated with a ceremony in New Delhi featuring Prime Minister Modi and another in Washington at the Library of Congress. And France's government worked with the Indian Embassy there to issue a stamp in honor of his birth anniversary.
US Commerce Secretary Wilbur Ross and India's Commerce and Industry Minister Piyush Goyal are meeting this week to continue the US-India discussion on trade and investment.
Indiana Governor Eric Holcomb came to New Delhi to strengthen ties between the Hoosier State and India. Infosys has already made a large commitment there. Holcomb is part of a large delegation of Americans now heading Mumbai to take in the first-ever NBA preseason games in India featuring the Indiana Pacers and the Sacramento Kings.
Bollywood turned Hollywood actor Anupam Kher came to the Bay Area to keynote the Akshay Patra annual fundraising gala that helps feed children in India a hot meal during the school year.
Ravi Kapur contributed to this report.
Celebrity Chef, Vikas Khanna's 'The Last Color' to open 10th annual CSAFF
CHICAGO (Diya TV) – Celebrity Chef, Vikas Khanna's lastest film venture, 'The Last Color' will open the 10th annual Chicago South Asian Film Festival (CSAFF). And if that didn't get your attention, the Michelin-starred chef will also cater the opening night reception. With a densely-packed and competitive lineup of over 50 films ranging in scope from documentary, features and shorts the fest promises a weekend full of entertainment for Chicagoland.
The Festival will showcase films from and about South Asia, spanning countries like India, Pakistan, Bangladesh, Sri Lanka, Nepal, Afghanistan. Through this extensive array of cinema, audiences will be able to take a deep dive into these rich cultures and experience the intimate complexities and stories within them.
The Opening Night Film: The Last Color is produced, written, and directed by Michelin-starred chef, Vikas Khanna, and stars veteran actor Neena Gupta. The film tells the story of 9-year old Chhoti, a tightrope walker, struggling to survive and make ends meet while she dreams of attending school. In the midst of her toils Chhoti meets Noor, a widow who struggles a life of abstinence and isolation, together their friendship must stand the test of taboos and age-old beliefs that perforate Varanasi, India. Festival manager, Jigar Shah said, "This Opening Night film will shed light on both the complexities and the beauty of certain areas of South Asian Culture."
The centerpiece for this year, award winning director Hardik Mehta's Kaamyaab – a story about a washed up side actor from the hey days of Bollywood, who realises that he 'retired' on the verge of a rare milestone – he had featured in 499 Hindi films!
In this broad palette of emotions and themes are films that are fearless on speaking about social issues within the community, stories about women's empowerment, social justice and more. Nagarkirtan, tells the story of a boy growing up in rural Bengal who soon realizes he is a woman with the physique of a man forcing him to flee to a world that will accept him for his inner truths. The documentary A Destruction focuses on 11-year old Humera growing up in a coastal village near Karachi, Pakistan, as she dreams of one day becoming a doctor. However, when tensions spill into the village and threaten the only school to shut down, she must face the intense pressure of foregoing her dreams for an arranged marriage.
Another influential gem, at this fest this year, is the film Kaifinama, which details the life and art of Kaifi Azmi, an Urdu progressive poet who became one of the foremost lyricists in the Hindi Film industry out of meager beginnings. His daughter, veteran actress, Shabana Azmi is slated to be in attendance for the fest.
Providing bursts of levity and grace between the full length features are the stellar and bite-sized shorts such as Rahul Chaturvedi's hilariously quirky Forbidden Tikka Masala, Nirav Bhakta's HBO APA winner Halwa. Another must-see screening would be Nikhil Singh Rajputt's Blood Buddhas – a documentary about India's quest to repatriate cultural, historical artifacts, that "purloined during colonial times,".
From traditional wide-screen theaters to Virtual Reality booths, Documentary features to short features; Afghanistan to Bangladesh, Nepal to Sri lanka, CSAFF aims to be a conflux of cultures, and ideas, as well as an examination of challenges and change.
Alongside post-film Q&A discussions, award ceremonies, the 10th annual CSAFF promies to be the best ever yet! If a glamorous Red Carpet, a chance to rub shoulders with film makers, actors and cinephiles wasn't enough, CSAFF knows how to throw down, Chi-town style! The Festival after party will be headlined by celebrity musician DJ Karsh Kale.
It all takes place from September 19th through the 22nd at the VENUE SIX10 in the Spertus Institute. With more than 50 other films that will be screened throughout the weekend at the Showplace ICON Theater and DePaul University.
Diya TV is a proud media partner for the event, and will be onsite covering the fest. For tickets and information: https://www.csaff.org/tickets/
FBI: Amity CEO Ridhima Singh, others accused of major healthcare fraud
SAN FRANCISCO (Diya TV) — The FBI says, CEO Ridhima Singh of Amity Home Health Care is among the 28 people, that include doctors and nurses, accused in the scheme. Federal prosecutors charged the Bay Area's largest home health care provider, Amity Home Health Care, with involvement in a kickback scheme that led to $115 million in tainted claims. The complaint said medical professionals received $8 million worth of bribes disguised as payroll, phony medical directorships, reimbursements, entertainment or gifts, in what the Department of Justice said was simply "a cash for patients scheme."
The man accused of stabbing and killing 62 year old Parmjit Singh in Tracy made his first court appearance. 21 year old Anthony Kreiter-Rhoads of Tracy pleaded not guilty of homicide during his arraignment. Police are still investigating the motive behind the crime.
And Priyanka Chopra & her husband Nick Jonas were named by People Magazine as their pick for 'Best Dressed of the Year.'
Ravi Kapur contributed to this report.