EXCLUSIVE: Sen. Rand Paul working with Republican Hindu Coalition to help those in green card limbo
NEWPORT BEACH, Calif. (Diya TV) — In a town hall conference call coordinated by the Republican Hindu Coalition, and at a private reception in Newport Beach, California, U.S. Senator Rand Paul spoke at length about helping those impacted by U.S. immigration law, specifically as it relates to the burgeoning Indian-American community.
Diya TV was invited to exclusively report on this developing story. Paul, who hails from Bowling Green, Kentucky, told RHC supporters he lives in a neighborhood that is largely comprised of "Indian-American physicians who are [his] friends and neighbors." Yet he was not aware, until overtures from the RHC, "of this problem of the children of people who came here legally being aged out as they get older while their parents are still waiting for their green cards."
The Republican Hindu Coalition is using the moniker DALCA or Deferred Action for Legal Childhood Arrivals to refer to kids stuck in such situations, a reference that is sure to upset some of the 800,000 individuals who registered for DACA or the Deferred Action for Childhood Arrivals program that now could face deportation.
In September 2017, President Donald Trump announced he was ending the program, setting up a deadline for March 5, 2018 unless Congress passes new legislation for DACA recipients, that are often known as 'Dreamers' in reference to the proposed DREAM (Development, Relief, and Education for Alien Minors) Act.
With that deadline approaching quickly, DACA recipients are anxious about their future, wondering if they will be able to remain in the U.S. after their DACA status expires. A similar anxiety hovers over folks the RHC refers to as 'DALCA kids'.
As rhetoric over the issue amplifies, there are few voices advocating for the more than 500,000 Indians in the U.S. who can be waiting for a green card for up to 12 years.
Senator Paul wants to be one of them, imploring RHC supporters "to be more involved" and " to really inform your legislators."
In early February, the RHC held a rally outside of the White House attended by a few hundred people to, in their words, 'fix DALCA, end chain migration and reallocate to skilled based immigration to cut the GC [green card] backlog to two years.'

The Coalition, via their website, has begun to embark on a national campaign to spread awareness in the coming weeks for the plight of what they say are at least 200,000 kids in green card limbo.
The question that remains is whether folks on both sides of the aisle will put partisanship aside to help people, that by in large, are in a terrible position through no fault of their own.
Here are Sen. Rand Paul's comments via the RHC conference call:
"I became aware of this issue more particularly as the Republican Hindu Coalition talked to me about the fact that there were children of legal immigrants who were waiting so long for their green cards that the children became adults and were, like the DACA kids, losing their status in the country. And the answer to me, I think, really is that we need to allow more people who have legal visas to get green cards.
So in the recent battle over immigration, I introduced two amendments. One was specifically to fix the DALCA problem — these are the dependents of legal folks who have come in to this country. And to fix that problem by actually getting rid of the per country limits for employment-based green cards and to phase this in over a few years.
We also introduced another amendment that would have doubled the employment-based visas. These are referred to as EB visas. EB-1 which are professors. EB-2 which is doctors and lawyers. EB-3 which is engineers and teachers. And EB-5 program which is also those who want to bring capital to this country to invest. I'm in favor of all these because I think that we need more legal immigration.
And what I'm worried about in the debate is that it's all been focused mostly on those who broke the law to come here. And that we are not doing anything to fix the system for those who actually took the time to come legally, get visas approved, and that are waiting and waiting and waiting for green cards. And not enough of the debate has been focused on on those who actually tried to obey the law and use the system correctly.
So I think the debate is just beginning. And my advice to your Coalition is don't see the current battle as the beginning and the end. See that you need to get involved, and get involved in a big way, because right now the debates is being dominated by the loudest voices. And the loudest voices are those who are marching on Washington, who have come here illegally.
And there's not enough voices and the voices are not loud enough from those who came legally and want to enhance the system by having more merit-based employment visas. So I am very interested in the issue and want to be helpful with the issue. But I do say to those or that are on the phone call, you need to be more involved and you need to really inform your legislators.
Because I have talked to senators, other senators and other congressmen. Many of them were not aware that, in fact I was not aware, in the beginning of this problem with the children of people who came here legally being aged out as they get older while their parents are still waiting for their green cards. So I think there is a lot that can be done on the issue. And I'm glad to be part of any kind of Coalition that wants to fix it."
When asked why reforming high-skilled immigration and clearing backlogs is not a priority, by RHC Vice Chair Manasvi, Sen. Paul commented:
"I think in some ways because the loudest voices have been those who are promoting sort of fixes for those who came here illegally. But I do think there is a great deal of sympathy when you mention that we need to fix this for those who have obeyed the laws, obeyed the system, come here legally. I think once you mention that to people, they are sympathetic.
I think also people in general, when people talk about merit-based immigration versus the diversity lottery, and having these country caps, I think the more people talk about it, they realize in order to be for merit-based immigration, you have to be for getting rid of these country caps because we have so many Indian-Americans who have come to this community who are, like you say, high skilled, with college degrees and advanced degrees. In my small community, just in Bowling Green, Kentucky, there are many Indian-American physicians who are my friends and neighbors.
And so, I think they add to the community and add to our country. And I think most people once they are aware of that, are sympathetic to trying to fix it. But all of the news print, all of the news media, all of it seems to be directed towards fixing it for people who came here illegally. And I'm not opposed to fixing it for for some of these DACA kids. But I think, at the same time, we should give equal consideration to the DALCA kids, the dependents of those who came here legally."
When asked by Manasvi what his action plan to resolve this issue would be, Sen. Paul said:
"It's a long discussion and I've been trying over a several year period. Not only do I talk to each of the Senators and Congressmen individually, our staff talks to them and we've been advocated for having more employment-based visas for quite awhile. In our bill to do employment-based visas, we doubled the number.
So currently, there's 10,000 EB-1's, 10,000 EB-2's, 10,000 EB-3's. So there's about 140,000 of these and we want to double that to be 140,000 new employment-based visas. And so we keep advocating for this because I think it's also the answer to take the pressure off of, the desire for our country to grow. I think with the recent tax cut, I think there's going to be a lot of economic growth in our country. And everybody I talk to, successful business owners, says they need more skilled workers and not less."
((UPDATE: The RHC contacted us after publication to clarify the amount of visas Sen. Paul was referencing. The RHC says there are 40,000 EB-1 visas, 40,000 EB-2 visas, 40,000 EB-3 visas, 10,000 EB-4 visas and 10,000 EB-5 visas, for a total of 140,000 visas — the number Sen. Paul mentioned during the call.))
U.S. and India conduct joint military drill on Diego Garcia in Indian Ocean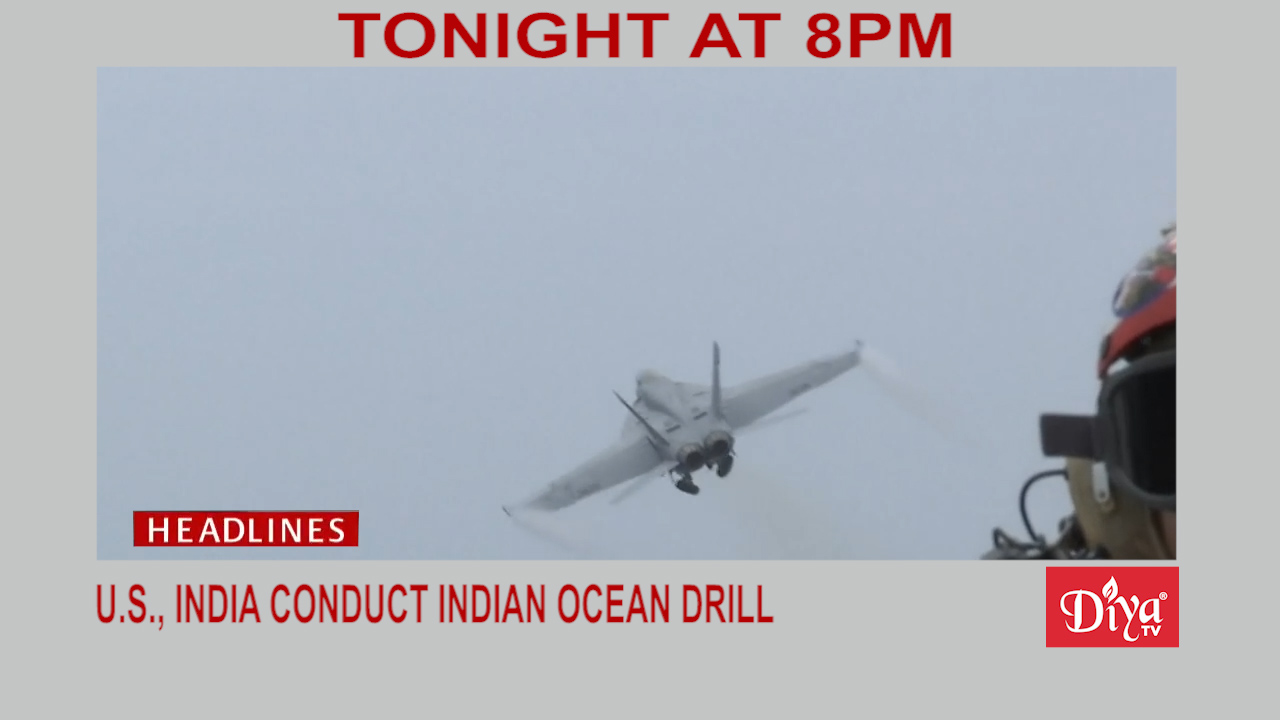 DIEGO GARCIA, Indian Ocean (Diya TV) — The U.S. and Indian Navies went submarine hunting in the Indian Ocean, their first bilateral anti-submarine warfare exercise since a signing pact to work more closely together last fall.

India's exports to China are up in 2019, while imports declined, leading to a $10 billion reduction in India's trade deficit with China. Analysts say the current Washington-Beijing trade war has also opened things up for India.

The Jallianwala Massacre 100 years ago that left hundreds dead and 1200 injured at the hands of British troops is considered a key turning point towards a free India. British prime minister Theresa May marked the occasion by expressing "deep regret", but there are still no apologies.

An effort by an American and British companies to help Jet Airways founder Naresh Goyal save the airline from collapse dissolved after Etihad Airways and TPG Capital threatened to walk away themselves if Goyal was part of the deal.

And comedian Hasan Minhaj, who won a 2017 Peabody Award, received another Peabody nomination in the entertainment category for his Netflix show, "Patriot Act with Hasan Minhaj."

Ravi Kapur & Alejandro Quintana contributed to this report.

Women filmmakers shine at the 2019 Indian Film Festival of Los Angeles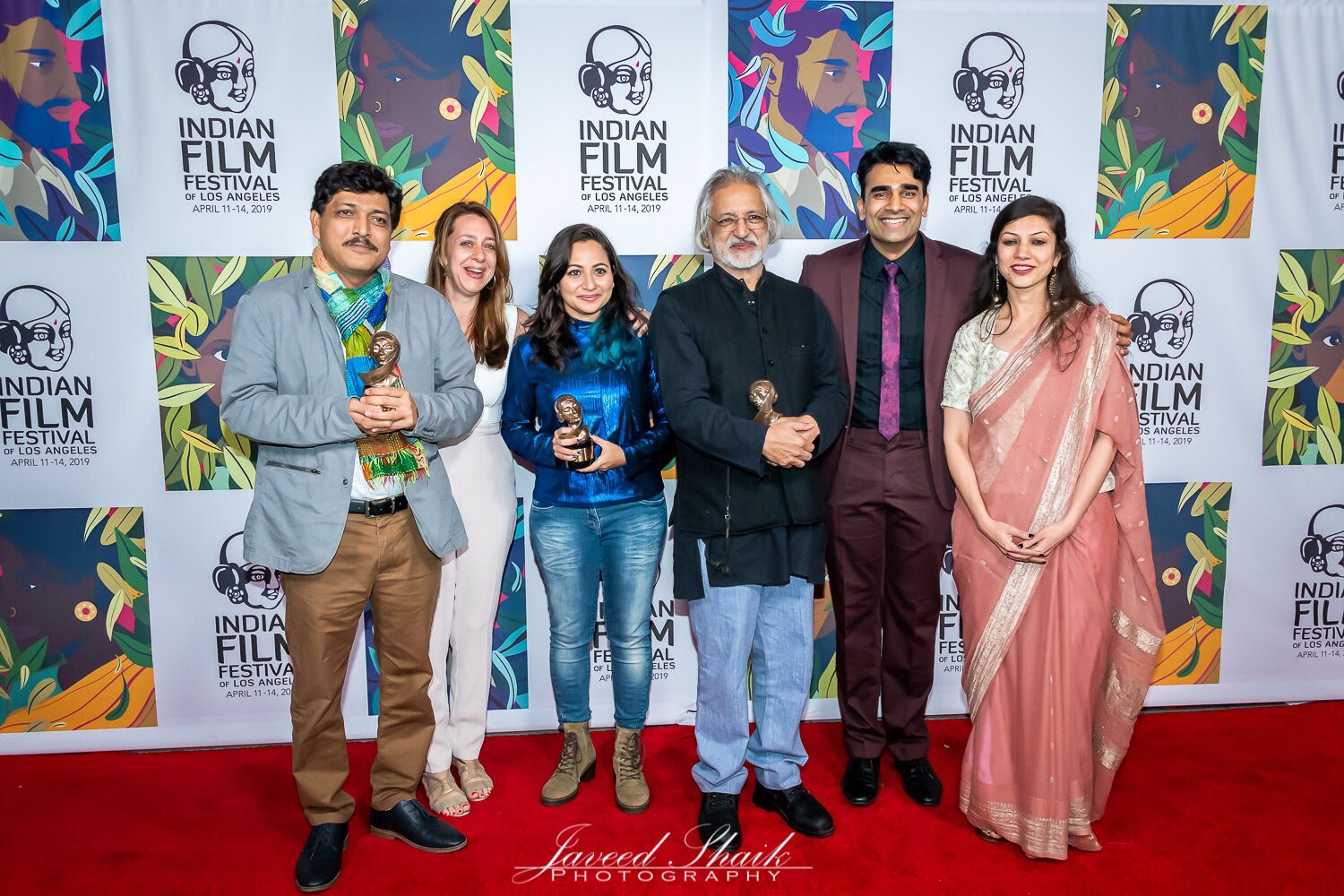 LOS ANGELES (Diya TV) — The 17th annual Indian Film Festival of Los Angeles (IFFLA) concluded Sunday night with the zany slice-of-life film, The Odds, directed by Megha Ramaswamy. Complete with a glamorous closing night red carpet, and an awards ceremony, the festival ended with an after party at the Spice Affair in Beverly Hills.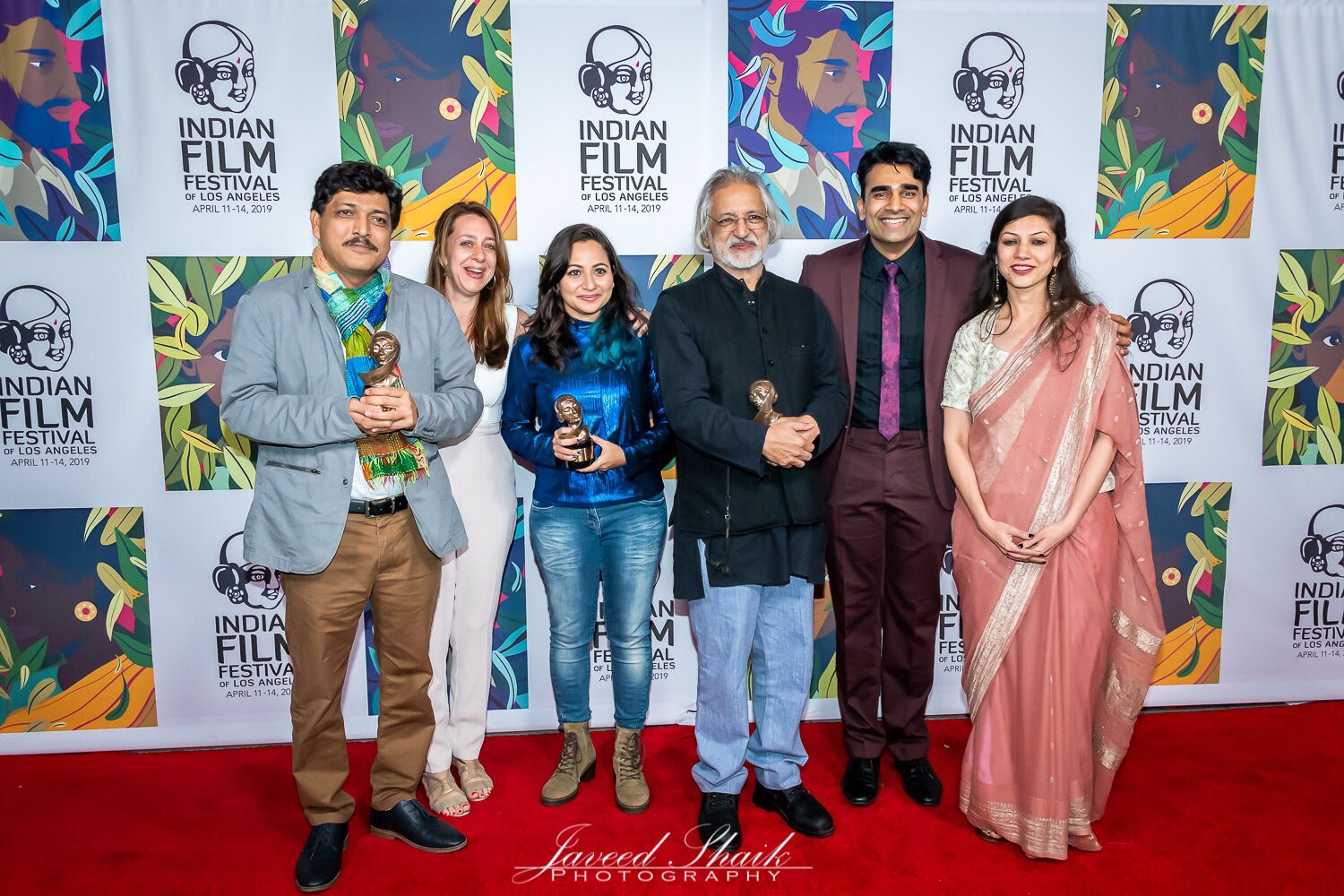 IFFLA was only four days this year (compared to five days in previous years), but there was still so much to see during that time. In addition to the curated set of films, there was an incredible panel discussion, Breaking in Brown: Making it to Series in TV's Golden Age, that featured panelists working in various fields in the television industry and their struggles to rise up through the ranks in the Hollywood while being brown.
This year's film lineup boasted five world premieres, two North American premieres, two U.S. premieres and eleven Los Angeles Premieres, with films presented in nine different languages. The overall atmosphere was very relaxed, even with films that tackled difficult subject matters. Roughly fifty percent of the films were directed by women. Filmmakers and staff alike hoped for a future where it will be normal to have women and men equally making films.

Kicking off the awards ceremony, Director of Programming, Mike Dougherty, announced the winner of the Grand Jury Prize for Best Feature, Widow of Silence.
"We present the Grand Jury prize to a film that illuminates a condition that most of the world doesn't get to see and shines a light on the characters that live through it everyday…This filmmaker's civic disobedience illustrates their love and compassion for their country and their people, and the craft of their film-making was beautifully wise and refined."
Director Praveen Morchhale was visibly surprised as he walked up to receive his award. The film he said was about those, "that nobody talks about and nobody treats them as a human." Even though it was Morchhale's first time at IFFLA, he felt as if he had been coming here for many years. He credited his win to the women in Kashmir the film portrayed.
The Audience Award for Best Feature went to Reason. Director Anand Patwardhan received a standing ovation when he went to collect his award. Patwardhan said, "most of the time our film is getting thrown out of festivals, I wasn't expecting this." He added that it meant a lot for the film to be well received at IFFLA and how that will hopefully impact its reception in India.
Shazia Iqbal's Bebaak was a crowd favorite winning the Audience Award For Best Short Film. The jury mentioned how she almost gave up on filming because she was getting thrown out of mosques. Iqbal spoke about how when people think of Muslims, they only think of Muslim men and not women, many of whom experience tremendous misogyny. She hopes people will be able to "see beyond what misogyny and religion does to people." Iqbal added, "a director is nothing without their team."

"a layered portrait of a woman determined to pursue her needs and impulses," the Grand Jury awarded their prize for Best Short to The Field from director Sandhya Suri. "the film takes images that normally evoke a sense of fear and flips the narrative on its head redefining a new more empowered world for the female protagonist and exploring an often unseen story of a woman's drive and agency over her own body and life," the jury added.

After the awards, Dougherty introduced the closing night film, The Odds by saying the film was the "perfect way to close IFFLA on a celebratory note."
One-on-One with Prime Minister Modi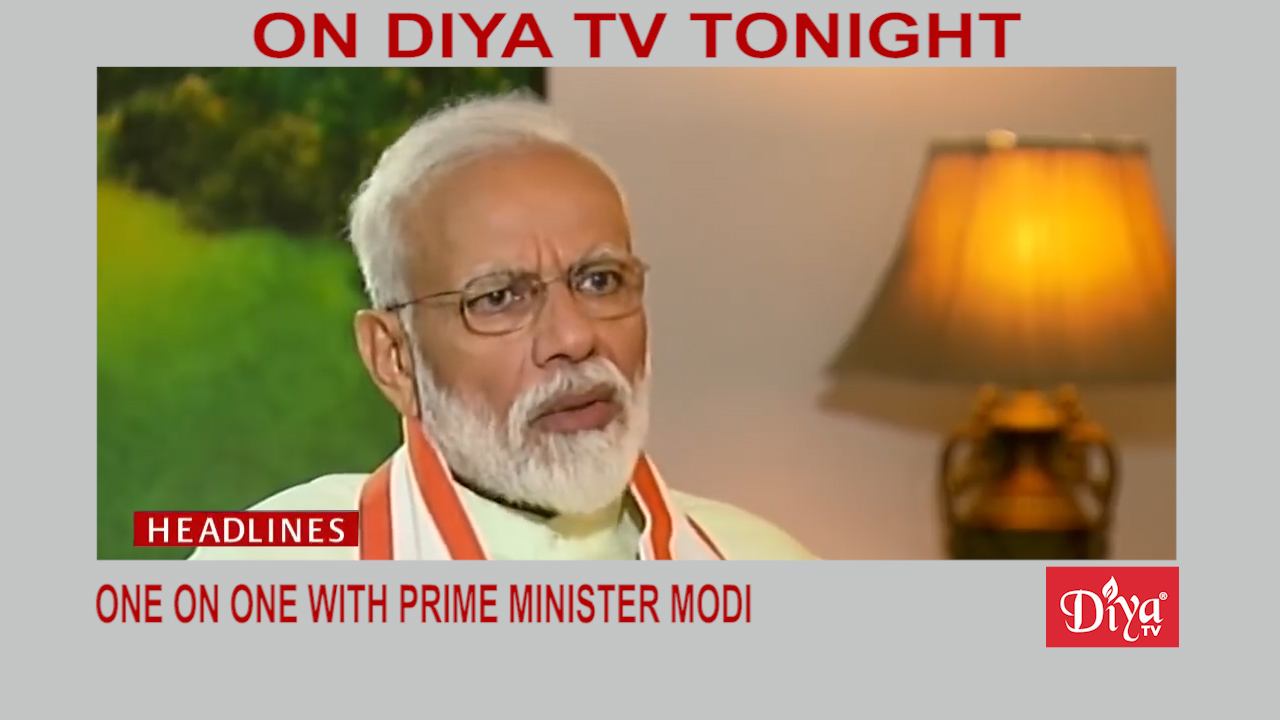 NEW DELHI (Diya TV) — In a rare sit-down interview in the middle of an election, Indian Prime Minister Narendra Modi discusses his first term and what he plans to accomplish if he is elected to a second term. Watch the full interview tonight on a special Diya TV Dialogue at 7 pm.

Two U.S. Senators are urging more negotiations with India over a Trump administration plan to end preferential imports because it could raise costs for American consumers.

Meanwhile, India purchased a missile system from Russia. Indian Defense Minister Nirmala Sitharaman is hopeful the deal will avoid sanctions and scrutiny from the U.S.

Thiru Vignarajah a former federal prosecutor, who also once served as deputy Attorney General in the state of Maryland, announced he is running for mayor of Baltimore as a Democrat.

And our entertainment reporter, Kari Lane will take you behind the scenes at the Indian Film Festival of Los Angeles, an event proudly sponsored by Diya TV, full of some of the brightest stars you will soon see on the silver screen.

Ravi Kapur & Alejandro Quintana contributed to this report.