EXCLUSIVE: Preet Bharara gives the backstory on his firing by President Trump
WASHINGTON (Diya TV) — In a keynote address to the South Asian Bar Association, former U.S. Attorney Preet Bharara recounted in detail the weekend he was fired as U.S. Attorney, what he plans to do moving forward and why it's important that attorneys from diverse backgrounds get involved in public service.

Breaking: Clinton, Gabbard spar in 2016 rehash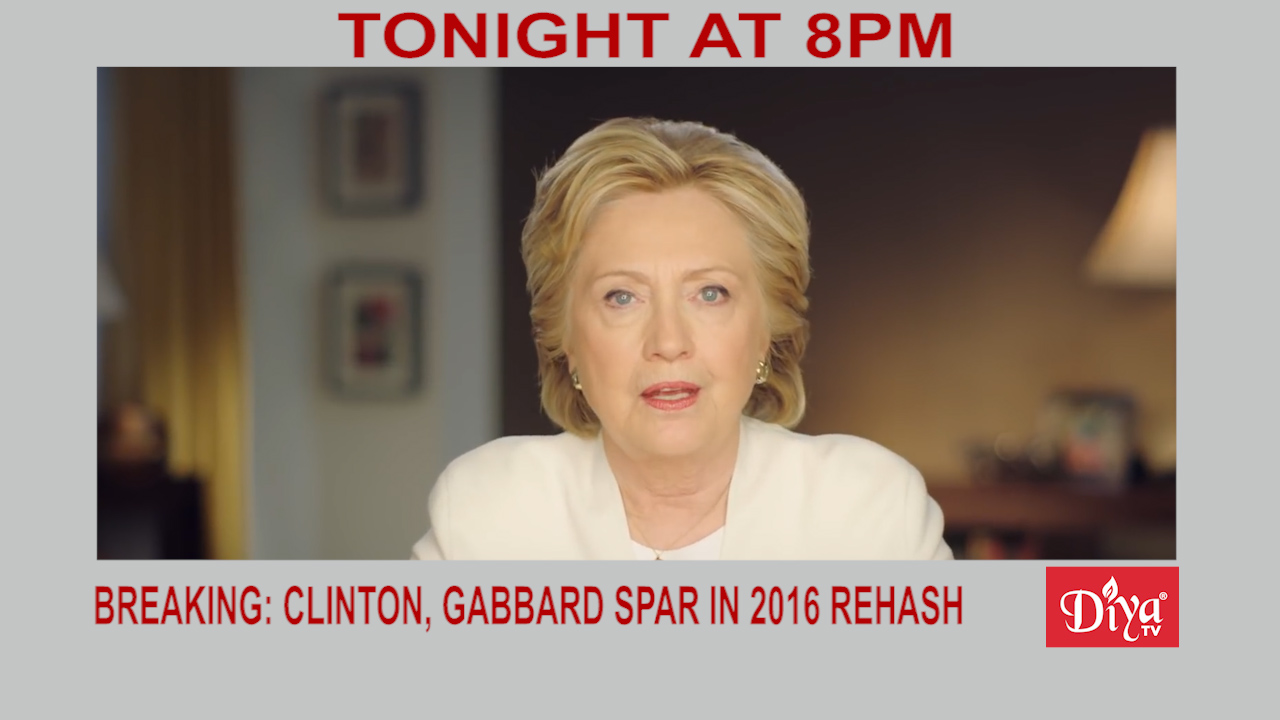 NEW YORK (Diya TV)  — In 2016, former Secretary of State Hillary Clinton was the Democratic nominee, staving off a fierce challenge from Sen. Bernie Sanders. Rep. Tulsi Gabbard decided to resign from her post as Democratic National Committee Vice-Chair to support Sanders over Clinton. Now, both ladies have taken the gloves off, after Clinton on a podcast indirectly referenced Gabbard by saying the Russians were "grooming her to be the third-party candidate." Gabbard responded on Twitter, calling Clinton the "queen of warmongers [and] embodiment of corruption."
The granddaughter of Mahatma Gandhi, Ela Gandhi, spoke at an event organized by Cal State Fresno about how her grandfather's work, was not only was significant in its time, but how those principles still hold relevance in a new century.
The University of Houston announced an endowment to support the study of the Tamil language and culture. Non-profit Houston Tamil Studies Chair made a $2 million commitment to the university to kickstart the study of Tamil heritage. The Tamil language is considered the oldest in the world, spoken by more than 70 million people worldwide, with 250,000 Tamilians in the United States.
President Trump announced Energy Secretary Rick Perry is stepping down from his role to pursue other interests. His deputy Dan Brouillette was nominated as his replacement.
And for all of our incredible viewers in Chicagoland, rescan your TV sets this weekend to watching Diya TV and the rest of the channels in the market. We recommend a high quality VHF/UHF antenna so you can keep getting Diya TV on WRJK Channel 22.1 for free!
Ravi Kapur contributed to this report.
Indian Ambassador, Shringla speaks to U.S. Congress about Kashmir
WASHINGTON (Diya TV) — Indian Ambassador to the U.S. Harsh Shringla met with members of Congress at a private roundtable briefing, hosted by Southern California Congressman Brad Sherman. Sherman, who has been a supporter of India, took to Twitter recently to share his concerns about Kashmir and said serious questions about Kashmir were asked at the briefing.
President Trump is being urged to fix the H1-B visa process and do away with country-specific limits, with the latest effort for reform being spearheaded by 60 U.S. business school deans and CEO's.
In an earthquake, seconds matter. So on the anniversary of the deadly 1989 Loma Prieta earthquake that rocked Northern California, state officials announced the launch of America's first statewide earthquake early warning system.
Tabla Maestro Zakir Hussain will be coming to Boston next month to perform at the Berklee India Exchange, where he will also be conferred with an honorary doctorate by the esteemed music school. A Zakir Hussain Scholarship at Berklee is also being established.

And we have incredible video of three kids from India rescuing their dog from a snake that's equal parts courageous and nuts.
Ravi Kapur contributed to this report.
Democrats target new front runner Warren in Ohio debate
WESTERVILLE, Ohio (Diya TV) — In Ohio, Democratic Presidential candidates took to the stage for the fourth time in this 2020 cycle, with the new target of interest being Sen. Elizabeth Warren, who has surged in recent polls. Sen. Bernie Sanders, coming off a recent heart attack, looked reinvigorated, especially after it was revealed he received endorsements from progressive Congress members Alexandria Ocasio-Cortez, Ilhan Omar and Rashida Talib. Sen. Kamala Harris, in her appeal to voters, referenced her mom's journey from India to the U.S.
In the first television ad bought in Tennessee's 2020 U.S. Senate race, Republican candidate Dr. Manny Sethi focused on illegal immigration, using his own family story to explain. A Nashville trauma surgeon in his first bid for office, Sethi says in the ad "let 'em try to call me a racist," when his mom Dr. Chander Sethi shared the story of how she and her husband fulfilled all legal requirements to immigrate to the United States.
Ravi Kapur contributed to this report.