Acclaimed filmmaker's Sanjay Leela Bhansali's Padmavati release postponed till 2018
LOS ANGELES (Diya TV) — Acclaimed Bollywood filmmaker Sanjay Leela Bhansali directed an opera of a Sufi poem Padmavat at the Châtelet theatre in Paris in 2008, becoming the first Indian to direct an opera in Paris and Rome. The opera made its debut at the 51st Spoleto festival, and will now be retold in the form of a visual cinematic extravaganza, starring one of the biggest names in Indian cinema, Deepika Padukone. The film has been mired in controversy in India long before its release. Originally set to release world-wide on Friday, December 1st, the film release was voluntarily deferred by Viacom 18. Earlier in November they released a statement,
"The studio has voluntarily deferred the release date of Padmavati from 1 December, 2017. Along with Sanjay Leela Bhansali, amongst the most gifted film makers of his generation, Viacom18 Motion Pictures has created a beautiful cinematic masterpiece in Padmavati that captures Rajput valor, dignity and tradition in all its glory. The film is an eloquent portrayal of a tale that will fill every Indian with pride and showcase our country's story-telling prowess across the globe. We are a responsible, law-abiding corporate citizen and have the highest respect and regard for the law of the land and all our institutions and statutory bodies including the Central Board of Film Certification. We always have and are committed to continue following the established procedure and convention. We have faith that we will soon obtain the requisite clearances to release the film. We will announce the revised release date of the film in due course. We stand firm in our commitment to tell endearing tales that resonate with our audiences the world over as we have in the past with our other projects such as Toilet: Ek Prem Katha, Queen, Bhaag Milkha Bhaag and many more."
It all started in January when Bhansali was assaulted during the filming by a mob consisting of Karni Sena members, a Rajput group. In Padmavati, the Rajput queen Padmini chose to kill herself by self-immolation rather than be captured by the Muslim sultan, Alauddin Khilji.
Paramount Pictures which is set to distribute its first Bollywood release has the exclusive rights in international markets outside of India. Directed by Bhansali, 'Padmavati' stars Deepika Padukone in the lead role of Rani Padmavati, Shahid Kapoor as Maharawal Ratan Singh and Ranveer Singh as Sultan Alauddin Khilji. 'Padmavati' recounts the tale of Rani Padmavati – the legendary Mewar queen known as much for her beauty and intelligence as she was for her courage, her husband Maharawal Ratan Singh – a glorious Rajput ruler and a warrior king who fought till his dying breath to defend his kingdom and his wife's honor and Sultan Alauddin Khilji – an ambitious and obsessive invader, who left no stone unturned in his pursuit of Padmavati.
Protestors of the film, claim that Alauddin Khilji was a brutal ruler and Bhansali's film glamorizes him.
In addition, Rajput community has been up in arms about the portrayal of their Queen Padmini of Chittorgarh.
With state elections looming in Gujarat, community leaders from the ruling BJP have written to the Chief Election Commissioner demanding the stalling of the release of the film ahead of Gujarat elections.
According to reports, BJP vice-president I.K. Jadeja has received representations from Kshatriya community in
17-18 districts of Gujarat expressing concern about distortion of history in the movie.
Steeped in quintessential Bhansali-esq extravaganza of India's rich and vibrant culture, adorned with classical folk music and paying tribute to a glorious era, the trailer of 'Padmavati' gives the audiences a glimpse of the magnanimity of the film, complete with ornate sets, perfectly co-ordinated elaborate dance sequences and exquisite costumes.
Meanwhile, the Central Board of Film Certification has yet to clear the film and with the local elections looming in Rajasthan. Director, Sanjay Leela Bhansali had to leave his residence in Mumbai with Police protection.

The filmmakers, including Bollywood's top-paid actress and the protagonist, Deepika Padukone tweeted in disbelief calling for action
Who are these people?Who is responsible for their actions?For how long are we going to let this go on? pic.twitter.com/2WFN0jcdua

— Deepika Padukone (@deepikapadukone) October 18, 2017
With unconfirmed reports of the film being deferred into 2018, the activists continue to find newer ways to rage and stop the film from hitting the screens. Indian states like Rajasthan, UP, Jaipur have already announced that they won't allow the screening of the film even if the Certification Board passes it. And while the Indian Censor Board has yet to give the green light, the British Censor Board has cleared Padmavati for a December 1st release.
With all the talk about the progress and innovation in India, one has to question the motivation of the
One-on-One with Prime Minister Modi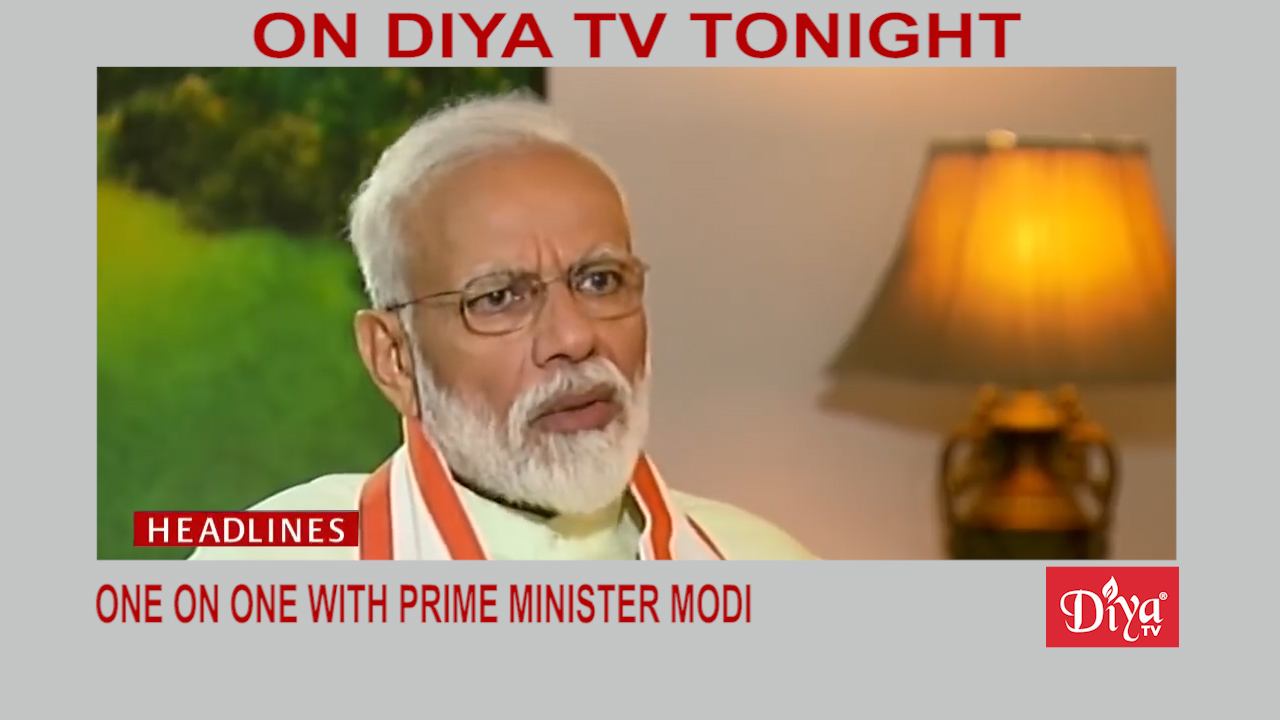 NEW DELHI (Diya TV) — In a rare sit-down interview in the middle of an election, Indian Prime Minister Narendra Modi discusses his first term and what he plans to accomplish if he is elected to a second term. Watch the full interview tonight on a special Diya TV Dialogue at 7 pm.

Two U.S. Senators are urging more negotiations with India over a Trump administration plan to end preferential imports because it could raise costs for American consumers.

Meanwhile, India purchased a missile system from Russia. Indian Defense Minister Nirmala Sitharaman is hopeful the deal will avoid sanctions and scrutiny from the U.S.

Thiru Vignarajah a former federal prosecutor, who also once served as deputy Attorney General in the state of Maryland, announced he is running for mayor of Baltimore as a Democrat.

And our entertainment reporter, Kari Lane will take you behind the scenes at the Indian Film Festival of Los Angeles, an event proudly sponsored by Diya TV, full of some of the brightest stars you will soon see on the silver screen.

Ravi Kapur & Alejandro Quintana contributed to this report.

Bollywood actress Tabu honored at 2019 IFFLA Opening Night
LOS ANGELES (Diya TV) — The 17th annual Indian Film Festival of Los Angeles (IFFLA) is officially underway, kicking off the festivities last night at the Ahrya Fine Arts Theatre in Beverly Hills with a tribute to the renowned Bollywood actress Tabu.
Christina Marouda, Founder and Executive Director of IFFLA, introduced Tabu's notable accomplishments. "Her work and personality embody everything that IFFLA is about" Marouda said "being fearless, versatile, independent in spirit, unwilling to compromise, brilliant in the range of her performances, and simply beautiful. With half of the festival's 2019 line-up directed by female filmmakers, this [year's IFFLA] couldn't be a stronger celebration of women in Indian cinema."
The audience was treated to a moderated interview with Tabu in which she discussed her interest in flawed and immoral characters, as well as how she has enjoyed combining a career of commercial success with one of artistic reinvention.
The interview was followed by a screening of Tabu's most recent film Andhadhun, directed by Sriram Raghavan and co-starring Ayushmann Khurrana. The black comedy is a triumph of chaos in all the right ways; weaving humor with horrible acts of violence, shifting storylines and ratcheting up the tension. Tabu brings her legendary intensity to every scene, flowing effortlessly from casual and comical to duplicitous and menacing. She is a villain in a story with no true hero, allowing her to flex her most manipulative muscles.
IFFLA is unabashedly confronting diversity in Hollywood, not as a trend, but as a mission. Not only featuring a curated set of film programs designed to support the growing interest in the Indian entertainment industry, but – just as importantly – supporting filmmakers of Indian and South Asian descent in career development and expanding opportunity as they establish themselves in various mainstream Hollywood systems.
This years programming includes Ronny Sen's directorial debut Cat Sticks, which screened at Slamdance, Ashish Pandey's Kashmir-set drama Nooreh, which won at Busan, family drama Love Goes Through Your Mind, directed by UCLA alum Ronak Shah and Safdar Rahman's Chippa. Additional programming also features a TV-centric panel titled 'Breaking in Brown: Making it to Series in TV's Golden Age' featuring the work of South Asian talent in broadcast and streaming.
The 17th annual Indian Film Festival of Los Angeles (IFFLA) is taking place April 11-14, 2019 at Regal L.A. LIVE in downtown Los Angeles. The Opening and Closing Night Galas will be at the Ahrya Fine Arts Theater in Beverly Hills. For tickets and information on programming visit https://www.indianfilmfestival.org
Diya TV is a proud sponsor of the festival
Homeland Security Secretary Nielsen resigns
WASHINGTON, DC (Diya TV) — Kirstjen Nielsen, the US Homeland Security Secretary, is stepping down over major differences with the administration on how to implement President Trump's immigration policies.

Meanwhile, President Trump continues to campaign around the nation to make the case for his re-election in 2020. Over the weekend, he told a Las Vegas crowd India is charging 100% tariffs to the U.S. on many things and he wants to reciprocate. He added the Senate is not doing enough to change what he calls "stupid trade."

The South Asian Bar Association's Northern California chapter held their annual fundraising gala, a chance for judges, attorneys and the next generation to network and honor their peers.

The NBA Champion Golden State Warriors are moving to San Francisco in the fall, so they held their final Bollywood Night in Oakland. We'll take you behind the scenes and introduce you to a member of the Warriors Dance Team that choreographed an epic Bollywood dance.

And Ravi Ahuja, the former CFO of Fox Networks, is now Walt Disney Television's CFO and president of business operations.

Ravi Kapur & Alejandro Quintana contributed to this report.