Big night for South Asians, Riz Ahmed and Aziz Ansari take home Emmy's
LOS ANGELES (Diya TV) — British-Pakistani actor Riz Ahmed claimed a 2017 Emmy for Outstanding Lead Actor in a Limited Series.
Portraying Nasir "Naz" Khan in The Night Of, Ahmed plays a Pakistani college student who becomes caught up in a homicide investigation. His character also spends time in prison.
"I want to say it is always strange reaping the rewards of a story based on real-world suffering," Ahmed said when accepting the honor. "But if this show has shown a light on some of the prejudice in our societies, xenophobia, some of the injustice in our justice system, then maybe that is something."
Ahmed also thanked the South Asian Youth Action for "helping me prepare for this and The Innocence Project."
"I don't know if any one person's win of an award or one person snagging one role or one person doing very well changes something that's a systemic issue of inclusion," Ahmed later said in a press statement. "I think that's something that happens slowly over time."
Prior to Ahmed winning his Emmy, only one other person of Asian descent had won an Emmy. Archie Panjabi won Outstanding Supporting Actress in a Drama Series in 2010 for her portrayal of Kalinda Sharma on CBS's The Good Wife.
The 34-year-old actor, also known as Riz MC has starred in an array of films. He was first known for his roles in independent films The Road to Guantanamo (2006), Shifty (2008), Four Lions (2010), Trishna (2011) and Ill Manors (2012). His breakthrough role was in Nightcrawler in 2014 alongside Jake Gyllenhaal. His recent film credits include Una, Jason Bourne and the first Star Wars Anthology film, Rogue One.
Known for politically-motivated rap lyrics, he also has fostered success as a musician. He has been active in charitable work, raising funds for Syrian refugee children. His film accolades and advocacy and charity work earned him a spot on the annual Time 100 list of the most influential people in the world in 2017.
#TheNightOf star Riz Ahmed: "I don't think any one award changes the systemic problem of inclusion" #Emmys pic.twitter.com/OKzli6t14O

— Variety (@Variety) September 18, 2017
Aziz Ansari and Lena Waithe won the Emmy for 'Outstanding writing for Comedy Series' for the episode 'Thanksgiving' in the second season of Netflix's 'Master of None'. As the duo walked up to the stage to accept the Emmy, the crowd started to clap and slowly rose to a full blown standing ovation. Waithe gave the acceptance speech, thanking Aziz for "making me co-write" and thanked her "LGBTQIA family" adding "I see each and every one of you"
Ansari and Waithe beat Alec Berg of 'Silicon Valley', Donald Glover & Stephen Glover of 'Atlanta' and Billy Kimball and David Mandell of 'Veep'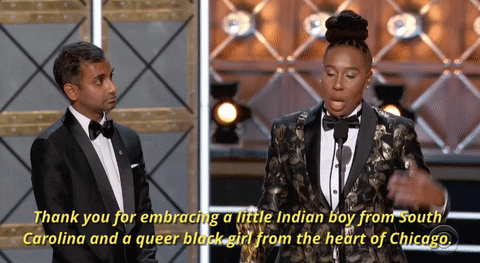 Donald Trump takes subtle jab at FCC Chairman Ajit Pai during Diwali ceremony
WASHINGTON (Diya TV) — President Donald Trump took time to appreciate and honor fellow South Asian members in his administration during a Diwali celebration, but he did also manage to throw a jab at Ajit Pai.
Pai, chairman of the Federal Communications Commission, was criticized by Trump earlier this year during the Sinclair-Tribune merger which halted the conservative local news giants.
The decision made by Pai, a conservative, infuriated Trump:
So sad and unfair that the FCC wouldn't approve the Sinclair Broadcast merger with Tribune. This would have been a great and much needed Conservative voice for and of the People. Liberal Fake News NBC and Comcast gets approved, much bigger, but not Sinclair. Disgraceful!

— Donald J. Trump (@realDonaldTrump) July 25, 2018
Fast forward to the Diwali celebration at the White House, the president managed to bring it up again. After raving about how "grateful" he was to have numerous Americans of Indian and Southeast Asian heritage in critical roles and who've done an "incredible job," the remark was unfitting.
After singling out Pai, he reflected on some of that "incredible" and said the following:
""I just didn't like one decision he made, but that's alright," he joked, then he subtracted some of that "alright," adding: "not even a little bit, but he's independent."
Pai, who is of Indian American descent, was designated by Trump in January 2017 — becoming the first Indian American to hold the office.
The Harvard and Chicago Law School graduate previously served as commissioner of the FCC after being appointed by former president Barack Obama.
Though Trump didn't elaborate much after pointing him out, it has been noted that Pai carries a heavy load in how media is presented.
Pai's decision to reverse Sinclair's merger was based on his stance of the people's interest and keeping media diverse throughout the country.
Along with first amendment best practices, Pai is focusing on issues relating to broadband, public safety and fiscal responsibility.
Bollywood sweethearts Deepika Padukone and Ranveer Singh tie the knot in Italy
LAKE CUOMO, Italy — Bollywood sweetheart couple, Deepika Padukone and Ranveer Singh have officially tied the knot at a private villa against the scenic Lake Como backdrop, in Italy. The two-day ceremony included a 'Konkani' style ceremony as well as 'Sindhi' ceremony to bring these two Bollywood stars into matrimony.
The couple released two pictures on twitter, with a simple heart emoji
— Deepika Padukone (@deepikapadukone) November 15, 2018
The newlyweds began their love story on screen, sharing intimate moments in films like 'Ramleela','Bajirao Mastani' and Padmavat.
According to the Huffington Post, film director Sanjay Leela Bhansali said 'cut' during their kiss toward the end, but they continued their sizzling moment as over 50 crew members mesmerizingly watched. It was the start of a blossoming relationship, forging together a Bollywood power couple with chemistry on and off set.
The much awaited wedding ceremony left no stone unturned to celebrate this star couple in grand style with an intensely private and synchronized affair set against at Italy's scenic Lake Como backdrop, at Villa del Balbianello.
An Indian Bollywood wedding without a celeb designer? I think not. The duo opted to go with veteran designer Sabyasachi Mukherji. 'Sabya' as fans often call him, drew inspiration from the wedding ceremony theme and designed decadent outfits in shades of red, pink and all things 'shaadi' for both the 'Konkani' & 'Sindhi' ceremonies. Deepika wore a veil with the words,"Sada Saubhyagyavati Bhava" embroidered along the hem draped over her head. This mantra translates to "be forever fortunate" is often a blessing given to newly weds, wishing them a 'happily ever after' life ahead.
Ofcourse no Bollywood wedding is complete without all the 'Badhaai' or well wishes from fellow co-stars, most of who took to twitter to shower the newly minted couple.
Love and happiness forever…..these are such a full of pyaar wala pictures! For those of us who don't have a life partner it's a very "haiiiiiiiii" wala feeling! https://t.co/h1dtYel2be

— Karan Johar (@karanjohar) November 15, 2018
Wishing you both a world of happiness and a beautiful journey together. May the love & respect you have in each other, grow leaps and bounds. And welcome to the club 😁💜👫@RanveerOfficial @deepikapadukone

— Anushka Sharma (@AnushkaSharma) November 15, 2018
May this be your biggest blockbuster …. here's to happily ever after… congratulations you two @deepikapadukone @RanveerOfficial ❤️❤️❤️ pic.twitter.com/QJ6UYs0EID

— Neha Dhupia (@NehaDhupia) November 14, 2018
A Bollywood wedding, without some 'filmy' elements is nearly impossible. According to Filmfare, Singh made his grand entry on Govinda's hit song 'Meri Pant Bhi Sexy', continuing with 'Chunari Chunari' and 'One Two Ka Four' as he reached the wedding venue with his family and relatives.
With heavy security for this intensely private ceremony, the couple remained sensitive to the plight of hundreds of fans & paparazzi gathered to capture a glimpse of their special event. They sent gift packs of sweets to the media, thanking them for their wishes.
Trump celebrates Diwali with diya lighting ceremony in the White House
WASHINGTON (Diya TV) — President Donald Trump took part in a Diwali celebration Tuesday at the White House where he held a ceremonial lighting of the 'diya'. The diya lighting ceremony, Trump used the time to discuss the ties between the U.S. and India which he stated were perhaps closer than ever before. He began by saying how thrilled and special it was to be part of the celebration. Shortly after, Trump gave high praise for the contributions Indian Americans have displayed in the country and in his administration. He began the ceremony by first addressing the victims of fires in California.
He continued to introduce several Indian Americans members of his team and then welcomed Indian Ambassador to the U.S., Navtej Sarna.
With an attendee list of roughly 20 notable Indian Americans within his administration, Trump added onto the growing number during the event as he nominated Neomi Rao to replace Brett Kavanaugh on the D.C. Circuit.
"We were going to announce that tomorrow and I said, 'Here we are Neomi — we're never gonna do better than this' — I thought it was an appropriate place."
Rao, born to Indian parents, is a graduate of Yale and University of Chicago Law School. She recently spent time as an associate law professor at George Mason and an administrator in the Office of Information and Regulatory Affairs. She responded by saying: "Thank you very much, Mr. President, for the confidence you've shown in me. I greatly appreciate it."
"Our nation is blessed to be home to millions of hardworking citizens of Indian and southeast Asian heritage, who enrich our country in countless ways. Together we are one proud American family. I'm grateful to have numerous Americans of Indian and southeast Asian heritage who fulfill critical roles across my administration, and they've done an incredible job."
Today, we gathered for Diwali, a holiday observed by Buddhists, Sikhs, and Jains throughout the United States & around the world. Hundreds of millions of people have gathered with family & friends to light the Diya and to mark the beginning of a New Year. https://t.co/epHogpTY1A pic.twitter.com/9LUwnhngWJ

— Donald J. Trump (@realDonaldTrump) November 13, 2018
However, President Trump failed to mention the largest group of Indian Americans, the 'Hindus', which the twitter sphere was quick to point out.
and it's a Hindu holiday, yet he doesn't manage to mention Hindus once.

— Gregg 🏴󠁧󠁢󠁷󠁬󠁳󠁿 (@GreggC_CC) November 13, 2018
This is the second year in a row President Trump has hosted a Diwali Celebration in the Oval Office. Here's Diya TV's coverage from the year before.