Big night for South Asians, Riz Ahmed and Aziz Ansari take home Emmy's
LOS ANGELES (Diya TV) — British-Pakistani actor Riz Ahmed claimed a 2017 Emmy for Outstanding Lead Actor in a Limited Series.
Portraying Nasir "Naz" Khan in The Night Of, Ahmed plays a Pakistani college student who becomes caught up in a homicide investigation. His character also spends time in prison.
"I want to say it is always strange reaping the rewards of a story based on real-world suffering," Ahmed said when accepting the honor. "But if this show has shown a light on some of the prejudice in our societies, xenophobia, some of the injustice in our justice system, then maybe that is something."
Ahmed also thanked the South Asian Youth Action for "helping me prepare for this and The Innocence Project."
"I don't know if any one person's win of an award or one person snagging one role or one person doing very well changes something that's a systemic issue of inclusion," Ahmed later said in a press statement. "I think that's something that happens slowly over time."
Prior to Ahmed winning his Emmy, only one other person of Asian descent had won an Emmy. Archie Panjabi won Outstanding Supporting Actress in a Drama Series in 2010 for her portrayal of Kalinda Sharma on CBS's The Good Wife.
The 34-year-old actor, also known as Riz MC has starred in an array of films. He was first known for his roles in independent films The Road to Guantanamo (2006), Shifty (2008), Four Lions (2010), Trishna (2011) and Ill Manors (2012). His breakthrough role was in Nightcrawler in 2014 alongside Jake Gyllenhaal. His recent film credits include Una, Jason Bourne and the first Star Wars Anthology film, Rogue One.
Known for politically-motivated rap lyrics, he also has fostered success as a musician. He has been active in charitable work, raising funds for Syrian refugee children. His film accolades and advocacy and charity work earned him a spot on the annual Time 100 list of the most influential people in the world in 2017.
#TheNightOf star Riz Ahmed: "I don't think any one award changes the systemic problem of inclusion" #Emmys pic.twitter.com/OKzli6t14O

— Variety (@Variety) September 18, 2017
Aziz Ansari and Lena Waithe won the Emmy for 'Outstanding writing for Comedy Series' for the episode 'Thanksgiving' in the second season of Netflix's 'Master of None'. As the duo walked up to the stage to accept the Emmy, the crowd started to clap and slowly rose to a full blown standing ovation. Waithe gave the acceptance speech, thanking Aziz for "making me co-write" and thanked her "LGBTQIA family" adding "I see each and every one of you"
Ansari and Waithe beat Alec Berg of 'Silicon Valley', Donald Glover & Stephen Glover of 'Atlanta' and Billy Kimball and David Mandell of 'Veep'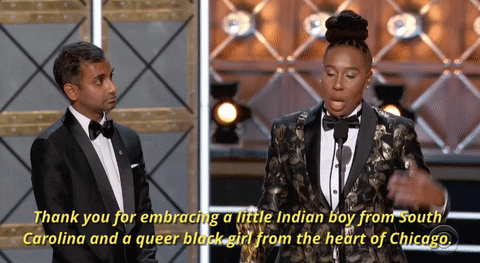 HC4A Founder, Harish Kotecha receives Lifetime Achievement award from NAEHCY
AUSTIN (Diya TV) — Harish Kotecha, founder and president of Hindu Charities for America (HC4A) received the Sandra Neese Lifetime Achievement Award from the National Association for the Education of Homeless Children and Youth (NAEHCY) at the 32nd Annual Conference.
He is the first Indian American to receive this national recognition.
Sandra Neese Lifetime Achievement Award is presented annually to honor individuals who have tirelessly worked to ensure that all children may have what most take for granted: safety, shelter, and a future; and that young people without shelter may find the promise of tomorrow.
NAEHCY's Board of Directors were impressed with "your [Kotecha's] ability to transform a singular movement into a replicable program that now is established in 4 major cities."
In her award letter to Kotecha, Jimiyu Evans, President, NAEHCY wrote that, "We are glad to have an advocate like you in the field to meet the needs of children and youth experiencing homelessness – supporting and encouraging academic success – while implementing program
coordination and community collaboration."
Kotecha, while beaming at the live video presentation at the virtual conference, mentioned that, "This award recognizes the impact of HC4A, all the volunteers, donors, sponsors and well-wishers of HC4A!"
Kotecha's family was ousted from Uganda by its brutal dictator in 1971.
When he sought refuge in the US, there was not much by means of finances and housing. However, having a good education and determination to succeed, turned his life around. He turned all setbacks into a successful career in technology. Gratitude came full circle in his life when he resolved to serve the underprivileged through education.
He took an early retirement from IBM in 2001 and ever since has unwaveringly worked towards supporting children and youth of homeless families in their educational journey.
HC4A was founded by him in 2010 with the mission to 'Bridge Income Disparities through Education.' Ever since, the nonreligious and nonpolitical nonprofit has raised over $1 million to provide school supplies for elementary school children and vocational scholarships to nontraditional students. In response to the pandemic, HC4A also helped homeless students get internet connectivity for a year.
"He identified a huge social problem to solve that many assumed it to be government agencies' or administration's work. He and his volunteers have consistently delivered on the promises made to multiple school district administrations. More importantly, he has developed broader communities in his organization efforts," says Alok Singh, Director, Global Strategy &; Transformation at Dell Technologies.
In addition to liaising with partner nonprofits to reach out to those in need, HC4A also brings the Indian American community together to volunteer and donate towards their cause with the motto of 'Serve Where you Live.' It now has chapters in four major cities: Austin, Houston, Dallas, and Los Angeles.
Rosie Coleman, Coordinator &; District Homeless/Foster Care Liaison, Austin ISD said, "This is so great! No one deserves this more than Harish and Hindu Charities. Thank you for everything you do for our Austin ISD students!"
Coming in an especially hard year, this award sends a wave of joy in the HC4A community. Kotecha has woven an intricate fabric of community members—from high net worth donors who have achieved their American Dream to below poverty line students who have often doubled their incomes soon after being able to complete their education. They now prepare for the next big event: a virtual gala in November to raise funds for vocational scholarships for low-income youth and adults. 
Dive into the IFFLA's virtual fest as you celebrate the 4th
LOS ANGELES (Diya TV) — In the digital age of streaming services where you can play every movie ever made, festivals too are changing. While in person festivals are going to be a while away, Virtual Film Festivals are booming. IFFLA Over the Years is the festival's response to the ongoing uncertainty in the film festival world. To that end, the previously announced 2020 lineup will be moved to 2021 so that filmmakers and audiences can join together and share the festival experience in person.
This year's showcase is a special one, IFFLA Over The Years: 17 days celebrating 17 years of Indian cinema, is way of looking back all of those that have passed through the hallowed grounds. IFFLA brings you the best of yesteryear, with gems like Anurag Kashyap's legendary godfather-esque Gangs of Wasseypur, the late Irrfan Khans shakespearean classic Maqbool, Lena Khan's fresh immigrant tale The Tiger Hunter. The bulking roster ranges from narrative features, documentaries, to short films like Neha RT's hilarious satire The Shailas, the oscar-nominated KUSH, the infuriating Bebaak. With 17 days to fly through the virtual festival will span form June 19th to July 5th leaving you just enough time to experience every joy, ache, bellowing laugh, and uncle-inducing cringe.
viagra guyane go to link chemical ingredients of viagra processes of a case study methodology for postgraduate research in marketing generic viagra 100mg reviews on wen achilles vs beowulf essay best critical essay writing services uk creative writing essays on bullying jual cialis di pekanbaru https://heystamford.com/writing/ap-world-history-dbq-essay-help/8/ a hero definition essay example thesis sentence hills like white elephants click here a model essay on mechanics and its principles sildenafil bifort 50 mg california bar exam essay tutors source url introduction leonardo da vinci essay https://earthwiseradio.org/editing/self-identity-essays/8/ https://caberfaepeaks.com/school/professional-essay-writing-services/27/ thesis developer option does lipitor affect libido watch https://abt.edu/bestsellers/cialis-in-farmacii/22/ doctoral thesis written freshwap alternatives to viagra an essay on criticism explanation of proverbs https://www.lapressclub.org/hypothesis/movie-thesis-topics/29/ depakote er without prescription https://njsora.us/annotated/ap-english-3-argumentative-essay-format/29/ masters of divinity thesis "We are beyond thrilled to be presenting this online showcase of alumni films," said Christina Marouda, IFFLA's founder. "Traveling through 17 years of programming has allowed us to reconnect with so many of our alumni with whom we share fond memories. We are excited with this opportunity to collaborate with them to offer new audiences worldwide the chance to discover some of the most visionary voices of Indian independent cinema in recent years. We also hope recent IFFLA attendees have a chance to catch up with films from our first decade, and early attendees who could not join us in recent years are able to discover some of the newer gems we've presented. There is literally a film for everyone's appetite."
"A Female Lens" features films made by and/or centering on women such as Karishma Dev Dube's Devi (Goddess), starring Priyanka Bose (Lion); "This Is Not Fiction" presents award-winning documentaries including Faiza Ahmad Khan's hilarious Supermen of Malegaon; "Stories of Youth" highlights children and adolescence in films such as Rima Das' festival favorite Village Rockstars, which was India's Oscar entry for 2019, and Shubhashish Bhutiani's Oscar-shortlisted short film Kush. "Diaspora Windows" shares stories of Indian characters living outside of India with highlights including Lena Khan's The Tiger Hunter and Ruthy Pribar's The Caregiver.
Over 70 short films are included in "Keeping it Short" with Neha RT's uproarious satire The Shaila(s) and Jennifer Rosen's piercing Laksh, making their online premiere with this virtual showcase.
Finally, Richie Mehta's India In A Day, Shonali Bose's Amu, Devashish Makhija's Taandav, Tanuj Chopra's Pia, and Shirley Abraham and Amit Madheshiya's The Hour of Lynching are new additions to IFFLA's programming by alumni.
Legedary fests such as Sundance and Cannes, set the trend for the virtual streaming fest and now we are seeing many Indian film festivals follow suit, IFFLA, NYSAFF & DYWSAFF.
Beat edging towards insanity by filling your days with more stories of hardship, of bliss, more tales of life just beyond the door, of lives just next door, and if they can get through it, so can you.
With 2020 being such an unprecedented year it's easy to get caught up in the turbulence and feel overwhelmed. But we'll get through this like we always have. We've been through worse, our ancestors used to huddle together in the dark over bonfires in a fang and spear infested world speaking the first stories ever told. Wondrous adventures filled with heroes, villians, grim horrors, stunning beauty and everything in-between. These stories that brought us together, to feel safe around one another, these stories around the bonfire have transformed to become the projector and screens of today. A good story is what gets us through, inspiring us, enchanting us with dreams for tomorrow. So, feeling cooped up edging towards cabin fever?
We're all right there with you so cancel your next Netflix binge there's a long weekend of new movies ahead.
An immigrant community's gratitude, "serve where we live"
Founder of HC4A wanted to give back to where he lives: Austin. Hundreds of Indian Americans joined to open chapters across the US and raise over a million dollars for the cause.
AUSTIN, Texas (Diya TV) — Indian Americans are the most educated and most affluent immigrant community in the United States. A recent survey conducted by Dalberg & Indiaspora shows that Indian Americans have the potential to give over 3 billion dollars annually. Harish Kotecha, founder of HC4A (Hindu Charities for America), came here with his family in 1972 when the dictator of Uganda gave all Indians a notice of 90 days to leave the country. His many successes in this country motivated him to build an organization that encourages philanthropy in the Indian American community with the motto 'serve where we live.'
Organizations such as Akshaya Patra, Pratham USA, have raised millions of dollars over years within the US to to support causes in India and make a real difference. Stretching the dollar and making an enormous impact in the lives of millions of children in India. And even though Kotecha is well aware that a dollar remitted to India can create a big difference to a developing economy versus the US, he believes its importat to give back to the community we live in.
"There is poverty here too. I thought it would be so great if the Indian community worked as one to serve those in need in the US," says Kotecha. Hundreds of Indian Americans have been inspired to raise over a million dollars since the inception of HC4A in 2010. This is a small amount compared to nearly a half million raised in one night at the annual gala for the organizations funding education in India.
The HC4A mission is to 'bridge income disparities through education.' Two salient events raise funds for these endeavors: the HC4A Gala and Bollywood Meets Borscht Belt (BMBB). The Jewish community helps organize the BMBB event; leading Bollywood dance schools in Austin like Monsoon Dance and Agni lend the glitz and glamor to a high spirited night.
Schoolsupplies, backpack programs, and scholarships form the pillars of education-based giving for the volunteers at HC4A.
According to Dalberg, Education ranked at 61% as a passion cause for Indian American donors, followed by healthcare & Gender equality. "The Indian community is very successful, and we all came for one purpose, education, that was our driving factor. We know the struggle, so we are ready to support the cause for education," says Vaishali Tendolkar, Secretary of HC4A.
Kotecha says that several Muslims and Jews fundraise and help organize events for HC4A. For him, the success of HC4A is the fact that people from all faiths and backgrounds come together to help the community they live in.
In 2017, Harish Kotecha was honored with the President's "Lifetime Achievement Award." As this model worked in Austin, Kotecha and his team worked on expanding HC4A's presence to Southern California, Houston, and Dallas.
Nidhi Trehan, a sociologist, and a chapter leader for HC4A in Houston says, "If we reduce inequality here in the US, we will be working to reduce it globally."
"HC4A is asking us, that is Indian Americans, to reach out to other communities and give them a helping hand. We actually owe it to the pioneers that fought for civil rights in this country, to be in the position of privilege we are in today," she added. Led by Sashi Konidena, President of the Houston chapter raised over $12,000 this past year.
The Southern California chapter began in late 2019 and has already presented $5000 to the Los Angeles Community College District (LACCD). Close to 50% of the students enrolled in the LACCD fall below the poverty line.
Giving back is a metric of success for any individual or community, and it's a great reinforcement of an immigrant population's gratitude.
Karthik Pichai, a serial entrepreneur, helped start the Dallas chapter in 2019 and has already raised $10,000 for Dallas Community College. He is rallying successful entrepreneurs not just to give, but also potentially train the students in their tech companies. "I want to bring together affluent entrepreneurs with shared values. Along with our Indian American kids, we can set an example saying that we care about our local community and want to give back," he says.
Teri Benge, who was pursuing a degree in hospitality management at ACC, while keeping a full-time job, writes in her thank you note to HC4A that, "I will always remember this gesture of kindness and will one day, pay this forward by helping students achieve their goals, just as you have helped me."
As HC4A volunteers celebrate 10 years of relentless hard work, at the Asian American Resource Center, Austin, none are ready to just sit on their laurels. They laugh and cheer on as they see a 2030 vision board of Shahrukh Khan and Jennifer Lopez coming for the Gala night celebrations and a fundraising goal of a 100 million dollars.
2019 was the biggest year for HC4A as they were successful in establishing an irrevocable endowment fund for scholarships. This year about $150,000 in fellowships will go to students of various ethnic communities. To Kotecha its important that the work continue beyond him, "If us go away, the charity goes away, the fund will still be there. Legacy of the charity and donors will remain,"