Big night for South Asians, Riz Ahmed and Aziz Ansari take home Emmy's
LOS ANGELES (Diya TV) — British-Pakistani actor Riz Ahmed claimed a 2017 Emmy for Outstanding Lead Actor in a Limited Series.
Portraying Nasir "Naz" Khan in The Night Of, Ahmed plays a Pakistani college student who becomes caught up in a homicide investigation. His character also spends time in prison.
"I want to say it is always strange reaping the rewards of a story based on real-world suffering," Ahmed said when accepting the honor. "But if this show has shown a light on some of the prejudice in our societies, xenophobia, some of the injustice in our justice system, then maybe that is something."
Ahmed also thanked the South Asian Youth Action for "helping me prepare for this and The Innocence Project."
"I don't know if any one person's win of an award or one person snagging one role or one person doing very well changes something that's a systemic issue of inclusion," Ahmed later said in a press statement. "I think that's something that happens slowly over time."
Prior to Ahmed winning his Emmy, only one other person of Asian descent had won an Emmy. Archie Panjabi won Outstanding Supporting Actress in a Drama Series in 2010 for her portrayal of Kalinda Sharma on CBS's The Good Wife.
The 34-year-old actor, also known as Riz MC has starred in an array of films. He was first known for his roles in independent films The Road to Guantanamo (2006), Shifty (2008), Four Lions (2010), Trishna (2011) and Ill Manors (2012). His breakthrough role was in Nightcrawler in 2014 alongside Jake Gyllenhaal. His recent film credits include Una, Jason Bourne and the first Star Wars Anthology film, Rogue One.
Known for politically-motivated rap lyrics, he also has fostered success as a musician. He has been active in charitable work, raising funds for Syrian refugee children. His film accolades and advocacy and charity work earned him a spot on the annual Time 100 list of the most influential people in the world in 2017.
#TheNightOf star Riz Ahmed: "I don't think any one award changes the systemic problem of inclusion" #Emmys pic.twitter.com/OKzli6t14O

— Variety (@Variety) September 18, 2017
Aziz Ansari and Lena Waithe won the Emmy for 'Outstanding writing for Comedy Series' for the episode 'Thanksgiving' in the second season of Netflix's 'Master of None'. As the duo walked up to the stage to accept the Emmy, the crowd started to clap and slowly rose to a full blown standing ovation. Waithe gave the acceptance speech, thanking Aziz for "making me co-write" and thanked her "LGBTQIA family" adding "I see each and every one of you"
Ansari and Waithe beat Alec Berg of 'Silicon Valley', Donald Glover & Stephen Glover of 'Atlanta' and Billy Kimball and David Mandell of 'Veep'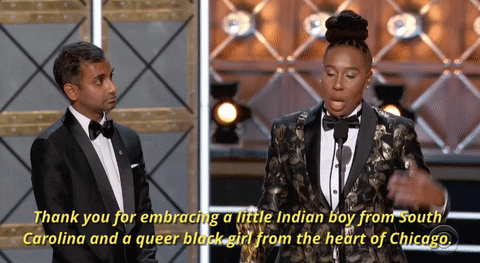 Hasan Minhaj takes on Indian Politics
SAN FRANCISCO (Diya TV) —  Disney officially closed its deal with Fox for $71.3 billion, giving Disney the keys to Twentieth Century Fox movie and TV studios, cable networks and major inroads into India through Star TV.

A new lawsuit claims Indian outsourcing firm HCL Technologies is exploiting the H-1B visa system, while discriminating against non-South Asian workers.

Dr. Pritesh Gandhi, who is now a medical school professor, announced he will run as a Democratic challenger to Republican Representative Michael McCaul in 2020 for the 10th Congressional District seat that serves Austin, Texas.

Ken Juster, America's Ambassador to India, commissioned the recreation of bright blue Indian-style murals at Roosevelt House, his official residence in India, saying he wanted to celebrate through art and architecture the deep bonds between the two nations.

And Comedian Hasan Minhaj chose not to listen to his elders and dedicated his latest episode of "Patriot Act" on Netflix to the Indian election. We wish him well.

Ravi Kapur & Alejandro Quintana contributed to this report.

White Supremacist kills 49 at New Zealand mosque
SAN FRANCISCO (Diya TV) — Two mosques in New Zealand were targeted in what appears to be a coordinated racist attack. 49 people are dead and 49 others are seriously wounded. Three people are in custody for the carnage, including a 28-year-old Australian self-proclaimed racist man who livestreamed the bloodshed.
The Bangladesh cricket team was visiting one of the mosques at the time of the attack and escaped through a park.

The U.S. announced they will build six atomic power plants in India in another major step in bettering bilateral ties. India also received a special waiver from the Nuclear Suppliers Group to sign cooperation agreements with a dozen nations.

In a one on one with FCC Chairman Ajit Pai — we'll preview our exclusive conversation with the man who's become a household name for heading one of the most important oversight agencies in the U.S. government.

Bollywood star Aamir Khan is bringing 'Forrest Gump' to the Bollywood big screen, buying the rights to the classic from Paramount. Khan will star in the title role.

And YouTube sensation Lilly Singh will become the first South Asian ever to host a broadcast network late night show, as she will take over the 1:30 a.m. time slot on NBC. "A Little Late with Lilly Singh" debuts in September.

Ravi Kapur & Alejandro Quintana contributed to this report.

WATCH: What do Priyanka Chopra's Hollywood Co-stars think of her?
LOS ANGELES (Diya TV) — Diya TV hit the pink carpet to talk with Priyanka Chopra about her role in the new rom-com Isn't it Romantic. While we were there, we also spoke with her co-stars to see what they had to say about working with her.

Kenneth High contributed to this report.