Big night for South Asians, Riz Ahmed and Aziz Ansari take home Emmy's
LOS ANGELES (Diya TV) — British-Pakistani actor Riz Ahmed claimed a 2017 Emmy for Outstanding Lead Actor in a Limited Series.
Portraying Nasir "Naz" Khan in The Night Of, Ahmed plays a Pakistani college student who becomes caught up in a homicide investigation. His character also spends time in prison.
"I want to say it is always strange reaping the rewards of a story based on real-world suffering," Ahmed said when accepting the honor. "But if this show has shown a light on some of the prejudice in our societies, xenophobia, some of the injustice in our justice system, then maybe that is something."
Ahmed also thanked the South Asian Youth Action for "helping me prepare for this and The Innocence Project."
"I don't know if any one person's win of an award or one person snagging one role or one person doing very well changes something that's a systemic issue of inclusion," Ahmed later said in a press statement. "I think that's something that happens slowly over time."
Prior to Ahmed winning his Emmy, only one other person of Asian descent had won an Emmy. Archie Panjabi won Outstanding Supporting Actress in a Drama Series in 2010 for her portrayal of Kalinda Sharma on CBS's The Good Wife.
The 34-year-old actor, also known as Riz MC has starred in an array of films. He was first known for his roles in independent films The Road to Guantanamo (2006), Shifty (2008), Four Lions (2010), Trishna (2011) and Ill Manors (2012). His breakthrough role was in Nightcrawler in 2014 alongside Jake Gyllenhaal. His recent film credits include Una, Jason Bourne and the first Star Wars Anthology film, Rogue One.
Known for politically-motivated rap lyrics, he also has fostered success as a musician. He has been active in charitable work, raising funds for Syrian refugee children. His film accolades and advocacy and charity work earned him a spot on the annual Time 100 list of the most influential people in the world in 2017.
#TheNightOf star Riz Ahmed: "I don't think any one award changes the systemic problem of inclusion" #Emmys pic.twitter.com/OKzli6t14O

— Variety (@Variety) September 18, 2017
Aziz Ansari and Lena Waithe won the Emmy for 'Outstanding writing for Comedy Series' for the episode 'Thanksgiving' in the second season of Netflix's 'Master of None'. As the duo walked up to the stage to accept the Emmy, the crowd started to clap and slowly rose to a full blown standing ovation. Waithe gave the acceptance speech, thanking Aziz for "making me co-write" and thanked her "LGBTQIA family" adding "I see each and every one of you"
Ansari and Waithe beat Alec Berg of 'Silicon Valley', Donald Glover & Stephen Glover of 'Atlanta' and Billy Kimball and David Mandell of 'Veep'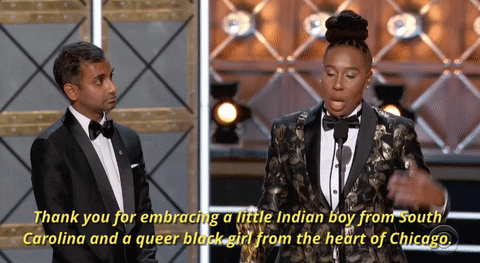 IFFLA celebrates 20 years with a focus to mentor the next generation
LOS ANGELES (Diya TV) — IFFLA celebrated their 20th anniversary with familiar faces, overwhelming excitement and new additions to Southern California's largest Indian and South Asian focused film festival.
Pan Nalin opened the festival with his film Last Film Show, a love letter to cinema and loosely based on his childhood.
"I think IFFLA over the years, it has been like a home in Hollywood. So I was always able to come here and invite people from the industry to see these movies," said Nalin. "There are producers who usually don't go to see Indian cinema. So I feel that it's really important."
Director Anurag Kashyap returned to host a MasterClass — a way to give back to the festival and fellow filmmakers.
"It is always good to be back here because for me this is where it all started from. And it's amazing to see that this festival has grown so much and has been sustaining for so long," said Kashyap.
New filmmakers were honored to be part of the lineup this year, especially after no in-person IFFLA for the last two years.
Hena Asraf, Director of The Return, shares "it feels a little unreal. It feels great! I think especially to be at a festival in person, after over two years."
"The community is amazing. The welcome is very warm. It feels just so honoring to be a part of this festival and amongst these filmmakers. I can't wait to see all the other films," said The Return Editor Esther Shubinski.
It's that family feeling that makes IFFLA special and keeps filmmakers, attendees, and staff keep coming back.
Actor and director Ravi Kapoor is "just so grateful for this festival. It has been such a supporter of me. And they've helped bring the South Asian diasporic community here in LA together as well. Thank god they've lasted 20 years."
Actor & musician Monica Dogra points out "what's wonderful about IFFLA [is] it's super niche, South Asians in LA of all places. [And] it's small enough so you actually see people anyway."
Actor Pooja Batra added, "I think they've always been eclectic with their mix of selection that they bring around here — smaller budget, smaller sort of productions also need a shout out."
One of the new additions this year is the Spotlight on South Asia.
Festival founder Christina Marouda added this vertical to present films from different countries like Pakistan, Afghanistan and Nepal. "We're putting a spotlight on projects we want to support," said Marouda.
The other major new change this year was a live table read of IFFLA alum Kahlil Maskati's feature script, Alim Uncle, rather than a closing night film. Fawzia Mirza directed the piece.
These changes reflect IFFLA's commitment to supporting filmmakers while giving audiences more than a viewing experience. In fact, they are able to be part of the filmmaking process.
Marouda says after 20 years, this is IFFLA's direction moving forward — a full effort to mentor budding filmmakers, while showcasing new films.
Ravi Kapur and Deepti Dawar contributed to this report.
Garcetti's ambassadorship to India in limbo
WASHINGTON DC (Diya TV) — Republican Senator Chuck Grassley has lifted the "hold" on the Senate confirmation of Los Angeles Mayor Eric Garcetti, who has been nominated by US President Joe Biden as the country's next ambassador to India. Initially, Grassley planned to object to the nomination, saying Garcetti failed to properly investigate sexual assault allegations and harassment by a close advisor.
Protesters in Sri Lanka have burned down homes belonging to 38 politicians as the crisis-hit country plunged further into chaos, with the government ordering troops to shoot anyone caught destroying property. Even the former Prime Minister had to be evacuated from his home. Angry Sri Lankans continue to defy a nationwide curfew to protest against what they say is the government's mishandling of the country's worst economic crisis since 1948.
Internationally recognized Indian American energy expert Arun Majumdar will head the new Stanford University Doerr School of Sustainability, which aims to tackle urgent climate and sustainability challenges,
Ravi Kapur contributed to this report.
LA Kings host first Indian cultural night
LOS ANGELES (Diya TV) — The Los Angeles Kings hosted their first Indian Cultural Night at the Crypto.com Arena, a new initiative intended to broaden their appeal to a growing demographic. Many of the guests in attendance and the special invitees on hand talked about what the representation of the evening means to them.
Robin Bawa, the first South Asian NHL Player, said "this is great. This is a good idea that the Kings are doing. The first Indian Cultural Night here in the US, and they did a good job – coming down here to be part of this was also a great honor. You know it is all about spreading the word and getting the Indian community involved in these types of things and bringing them out to games."
"We are here to grow the game, and this allows other people to understand the game and really get embraced by it," said Dampy Brar, APNA Hockey Co-Founder. "So there's a lot of South Asian families and population here. When they have nights like this, more will come, more will get introduced to hockey, educate themselves. So to be part of this night and to be able to do what I did today was special."
Amrit Gill, host of Hockey Night in Canada Punjabi Edition, concurred. "If you can see it, you can be it, as cliche as it sounds. It is one of the most powerful tools in helping create more inclusion not only in sports, but in society as well. So I am over the moon to be here, but this is just the beginning."
Indian American TikTok stars Kiran and Nivi sang the National Anthem. Kiran explained that this is their "first time attending a game and performing the national anthem." Nivi added she was "just so grateful to be part of this."
Indian American actress Sway Bhatia says representation matters in sports and media. Bhatia portrays a hockey player on Disney's brand new Mighty Ducks TV show.
"Seeing so many people with faces of color, and to be one of those people, is just so empowering," said Bhatia. And you know, other people in the stadium are able to see who we are and see what we do. I mean we had two amazing brown people of color sing the national anthem, which was so beautiful."
Organizers are calling the evening a success after a larger than expected turnout and hope this continues to expand the popularity of the game.
Randip Janda, Hockey Night in Canada Punjabi Edition Host, points out that "this is a moment where not only hockey fans are able to celebrate what's going on tonight but this is a community coming together and celebrating those common bonds whether you're Indian, whether South Asian or not. A celebration like this, it shows you something. That the rink, where you go and you might be having a bad day but you're going to celebrate. Win, lose or draw, it should be a party every single time. I think this helps us understand people around us and our communities and hockey can be a vessel of that."