DC South Asian Film Festival brings star power to independent cinema
WASHINGTON (Diya TV) — Award-winning Indian actress Zeenat Aman was the headliner at the sixth annual South Asian Film Festival. Aman, who was a prolific film star in the 70s and 80s, was one of many stars featured in the three-day festival held in Washington, D.C.
The 66-year-old starred in a plethora of films, including Hare Rama Hare Krishna in 1971, Yaadon Ki Baaraat in 1973, Warrant in 1975, Satyam Shivam Sundaram and Don in 1978, Insaaf Ka Tarazu, Qurbani and Dostana in 1980 and Lawaaris in 1981.
"I have worked in about 80 films as a main female protagonist and in about 8-10 others where I have played important character parts," she said at an opening kickoff event for the Festival.
Attracting some of the best and brightest from the world of art cinema, the three-day event is organized by Manoj and Geeta Singh.  Acclaimed guests included: Aman, Montgomery County Executive Ike Leggett, Delegate Aruna Miller (now running for Congress in Maryland's 6th Congressional District), directors Anant Mahadevan, Vinay Pujara, Indira Somani, Azaan Khan, Mehreen Jabbar, Harjant Gill, and local artists Meera Narasimhan and Rajiv Paul, who served as emcees.
Oscar Winning Director and Producer Jeffrey D. Brown (Sold, 2016; Molly's Pilgrim, 1985 – Oscar, Best Short Film, Live Action; Dream with the Fishes, 1997 plus TV shows such as L.A. Law and The Wonder Years) praised the event in a statement on the event website: "DCSAFF was amazing!  The films, the community and the love we felt was profound and nourishing for the soul."
Geeta Singh remarked how the event gives considerable prominence to women-centric films, those which highlight issues affecting women and girls such as Deepa Mehta's documentary, Anatomy of Violence.
There is also a charitable component, with appearing directors supporting a non-profit organization which helps victims of domestic violence in the South Asian community.
Held on Montgomery College's Rockville campus, the event boasted a wide variety of independent films.
Well respected director, Anant Mahadevan talked with attendees at the opening gala. His film, Doctor Rakhmabai (120 minutes, Marathi with English subtitles), about India's first practicing woman doctor was screened at the event. Other films included a trilogy of films starring Adil Hussain — Hotel Salvation, The Violin Player and Mantra; Punjabi films — The Black Prince by Kavi Raz, starring renowned actress Shabana Azmi and singer Satinder Sartaaj, Moh Dia Tandhaa directed by Priyanka Gill, Sent Away Boys by Harjant Gill; works of Pakistani independent cinema – Lala Begum by Mehreen Jabbar, Saawan by Farhan Alam, and the 100 Steps documentary by Shahnawaz Zalli.
The festival also included several selections by U.S.-based filmmakers: Clash of Morality directed by Vinay Pujara; Five O'Clock Shadow; Birds in Flight; Surrogate; Stalking Shadows; The Valley and Bretton Place.
Sanders defends Gabbard over Clinton accusation
NEW YORK (Diya TV) — Sparks flew when Hillary Clinton implied Russians were 'grooming' Tulsi Gabbard for a third-party run. Gabbard blasted Clinton and got a fresh jolt of support for her campaign. Staunch supporters for Clinton like Neera Tanden continue to criticize Gabbard for her meeting with Syrian President Bashar al-Assad, among other reasons. Presidential candidates are also chiming in, with Andrew Yang, Marianne Williamson and Bernie Sanders all standing up for Gabbard. Sanders, who Gabbard supported in 2016 over Clinton, said in a tweet "people can disagree on issues, but it is outrageous for anyone to suggest that Tulsi is a foreign asset.
Indian American attorney Rik Mehta announced he intends to challenge Sen. Cory Booker in New Jersey's Democratic primary, criticizing Booker for spending more time running for President than looking after New Jersey.
The U.S.-India Strategic Partnership Forum held its annual meeting in New Delhi, featuring prominent business leaders, American ambassador to India Ken Juster and Indian Prime Minister Narendra Modi, who spoke about India's efforts to aid startups and bolster innovation.
Ravi Kapur contributed to this report.
Breaking: Clinton, Gabbard spar in 2016 rehash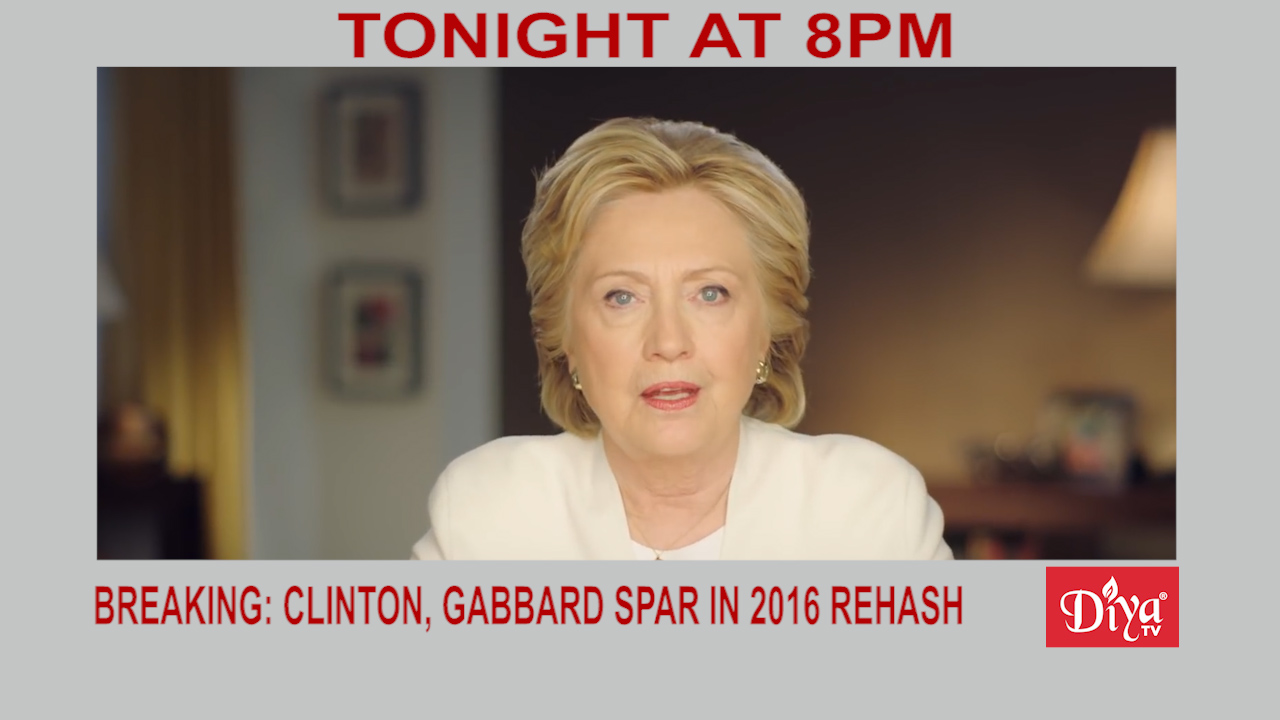 NEW YORK (Diya TV)  — In 2016, former Secretary of State Hillary Clinton was the Democratic nominee, staving off a fierce challenge from Sen. Bernie Sanders. Rep. Tulsi Gabbard decided to resign from her post as Democratic National Committee Vice-Chair to support Sanders over Clinton. Now, both ladies have taken the gloves off, after Clinton on a podcast indirectly referenced Gabbard by saying the Russians were "grooming her to be the third-party candidate." Gabbard responded on Twitter, calling Clinton the "queen of warmongers [and] embodiment of corruption."
The granddaughter of Mahatma Gandhi, Ela Gandhi, spoke at an event organized by Cal State Fresno about how her grandfather's work, was not only was significant in its time, but how those principles still hold relevance in a new century.
The University of Houston announced an endowment to support the study of the Tamil language and culture. Non-profit Houston Tamil Studies Chair made a $2 million commitment to the university to kickstart the study of Tamil heritage. The Tamil language is considered the oldest in the world, spoken by more than 70 million people worldwide, with 250,000 Tamilians in the United States.
President Trump announced Energy Secretary Rick Perry is stepping down from his role to pursue other interests. His deputy Dan Brouillette was nominated as his replacement.
And for all of our incredible viewers in Chicagoland, rescan your TV sets this weekend to watching Diya TV and the rest of the channels in the market. We recommend a high quality VHF/UHF antenna so you can keep getting Diya TV on WRJK Channel 22.1 for free!
Ravi Kapur contributed to this report.
Indian Ambassador, Shringla speaks to U.S. Congress about Kashmir
WASHINGTON (Diya TV) — Indian Ambassador to the U.S. Harsh Shringla met with members of Congress at a private roundtable briefing, hosted by Southern California Congressman Brad Sherman. Sherman, who has been a supporter of India, took to Twitter recently to share his concerns about Kashmir and said serious questions about Kashmir were asked at the briefing.
President Trump is being urged to fix the H1-B visa process and do away with country-specific limits, with the latest effort for reform being spearheaded by 60 U.S. business school deans and CEO's.
In an earthquake, seconds matter. So on the anniversary of the deadly 1989 Loma Prieta earthquake that rocked Northern California, state officials announced the launch of America's first statewide earthquake early warning system.
Tabla Maestro Zakir Hussain will be coming to Boston next month to perform at the Berklee India Exchange, where he will also be conferred with an honorary doctorate by the esteemed music school. A Zakir Hussain Scholarship at Berklee is also being established.

And we have incredible video of three kids from India rescuing their dog from a snake that's equal parts courageous and nuts.
Ravi Kapur contributed to this report.