DC South Asian Film Festival brings star power to independent cinema
WASHINGTON (Diya TV) — Award-winning Indian actress Zeenat Aman was the headliner at the sixth annual South Asian Film Festival. Aman, who was a prolific film star in the 70s and 80s, was one of many stars featured in the three-day festival held in Washington, D.C.
The 66-year-old starred in a plethora of films, including Hare Rama Hare Krishna in 1971, Yaadon Ki Baaraat in 1973, Warrant in 1975, Satyam Shivam Sundaram and Don in 1978, Insaaf Ka Tarazu, Qurbani and Dostana in 1980 and Lawaaris in 1981.
"I have worked in about 80 films as a main female protagonist and in about 8-10 others where I have played important character parts," she said at an opening kickoff event for the Festival.
Attracting some of the best and brightest from the world of art cinema, the three-day event is organized by Manoj and Geeta Singh.  Acclaimed guests included: Aman, Montgomery County Executive Ike Leggett, Delegate Aruna Miller (now running for Congress in Maryland's 6th Congressional District), directors Anant Mahadevan, Vinay Pujara, Indira Somani, Azaan Khan, Mehreen Jabbar, Harjant Gill, and local artists Meera Narasimhan and Rajiv Paul, who served as emcees.
Oscar Winning Director and Producer Jeffrey D. Brown (Sold, 2016; Molly's Pilgrim, 1985 – Oscar, Best Short Film, Live Action; Dream with the Fishes, 1997 plus TV shows such as L.A. Law and The Wonder Years) praised the event in a statement on the event website: "DCSAFF was amazing!  The films, the community and the love we felt was profound and nourishing for the soul."
Geeta Singh remarked how the event gives considerable prominence to women-centric films, those which highlight issues affecting women and girls such as Deepa Mehta's documentary, Anatomy of Violence.
There is also a charitable component, with appearing directors supporting a non-profit organization which helps victims of domestic violence in the South Asian community.
Held on Montgomery College's Rockville campus, the event boasted a wide variety of independent films.
Well respected director, Anant Mahadevan talked with attendees at the opening gala. His film, Doctor Rakhmabai (120 minutes, Marathi with English subtitles), about India's first practicing woman doctor was screened at the event. Other films included a trilogy of films starring Adil Hussain — Hotel Salvation, The Violin Player and Mantra; Punjabi films — The Black Prince by Kavi Raz, starring renowned actress Shabana Azmi and singer Satinder Sartaaj, Moh Dia Tandhaa directed by Priyanka Gill, Sent Away Boys by Harjant Gill; works of Pakistani independent cinema – Lala Begum by Mehreen Jabbar, Saawan by Farhan Alam, and the 100 Steps documentary by Shahnawaz Zalli.
The festival also included several selections by U.S.-based filmmakers: Clash of Morality directed by Vinay Pujara; Five O'Clock Shadow; Birds in Flight; Surrogate; Stalking Shadows; The Valley and Bretton Place.
Redacted Mueller report, detailing Russian election meddling, released
WASHINGTON (Diya TV) — A redacted version of the Mueller report is now public. The 448 page document is the result of a two year investigation into Russian meddling in the 2016 election. Democrats say the report shows President Trump tried to obstruct justice. But Trump's campaign in a statement says otherwise.

Read the redacted report here.
Indian External Affairs Minister Sushma Swaraj said no Pakistani soldier or citizen died in the Indian Air Force air strike in response to the Pulwama terror attack in February, reversing claims made by other officials after the strike.

Anita Malik announced she is running once again for Arizona's 6th Congressional District seat. She fell short last year. But this time, she will face additional competition, as fellow Democrat Dr. Hiral Tipirneni (Ti-per-neh-knee) as also running for this seat.

And Hasan Minhaj won another Peabody, his second in a row, for his work on "Patriot Act with Hasan Minhaj."

Ravi Kapur & Alejandro Quintana contributed to this report.

U.S. and India conduct joint military drill on Diego Garcia in Indian Ocean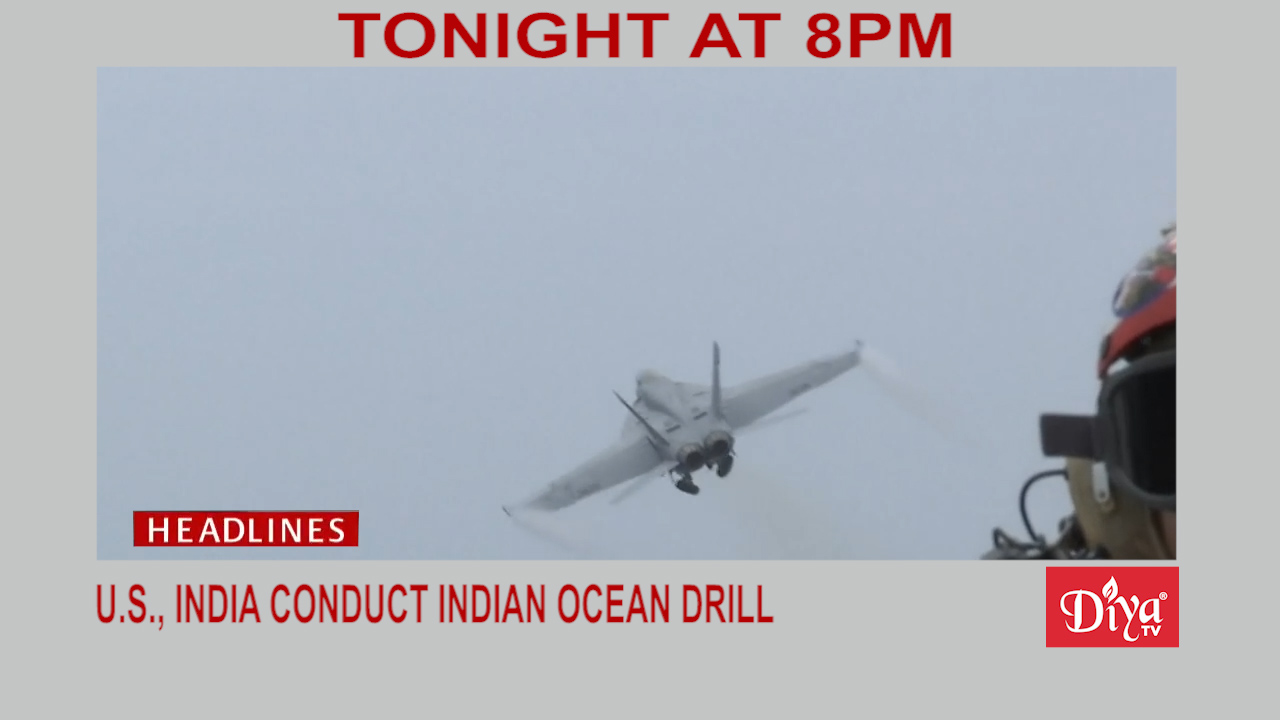 DIEGO GARCIA, Indian Ocean (Diya TV) — The U.S. and Indian Navies went submarine hunting in the Indian Ocean, their first bilateral anti-submarine warfare exercise since a signing pact to work more closely together last fall.

India's exports to China are up in 2019, while imports declined, leading to a $10 billion reduction in India's trade deficit with China. Analysts say the current Washington-Beijing trade war has also opened things up for India.

The Jallianwala Massacre 100 years ago that left hundreds dead and 1200 injured at the hands of British troops is considered a key turning point towards a free India. British prime minister Theresa May marked the occasion by expressing "deep regret", but there are still no apologies.

An effort by an American and British companies to help Jet Airways founder Naresh Goyal save the airline from collapse dissolved after Etihad Airways and TPG Capital threatened to walk away themselves if Goyal was part of the deal.

And comedian Hasan Minhaj, who won a 2017 Peabody Award, received another Peabody nomination in the entertainment category for his Netflix show, "Patriot Act with Hasan Minhaj."

Ravi Kapur & Alejandro Quintana contributed to this report.

Women filmmakers shine at the 2019 Indian Film Festival of Los Angeles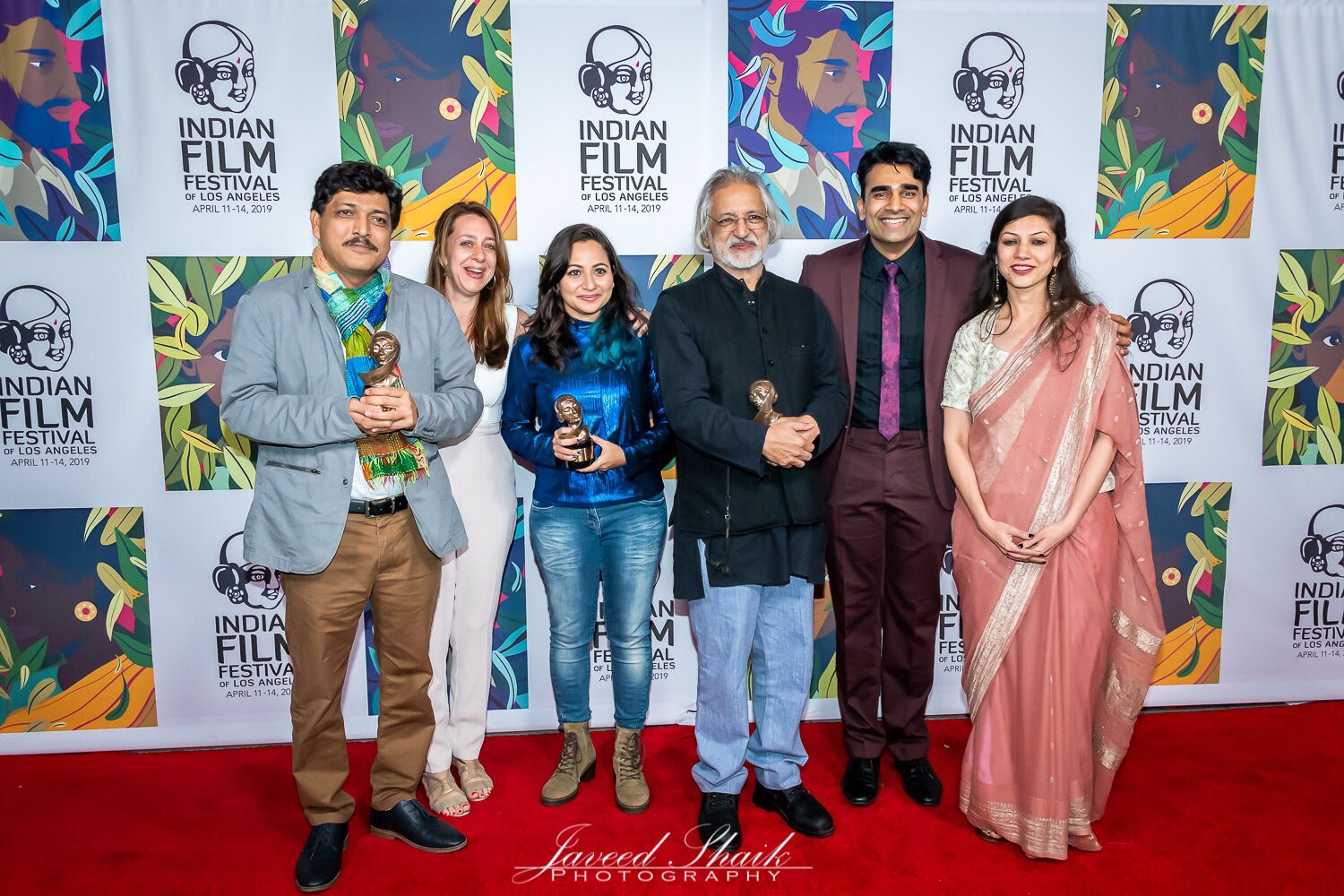 LOS ANGELES (Diya TV) — The 17th annual Indian Film Festival of Los Angeles (IFFLA) concluded Sunday night with the zany slice-of-life film, The Odds, directed by Megha Ramaswamy. Complete with a glamorous closing night red carpet, and an awards ceremony, the festival ended with an after party at the Spice Affair in Beverly Hills.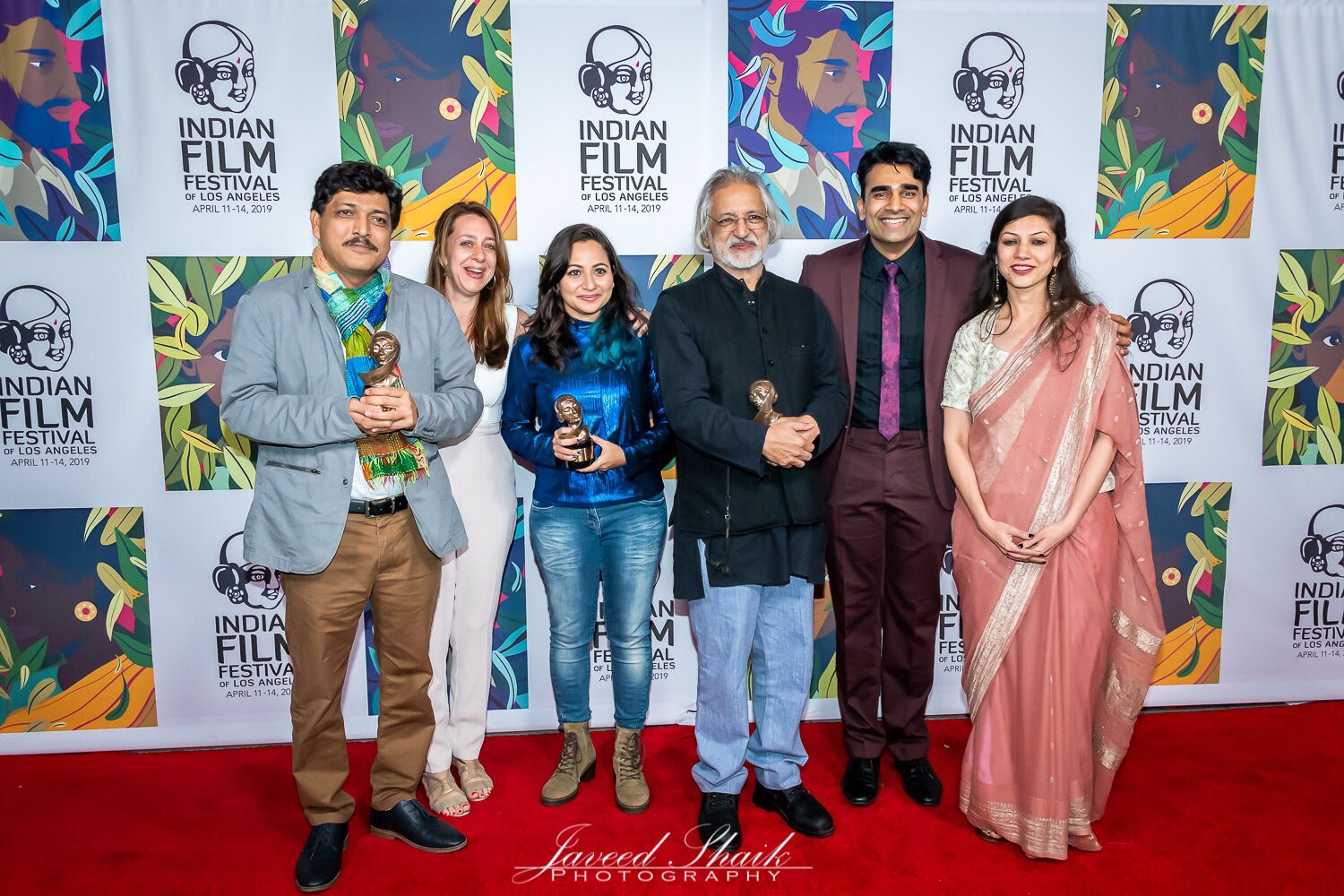 IFFLA was only four days this year (compared to five days in previous years), but there was still so much to see during that time. In addition to the curated set of films, there was an incredible panel discussion, Breaking in Brown: Making it to Series in TV's Golden Age, that featured panelists working in various fields in the television industry and their struggles to rise up through the ranks in the Hollywood while being brown.
This year's film lineup boasted five world premieres, two North American premieres, two U.S. premieres and eleven Los Angeles Premieres, with films presented in nine different languages. The overall atmosphere was very relaxed, even with films that tackled difficult subject matters. Roughly fifty percent of the films were directed by women. Filmmakers and staff alike hoped for a future where it will be normal to have women and men equally making films.

Kicking off the awards ceremony, Director of Programming, Mike Dougherty, announced the winner of the Grand Jury Prize for Best Feature, Widow of Silence.
"We present the Grand Jury prize to a film that illuminates a condition that most of the world doesn't get to see and shines a light on the characters that live through it everyday…This filmmaker's civic disobedience illustrates their love and compassion for their country and their people, and the craft of their film-making was beautifully wise and refined."
Director Praveen Morchhale was visibly surprised as he walked up to receive his award. The film he said was about those, "that nobody talks about and nobody treats them as a human." Even though it was Morchhale's first time at IFFLA, he felt as if he had been coming here for many years. He credited his win to the women in Kashmir the film portrayed.
The Audience Award for Best Feature went to Reason. Director Anand Patwardhan received a standing ovation when he went to collect his award. Patwardhan said, "most of the time our film is getting thrown out of festivals, I wasn't expecting this." He added that it meant a lot for the film to be well received at IFFLA and how that will hopefully impact its reception in India.
Shazia Iqbal's Bebaak was a crowd favorite winning the Audience Award For Best Short Film. The jury mentioned how she almost gave up on filming because she was getting thrown out of mosques. Iqbal spoke about how when people think of Muslims, they only think of Muslim men and not women, many of whom experience tremendous misogyny. She hopes people will be able to "see beyond what misogyny and religion does to people." Iqbal added, "a director is nothing without their team."

"a layered portrait of a woman determined to pursue her needs and impulses," the Grand Jury awarded their prize for Best Short to The Field from director Sandhya Suri. "the film takes images that normally evoke a sense of fear and flips the narrative on its head redefining a new more empowered world for the female protagonist and exploring an often unseen story of a woman's drive and agency over her own body and life," the jury added.

After the awards, Dougherty introduced the closing night film, The Odds by saying the film was the "perfect way to close IFFLA on a celebratory note."