First-ever Sikh, Jasleen Kaur Josan will travel to Mars
Jasleen Kaur Josan will be the first Sikh traveling to outer space and the first to visit Mars.
WASHINGTON (Diya TV) — Jasleen Kaur Josan will be the first Sikh traveling to outer space and the first to visit Mars.
Josan is part of the two-way Orion Mission in 2030, which will see the crew members return to Earth. An earlier mission to Mars in 2020 will be a one-way colonization effort, so Josan will be among the very first humans to be on Mars. According to quotes attributed to Josan, it'll take nine months to reach Mars, with three months being spent on the planet, while it'll take another nine months to return. The mission will take 21-months to complete. She and the Orion crew will be the first humans to visit Mars.

The 25-year-old was named by NASA in collaboration with the International Space Education Institute as an International Space Ambassador in 2013 and chosen to be a researcher for NASA's Orion Mission last year. "I do feel very proud to be part of such a mission.Technology is booming and things are going to change in another 15 years. It all depends on my capabilities and determination and how I take to these changes. I'm not nervous exactly, but just really excited and looking forward to what the future brings," she stated in an article. With the introduction of many more companies such as Sent Into Space and more, offering education to children about the wonderful mysteries of space, the future seems bright for potential space lovers and astronauts.
Astronauts aboard the Orion spacecraft will explore the asteroid that will be placed in orbit around Mars, returning to Earth with samples. The "experience in human spaceflight beyond low-Earth orbit will help NASA test new systems and capabilities, such as Solar Electric Propulsion, which we'll need to send cargo as part of human missions to Mars," states NASA. Developing the capabilities needed to send humans to an asteroid by 2025 and Mars in the 2030s were goals outlined in the bipartisan NASA Authorization Act of 2010 and in the U.S. National Space Policy, also issued in 2010.
Born in Kurukshetra, Haryana, India, one of her inspirations is astronaut Kalpana Chawla, who was the first Indian woman to enter space in 1997.
Josan obtained her bachelor's degree in aeronautical and aerospace from Sathyabama University in Chennai. In her second year studying there, she proposed her research on a Mars Mission to NASA — it was selected for an international conference by the American Society of Safety Engineers. She was invited to give an oral presentation at the Kennedy Space Center in Orlando. She received the best presentation award. She is currently pursuing an integrated space science degree from the University of Alabama. She has been a NASA research scientist for over four years.
India's Republic Day celebrated around the world
NEW DELHI (Diya TV) — India held massive celebrations for Republic Day, a day to mark the signing of the Indian Constitution in 1950, featuring floats and a military parade. The revelry extended to the U.S. as well, where Indian Americans also took part in events held by Indian consulates, like this gathering in San Francisco.
Those against the Indian government's new Citizenship Law took the occasion of Republic Day to demonstrate, the largest gathering of which was in Washington, DC, where hundreds of people took to the streets.
President Trump's impeachment trial continued, with his defense team deeming the House Articles of Impeachment as an abuse of the Constitution and a partisan game. Meanwhile, Trump's former National Security Advisor John Bolton revealed in his new book Trump withheld aid to Ukraine until the country would investigate his political opponents, Joe and Hunter Biden. This revelation has Democrats demanding Bolton testify.
And retired Los Angeles Lakers legend Kobe Bryant died tragically in a helicopter crash in Southern California. He was only 41, losing his life alongside 8 others including his teenage daughter.
Ravi Kapur contributed to this report.
Indian Americans now 2nd largest immigrant group in the US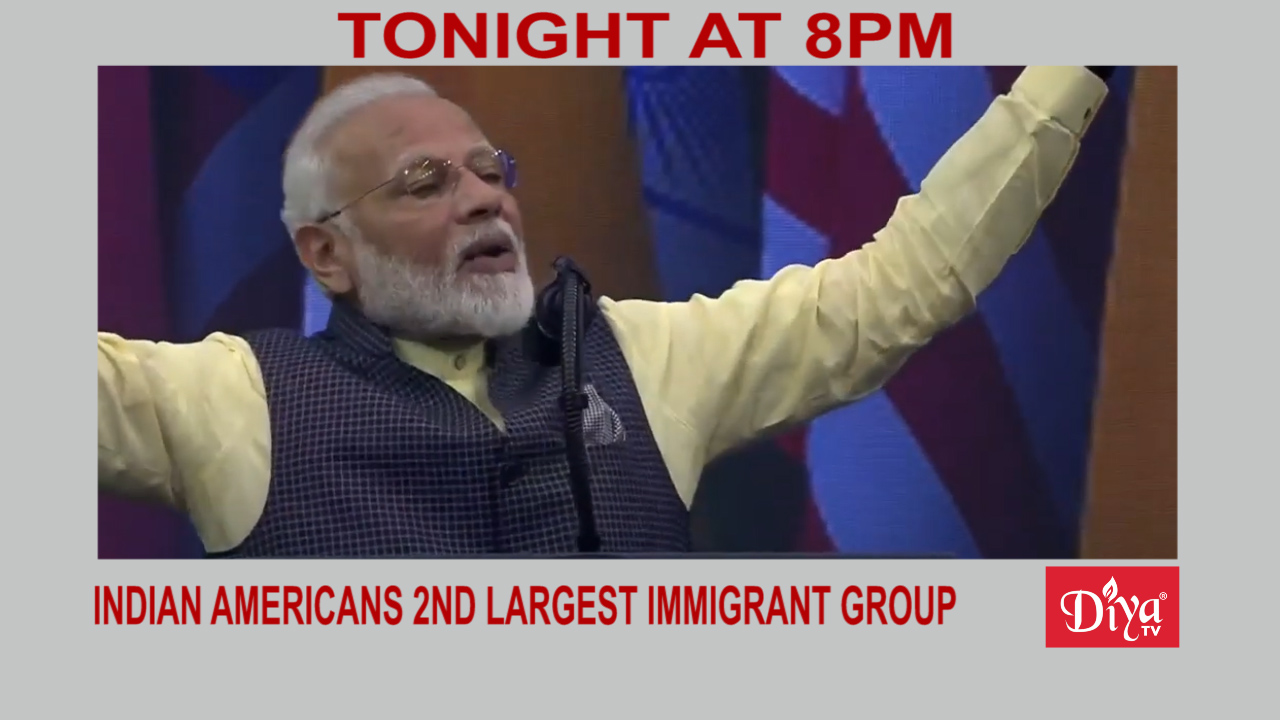 WASHINGTON (Diya TV)  — New data released indicates Indian Americans are now the second largest immigrant group conferred with American citizenship, behind only the Mexican community. Individuals born in India made up 6.9% of the total number of new American citizens, reflecting a rise of 2.7% over the previous year.
Democrats made their final opening argument on the fourth day of President Trump's impeachment trial. A new recording played before the Senate demonstrated the President wanted former U.S. Ambassador to Ukraine Marie Yovanovitch fired, saying on tape: "Get rid of her! Get her out tomorrow. I don't care. Get her out tomorrow. Take her out. Okay? Do it."
The Pentagon says 34 American troops have brain injuries from the missile strike launched by Iran in retaliation for the killing of Qasem Soleimani.
More than 800 people have been diagnosed with the Coronavirus, the ailment that began in China and is spreading around the globe. At least 26 people are dead. Hospitals in China are overwhelmed with patients. The disease has reached Vietnam, Singapore, Japan, South Korea, Taiwan, Thailand and the U.S.
Pharma exec John Kapoor gets 66 month prison sentence
BOSTON (Diya TV)  — Former billionaire CEO John Kapoor was sentenced to 66 months in prison, the culmination of a criminal trial in Boston resulting in the first successful prosecution of a pharmaceutical executive tied to the opioid epidemic. The 76-year-old founder of Insys Therapeutics made the potent opioid painkiller Subsys.
Senators reconvened in the Capitol for the third day of President Trump's impeachment trial. House Democrats argued the president abused his power by pressuring Ukraine for his own personal gain, often playing video of Trump speaking publicly to make their point.
Pakistani Prime Minister Imran Khan at the World Economic Forum in Davos said Osama bin Laden was able to find refuge in Pakistan because groups like Al Qaeda were viewed as "heroes" rather than terrorists. In May 2011, bin Laden was killed by US Special Forces in Pakistan, near one of their military bases.
India is considering incentives to woo Apple and Samsung's suppliers to open factories in the country.
Ravi Kapur contributed to this report.