Angad Singh Padda's speech inspires U.C. Berkeley Commencement Class
BERKELEY, Calif. (Diya TV) — Angad Singh Padda woke up last Monday morning prepared to celebrate the culmination of all his hard work at UC Berkeley's undergraduate commencement ceremony.
He sat cross-legged on the Greek Theatre stage next to Dean Rich Lyons, and began to beat on classical Indian drums called the Tabla.
"That intense beat right there was everybody's heartbeat right before we opened our admissions letters," said Padda, who wore a bright yellow turban that was inspired by Cal colors. "When I got in I was so happy my face was as bright as this turban."
"On a serious note," he continued. "for this speech to work I need everybody's help. For a couple of seconds, please, close your eyes everybody. Think about that one problem that matters most to you, that one issue you really need resolved to make this world a better place. Now open your eyes. That right there is the core of my speech today."
Just six months ago, Padda was among 30 of his fellow Haas undergraduate classmates who had auditioned for the role and honor of the commencement's speaker. When he was ultimately selected, Padda went out and asked more than 70 classmates what mattered to them most.
While he took all of their considerations to heart, Padda said he never drafted an official address for his remarks.
"If I was to memorize a speech and write it down I wouldn't be able to feel it and connect with the audience," he said.
The talk, which he titled "A Sikh's graduation speech to unite the world," centered on the idea that we are all one and can all unite to solve global problems. He spoke of losing two best friends to drugs in his home state of Punjab, and said his plan when coming to the U.S. was to become successful enough to return home and fight the scourge of drug abuse.
Then he turned to some the problems his classmates had shared with him.
"Whenever there's a kid in Oakland who can't afford school, that's a problem," he said. "Whenever climate change wipes out a species, that's a problem. Whenever a Muslim woman gets bullied because of her hijab, or a Jewish man because of his yarmulke, or a Sikh man because of his turban, that is a problem. When a father in Syria cries because he lost his entire family to a missile strike, that's a problem."
He urged the other undergraduates in attendance at the ceremony "to use our education to go beyond ourselves to make this world a better place. We want to unify this world. That's the core spirit of every student right here. That is who we are."
Padda, who accepted a job at JP Morgan as an investment banker, will leave soon to begin training in New York, and will start working in San Francisco after that.
"Berkeley is like home for me," he said. It is in Berkeley where Padda said he's received the sort of protection and welcoming spirit many of his fellow Sikhs across the U.S. have not. "I have so many friends across the U.S. who wear turbans. One friend was called Osama Bin Laden and told "Get out. You don't belong here."
BREAKING: Supreme Court Justice Ruth Bader Ginsburg dies at 87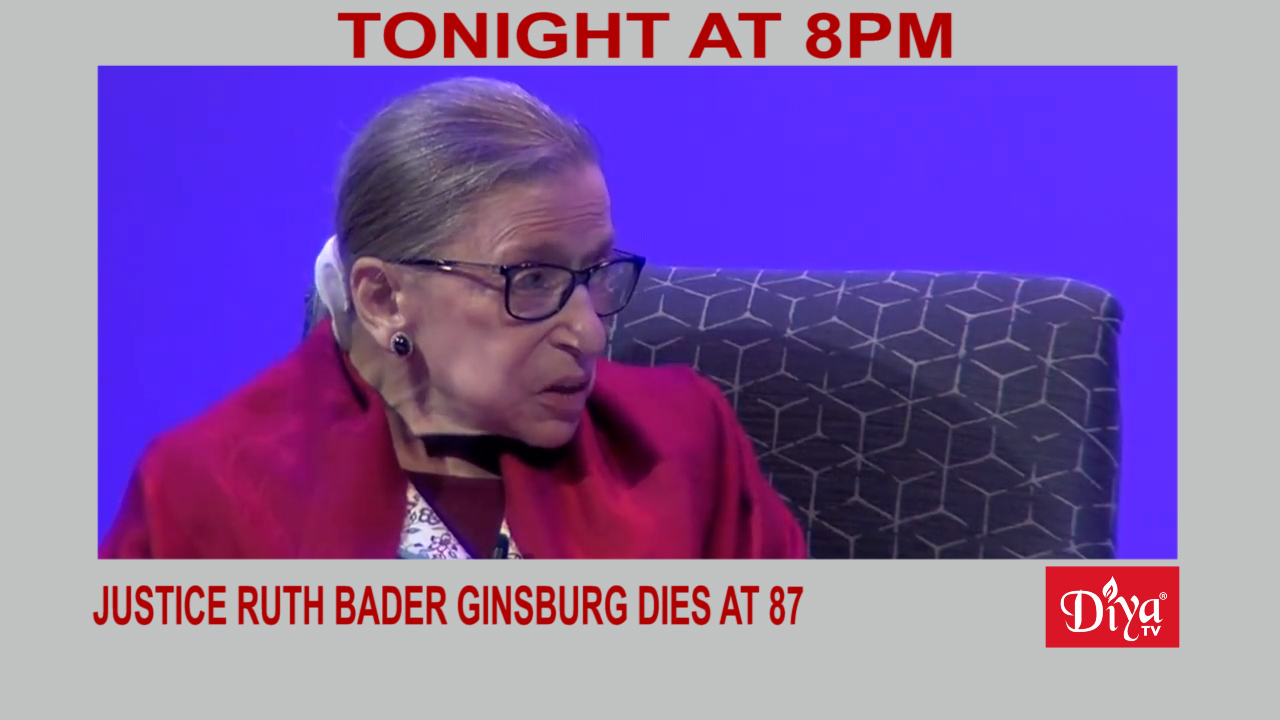 WASHINGTON (Diya TV) — Supreme Court Justice Ruth Bader Ginsburg has died at 87. She was the oldest sitting member of the court. Justice Ginsburg was only the second woman named to the Supreme Court. A cultural and feminist icon, Ginsburg was appointed to the Court by President Bill Clinton, and her passing will set off a showdown in the coming weeks before the November election. In a message left this week as her health waned, Ginsburg said "my most fervent wish is that I will not be replaced until a new president is installed." But Senate Majority Leader Mitch McConnell shortly after Ginsburg's death was announced said the Senate will conduct a vote to replace her and President Trump is expected to put forth a nominee to fill the seat in the coming days.
An Indian American doctor filed a federal lawsuit against the Aurora, Colorado police department after one of their police officers pointed a gun at him on his own property while he was trying to park his car. The incident was captured on video. The officer, Justin Henderson, has been suspended for 40 hours without pay and will be required to attend de-escalation training. 45 year old Dr. Paramjit Parmar, who is known in Aurora for his aid to refugees, believes race affected how he was treated and said Henderson's punishment is "terribly inadequate."
Ravi Kapur contributed to this report.
Recall efforts against Kshama Sawant moves forward
SEATTLE (Diya TV) — The recall effort against Seattle City Councilwoman Kshama Sawant can move forward after a ruling by a King County judge. Superior Court Judge Jim Rogers said four of the six accusations against Sawant are legitimate. They include misuse of city resources, misuse of her position by letting protesters into City Hall, relinquishing her duties of office to an outside political organization and leading a protest to Seattle Mayor Jenny Durkan's house despite her address being protected due to threats from her time as a U.S. Attorney. 
Now, the group of residents leading the recall must get about 11,000 valid signatures before the recall gets on the ballot. Sawant in response said this battle is just the latest attempt by corporate interests and Mayor Durkan to derail her efforts to reform the city and announced she will lead a grassroots campaign to fight the charges.
Meanwhile, Seattle Mayor Jenny Durkan is facing heat as well from U.S. Attorney General William Barr, who suggested prosecutors consider filing charges against her over the mass protests this summer that led some protesters to establish a police-free zone in downtown Seattle. In a tweet, former U.S. Attorney Preet Bharara offered his help to Durkan pro-bono.
Indian Prime Minister Modi turned 70 years old and received birthday wishes from around the globe, including from President Trump, who called Modi "a great leader and loyal friend."
Ravi Kapur contributed to this report.
Indiaspora & AAPI data survey Indian American voters
SAN FRANCISCO (Diya TV) — At a virtual event featuring the former CEO of the Democratic National Committee, Seema Nanda, Democratic Congressman Raja Krishnamoorthi and Republican Ohio State Representative Niraj Antani, non-profit Indiaspora teamed up with AAPI Data to reveal the growing political power of the Indian American diaspora. The joint report says 66% of Indian Americans currently favor Vice President Biden, and 28% favor President Trump. The study shows an enormous rise in political engagement from the community. There are 1.8 million Indian Americans in the U.S. who are eligible voters and both sides of the aisle recognize the need to further engage Indian Americans, who AAPI Data notes is now the largest part of the Asian American community, surpassing Chinese Americans.
Eric Trump, President Trump's son, took part in an Indian Voices for Trump event in suburban Atlanta. It was an indoor rally with appropriate social distancing measures in place. Trump was on hand to win support from the community in a vital state that will be tightly contested this fall. Georgia, like North Carolina, Pennsylvania, Florida, Michigan and Texas are considered in play and have growing Indian American populations.
Ravi Kapur contributed to this report.