Not sure how to spot fake news? Now, there's a bot for that
BERKELEY, Calif. (Diya TV) — Fake news has become a serious problem for Facebook in the past year. The rampant spread of misinformation on the site has become such an issue, the social media giant has itself encountered more than one problem trying to combat the matter.
After initially denying his company and its platform had become a harbor for fake news stories, Facebook chief executive Mark Zuckerberg publicly vowed in April to address the problem head-on. Zuckerberg's solution? To introduce third-party fact-checkers to vet information and stories appearing on the site, allowing them to create labels to warn users of potential fake news stories.
On the sidelines, two students from UC Berkeley have decided to take matters into their own hands.
Ash Bhat, 20, and Rohan Phadte, 19, both computer science majors, developed their own Facebook Messenger bot that, when fed a link, will decipher and tell you immediately whether an article is fake news, or isn't. Named NewsBot, the duo developed the tool in only a matter of weeks, it is the only such tool of its kind in existence currently.
In addition to sussing out the validity of an article, it also offers a barometer showing whether the article is deemed biased toward the left or right.
In order to train the algorithm that the bot runs on they fed it over 10,000 articles from around the web. The first and largest batch of articles were sourced from sites that skew far on either end of the spectrum. To teach the algorithm to recognize right-leaning content they fed it thousands of articles from Breitbart, as well as articles from BlueDotDaily, to teach it to recognize the opposite.
While the two have recognized it as a useful tool, its development is not yet entirely complete. "We're still making updates and changes almost every day," Bhat said.
"We want to get people more informed and make decisions based on their views, as opposed to just being politically biased by what they read," he added.
"Facebook should be proactive and make it visible that they're fighting fake news. Right now you can mark an article as fake news from a small drop down at the top, but if you're a user just scrolling, the feed hasn't really changed in any way. Facebook owes it to news organizations to bring trust back," he said.
India sets tougher regulations on explicit content
NEW DELHI (Diya TV) — India's Information Technology Ministry set new regulations for social media companies and digital streaming websites, demanding compliance with government takedown requests of unlawful, violent, and explicit content within 36 hours. Upon request, social media companies would have to disclose where the content is originating from. But Facebook-owned WhatsApp says they cannot comply without compromising user privacy.
Indian Prime Minister Modi took the first dose of a Indian-made coronavirus vaccine. So far, his nation has vaccinated 12 million frontline workers since January. But the goal is to inoculate 300 million Indians by August.
The Pentagon said a U.S. airstrike last week in eastern Syria killed one member of an Iranian-backed militia and wounded two others. The bombing was carried out in retaliation for a deadly rocket attack on a U.S.-led coalition base in northern Iraq as well as two other rocket attacks.
Ravi Kapur contributed to this report.
19 yr old Fremont teen dies in car accident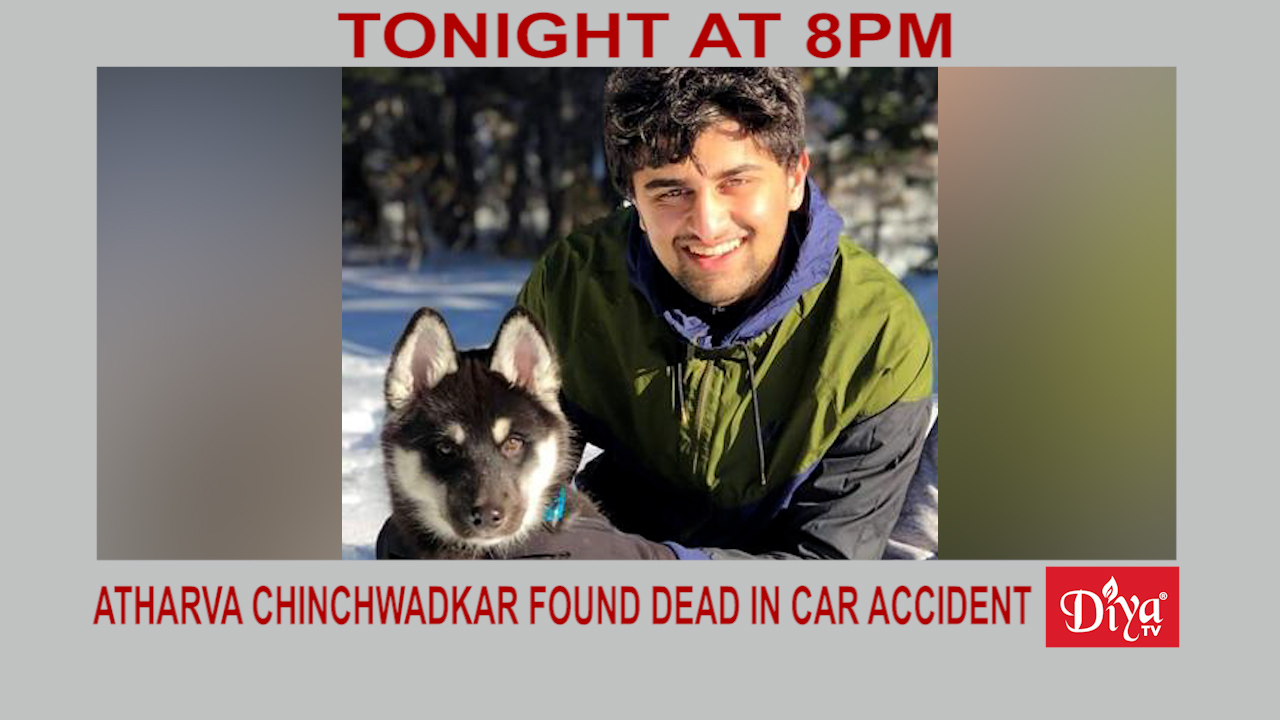 FREMONT, Calif. (Diya TV) — Atharva Chinchwadkar, a 19 year old Fremont man reported missing last week, was found dead in what appears to be a tragic solo car accident just a few miles from his home. He was last seen on February 21st by his parents when he left his home to get dog food and didn't return.
Chinchwadkar was a student at UC Santa Cruz.
Indian businessman Nirav Modi will be extradited from Britain back to India after a London judge dismissed Modi's argument he would not be treated fairly in India. He'll face a host of charges when he returns including corruption, money laundering, fraud and embezzlement stemming from the $2 billion fraud case of Punjab National Bank (PNB).
Mukesh Ambani's Reliance Industries made its first investment in a venture fund, pumping $100 million into early-stage VC Kalaari Capital, led by Vani Kola. The investment is through Jio Platforms and an additional $100 million is also expected to be deployed into a future fund.
Ravi Kapur contributed to this report.
India minister Jaishankar Addresses human rights at UN
NEW YORK (Diya TV) — Human rights can't be protected without addressing the threat of terrorism. That's the message India's External Affairs Minister S. Jaishankar delivered the UN's Human Rights Council, emphasizing human rights cannot be protected without addressing terrorism, which he called as "one of the gravest threats to humankind." Last month, India proposed an 8-point plan at the UN to tackle terrorism.
Dr. Vivek Murthy, who has been nominated by President Biden to be Surgeon General for the second time, made in excess of $2 million on COVID-19 related consultations and speeches according to financial disclosures. Carnival cruise lines, Airbnb and the NBA were among the dozens of organizations who retained Murthy for his expertise.
Two Indian Americans are suing Subway, the sandwich chain, claiming there is no tuna in their tuna meals. Karen Dhanowa and Nilima Amin claim Subway falsely promotes its tuna salad sandwiches as composed of wild tuna, when it actually has no tuna or any other fish in it.
Ravi Kapur contributed to this report.