Indiana Gov. Eric Holcomb pleased with Infosys, plans to visit India
INDIANAPOLIS (Diya TV) — Indiana Gov. Eric Holcomb has been encouraged by Infosys' decision to set up a tech center in his home state, so encouraged that he has announced his plans to pay a visit to the company's home headquarters in India, with his high-powered trade delegation in tow later this year.
"I'm looking forward to travelling to India, probably in the fall, before the winter," Holcomb said in an interview with PTI.
Holcomb said he views the opportunity as a prime chance to bolster Indiana's friendship and partnership with Indian companies, he would become the first Indiana governor to visit India. His state, Holcomb said, could serve as prime real estate to IT companies viewing U.S. expansion.
"Indiana is such fertile ground (for IT companies). We have world class universities where Infosys can in fact recruit that talent right out of Purdue, Indiana University… folks who are strong in the STEM subjects, science and technology, engineering and math, right here in their backyard now," he said.
Indiana has low tax rates and a "reasonable predictable regulatory environment so there's real certainty when you invest in the state of Indiana and our people," Holcomb added.
Democrats meet for the third time to debate
HOUSTON (Diya TV) — Democrats met for the third time to debate, this time in Houston. With the field on stage featuring just 10 candidates, it was more rancorous than the first two clashes.
California Senator Kamala Harris launched 'South Asians for the People' in a video tweet to build support for her presidential bid from Indian Americans and other South Asians. Harris is the daughter of the late Indian American cancer researcher Shymala Gopalan.
Another Democratic contender, former Vice President Joe Biden, announced Indian American Amit Jani will serve as Asian American Pacific Islander national vote director. He's currently serving in New Jersey Governor Phil Murphy's administration.
Former Indian Prime Minister Manmohan Singh is levying criticism at the current officeholder, Narendra Modi and his government for focusing on "headline management" rather than acting to improve a slowing Indian economy.
And actress Felicity Huffman received 14 days in prison, a $30,000 fine and community service for paying to rig her daughter's SAT scores.
Ravi Kapur contributed to this report.
India may offer to cut import duties, for U.S. goods
NEW DELHI (Diya TV) — India has a road map in place to spend $130 billion over the next 5-7 years to modernize their armed forces and bolster their combat capabilities over their neighbors. The plan includes procurement of a slew of weapons, missiles, air defense systems, fighter jets, submarines and developing infrastructure for use of AI.
Meanwhile, India and Russia are increasing industrial cooperation and will create new technological and investment partnerships, especially in high-tech, with the goal to increase bilateral trade to $30 billion by 2025.
And to help Indian's space agency ISRO establish a communication link with Vikram, the moon lander lying motionless on the lunar surface, NASA is sending hello messages. NASA's Jet Propulsion lab beamed a radio frequency to Vikram to establish contact, but no luck so far.
Ravi Kapur contributed to this report.
India and Pakistan clash over Kashmir at UN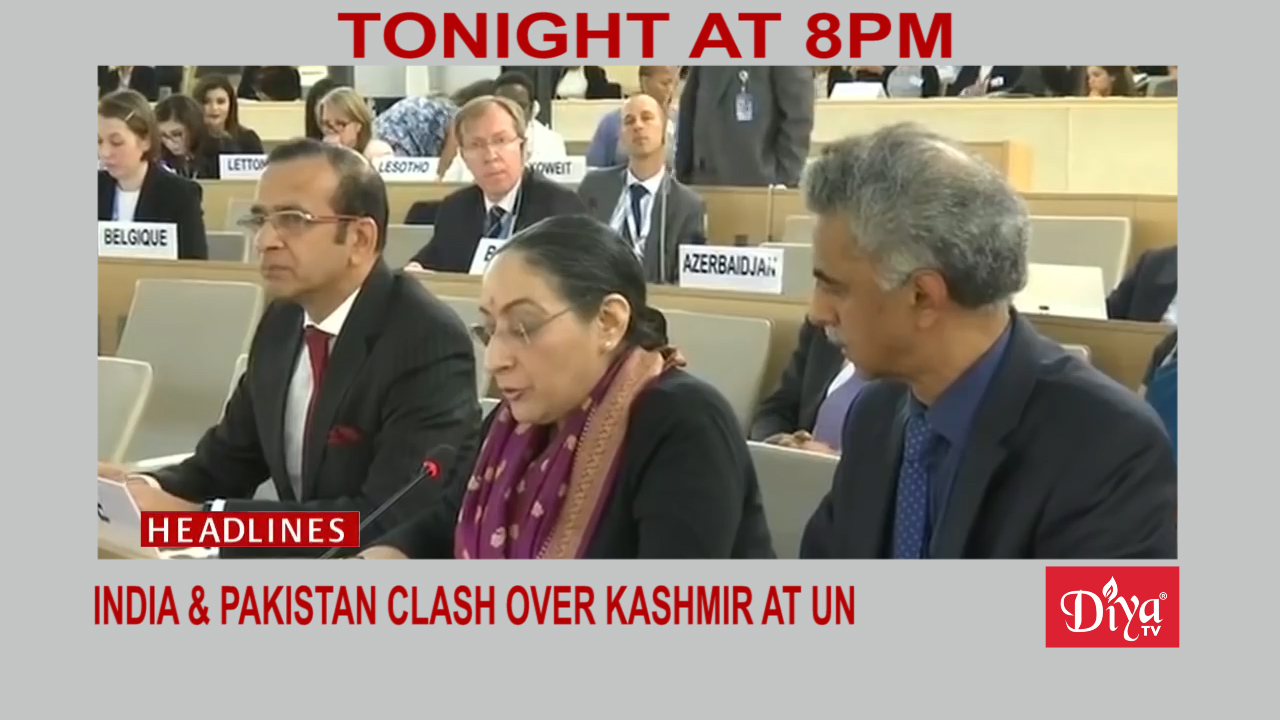 NEW YORK (Diya TV) — India and Pakistan shared their respective narratives over Kashmir before the United Nations. India said its Constitution "guaranteed fundamental rights to all our citizens without any distinction," while dismissing Pakistan as the "the epicentre of global terrorism." Pakistan urged the UN to set up a commission of inquiry into human rights violations, claiming India arrested more than 6,000 people without due process in Jammu and Kashmir.
Meanwhile, Seattle Congresswoman Pramila Jayapal issued her second letter to Secretary of State Mike Pompeo over Kashmir, expressing deep concern about reports of a humanitarian crisis in Jammu & Kashmir.
A NPR producer based in India, Furkan Khan, resigned after major social media backlash from an anti-Hindu tweet that stated "if Indians give up on Hinduism, they will also be solving most of their problems. What with all the piss drinking and dung worshipping." Khan has since apologized and deleted the tweet.
Ravi Kapur contributed to this report.