Konkona Sen Sharma wins best director, best actress awards at New York Indian Film Festival
NEW YORK (Diya TV) — Konkona Sen Sharma has been selected as the winner in the categories of "Best Director" and "Best Actress" at the New York Indian Film Festival.
The 37-year-old Sharma won the best actress award for her performance in Alankrita Srivastava's Lipstick Under My Burkha, while she was awarded the best director for her directorial debut, A Death in the Gunj.
The NYIFF announced the list of this year's winners on its official Twitter page:
#NYIFF2017 Awards Winner Best Actress is @konkonas @chhabs @aroonshiv

— NY Indian FilmFest (@nyindianff) May 8, 2017
"#NYIFF2017 Awards winners Best Director is @konkonas @chhabs @aroonshiv," another tweet read.
Lipstick Under My Burkha, which served as the festival's opening-night film, has been denied a certificate for theatrical release from India's Central Board of Film Certification for being "female oriented." The film revolves around four Indian women, from ages 18 to 55 – a burqa-clad college girl, a young beautician, a mother of three and an aging widow – living in a small town who assert their personal and sexual rights.
Sharma's directorial venture, A Death in the Gunj, is a drama thriller starring Kalki Koechlin, Vikrant Massey, Jim Sarbh, Tanuja and Om Puri in key roles.
The 17th NYIFF, presented by the Indo-American Arts Council, took place from April 30 to May 7 at the Smithsonian's National Museum of the American Indian
Bollywood sweethearts Deepika Padukone and Ranveer Singh tie the knot in Italy
LAKE CUOMO, Italy — Bollywood sweetheart couple, Deepika Padukone and Ranveer Singh have officially tied the knot at a private villa against the scenic Lake Como backdrop, in Italy. The two-day ceremony included a 'Konkani' style ceremony as well as 'Sindhi' ceremony to bring these two Bollywood stars into matrimony.
The couple released two pictures on twitter, with a simple heart emoji
— Deepika Padukone (@deepikapadukone) November 15, 2018
The newlyweds began their love story on screen, sharing intimate moments in films like 'Ramleela','Bajirao Mastani' and Padmavat.
According to the Huffington Post, film director Sanjay Leela Bhansali said 'cut' during their kiss toward the end, but they continued their sizzling moment as over 50 crew members mesmerizingly watched. It was the start of a blossoming relationship, forging together a Bollywood power couple with chemistry on and off set.
The much awaited wedding ceremony left no stone unturned to celebrate this star couple in grand style with an intensely private and synchronized affair set against at Italy's scenic Lake Como backdrop, at Villa del Balbianello.
An Indian Bollywood wedding without a celeb designer? I think not. The duo opted to go with veteran designer Sabyasachi Mukherji. 'Sabya' as fans often call him, drew inspiration from the wedding ceremony theme and designed decadent outfits in shades of red, pink and all things 'shaadi' for both the 'Konkani' & 'Sindhi' ceremonies. Deepika wore a veil with the words,"Sada Saubhyagyavati Bhava" embroidered along the hem draped over her head. This mantra translates to "be forever fortunate" is often a blessing given to newly weds, wishing them a 'happily ever after' life ahead.
Ofcourse no Bollywood wedding is complete without all the 'Badhaai' or well wishes from fellow co-stars, most of who took to twitter to shower the newly minted couple.
Love and happiness forever…..these are such a full of pyaar wala pictures! For those of us who don't have a life partner it's a very "haiiiiiiiii" wala feeling! https://t.co/h1dtYel2be

— Karan Johar (@karanjohar) November 15, 2018
Wishing you both a world of happiness and a beautiful journey together. May the love & respect you have in each other, grow leaps and bounds. And welcome to the club 😁💜👫@RanveerOfficial @deepikapadukone

— Anushka Sharma (@AnushkaSharma) November 15, 2018
May this be your biggest blockbuster …. here's to happily ever after… congratulations you two @deepikapadukone @RanveerOfficial ❤️❤️❤️ pic.twitter.com/QJ6UYs0EID

— Neha Dhupia (@NehaDhupia) November 14, 2018
A Bollywood wedding, without some 'filmy' elements is nearly impossible. According to Filmfare, Singh made his grand entry on Govinda's hit song 'Meri Pant Bhi Sexy', continuing with 'Chunari Chunari' and 'One Two Ka Four' as he reached the wedding venue with his family and relatives.
With heavy security for this intensely private ceremony, the couple remained sensitive to the plight of hundreds of fans & paparazzi gathered to capture a glimpse of their special event. They sent gift packs of sweets to the media, thanking them for their wishes.
Assamese language film Village Rockstars takes the Best Feature prize at 16th annual IFFLA
LOS ANGELES (Diya TV) — The Indian Film Festival of Los Angeles concluded their 16th year Sunday, April 15 with nostalgia, thrilling mystery and light hearted optimism. The final day of the fest featured a tribute to the late Sridevi, with a special screening of Chandni, followed by the mystery thriller The Ashram which was preceded by the short Fifteen Years Later.
The closing night film was an Assamese language, coming of age story, Village Rockstars.
Before the final film, the awards ceremony honored the filmmakers for their achievements. The awards were decided by a jury as well as audience votes. When accepting the award for Audience Choice Award for Best Documentary (Lovesick), Priya Giri Desai said the best thing about IFFLA is the audience. During the week, the filmmakers in attendance participated in Q&As after their films and were blown away be the insightful and enthusiastic questions and comments from the audience. IFFLA is an intimate festival where the audience can easily approach the filmmakers and talk with them about their films. It really provides an inclusive atmosphere that celebrates the love of cinema.
Another thing that stood out to the filmmakers and festival attendees were the shorts. When asked what films they liked the most, many expressed how impressed they were by the shorts program this year. There were two shorts programs containing multiple films as well as a few features preceded by a short film. The fact that the shorts were so impactful in their short duration is also what made them noteworthy. At the start of the awards ceremony, the IFFLA programming team mentioned how they were blown away by the thrilling voices of the short films.
The Audience Choice Award: Best Short went to An Essay of the Rain directed by Nagraj Manjule. The Grand Jury Prize for Best Short was presented to The Caregiver, directed by Ruthy Pribar. Regarding the Grand Jury Prize for Best Short, the jury awarded, "a film that we loved for its elegant representation of the nuances between compassion and survival, and for its understated yet decisive storytelling."
A special jury mention was made for Counterfeit Kunkoo, which the jury called "an incredible short film about apartment hunting in Mumbai that not only manages to be well-paced, gripping and bold but also a heart-wrenching perspective into gender inequality in metropolitan India."
The audiences at this year's IFFLA chose Take Off directed by Mahesh Narayanan as their favorite narrative feature film of the festival. Lovesick, directed by Priya Giri Desai and Ann S. Kim took the Audience Award for Best Documentary.
A special jury mention was made for Sushama Deshpande's performance in AJJI. The jury stated: "Taking on difficult characters is always a challenge for an actor. It takes courage to humanize and portray a role that breaks the stereotypes. This actress demonstrated undeniable talent and commitment to deliver an authentic and grounded performance."
Village Rockstars took home the Grand Jury Prize for Best Feature. In awarding the Grand Prize, the narrative jury stated: "This film explores gender expectations in a gentle manner. It blends beautiful cinematography with naturalistic performances in a fun and uplifting coming-of age story. Working as a one woman army, this director created an unforgettable portrait of childhood."
Female filmmakers made quite the impression this year so it was only fitting that the award winning Village Rockstars was the closing night film. Rima Das not only directed the film, but she also was the cinematographer, art director, editor and more. When asked about the origin of the film, Das explained that she was not sure she was going to make a feature alone. Over the course of four years, Das took on the many roles primarily due to lack of funds. She expressed it was challenging but there was also a freedom to being a 'one woman show'; there was no pressure. So she just took the challenge.
She filmed in the village of Assam, where she is from, and as the main characters are children, whom she filmed early in the morning and after school. A benefit to this constraint was that she was always filming during "magic hour" and the optimal lighting hours. Also, the weather in the area is unpredictable so she had to always be ready to film which is much easier when she is the only crew to organize.
This style of filming, gave the film a documentary type feel. There was no full script but there was a structure. She would write a scene and go shoot it. In the initial stage, the story did not change – a girl dreaming of owning a guitar. However, over the course of filming, a sweet mother daughter relationship story developed. After the film, an audience member asked if they are actually mother and daughter and Das confirmed they are. The mother character is a strong woman and recalling the inspiration for that, Das mentioned how her own mother is strong and it was from her own imagination. Referring to the relationship in the film, Das expressed she wants motherhood to be like that.
Regarding the initial inspiration, Das said she met some amazing children in her village who inspired her and she liked how, "Children, they can dream". She casted the boys first and the lead girl was around while they were doing the initial filming. Das recounted how the girl was so naughty and climbing trees; she sounds just like her character. Then this girl slowly was overpowering the boys with her presence. "There was something in her face, she was so strong" said Das. The children and the way they were filmed gives the film an extremely natural and realistic feel which in turn adds to the documentary vibe. The pacing of the over all film is a bit slow but this is not so much a problem as you are in this world exploring it with the children.
In the film, there is flood which happens annually in the area. At the time of filming, it was not on Das' mind to include the flood as part of the story. Then a flood happened but she did not want to film it because her film was not a documentary. Then, it flooded again and she found it did fit within the story – it is a part of the characters' lives. After a couple weeks, they all go back to their lives and that is how Das felt it fit within her story.
After the full week of films, film discussions and meeting new people, seeing old friends, attendees and filmmakers bid farewell to IFFLA and went back to their lives. However, there was one last time of mingling and some dancing at the closing night gala. A few filmmakers commented how their were sad that the festival was over but they had such a wonderful time.
Film festivals bring people together to celebrate their love of cinema and IFFLA did that once again.
Until next year!
The 16th annual IFFLA opens with a pensive, 'In the Shadows' starring Manoj Bajpayee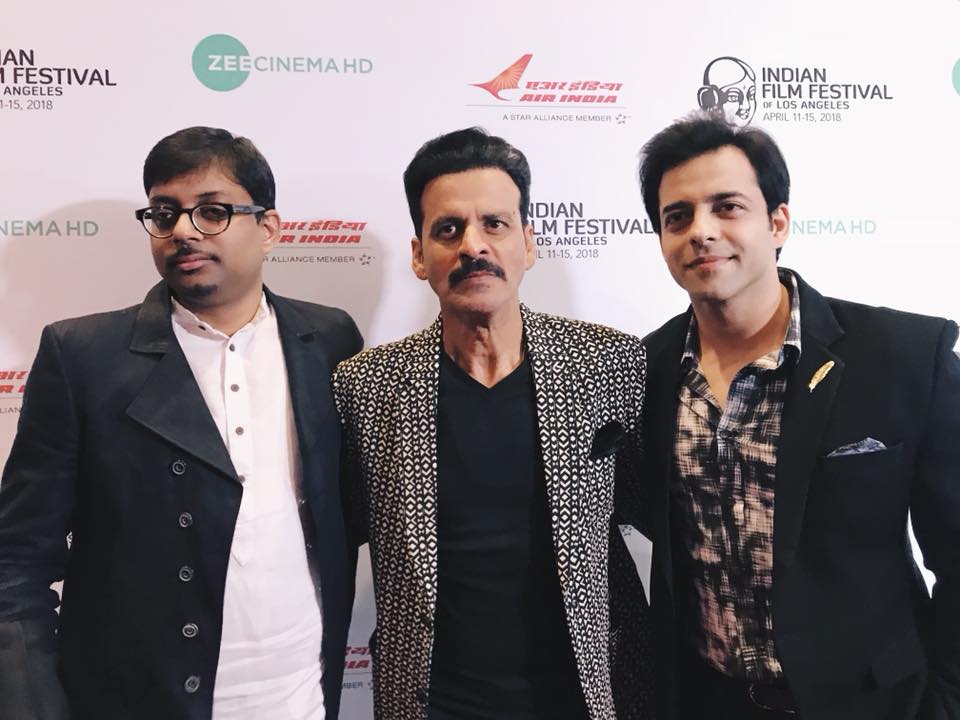 LOS ANGELES (Diya TV) — The 16th annual Indian Film Festival of Los Angeles took the audience on a journey into the decent of one man's mind with the opening night film, Gali Guleiyaan or 'In the Shadows'. The director and writer, Dipesh Jain along with lead actor, Manoj Bajpayee were in walked the opening night red carpet and stayed till the end of the movie for an insightful Q&A session moderated by IFFLA's Director of Programming Mike Dougherty.
The film is set in the heart of New Delhi and deals with a recluse, Khuddoos (played by Manoj Bajpayee), who watches the world through the lens of CCTV cameras that he has set up around his densely packed neighborhood in Dehli. His best and only friend, Ganeshi (played by Ranvir Shorey), tries to get Khuddoos to get out more but something is just a bit off with him. Khuddoos has been the voyeur for so long that when he suspects his next-door neighbor's young boy is being abused, he must gather the courage to become a participant instead of just being a bystander.
During the Q&A, Jain mentioned he had snippets and scenes in mind for this film for years. The idea of entrapment and people being trapped had been on his mind since childhood because his grandparents lived in a similar area to that presented in the film. Later on, Jain started researching child abuse and the connection to abused individuals suffering from schizophrenia. This concept then developed in to the idea of a man trapped in this city and his mind. There is a line in the film that says the city is like a maze and once you are in it, you are stuck there.
When asked what he thought of the script/story, Bajpayee said he found it quite fascinating and that this character and script would take his craft to another level. The character of Khuddoos has a lot going on under the surface and Bajpayee played this complex character superbly. One audience member even asked what was wrong with the character because he is so peculiar. Bajpayee explained this is not dealing with a disease but rather dealing with the mind. and he wanted to portray a conflicted mind where the character spirals downward while looking for himself.
Khuddoos loses track of time, seems distant yet fixated on trying to help this young boy. Bajpayee said it was a challenge going in and out of character and that "the deterioration of the mind and how to achieve that" would be difficult to come out of. He went on to say that preparation for each actor is personal and for him, he did not tell any family or friends that he was filming in Dehli. Recalling a story, Bajpayee talked about how the director showed him candid photos that had been taken of him and elaborated that, "you don't know when you slip in the character. You become one. That's the way to become this complicated character." He went on to say that the mind of the character has so many things going on and that is part of the enjoyment of being an actor.
When asked to compare the experience of portraying this character to his character in Aligarth, Bajpayee said that the role in Aligarth was not that complicated. That is a man who knows who he is unlike In the Shadows, where he does not, and the search to find out continues to break his mind down. Bajpayee commented that he likes as an actor, "you get to play so many minds", and that you need to play the mind not the profession. If you have two lawyers, they may be alike in profession but it is their minds that makes them different.
#IFFLA2018 Opening Night sizzle is here! One more chance to see a star-studded carpet, attend the Awards Ceremony and experience the Closing Night Gala of Rima Das' VILLAGE ROCKSTARS! #IFFLA2018 pic.twitter.com/OswEO8tIPD

— Indian Film Festival (@iffla) April 14, 2018
As you can tell, the concept of the mind in a large theme with this film but to elaborate further would be to spoil the intriguing journey the film takes.
On returning to Dehli, Jain said the city never changed. The character of the city, the people, their talks and their culture have stayed the same. It is like a time trap but this aided in the telling of the primary and secondary story. Each story has different film styles to make them stand apart from each other.
The other story that the film focuses on if the young boy that Khuddoos wants to help. Jain told the audience that the process of casting the young boy was tedious but satisfying. They found him in an orphanage and learned he was a victim of child abuse who left home and lived on the streets. Jain talked about how he and the young boy worked together on scenes such as if he should cry or not while his father beat him. Jain wanted to and succeeded in earning the boy's trust because some of these scenes were like relieving the trauma. The audience was happy to learn the boy had been struggling with his studies before they started filming but now he has more confidence and is working to get into a good school.
The Q&A wrapped up with Jain elaborating on one of the challenges of filmmaking in this area was that of interrupting people's lives and having them stop and wait while filming. He knew this script would be a challenge and attributes much of the success of the film to his team; a team that was so much in sync. Jain said, "it's a tough film and these guys made it easy.,"
The film addresses many different forms of voyeurism from the main character watching the outside world through video cameras, to the young boy spying on neighbors with his friends, and to the people who all gather when something is going on and just stand and stare.
The question one has to ask, do you just sit back and watch or do you step in to help?
During a heated moment, Khuddoos exclaims that all the kids in the neighborhood get beaten but no one does anything about it. Is this a reflection on society where we sit back while so much happens in the world but what are we really doing about it? If this character is any parable for the audience, we cannot sit locked up at home and hide away from the world. Even if it is painful, we must face our inner demons and not let them snuff us out.