US India Business Council honors Chandrababu Naidu at west coast summit
MENLO PARK, Calif. (Diya TV) — The U.S. India Business Council concluded its Silicon Valley summit Monday, the theme of this year's which was technology partnership. Industry and government leaders from the U.S. and India discussed the power of digital transformation to accelerate economic growth, create jobs, and encourage the start-up and entrepreneurial environment.
The summit brought together top thinkers, including Government of India officials, industry leaders in Fintech, digital payment service providers, IT, sharing economy, e-commerce, and venture capitalists to renew key linkages and advance the convergent interests of the two countries.
Conceived in 1975 at the request of the governments of both the U.S. and India, the USIBC serves as the premier business advocacy organization, comprised of top-tier U.S. and Indian companies advancing U.S.-India commercial ties. USIBC is the largest bilateral trade association in the United States, with liaison presence in New York, Silicon Valley, and New Delhi.
Panel discussions at the summit were held on various topics, including entrepreneurship and corporate responsibility, India's Internet of Things and the country's Make in India program. Chief Minister of Andhra Pradesh Chandrababu Naidu and IT Secretary Aruna Sundararajan were on hand for the roundtable sessions, appearing alongside the likes of Dheeraj Pandey, chief executive of Nutanix, and USIBC chairman and Cisco executive chairman, John Chambers.
Naidu was awarded the Transformative Chief Minister Award, an honor created by the USIBC to acknowledge excellence in public service and recognize the honoree's achievement in championing U.S.-India ties in the areas of trade, politics and culture. Sundararajan was honored with the USIBC Transformative Leadership Award for distinguished public service and her commitment to advancing U.S.-India cooperation and Digital India.
"At a time of global uncertainty, the only constant element that businesses and markets across the world will continue to face is technological disruption," said Cisco executive chairman John Chambers at the event. "From my perspective, the United States and India have incredible opportunities to come closer through digitization; creating jobs, driving citizen engagement and transforming the lives of 1.3 billion people in India and over 300 million in the U.S.
"We have strong partners in the Government of India. Leaders like Prime Minister Modi, Chief Minister Chandrababu Naidu, and Secretary Sundararajan understand the urgency to bring about digital transformation of India. That is why Cisco and so many other American companies continue to bet big on India."
Punit Renjen, chief executive of Deloitte Global and USIBC Board member, was also on hand to deliver remarks at the event. He spoke loudest on the critical nature of fostering and furthering the relationship between the U.S. and India.
"Maintaining a strong and healthy relationship between the U.S. and India is critical, and the U.S.-India Business Council facilitates closer collaboration as both nations look to harness the power of digital transformation to accelerate economic growth and social progress," he said. "The actions we take have profound implications not only on our respective economies but have ramifications around the world. As someone who grew up in India and lived all of my adult life in the U.S., I have experienced first-hand the opportunities that can result from deep ties between our countries. Simply put, we are two of the largest democratic forces on the globe and can set the standard for how nations work together toward transformative results."
Other prominent speakers at the summit included: Ash Lilani, Managing Partner and Co-Founder, Saama Capital; Ambassador Venkatesan Ashok, Consul General of India in San Francisco; Varsha Rao, Board member, NextGen; Ravi Aurora, SVP, Group Head Global Community Relations, MasterCard; John Kern, Senior Vice President, Supply Chain Operations, Cisco; Arshad Khan, Executive Director, Khaitan & Co.; Sam Balaji, Global Risk Advisory Business Leader, Deloitte; Sri Shivananda, CTO, PayPal; and Kapil Raval, Global Solution Sales Lead, Hewlett Packard Enterprise.
Indian Ambassador, Shringla speaks to U.S. Congress about Kashmir
WASHINGTON (Diya TV) — Indian Ambassador to the U.S. Harsh Shringla met with members of Congress at a private roundtable briefing, hosted by Southern California Congressman Brad Sherman. Sherman, who has been a supporter of India, took to Twitter recently to share his concerns about Kashmir and said serious questions about Kashmir were asked at the briefing.
President Trump is being urged to fix the H1-B visa process and do away with country-specific limits, with the latest effort for reform being spearheaded by 60 U.S. business school deans and CEO's.
In an earthquake, seconds matter. So on the anniversary of the deadly 1989 Loma Prieta earthquake that rocked Northern California, state officials announced the launch of America's first statewide earthquake early warning system.
Tabla Maestro Zakir Hussain will be coming to Boston next month to perform at the Berklee India Exchange, where he will also be conferred with an honorary doctorate by the esteemed music school. A Zakir Hussain Scholarship at Berklee is also being established.

And we have incredible video of three kids from India rescuing their dog from a snake that's equal parts courageous and nuts.
Ravi Kapur contributed to this report.
Federal Court rules Trump must turn over tax returns | Diya TV News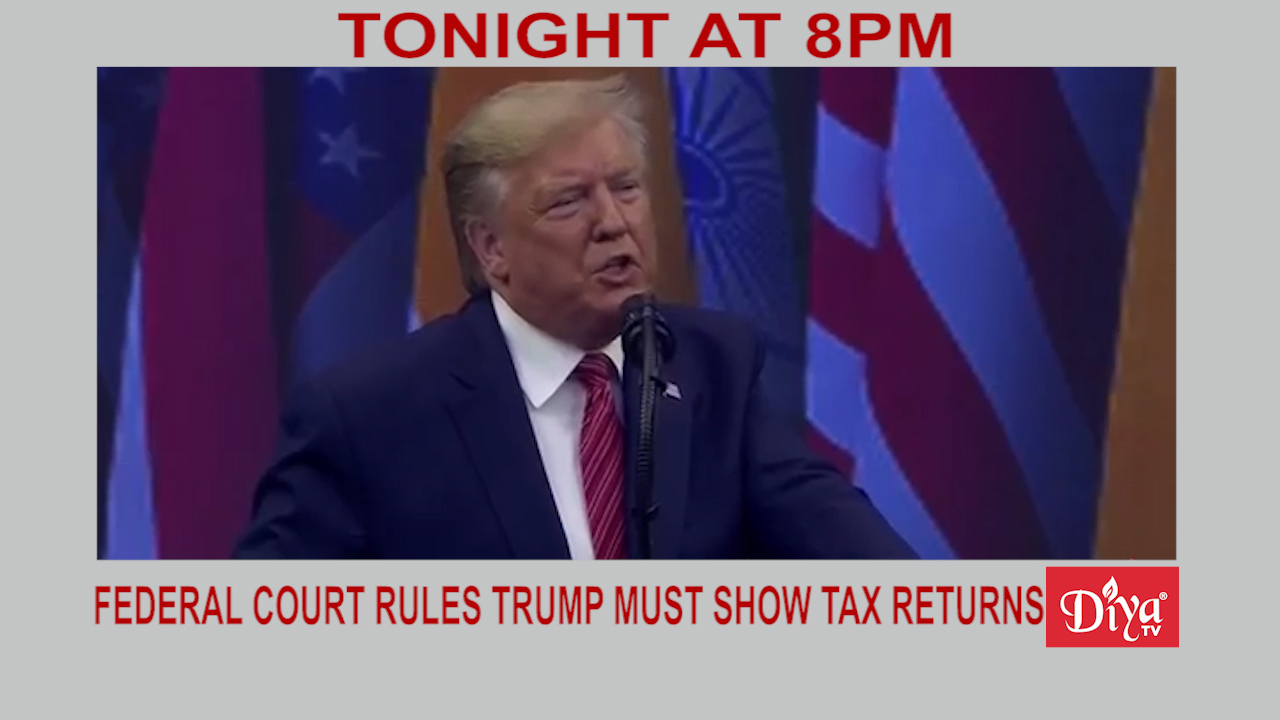 NEW YORK (Diya TV) — A federal judge ruled President Trump must turn over eight years of his personal and corporate tax returns to Manhattan prosecutors, striking down the President's argument that a sitting president cannot be criminally investigated. The ruling was quickly appealed and this case could end up in the Supreme Court to answer the constitutional question of whether presidents can be charged with a crime.
Meanwhile, the President celebrated a victory by FCC Chairman Ajit Pai, as a federal appellate court upheld most of the FCC's repeal of net neutrality. It also ruled the FCC cannot preempt state net neutrality laws, meaning the rules of the road in states like California remain in place.
The U.S. House Foreign Affairs Committee announced their Asia-Pacific and Non-Proliferation Subcommittee will be holding a hearing asking State Department officials and human rights activists to chime in on Human Rights in Kashmir, the Tamils of Sri Lanka, Muslims in Assam and the human rights situation in Pakistan, which includes the Sindh Province.
Lockheed Martin announced they will build F-16 wings exclusively in India, helping in integrating Indian industry into the $165 billion fighter aircraft market.
Ravi Kapur contributed to this report.
Tech CEO Pradyumna Samal convicted of large scale H1B fraud
SEATTLE (Diya TV) — Tech CEO Pradyumna Samal was convicted of large scale H1B fraud. The CEO of two companies that supplied workers to companies like Microsoft and Amazon plead guilty to using fake documents to get H1-B visas. The Indian national Samal was sentenced to seven years in prison for what federal authorities say "was the largest and most sophisticated H-1B visa fraud scheme we have prosecuted in Western Washington." 
Inder Singh, a Los Angeles-based Indian American community leader, has died. He was 86 years old. Singh was involved in the inception of a number of Indian American non-profit organizations in the effort to build a stronger relationship between the U.S. and India. Indian Ambassador to the U.S. Harsh Shringla said on Twitter that Singh's contributions have been "significant and his leadership will be greatly missed."
Indiaspora launched ChaloGive.org, their first online giving campaign that runs October 2nd to the 8th. The goal is to increase levels of giving by the Indian diaspora, inspired in part by the success of Giving Tuesday in the U.S. and Daan Utsav in India.
Ravi Kapur contributed to this report.