FCC Chairman Ajit Pai expected to debut new net neutrality plans on Wednesday
WASHINGTON (Diya TV) — Federal Communications Commission chairman Ajit Pai will kick off the process to scrap the Obama administration's net neutrality rules on Wednesday, according to sources familiar with the matter.
In Pai's latest moves to relax regulations in the telecom industry, he will use an upcoming speech in the nation's capital to repeat his opposition to the FCC's existing approach, which subjects companies such as AT&T, Charter, Comcast and Verizon to old telephone utility rules to ensure they aren't blocking or slowing web traffic.
Currently, Pai isn't expected to articulate a replacement, according to the sources. Instead, he's more likely to solicit the help and ideas of telecom giants, the sources said, as well as public-interest advocates on an alternative legal approach for net neutrality. That formal exchange of ideas could begin as early as May if he unveils what's known as a notice of proposed rule-making in the coming days.
Pai has in recent weeks explored the option of whether the best system would see internet providers commit in writing to protect net neutrality. A stark contrast to the rules and regulations the Obama administration had set in place, and it could see another government agency — the Federal Trade Commission — keeping watch over the industry.
The Republican chairman will speak Wednesday at an event hosted by the conservative-leaning group FreedomWorks.
His expected unveiling follows a series a meetings Pai took with tech and telecom giants, including a private series of meetings in Silicon Valley last week. There, he met with executives from Apple, Facebook, Intel and Oracle to discuss a variety of matters, including the future of net neutrality.
Speaking to reporters last week, Pai declined to comment on the public reports about his plans.
Federal Court rules Trump must turn over tax returns | Diya TV News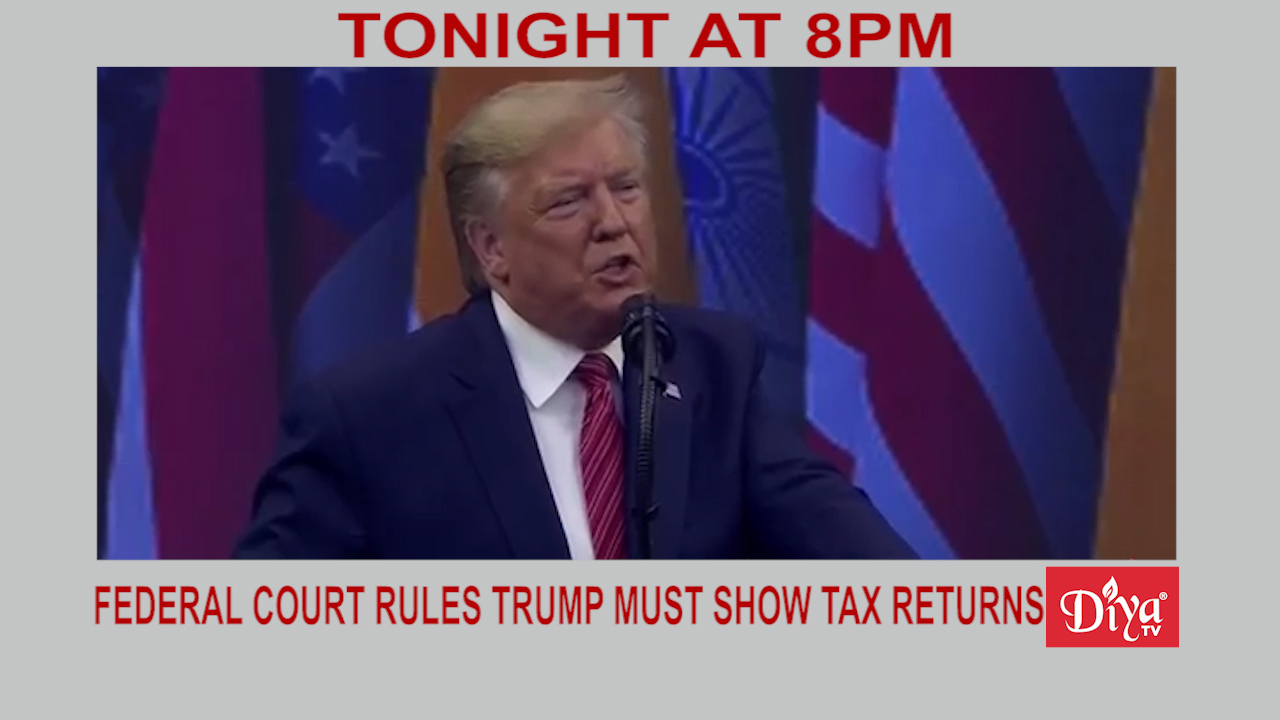 NEW YORK (Diya TV) — A federal judge ruled President Trump must turn over eight years of his personal and corporate tax returns to Manhattan prosecutors, striking down the President's argument that a sitting president cannot be criminally investigated. The ruling was quickly appealed and this case could end up in the Supreme Court to answer the constitutional question of whether presidents can be charged with a crime.
Meanwhile, the President celebrated a victory by FCC Chairman Ajit Pai, as a federal appellate court upheld most of the FCC's repeal of net neutrality. It also ruled the FCC cannot preempt state net neutrality laws, meaning the rules of the road in states like California remain in place.
The U.S. House Foreign Affairs Committee announced their Asia-Pacific and Non-Proliferation Subcommittee will be holding a hearing asking State Department officials and human rights activists to chime in on Human Rights in Kashmir, the Tamils of Sri Lanka, Muslims in Assam and the human rights situation in Pakistan, which includes the Sindh Province.
Lockheed Martin announced they will build F-16 wings exclusively in India, helping in integrating Indian industry into the $165 billion fighter aircraft market.
Ravi Kapur contributed to this report.
Tech CEO Pradyumna Samal convicted of large scale H1B fraud
SEATTLE (Diya TV) — Tech CEO Pradyumna Samal was convicted of large scale H1B fraud. The CEO of two companies that supplied workers to companies like Microsoft and Amazon plead guilty to using fake documents to get H1-B visas. The Indian national Samal was sentenced to seven years in prison for what federal authorities say "was the largest and most sophisticated H-1B visa fraud scheme we have prosecuted in Western Washington." 
Inder Singh, a Los Angeles-based Indian American community leader, has died. He was 86 years old. Singh was involved in the inception of a number of Indian American non-profit organizations in the effort to build a stronger relationship between the U.S. and India. Indian Ambassador to the U.S. Harsh Shringla said on Twitter that Singh's contributions have been "significant and his leadership will be greatly missed."
Indiaspora launched ChaloGive.org, their first online giving campaign that runs October 2nd to the 8th. The goal is to increase levels of giving by the Indian diaspora, inspired in part by the success of Giving Tuesday in the U.S. and Daan Utsav in India.
Ravi Kapur contributed to this report.
Lewandowski spars with Rep. Jayapal in impeachment probe
WASHINGTON (Diya TV) — Former Trump Campaign Manager Corey Lewandowski sparred with Rep. Jayapal among others, before a House Judiciary committee, taking on a barrage of questions from members of Congress who are trying to build a case towards the impeachment of President Trump.
100,000 petitions were delivered to the Gates Foundation in Seattle, asking them to rescind the award they plan on giving to Indian Prime Minister Modi for his clean India initiative because of his stance on Kashmir.
Federal investigators, including the FBI, are looking into potential misconduct by Mithril Capital, a venture capital firm co-founded by Peter Thiel and Ajay Royan. Royan has a 20 year relationship with Thiel and has raised in excess of $1 billion, $300 million of which came from Thiel. Some investors are frustrated Mithril is sitting on their money rather than investing in startups, while raking in as much as $30 million per year in management fees.
Hundreds of alums from the Indian Institute of Technology gathered in Southern California for their annual convention, featuring some of the brightest minds in technology.
Ravi Kapur contributed to this report.