How President Trump's 'Hire American' order could impact Silicon Valley
SAN FRANCISCO (Diya TV) – President Trump signed an executive order on Tuesday that directs federal agencies to review employment immigration laws to promote "Hire American" policies.
While the order has no immediate impact on the nation's visa programs, it does instruct the Departments of Labor, Justice, Homeland Security and State to study existing laws and procedures and recommend changes.
In the case of H-1B visas specifically, the order directs the agencies to suggest changes to help ensure that the visas are awarded to the most skilled, best-paid immigrant workers. "Right now, H-1B visas are awarded in a totally random lottery, and that's wrong," Trump said at the signing in Kenosha, Wis., the hometown of White House chief of staff, Reince Priebus. The order also calls for a crackdown on fraud and abuse in the current system of work visas.
The <"hw.novacredit.com/resources/h1b-visa">h1b Visa program currently designates 65,000 work visas a year to foreigners, with 20,000 more visas granted to foreigners with advanced degrees and an unlimited number of extra visas available for universities, teaching hospitals and other nonprofit organizations. The program is meant to recruit the world's highly skilled workers, and most of the visas are awarded to technology companies. However, other specialty industries also rely on the visas – First Lady Melania Trump began her career as a model in the states courtesy of an H-1B visa.
Under federal law, employers that use a large number of H-1B workers are supposed to document that they tried to hire Americans for the jobs. All H-1B employers are also required to pay prevailing wages to the immigrant workers who receive the visas.
The visa applications must be sponsored by an employer, every April 1, the government begins accepting applications for the next fiscal year, which starts Oct. 1. This year, the government received 199,000 H-1B applications in the first four days and then stopped accepting them. Due to the immense the amount of applications received, the visa are awarded first awarded by lottery, then the case reviewed followed by requests of further information if the case officer is not entirely satisfied with the evidence in front of them. Each visa is good for three years and can be renewed for three more years.
In 2015, President Obama expanded the program to allow the spouses of H-1B visa holders, on H4 visas to also work in the United States, but in a recent court filing, the Trump administration said it was reviewing that policy.
Just how many workers are in the U.S. because of the visa is unknown, but analysts estimate 650,000 to 900,000. In recent years, about 70 percent of the visas have been issued to citizens of India.
The biggest employers of H-1B holders are India-based outsourcing companies like Wipro Technologies, Infosys, Tech Mahindra and Tata Consultancy Services. Leading American technology companies, including Google, Microsoft and Apple, employ thousands of H-1B workers. Two companies, Facebook and the chip maker Qualcomm, are heavily dependent on H-1B visas, with at least 15 percent of their American workforces holding the visas, according to federal filings.
Karthik Sundaram, CEO of Purplepatch Services, LLC , a Silicon Valley based, digital marketing services company, told Diya TV, that President Trump's Executive Order is actually going to provide the much needed reform in the H1B Visa program, "it will really open it for truly talented and needy people". He explained how IT services companies which apply for thousands of H1Bs each year, playing the odds at the lottery system, make it much harder for the single visa applicants, and reducing their chances, "No start up CEO is able to get their visa, because the IT companies have dominated the H1B visa"
However the Indian outsourcers, say they are helping American companies cut spending on certain basic services so they can keep employing higher-paid workers in other parts of their businesses. R. Chandrashekhar, the president of the National Association of Software and Services Companies, says that more than three-quarters of the Fortune 500 use the Indian outsourcers in some form or another. "These services play a critical role in ensuring that corporate America remains a job-creation engine," Chandrashekhar said.
Sundaram who benefitted from the H1B program and went on to found Purplepatch, says he proudly hires American only. According to Sundaram, his company, which has been around since 2005 has not applied for a single H1B visa.
Some studies have suggested that American universities grant more than enough technology degrees to natives to fill these jobs, so critics of the visas say the program is unnecessary. Under the H-1B program, "all companies have to attest that they tried to find an American," said Russ Harrison, director of government relations at IEEE-USA, the American branch of IEEE, the largest professional association for computer scientists and electrical engineers. "But all you have to do is check a box."
The H1B regulations currently require employers to list the job postings to seek American candidates, even post a physical copy in communal areas in the place of business to alert existing employees of this search for an American candidate.
The Trump administration has been rather vague in terms of what should be changed with the program. Officials said they were considering changing the wage levels that would qualify for visas, raising fees for H-1B applications and steering more visas to immigrants with advanced degrees.
While some large Silicon Valley companies hire through the IT staffing companies, they also apply for H1Bs on their own, many a times losing the time and effort invested in a prospective candidate due to the lottery odds.
Many in Congress support changing the H-1B lottery system to give preference to the highest-paying jobs. "We should allocate visas based on who wants to pay the highest salary to avoid undercutting the wages of American workers," Rep. Zoe Lofgren, CA-19 (D), who has long been a proponent for H-1B visa reform.
Information from The New York Times contributed to this report. 
"Look at India. It's filthy!" Trump exclaims during debate
NASHVILLE (Diya TV) — Former Vice President Biden and President Trump held their second and final debate in Nashville. The tone of the event was markedly improved from the first debate, thanks largely because of a rule implemented that muted the microphone during dedicated speaking times. We'll analyze the key moments, including when President Trump called China, India and Russia "filthy" when discussing climate change.
WATCH what the President said about India here:
The State of California's Department of Fair Employment and Housing voluntarily dismissed their federal lawsuit accusing Cisco Systems Inc. and two of their former employees of discriminating against an Indian American Dalit engineer. No explanation was given, but state officials said they will refile the matter in state court.
Dr. Mukul Chandra, a prominent cardiologist in the Toledo, Ohio area, has died from complications related to COVID-19. He was 57. 
Dr. Chandra was the medical director of Cardiac Preventive Care and Research at Miami Valley Hospital and received a plasma donation as a possible remedy for the virus. And hundreds of people around the globe offered their help.
WATCH the full debate here:
Ravi Kapur contributed to this report.
Biden & Harris issue happy Navratri greetings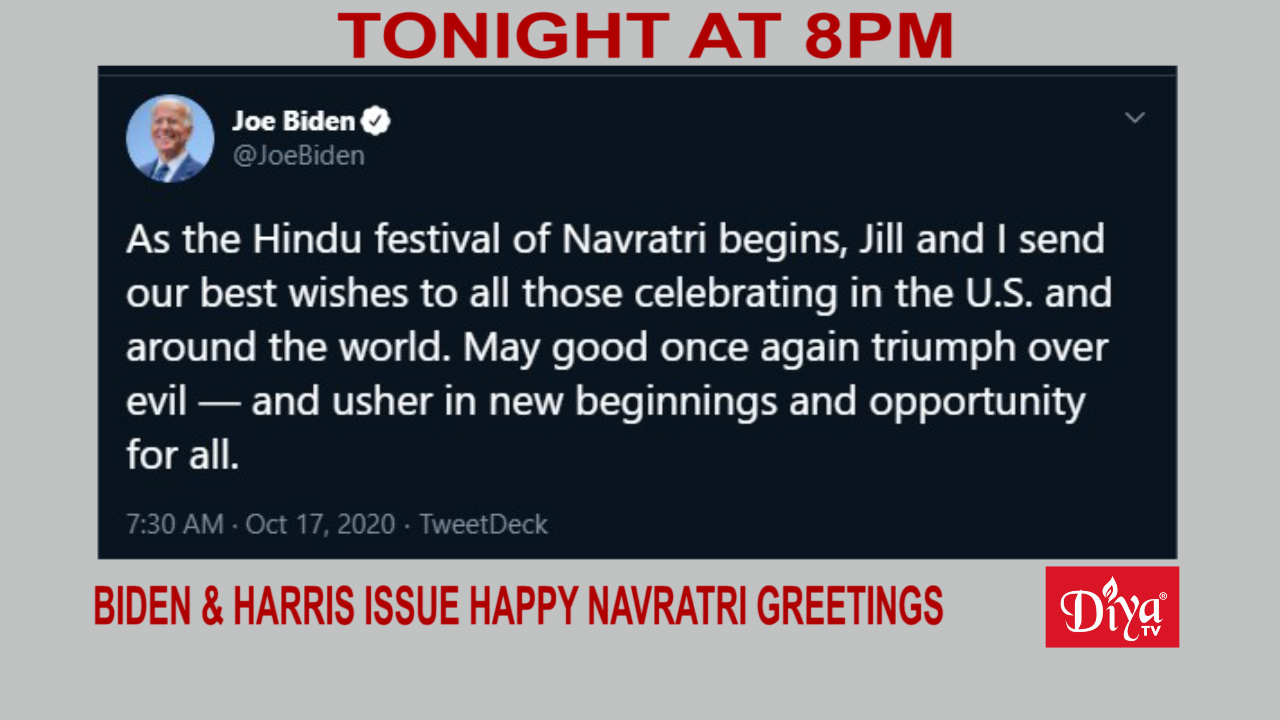 WILMINGTON, Delaware (Diya TV) — Vice President Joe Biden and Senator Kamala Harris continue their efforts to court the Indian diaspora, as each issued Navratri greetings. Biden & his wife Jill sent their best wishes, tweeting "may good once again triumph over evil." And Harris and her husband Doug added "may this holiday serve as an inspiration to…build a more inclusive and just America."
But at the same time, Harris' niece Meena deleted an image she posted of her auntie being depicted as Goddess Durga, which led to a petition asking her to apologize. Meena Harris is a lawyer, entrepreneur and daughter of Kamala Harris' sister, Maya. The image she posted photoshopped Kamala Harris' face onto Hindu Goddess Durga, showing Joe Biden as her lion and President Trump as a demon she slays.
The chances of finding Indian American professor Sam Dubal, who has been missing for nearly two weeks, appear to be waning. Dubal went on a backpacking trip near Mt. Rainier in Washington state and hasn't been seen since. Authorities say cold and snowy weather is hampering their chances of finding the University of Washington professor.
Ravi Kapur contributed to this report.
Man stabbed during brawl at Sikh temple near Seattle
RENTON, Wa. (Diya TV) — At least six people were injured and one of them was briefly hospitalized with stab wounds during a brawl at the Gurudwara Singh Sabha in Renton, Washington. Renton Police say at least 20 people at the temple were fighting when police arrived. Police added a similar incident happened last week at a Sikh temple in Kent, Washington. Sources tell Diya TV the skirmish was between people that were pro-India and folks that did not view India in a favorable light. No arrests were made.
The Quad military alliance is complete after Australia agreed to be part of the Malabar Exercise to be held in Bay of Bengal next month, joining the United States, India and Japan as part of the naval exercise.
As seen on Diya TV, the South Asian Bar Association held a Presidential Town Hall featuring Asheesh Agarwal, a member of Indian Voices for Trump advisory board and Neera Tanden, the CEO of the Center for American Progress, moderated by journalist and professor Sree Sreenivasan.
Ravi Kapur contributed to this report.