15th Annual Indian Film Festival of Los Angeles kicks off tonight

LOS ANGELES (Diya TV) — Now in it's 15th year, the Indian Films Festival of Los Angeles is scheduled to kick off tonight with the premiere of "Lipstick Under My Burkha." Widely recognized as the premiere showcase of groundbreaking Indian cinema globally, this year's rendition of the festival will take place from April 5-9, and will be held at Regal L.A. LIVE: A Barco Innovation Center.
"As India's diverse array of talented filmmakers continues to be recognized around the world for their compelling and daring work, IFFLA is extremely proud to collect the best films from emerging voices and experienced masters and present them to Los Angeles," said Mike Dougherty, Director of Programming, in a press release.
The festival will open with "Lipstick Under My Burkha," which features an ensemble cast of Konkona Sen Sharma, Ratna Pathak, Aahana Kumraand Plabita Borthakur in a dramatic, but irreverent and vibrant film about women and faith. The film was first screened in Tokyo in 2016 and has since been lighting up the festival circuit. including just winning the Audience Award at the Glasgow Film Festival. The film's director, Alankrita Shrivastava, will be in attendance at the screening.
Some of highlights include:
'An Insignificant Man' The political climate in India has seen the rise of a leader with rags to riches story. Narendra Modi the current Prime Minister of India gained in popularity rose to the top, while another man Arvind Kejriwal, challeged the status quo and the establishment forming a new party called the 'Aam Admi Party' or AAP translated mean Common Man's Party.
'An Insignificant Man'
takes you through an astounding journey with the behind-the-scenes access attained by first-time documentarians Khushboo Ranka and Vinay Shukla. Embedded in Kejriwal's campaign for a year, these new filmmakers use their exclusive footage and
media coverage to piece together a gripping, eye-opening account of the AAP's herculean effort to wrestle power away from an establishment long divorced from the needs of its people.
Sexy Durga 
IFFLA alum Rajshir Deshpande stars in the controversial and provocative "Sexy Durga", directed by Sanal Kumar Sasidharan. It is a road trip movie that exposes the vulnerability of women in Indian society to exploitation that masquerades as chivalry. 
A personal favorite of mine is the shorts programs. It is a wonderful way to sample many different types of films and stories. Many filmmakers have showcased their short film at IFFLA and have returned with a feature film. It is something special to witness the filmmakers' journey and be able to interact with them at this intimate film festival.
This year's shorts programs are full of vibrant and boundary-pushing films. I spoke with Managing Director Nitin Sonawane about the upcoming festival and what guests can look forward to this year. One main point is how the festival strives to be on the pulse of what is happening in India. Also, Nitin Sonawane added that you can look at one film and think, "Wow, this is going on in India and then look at something completely different and that is also going on India."
https://www.facebook.com/DiyaTVusa/videos/10155169475853252/
This year's festival will close with a screening of "Hotel Salvation," the debut feature of Shubhashish Bhutiani, whose 2013 short film "Kush" was shortlisted for the Live Action Short Film Oscar and won IFFLA's 2014 Audience Award. "Hotel Salvation" premiered in the College Cinema section of the 2016 Venice Film Festival. The film's star Adil Hussain (Life of Pi, Umrika, Parched) will attend IFFLA's Closing Night gala representing the film.
This year's festival will also mark the world premieres of two films, the North American premieres of five additional, as well as five U.S. premieres. This festival premieres work representing nine languages, and highlights a combination of exciting first and second-time filmmakers and experienced cinema masters returning with new work.
Gala tickets, passes and more information about the festival can be found at www.indianfilmfestival.org .
Diya TV is a media sponsor of the festival.
Assamese language film Village Rockstars takes the Best Feature prize at 16th annual IFFLA
LOS ANGELES (Diya TV) — The Indian Film Festival of Los Angeles concluded their 16th year Sunday, April 15 with nostalgia, thrilling mystery and light hearted optimism. The final day of the fest featured a tribute to the late Sridevi, with a special screening of Chandni, followed by the mystery thriller The Ashram which was preceded by the short Fifteen Years Later.
The closing night film was an Assamese language, coming of age story, Village Rockstars.
Before the final film, the awards ceremony honored the filmmakers for their achievements. The awards were decided by a jury as well as audience votes. When accepting the award for Audience Choice Award for Best Documentary (Lovesick), Priya Giri Desai said the best thing about IFFLA is the audience. During the week, the filmmakers in attendance participated in Q&As after their films and were blown away be the insightful and enthusiastic questions and comments from the audience. IFFLA is an intimate festival where the audience can easily approach the filmmakers and talk with them about their films. It really provides an inclusive atmosphere that celebrates the love of cinema.
Another thing that stood out to the filmmakers and festival attendees were the shorts. When asked what films they liked the most, many expressed how impressed they were by the shorts program this year. There were two shorts programs containing multiple films as well as a few features preceded by a short film. The fact that the shorts were so impactful in their short duration is also what made them noteworthy. At the start of the awards ceremony, the IFFLA programming team mentioned how they were blown away by the thrilling voices of the short films.
The Audience Choice Award: Best Short went to An Essay of the Rain directed by Nagraj Manjule. The Grand Jury Prize for Best Short was presented to The Caregiver, directed by Ruthy Pribar. Regarding the Grand Jury Prize for Best Short, the jury awarded, "a film that we loved for its elegant representation of the nuances between compassion and survival, and for its understated yet decisive storytelling."
A special jury mention was made for Counterfeit Kunkoo, which the jury called "an incredible short film about apartment hunting in Mumbai that not only manages to be well-paced, gripping and bold but also a heart-wrenching perspective into gender inequality in metropolitan India."
The audiences at this year's IFFLA chose Take Off directed by Mahesh Narayanan as their favorite narrative feature film of the festival. Lovesick, directed by Priya Giri Desai and Ann S. Kim took the Audience Award for Best Documentary.
A special jury mention was made for Sushama Deshpande's performance in AJJI. The jury stated: "Taking on difficult characters is always a challenge for an actor. It takes courage to humanize and portray a role that breaks the stereotypes. This actress demonstrated undeniable talent and commitment to deliver an authentic and grounded performance."
Village Rockstars took home the Grand Jury Prize for Best Feature. In awarding the Grand Prize, the narrative jury stated: "This film explores gender expectations in a gentle manner. It blends beautiful cinematography with naturalistic performances in a fun and uplifting coming-of age story. Working as a one woman army, this director created an unforgettable portrait of childhood."
Female filmmakers made quite the impression this year so it was only fitting that the award winning Village Rockstars was the closing night film. Rima Das not only directed the film, but she also was the cinematographer, art director, editor and more. When asked about the origin of the film, Das explained that she was not sure she was going to make a feature alone. Over the course of four years, Das took on the many roles primarily due to lack of funds. She expressed it was challenging but there was also a freedom to being a 'one woman show'; there was no pressure. So she just took the challenge.
She filmed in the village of Assam, where she is from, and as the main characters are children, whom she filmed early in the morning and after school. A benefit to this constraint was that she was always filming during "magic hour" and the optimal lighting hours. Also, the weather in the area is unpredictable so she had to always be ready to film which is much easier when she is the only crew to organize.
This style of filming, gave the film a documentary type feel. There was no full script but there was a structure. She would write a scene and go shoot it. In the initial stage, the story did not change – a girl dreaming of owning a guitar. However, over the course of filming, a sweet mother daughter relationship story developed. After the film, an audience member asked if they are actually mother and daughter and Das confirmed they are. The mother character is a strong woman and recalling the inspiration for that, Das mentioned how her own mother is strong and it was from her own imagination. Referring to the relationship in the film, Das expressed she wants motherhood to be like that.
Regarding the initial inspiration, Das said she met some amazing children in her village who inspired her and she liked how, "Children, they can dream". She casted the boys first and the lead girl was around while they were doing the initial filming. Das recounted how the girl was so naughty and climbing trees; she sounds just like her character. Then this girl slowly was overpowering the boys with her presence. "There was something in her face, she was so strong" said Das. The children and the way they were filmed gives the film an extremely natural and realistic feel which in turn adds to the documentary vibe. The pacing of the over all film is a bit slow but this is not so much a problem as you are in this world exploring it with the children.
In the film, there is flood which happens annually in the area. At the time of filming, it was not on Das' mind to include the flood as part of the story. Then a flood happened but she did not want to film it because her film was not a documentary. Then, it flooded again and she found it did fit within the story – it is a part of the characters' lives. After a couple weeks, they all go back to their lives and that is how Das felt it fit within her story.
After the full week of films, film discussions and meeting new people, seeing old friends, attendees and filmmakers bid farewell to IFFLA and went back to their lives. However, there was one last time of mingling and some dancing at the closing night gala. A few filmmakers commented how their were sad that the festival was over but they had such a wonderful time.
Film festivals bring people together to celebrate their love of cinema and IFFLA did that once again.
Until next year!
The 16th annual IFFLA opens with a pensive, 'In the Shadows' starring Manoj Bajpayee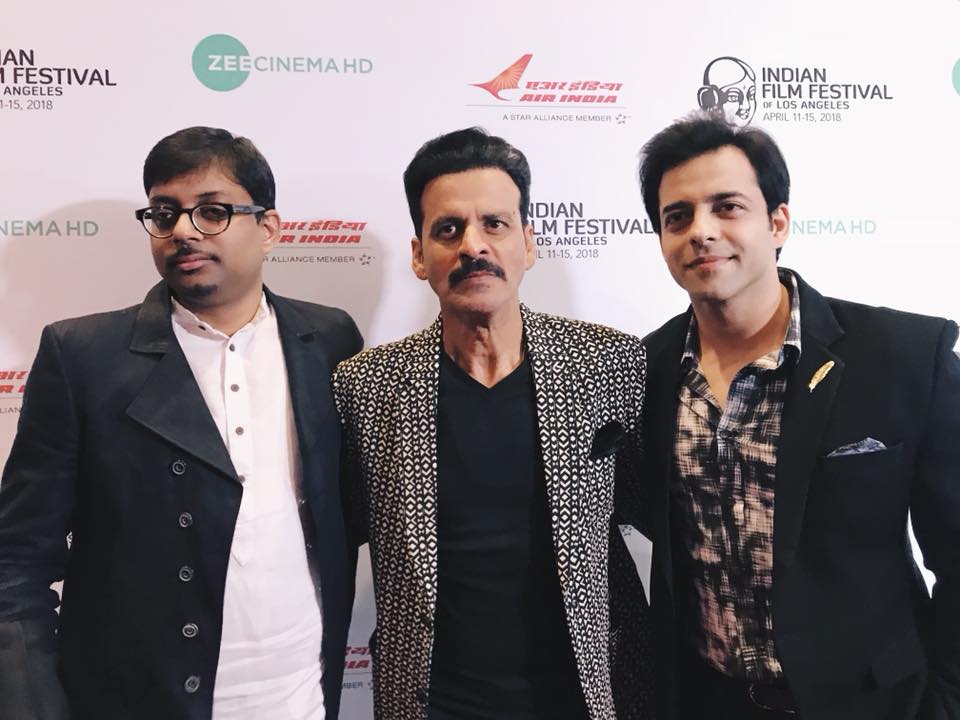 LOS ANGELES (Diya TV) — The 16th annual Indian Film Festival of Los Angeles took the audience on a journey into the decent of one man's mind with the opening night film, Gali Guleiyaan or 'In the Shadows'. The director and writer, Dipesh Jain along with lead actor, Manoj Bajpayee were in walked the opening night red carpet and stayed till the end of the movie for an insightful Q&A session moderated by IFFLA's Director of Programming Mike Dougherty.
The film is set in the heart of New Delhi and deals with a recluse, Khuddoos (played by Manoj Bajpayee), who watches the world through the lens of CCTV cameras that he has set up around his densely packed neighborhood in Dehli. His best and only friend, Ganeshi (played by Ranvir Shorey), tries to get Khuddoos to get out more but something is just a bit off with him. Khuddoos has been the voyeur for so long that when he suspects his next-door neighbor's young boy is being abused, he must gather the courage to become a participant instead of just being a bystander.
During the Q&A, Jain mentioned he had snippets and scenes in mind for this film for years. The idea of entrapment and people being trapped had been on his mind since childhood because his grandparents lived in a similar area to that presented in the film. Later on, Jain started researching child abuse and the connection to abused individuals suffering from schizophrenia. This concept then developed in to the idea of a man trapped in this city and his mind. There is a line in the film that says the city is like a maze and once you are in it, you are stuck there.
When asked what he thought of the script/story, Bajpayee said he found it quite fascinating and that this character and script would take his craft to another level. The character of Khuddoos has a lot going on under the surface and Bajpayee played this complex character superbly. One audience member even asked what was wrong with the character because he is so peculiar. Bajpayee explained this is not dealing with a disease but rather dealing with the mind. and he wanted to portray a conflicted mind where the character spirals downward while looking for himself.
Khuddoos loses track of time, seems distant yet fixated on trying to help this young boy. Bajpayee said it was a challenge going in and out of character and that "the deterioration of the mind and how to achieve that" would be difficult to come out of. He went on to say that preparation for each actor is personal and for him, he did not tell any family or friends that he was filming in Dehli. Recalling a story, Bajpayee talked about how the director showed him candid photos that had been taken of him and elaborated that, "you don't know when you slip in the character. You become one. That's the way to become this complicated character." He went on to say that the mind of the character has so many things going on and that is part of the enjoyment of being an actor.
When asked to compare the experience of portraying this character to his character in Aligarth, Bajpayee said that the role in Aligarth was not that complicated. That is a man who knows who he is unlike In the Shadows, where he does not, and the search to find out continues to break his mind down. Bajpayee commented that he likes as an actor, "you get to play so many minds", and that you need to play the mind not the profession. If you have two lawyers, they may be alike in profession but it is their minds that makes them different.
#IFFLA2018 Opening Night sizzle is here! One more chance to see a star-studded carpet, attend the Awards Ceremony and experience the Closing Night Gala of Rima Das' VILLAGE ROCKSTARS! #IFFLA2018 pic.twitter.com/OswEO8tIPD

— Indian Film Festival (@iffla) April 14, 2018
As you can tell, the concept of the mind in a large theme with this film but to elaborate further would be to spoil the intriguing journey the film takes.
On returning to Dehli, Jain said the city never changed. The character of the city, the people, their talks and their culture have stayed the same. It is like a time trap but this aided in the telling of the primary and secondary story. Each story has different film styles to make them stand apart from each other.
The other story that the film focuses on if the young boy that Khuddoos wants to help. Jain told the audience that the process of casting the young boy was tedious but satisfying. They found him in an orphanage and learned he was a victim of child abuse who left home and lived on the streets. Jain talked about how he and the young boy worked together on scenes such as if he should cry or not while his father beat him. Jain wanted to and succeeded in earning the boy's trust because some of these scenes were like relieving the trauma. The audience was happy to learn the boy had been struggling with his studies before they started filming but now he has more confidence and is working to get into a good school.
The Q&A wrapped up with Jain elaborating on one of the challenges of filmmaking in this area was that of interrupting people's lives and having them stop and wait while filming. He knew this script would be a challenge and attributes much of the success of the film to his team; a team that was so much in sync. Jain said, "it's a tough film and these guys made it easy.,"
The film addresses many different forms of voyeurism from the main character watching the outside world through video cameras, to the young boy spying on neighbors with his friends, and to the people who all gather when something is going on and just stand and stare.
The question one has to ask, do you just sit back and watch or do you step in to help?
During a heated moment, Khuddoos exclaims that all the kids in the neighborhood get beaten but no one does anything about it. Is this a reflection on society where we sit back while so much happens in the world but what are we really doing about it? If this character is any parable for the audience, we cannot sit locked up at home and hide away from the world. Even if it is painful, we must face our inner demons and not let them snuff us out.
NYU Pandemonium wins first place at Bollywood Berkeley 2018
OAKLAND, Calif. (Diya TV) — Hundreds of students came to witness this inter-collegiate Bollywood dance competition at the Paramount Theatre in Oakland on Saturday. Known to be the toughest of its kind on the west coast, Bollywood Berkeley is a coveted title. NYU Pandemonium's all male group took home the first place trophy along with UC Irvine Zamana who came in second and UCLA Nashaa at third place.