USIBC hosts FCC Chairman Pai to discuss US India trade, tech and innovation
WASHINGTON (Diya TV) — One day after a controversial vote from the House to kill a landmark bill regarding broadband privacy regulations, FCC chairman Ajit Pai spoke at a meeting of the U.S.-India Business Council, he said the two nations are natural allies in more ways than one, including communication regulation.
Speaking to the Council, which is made up of more than 300 companies, Pai said the U.S. and India share more than $100 billion in bilateral trade, a figure that has more than tripled since a decade ago.
"As the country that invented the Internet and that's home to the world's most powerful and popular technology companies, the United States is an indispensable driver and beneficiary of the digital revolution," he told the Council. "And it is worth nothing that many Indians and Indian-Americans are playing a prominent role in our high-tech success story. Multiple American technology companies now feature Indian or Indian-American CEOs, and nearly one in four Silicon Valley startups is founded by an Indian or Indian-American."
Pai also paid his respects to Indian Prime Minister Narendra Modi's "Digital India" initiative, saying the country's leadership has begun to embrace the nation's digital revolution. He said the FCC's philosophies and policies are very much similar to those of "Digital India." Because of the initiative, India has launched efforts to deploy fiber backbone to 600,000 villages, to dramatically expand public Wi-Fi hotspots in urban areas, and to connect every school and college with broadband.
"Like Prime Minister Modi, we don't see the state of our digital infrastructure as a simple telecommunications issue," said Pai. "It is an economic issue, a jobs issue, a competitiveness issues, an education issue, and a healthcare issue."
"I'm optimistic about the future of our countries. A big reason is the forward-looking approach in tech & innovation" @AjitPaiFCC #USIndia pic.twitter.com/FCKsBkIb4f

— U.S.- India Business (@USIBC) March 29, 2017
His remarks came less than 24 hours after Congress voted to eliminate the consumer protections, a result that was very likely celebrated by Pai. The rules would have required home Internet and mobile broadband providers to get consumers' opt-in consent before selling or sharing web browsing history, app usage history, and other private information with advertisers and other companies.
Pai has gone on record, more than once, as an ardent supporter of ISPs facing less strict regulations, similar to those of website operators like Google and Facebook.
"Last year, the Federal Communications Commission pushed through, on a party-line vote, privacy regulations designed to benefit one group of favored companies over another group of disfavored companies," Pai said after yesterday's vote. "Appropriately, Congress has passed a resolution to reject this approach of picking winners and losers before it takes effect."
India, Pakistan spar over women's rights in Kashmir
NEW YORK (Diya TV) — At the United Nations, both India and Pakistan's representatives took shots at their counterpart over women's rights. Islamabad's outgoing envoy to the UN, Maleeha Lodhi, said the women in Jammu and Kashmir were suffering due to the communication blackout in the state. India's First Secretary to the UN Paulomi Tripathi said, without naming Pakistan, these "baseless statements" were ironic given the amount of honor killings that take place there annually.
Rajeev Majumdar is the new president of the Washington State Bar Association, becoming the first state bar president of South Asian descent in the United States.
For the first time, India entered the ranks of the top ten countries sending visitors to the United States, with tourists from India spending nearly $16 billion in the U.S. in 2018 alone.
And while the Kings and Pacers played two entertaining games in Mumbai, their legacy will include supporting five under-resourced schools in and around the region, outfitting them with Smart Classrooms, STEM training and new basketball courts.
Ravi Kapur contributed to this report.
Federal Court rules Trump must turn over tax returns | Diya TV News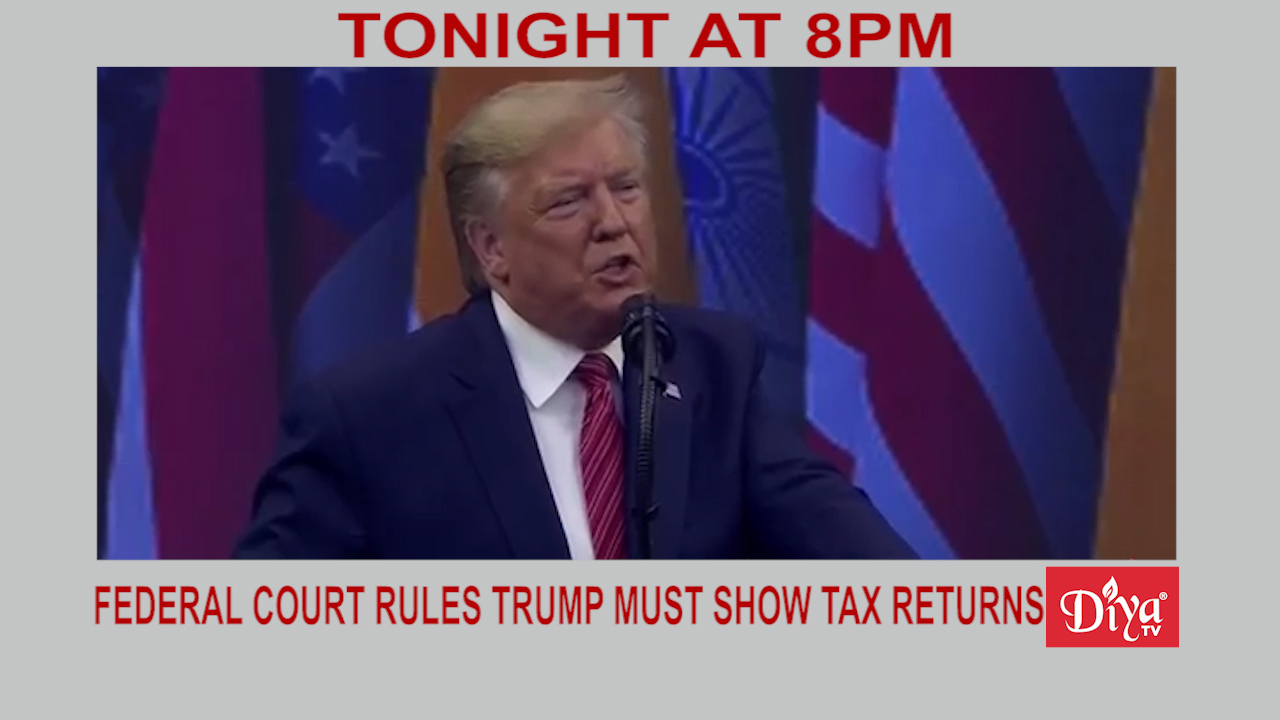 NEW YORK (Diya TV) — A federal judge ruled President Trump must turn over eight years of his personal and corporate tax returns to Manhattan prosecutors, striking down the President's argument that a sitting president cannot be criminally investigated. The ruling was quickly appealed and this case could end up in the Supreme Court to answer the constitutional question of whether presidents can be charged with a crime.
Meanwhile, the President celebrated a victory by FCC Chairman Ajit Pai, as a federal appellate court upheld most of the FCC's repeal of net neutrality. It also ruled the FCC cannot preempt state net neutrality laws, meaning the rules of the road in states like California remain in place.
The U.S. House Foreign Affairs Committee announced their Asia-Pacific and Non-Proliferation Subcommittee will be holding a hearing asking State Department officials and human rights activists to chime in on Human Rights in Kashmir, the Tamils of Sri Lanka, Muslims in Assam and the human rights situation in Pakistan, which includes the Sindh Province.
Lockheed Martin announced they will build F-16 wings exclusively in India, helping in integrating Indian industry into the $165 billion fighter aircraft market.
Ravi Kapur contributed to this report.
Gandhi 150th birth anniversary noted around the world
NEW DELHI (Diya TV) —  Celebrations for Mahatma Gandhi's 150th birth anniversary have been ongoing for the past year, but culminated with a ceremony in New Delhi featuring Prime Minister Modi and another in Washington at the Library of Congress. And France's government worked with the Indian Embassy there to issue a stamp in honor of his birth anniversary.
US Commerce Secretary Wilbur Ross and India's Commerce and Industry Minister Piyush Goyal are meeting this week to continue the US-India discussion on trade and investment.
Indiana Governor Eric Holcomb came to New Delhi to strengthen ties between the Hoosier State and India. Infosys has already made a large commitment there. Holcomb is part of a large delegation of Americans now heading Mumbai to take in the first-ever NBA preseason games in India featuring the Indiana Pacers and the Sacramento Kings.
Bollywood turned Hollywood actor Anupam Kher came to the Bay Area to keynote the Akshay Patra annual fundraising gala that helps feed children in India a hot meal during the school year.
Ravi Kapur contributed to this report.