Why Indian Americans continue to protest against CNN over Reza Aslan's show?
CHICAGO (Diya TV) — The show aired March 5th, yet Several Indian-Americans have continued to protest and raise their concerns over CNN's show Believer hosted by religion scholar Reza Aslan. And if you are wondering why is this still a matter of contention, the issue many Indian Americans say is about responsibility.
Earlier this weekend, several Indian Americans descended upon CNN's Chicago headquarters over the weekend to protest the network's new series, Believer, which they believe is a negative introduction to Hinduism. The show focused on a fringe sect of Hinduism called the 'Aghoris' and while many understand and agree the 'Aghoris'  do not represent the mainstream Hindu community, many believe the show has portrayed Hinduism in a bad light.
The initial outrage sparked comments from lawmakers and prominent Hindu Americans on both the Democratic and Republican sides.
Aslan has free speech! But sad he has made a career of sensationalism over scholarship re: Christianity & Hinduism. https://t.co/JuSp5K5LVz

— Ro Khanna (@RoKhanna) March 6, 2017
The Hindu American Foundation released a statement showing deep concerns over the timing and the insensitivity on part of the network.
"Religious literacy in the United States about Hinduism, as every Hindu American knows, is woefully inadequate. The Pew Religious Knowledge Survey of 2013 found that only 36% of Americans could answer a single question about Hinduism: Whether Shiva and Vishnu were deities associated with Hinduism. When the knowledge deficit is so stark, and minority communities are facing a rise in hate incidents across the US— a Hindu American was killed and Sikh American was shot in likely hate crimes in the past week — why would Aslan and CNN sensationalize the Aghoris as a primetime introduction to the faith of a billion Hindus, most of whom have never seen or met an Aghori?" – Samir Kalra, HAF 
Supporters showed up in the hundreds for the event, where circulated letters said CNN were responsible for showcasing the grotesque and chilling traditions of one group of people, not the Hindu religion. "The grotesque practices of five individuals have nothing to do with Hinduism, they are not part of any Hindu scriptures or Hindu teachings," said Bharat Barai, a resident of Chicago.
Hindu-American groups from across the country have held protests against the network since the March 5 airing of the episode. Events have since been held in New York, Houston, Atlanta, San Francisco and the nation's capital. This weekend's event had the largest turnout of any of the previous.
Vamsee Juluri, an Indian-American professor of media studies at the University of San Francisco wrote a blog on Huffington Post calling out CNN
"It is unbelievably callous and reckless of CNN to be pushing sensational and grotesque images of bearded brown men and their morbid and deathly religion at a time when the United States is living through a period of unprecedented concern and fear," Juluri wrote.
In a statement, USINPAC Chairman Sanjay Puri said, "In a charged environment a show like this can create a perception about Indian Americans which could make them more vulnerable to further attacks,"
To the critics Aslan responded on Twitter
This is a show about the Aghori not Hinduism #believer https://t.co/uwroTHp5Ka

— Reza Aslan (@rezaaslan) March 6, 2017
And the Twittersphere shot back
@rezaaslan you are not "revealing" any truth, you are making it much for difficult for hindus to live in this country #believer

— ?anjali ? (@ChauhanAnji) March 6, 2017
Aslan has maintained he wanted to make a show that would entertain, the intention behind "Believer" was to spread awareness and not to sensationalize.
"Our hope is to introduce people to world views and faith communities that may seem a little strange and foreign and even frightening," he said in an interview with HuffPost. "But after watching me go through the experience of becoming part of these communities they may seem more relatable."
However many Hindu question how showcasing the Hindu sect of 'Aghori' in a manner 'Believer' did, is making Hindus or 'Aghori' more relatable?
"Look at India. It's filthy!" Trump exclaims during debate
NASHVILLE (Diya TV) — Former Vice President Biden and President Trump held their second and final debate in Nashville. The tone of the event was markedly improved from the first debate, thanks largely because of a rule implemented that muted the microphone during dedicated speaking times. We'll analyze the key moments, including when President Trump called China, India and Russia "filthy" when discussing climate change.
WATCH what the President said about India here:
The State of California's Department of Fair Employment and Housing voluntarily dismissed their federal lawsuit accusing Cisco Systems Inc. and two of their former employees of discriminating against an Indian American Dalit engineer. No explanation was given, but state officials said they will refile the matter in state court.
Dr. Mukul Chandra, a prominent cardiologist in the Toledo, Ohio area, has died from complications related to COVID-19. He was 57. 
Dr. Chandra was the medical director of Cardiac Preventive Care and Research at Miami Valley Hospital and received a plasma donation as a possible remedy for the virus. And hundreds of people around the globe offered their help.
WATCH the full debate here:
Ravi Kapur contributed to this report.
Biden & Harris issue happy Navratri greetings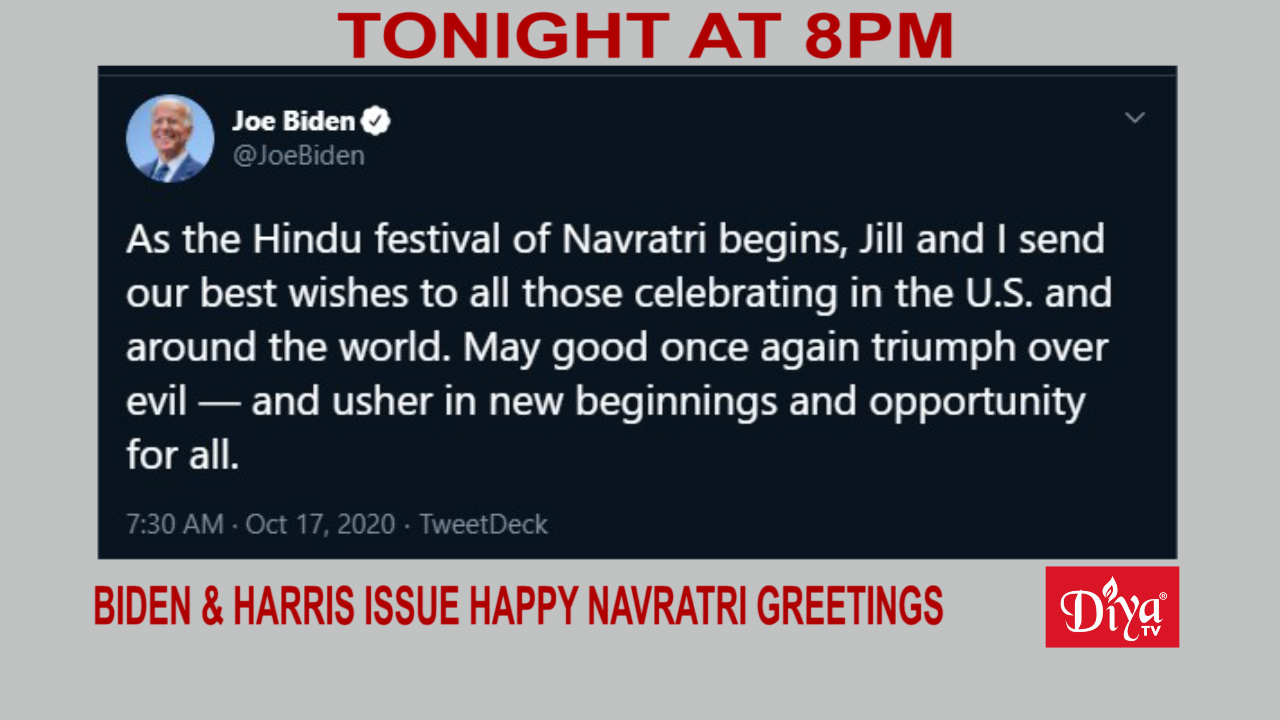 WILMINGTON, Delaware (Diya TV) — Vice President Joe Biden and Senator Kamala Harris continue their efforts to court the Indian diaspora, as each issued Navratri greetings. Biden & his wife Jill sent their best wishes, tweeting "may good once again triumph over evil." And Harris and her husband Doug added "may this holiday serve as an inspiration to…build a more inclusive and just America."
But at the same time, Harris' niece Meena deleted an image she posted of her auntie being depicted as Goddess Durga, which led to a petition asking her to apologize. Meena Harris is a lawyer, entrepreneur and daughter of Kamala Harris' sister, Maya. The image she posted photoshopped Kamala Harris' face onto Hindu Goddess Durga, showing Joe Biden as her lion and President Trump as a demon she slays.
The chances of finding Indian American professor Sam Dubal, who has been missing for nearly two weeks, appear to be waning. Dubal went on a backpacking trip near Mt. Rainier in Washington state and hasn't been seen since. Authorities say cold and snowy weather is hampering their chances of finding the University of Washington professor.
Ravi Kapur contributed to this report.
Man stabbed during brawl at Sikh temple near Seattle
RENTON, Wa. (Diya TV) — At least six people were injured and one of them was briefly hospitalized with stab wounds during a brawl at the Gurudwara Singh Sabha in Renton, Washington. Renton Police say at least 20 people at the temple were fighting when police arrived. Police added a similar incident happened last week at a Sikh temple in Kent, Washington. Sources tell Diya TV the skirmish was between people that were pro-India and folks that did not view India in a favorable light. No arrests were made.
The Quad military alliance is complete after Australia agreed to be part of the Malabar Exercise to be held in Bay of Bengal next month, joining the United States, India and Japan as part of the naval exercise.
As seen on Diya TV, the South Asian Bar Association held a Presidential Town Hall featuring Asheesh Agarwal, a member of Indian Voices for Trump advisory board and Neera Tanden, the CEO of the Center for American Progress, moderated by journalist and professor Sree Sreenivasan.
Ravi Kapur contributed to this report.