Hindu Americans outraged by CNN's 'Believer' hosted by Reza Aslan
SAN FRANCISCO (Diya TV) — The host of CNN's new show 'Believer' and religion scholar Reza Aslan has many members of the Hindu American community outraged over what they say is an attack on Hinduism. The premiere episode aired Sunday and critics question the motivation, timing and focus of their first effort looking at religions from around the world.
 "With multiple reports of hate-fueled attacks against people of Indian origin from across the U.S., the show characterizes Hinduism as cannibalistic, which is a bizarre way of looking at the third largest religion in the world," the group U.S. India Political Action Committees (also known as USINPAC), said in a statement.
During the first episode, Aslan meets with Aghori babas outside Varanasi in the northern Indian state of Uttar Pradesh. The Aghoris are what many Hindus describe as a small fringe sect of Hinduism.
Aslan bathes with the Aghoris in the Ganges, a river Hindus consider sacred. An Aghori baba smears the ashes of cremated humans on his face. At the Aghori's invitation, Aslan drinks alcohol from a human skull and eats what was purported to be a bit of human brain.
"Want to know what a dead guy's brain tastes like? Charcoal," Aslan wrote on Facebook. "It was burnt to a crisp!"
According to Samir Kalra, Senior Director and Human Rights Fellow at the Hindu American Foundation, the show sensationalized Hinduism. He believes by focusing on the Aghoris, Aslan is misrepresenting the majority and the norm of a vastly followed religion.
"Believer devoted copious footage to highlighting stereotypical and sensationalized presentations of Hinduism: simplistic description of karma; conflations of caste/varna/jati; and the pollution in Varanasi and of the Ganga. The show unnecessarily focuses on Aghori ascetics, who are alien to almost all Hindus precisely because they practice austere, even repulsive rituals and prefer to remain shunned. What follows are the titillating scenes of drinking from a skull, wearing a crown of cadaveric tissue and a rather animated ascetic drinking his own urine." – Samir Kalra, HAF
Aslan also interviewed several non-cannibal Aghori members, some of whom ran an orphanage and a group of volunteers of people who care for those suffering from leprosy.
Critics of the first episode come from divergent points of view and include Democratic Congressman Ro Khanna and the founder of the Republican Hindu Coalition, Shalabh Kumar.
Aslan has free speech! But sad he has made a career of sensationalism over scholarship re: Christianity & Hinduism. https://t.co/JuSp5K5LVz

— Ro Khanna (@RoKhanna) March 6, 2017
I condemn @rezaaslan, CNN for airing Believer with fiction. Disgusting attack on Hindus for supporting @POTUS @stephenkbannon @newtgingrich

— Shalabh Shalli Kumar (@iamshalabhkumar) March 5, 2017
The Hindu American Foundation tells Diya TV the CNN episode was highly insensitive given the time we live in. Kalra explains:
"Religious literacy in the United States about Hinduism, as every Hindu American knows, is woefully inadequate. The Pew Religious Knowledge Survey of 2013 found that only 36% of Americans could answer a single question about Hinduism: Whether Shiva and Vishnu were deities associated with Hinduism. When the knowledge deficit is so stark, and minority communities are facing a rise in hate incidents across the US— a Hindu American was killed and Sikh American was shot in likely hate crimes in the past week — why would Aslan and CNN sensationalize the Aghoris as a primetime introduction to the faith of a billion Hindus, most of whom have never seen or met an Aghori?" – Samir Kalra, HAF 
Aslan holds a BA in religious studies from Santa Clara University, a Master of Theological Studies (MTS) from Harvard Divinity School, an Master of Fine Arts (MFA) from the University of Iowa's Writers' Workshop, and a PhD in sociology of religions from the University of California, Santa Barbara.
He's previously appeared on many cable news network shows as an expert on religion. Born in Iran, he lives in Los Angeles with his wife, author and entrepreneur, Jessica Jackley and their three sons.
We reached out to Aslan and have not heard back from him or his team and look forward to sharing their perspective on this highly sensitive issue. 
Redacted Mueller report, detailing Russian election meddling, released
WASHINGTON (Diya TV) — A redacted version of the Mueller report is now public. The 448 page document is the result of a two year investigation into Russian meddling in the 2016 election. Democrats say the report shows President Trump tried to obstruct justice. But Trump's campaign in a statement says otherwise.

Read the redacted report here.
Indian External Affairs Minister Sushma Swaraj said no Pakistani soldier or citizen died in the Indian Air Force air strike in response to the Pulwama terror attack in February, reversing claims made by other officials after the strike.

Anita Malik announced she is running once again for Arizona's 6th Congressional District seat. She fell short last year. But this time, she will face additional competition, as fellow Democrat Dr. Hiral Tipirneni (Ti-per-neh-knee) as also running for this seat.

And Hasan Minhaj won another Peabody, his second in a row, for his work on "Patriot Act with Hasan Minhaj."

Ravi Kapur & Alejandro Quintana contributed to this report.

U.S. and India conduct joint military drill on Diego Garcia in Indian Ocean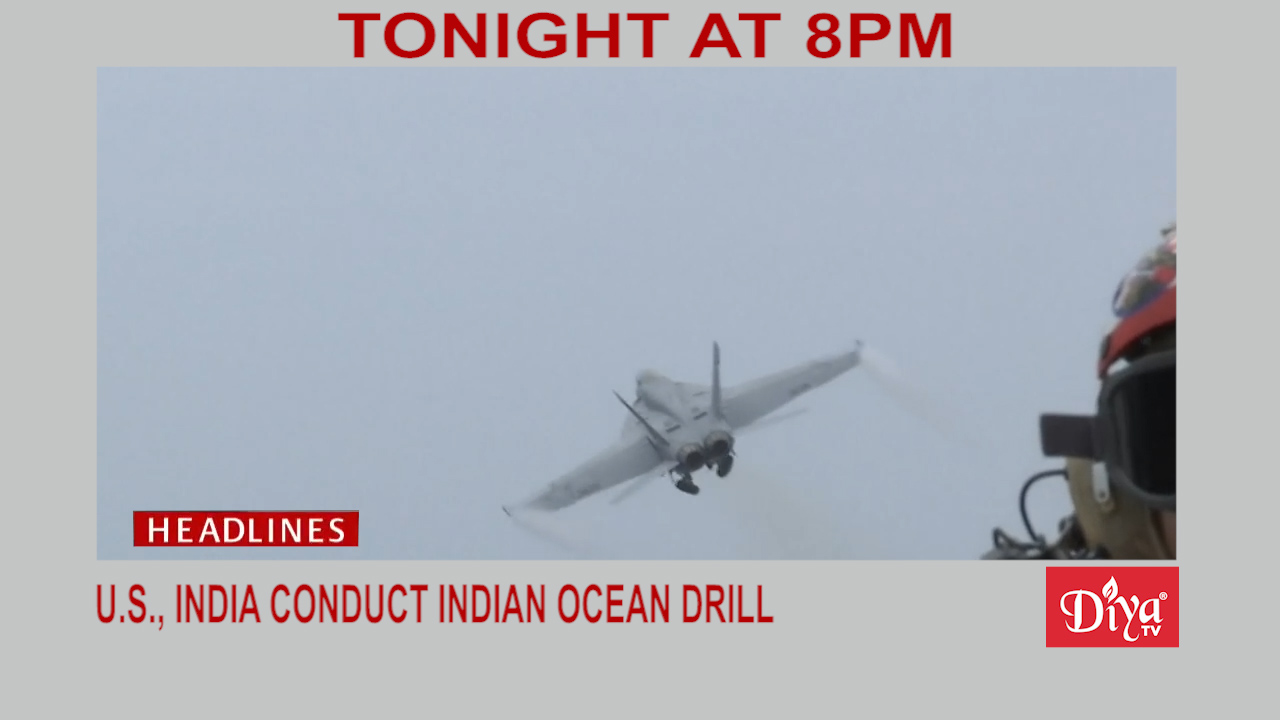 DIEGO GARCIA, Indian Ocean (Diya TV) — The U.S. and Indian Navies went submarine hunting in the Indian Ocean, their first bilateral anti-submarine warfare exercise since a signing pact to work more closely together last fall.

India's exports to China are up in 2019, while imports declined, leading to a $10 billion reduction in India's trade deficit with China. Analysts say the current Washington-Beijing trade war has also opened things up for India.

The Jallianwala Massacre 100 years ago that left hundreds dead and 1200 injured at the hands of British troops is considered a key turning point towards a free India. British prime minister Theresa May marked the occasion by expressing "deep regret", but there are still no apologies.

An effort by an American and British companies to help Jet Airways founder Naresh Goyal save the airline from collapse dissolved after Etihad Airways and TPG Capital threatened to walk away themselves if Goyal was part of the deal.

And comedian Hasan Minhaj, who won a 2017 Peabody Award, received another Peabody nomination in the entertainment category for his Netflix show, "Patriot Act with Hasan Minhaj."

Ravi Kapur & Alejandro Quintana contributed to this report.

Women filmmakers shine at the 2019 Indian Film Festival of Los Angeles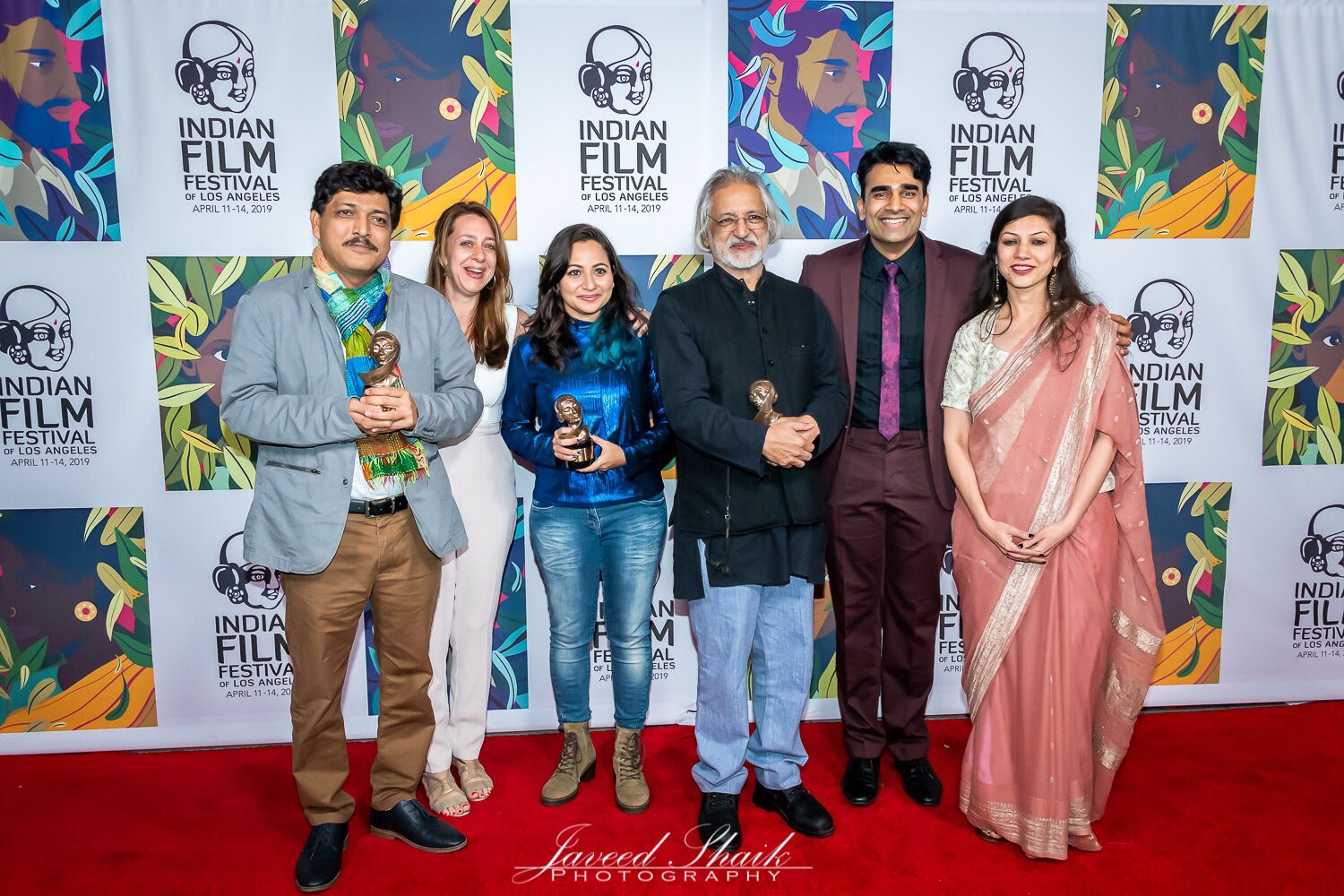 LOS ANGELES (Diya TV) — The 17th annual Indian Film Festival of Los Angeles (IFFLA) concluded Sunday night with the zany slice-of-life film, The Odds, directed by Megha Ramaswamy. Complete with a glamorous closing night red carpet, and an awards ceremony, the festival ended with an after party at the Spice Affair in Beverly Hills.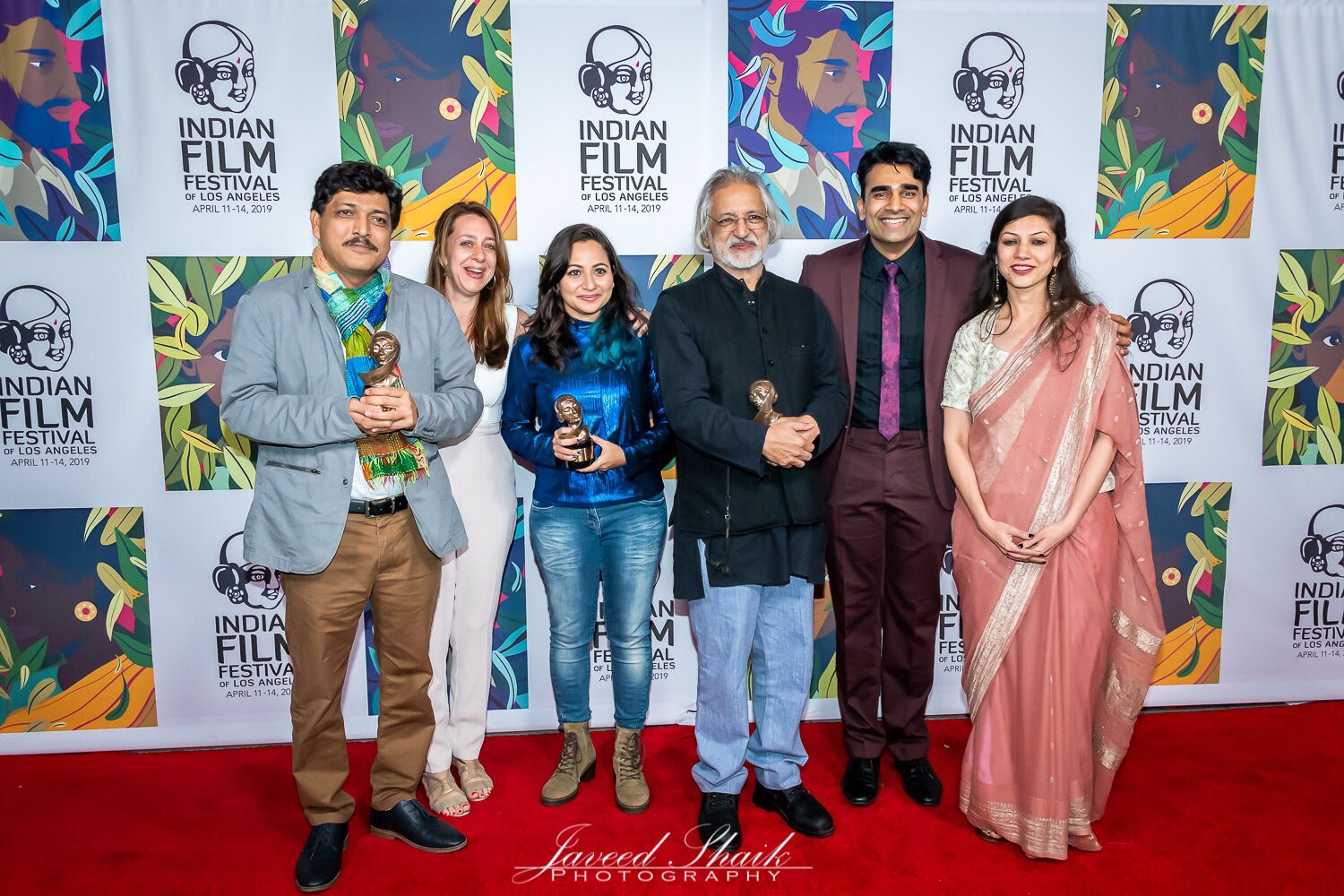 IFFLA was only four days this year (compared to five days in previous years), but there was still so much to see during that time. In addition to the curated set of films, there was an incredible panel discussion, Breaking in Brown: Making it to Series in TV's Golden Age, that featured panelists working in various fields in the television industry and their struggles to rise up through the ranks in the Hollywood while being brown.
This year's film lineup boasted five world premieres, two North American premieres, two U.S. premieres and eleven Los Angeles Premieres, with films presented in nine different languages. The overall atmosphere was very relaxed, even with films that tackled difficult subject matters. Roughly fifty percent of the films were directed by women. Filmmakers and staff alike hoped for a future where it will be normal to have women and men equally making films.

Kicking off the awards ceremony, Director of Programming, Mike Dougherty, announced the winner of the Grand Jury Prize for Best Feature, Widow of Silence.
"We present the Grand Jury prize to a film that illuminates a condition that most of the world doesn't get to see and shines a light on the characters that live through it everyday…This filmmaker's civic disobedience illustrates their love and compassion for their country and their people, and the craft of their film-making was beautifully wise and refined."
Director Praveen Morchhale was visibly surprised as he walked up to receive his award. The film he said was about those, "that nobody talks about and nobody treats them as a human." Even though it was Morchhale's first time at IFFLA, he felt as if he had been coming here for many years. He credited his win to the women in Kashmir the film portrayed.
The Audience Award for Best Feature went to Reason. Director Anand Patwardhan received a standing ovation when he went to collect his award. Patwardhan said, "most of the time our film is getting thrown out of festivals, I wasn't expecting this." He added that it meant a lot for the film to be well received at IFFLA and how that will hopefully impact its reception in India.
Shazia Iqbal's Bebaak was a crowd favorite winning the Audience Award For Best Short Film. The jury mentioned how she almost gave up on filming because she was getting thrown out of mosques. Iqbal spoke about how when people think of Muslims, they only think of Muslim men and not women, many of whom experience tremendous misogyny. She hopes people will be able to "see beyond what misogyny and religion does to people." Iqbal added, "a director is nothing without their team."

"a layered portrait of a woman determined to pursue her needs and impulses," the Grand Jury awarded their prize for Best Short to The Field from director Sandhya Suri. "the film takes images that normally evoke a sense of fear and flips the narrative on its head redefining a new more empowered world for the female protagonist and exploring an often unseen story of a woman's drive and agency over her own body and life," the jury added.

After the awards, Dougherty introduced the closing night film, The Odds by saying the film was the "perfect way to close IFFLA on a celebratory note."