Seattle Rep. Pramila Jayapal introduces first House Bill
WASHINGTON (Diya TV) — Seattle freshman congresswoman Pramila Jayapal introduced her first House bill Monday, aimed at guaranteeing legal counsel to individuals detained while trying to enter the U.S.
Her legislation follows weeks of chaos at American airports during the initial rollout of President Trump's immigration executive order, which has now become the focus of a nationwide legal battle.
Given reports of ICE raids by this Administration, our Access to Counsel bill is more important than ever. https://t.co/vnzW500HX8

— Rep. Pramila Jayapal (@RepJayapal) February 11, 2017
"The day after the President signed his inhumane Muslim Ban executive order, innocent men, women, and children at Seattle-Tacoma and airports across the country were detained and barred from entering the United States without any access to counsel," Rep. Jayapal wrote in a press release explaining the bill. "To uphold principles of due process and fair treatment, this bill will ensure the government gives individuals access to an attorney."
Under Jayapal's legislation, Customs and Border Protection, and Immigration and Customs Enforcement agents would be required to provide access to counsel, including to non-citizens. Currently, non-citizens trying to enter the U.S. without authorization do not have a right to be represented by an attorney, unless the individual has become the focus of a criminal investigation, according to Department of Homeland Security.
A companion piece of legislation was introduced in the Senate by freshman California Senator Kamala Harris last week.
Critics of the proposal say the legislation is unlikely to pass, especially in a Republican-controlled Congress.
While the bill does not specify cost analysis, a spokesperson for Jayapal's office says the additional legal services would not come at the cost of taxpayers.
Instead, the bill would guarantee access to attorneys from various groups interested in helping. The legislation also calls for providing phone or video conference, if an attorney cannot meet in person.
Read the bill in its entirety here.
India's Republic Day celebrated around the world
NEW DELHI (Diya TV) — India held massive celebrations for Republic Day, a day to mark the signing of the Indian Constitution in 1950, featuring floats and a military parade. The revelry extended to the U.S. as well, where Indian Americans also took part in events held by Indian consulates, like this gathering in San Francisco.
Those against the Indian government's new Citizenship Law took the occasion of Republic Day to demonstrate, the largest gathering of which was in Washington, DC, where hundreds of people took to the streets.
President Trump's impeachment trial continued, with his defense team deeming the House Articles of Impeachment as an abuse of the Constitution and a partisan game. Meanwhile, Trump's former National Security Advisor John Bolton revealed in his new book Trump withheld aid to Ukraine until the country would investigate his political opponents, Joe and Hunter Biden. This revelation has Democrats demanding Bolton testify.
And retired Los Angeles Lakers legend Kobe Bryant died tragically in a helicopter crash in Southern California. He was only 41, losing his life alongside 8 others including his teenage daughter.
Ravi Kapur contributed to this report.
Indian Americans now 2nd largest immigrant group in the US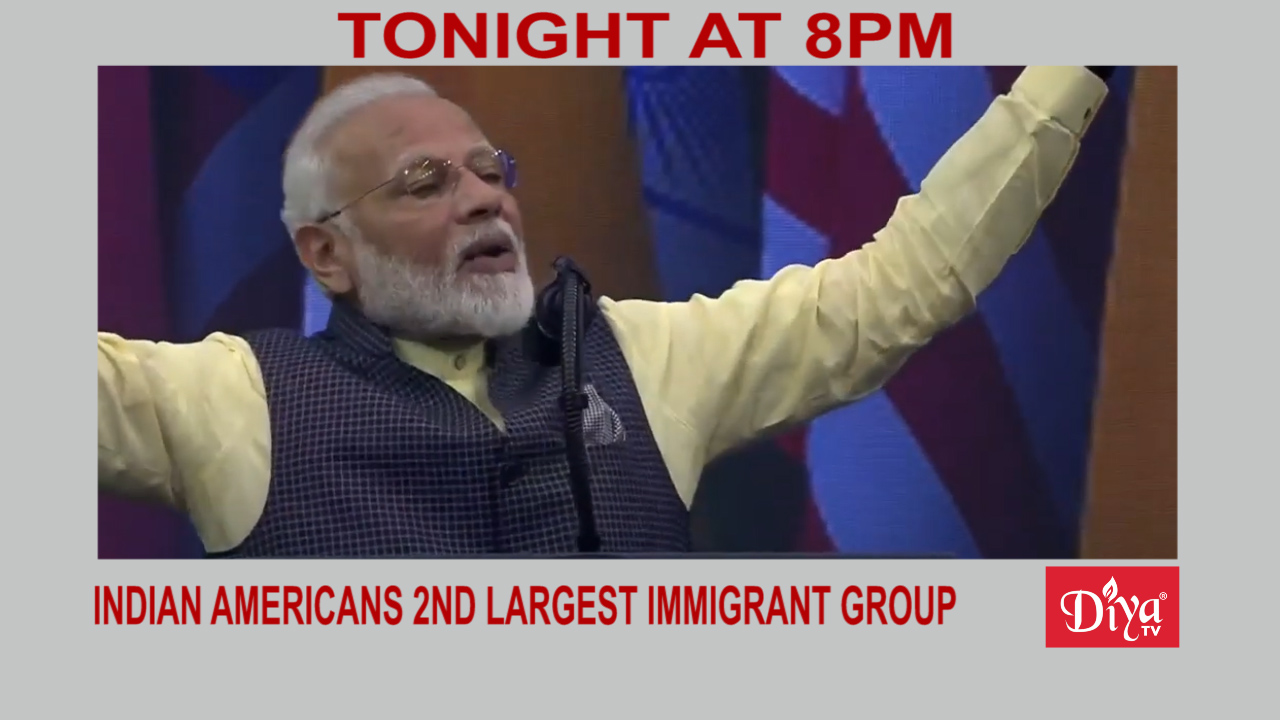 WASHINGTON (Diya TV)  — New data released indicates Indian Americans are now the second largest immigrant group conferred with American citizenship, behind only the Mexican community. Individuals born in India made up 6.9% of the total number of new American citizens, reflecting a rise of 2.7% over the previous year.
Democrats made their final opening argument on the fourth day of President Trump's impeachment trial. A new recording played before the Senate demonstrated the President wanted former U.S. Ambassador to Ukraine Marie Yovanovitch fired, saying on tape: "Get rid of her! Get her out tomorrow. I don't care. Get her out tomorrow. Take her out. Okay? Do it."
The Pentagon says 34 American troops have brain injuries from the missile strike launched by Iran in retaliation for the killing of Qasem Soleimani.
More than 800 people have been diagnosed with the Coronavirus, the ailment that began in China and is spreading around the globe. At least 26 people are dead. Hospitals in China are overwhelmed with patients. The disease has reached Vietnam, Singapore, Japan, South Korea, Taiwan, Thailand and the U.S.
Pharma exec John Kapoor gets 66 month prison sentence
BOSTON (Diya TV)  — Former billionaire CEO John Kapoor was sentenced to 66 months in prison, the culmination of a criminal trial in Boston resulting in the first successful prosecution of a pharmaceutical executive tied to the opioid epidemic. The 76-year-old founder of Insys Therapeutics made the potent opioid painkiller Subsys.
Senators reconvened in the Capitol for the third day of President Trump's impeachment trial. House Democrats argued the president abused his power by pressuring Ukraine for his own personal gain, often playing video of Trump speaking publicly to make their point.
Pakistani Prime Minister Imran Khan at the World Economic Forum in Davos said Osama bin Laden was able to find refuge in Pakistan because groups like Al Qaeda were viewed as "heroes" rather than terrorists. In May 2011, bin Laden was killed by US Special Forces in Pakistan, near one of their military bases.
India is considering incentives to woo Apple and Samsung's suppliers to open factories in the country.
Ravi Kapur contributed to this report.