Seattle Rep. Pramila Jayapal introduces first House Bill
WASHINGTON (Diya TV) — Seattle freshman congresswoman Pramila Jayapal introduced her first House bill Monday, aimed at guaranteeing legal counsel to individuals detained while trying to enter the U.S.
Her legislation follows weeks of chaos at American airports during the initial rollout of President Trump's immigration executive order, which has now become the focus of a nationwide legal battle.
Given reports of ICE raids by this Administration, our Access to Counsel bill is more important than ever. https://t.co/vnzW500HX8

— Rep. Pramila Jayapal (@RepJayapal) February 11, 2017
"The day after the President signed his inhumane Muslim Ban executive order, innocent men, women, and children at Seattle-Tacoma and airports across the country were detained and barred from entering the United States without any access to counsel," Rep. Jayapal wrote in a press release explaining the bill. "To uphold principles of due process and fair treatment, this bill will ensure the government gives individuals access to an attorney."
Under Jayapal's legislation, Customs and Border Protection, and Immigration and Customs Enforcement agents would be required to provide access to counsel, including to non-citizens. Currently, non-citizens trying to enter the U.S. without authorization do not have a right to be represented by an attorney, unless the individual has become the focus of a criminal investigation, according to Department of Homeland Security.
A companion piece of legislation was introduced in the Senate by freshman California Senator Kamala Harris last week.
Critics of the proposal say the legislation is unlikely to pass, especially in a Republican-controlled Congress.
While the bill does not specify cost analysis, a spokesperson for Jayapal's office says the additional legal services would not come at the cost of taxpayers.
Instead, the bill would guarantee access to attorneys from various groups interested in helping. The legislation also calls for providing phone or video conference, if an attorney cannot meet in person.
Read the bill in its entirety here.
Eight South Asian candidates run for San Ramon office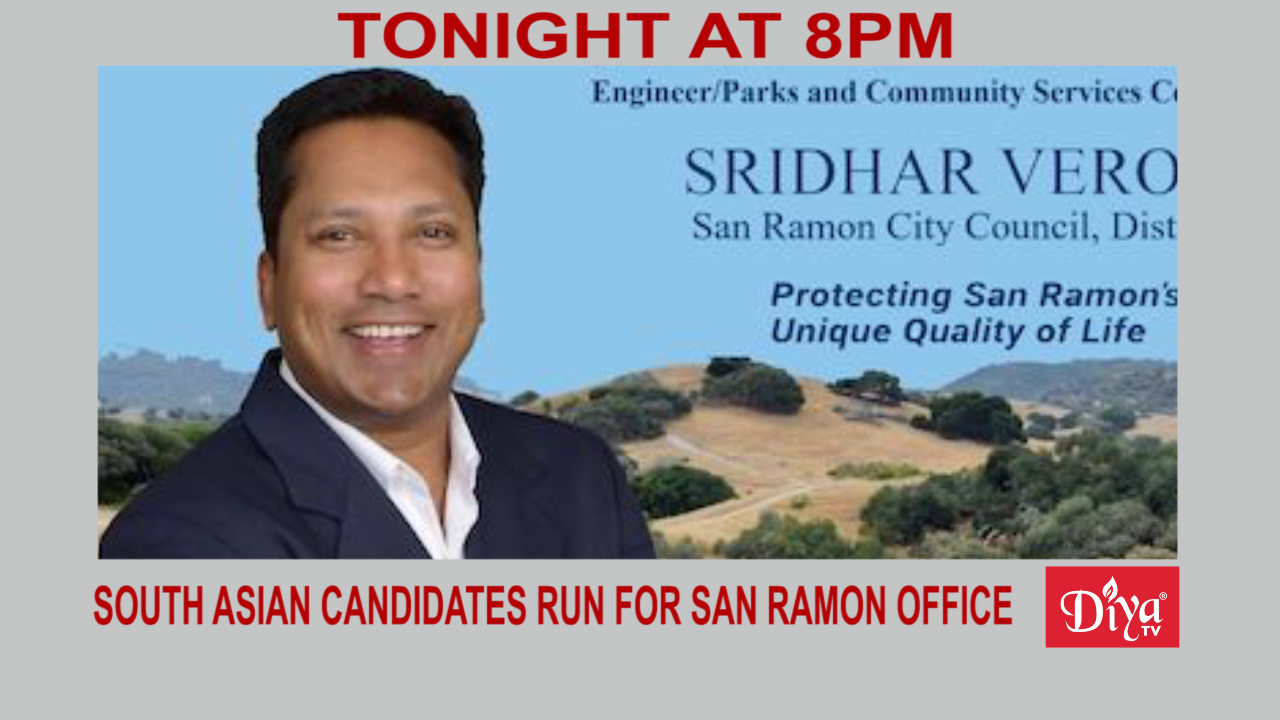 SAN RAMON, California (Diya TV) — We'll introduce you to the eight candidates of South Asian descent running for San Ramon's mayor and city council this year. Located in California's East Bay and renowned for great public schools, San Ramon has seen an explosion in its Indian American population over the last decade. Now community members want to give back and help the city map out its future.
President Trump flew to California to meet with Governor Gavin Newsom and other state officials to discuss the wildfires that have engulfed the state for weeks. Newsom and his team of scientists made it a point to tell Trump climate change is "exacerbating" the wildfires. Toxic air lingers on from California to Washington and new projections indicate the smoke will spread from the Northwest and head to the Midwest.
President Trump announced Indian American Judge Amul Thapar is on shortlist to be named to the Supreme Court if a vacancy happens during his term, joining the likes of Senators Ted Cruz, Josh Hawley and Tom Cotton.
Silicon Valley venture capital fund Sequoia Capital has invested in the most Indian startups that have become unicorns. Sequoia's Indian arm has invested in eight unicorns, including Byju's and Unacademy. SoftBank and Steadview Capital are second with seven unicorns each.
Ravi Kapur contributed to this report.
India and China agree on 5-point plan to deescalate
NEW DELHI (Diya TV) — During a lengthy meeting in Moscow between Indian External Affairs Minister S. Jaishankar and his Chinese counterpart Wang Yi, India and China agreed on a five-point plan to disengage along the Line of Actual Control (LAC), where Indian and Chinese troops have been locked in a nearly five month standoff. The five-point plan is at the direction of Prime Minister Modi and President Jinping to "not allow differences to become disputes."
As America commemorates the 19th anniversary of 9/11, there was some bipartisanship on display in New York when Democratic Presidential nominee Joe Biden and Vice President Mike Pence bumped elbows and spoke briefly ahead of a 9/11 memorial ceremony at the site of the World Trade Center attacks.
As wildfires rage on, toxic air stretched from Washington State to California. Local officials encouraged millions to stay at home to avoid breathing in ash falling from the sky and the poor air quality is likely to continue through the weekend.
Bela Bajaria has been named Netflix's Head of Global TV, a newly created position for the former network TV executive.
The Memphis Grizzlies announced Sonia Raman will join their team as an assistant coach. She spent the last 12 years as the women's head coach at MIT and will be the first ever Indian-American to coach in the NBA.
Ravi Kapur contributed to this report.
Community rallies behind widow of slain Mississippi hotelier
CLEVELAND, Mississippi (Diya TV) — Last month in Cleveland, Mississippi, hotel owner Yogesh Patel was beaten to death by a guest he had evicted. Police arrested Kentarrus Williams in connection with Patel's death. But his demise has left his widow, Sonam, in a challenging spot, trying to manage her grief and a hotel in an area she has no family. Now, community members have set up a GoFundMe page and a Facebook page dedicated to raising $60,000 for Sonam and they are halfway to their goal.
The 2020 fire season is setting records — and the numbers are hard to digest. In California, 3 million acres and counting have burned, featuring 6 of the top 20 largest wildfires in state history. At least eight people in California, Oregon and Washington have died from the latest wildfires and Oregon's governor believes the death and destruction toll will just get worse.
The United States Senate voted unanimously to confirm Diane Gujarati as the newest district judge in the Eastern District of New York. Gujarati is now the first Article III judge of South Asian descent in the state of New York.
Ravi Kapur contributed to this report.